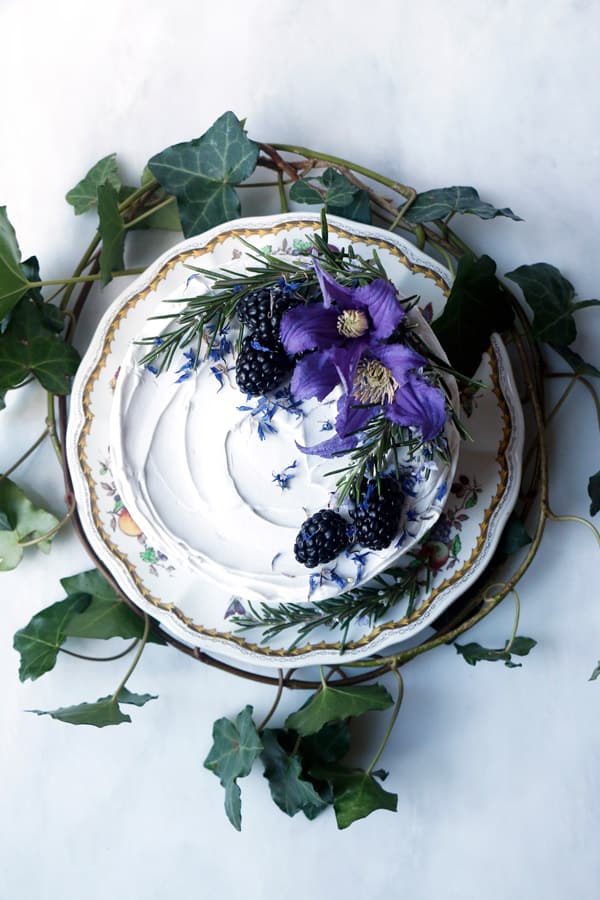 I've made this Rosemary Blackberry Layer Cake on Saturday to celebrate Imbolc and it's such lovely cake that I've decided to share the recipe with you.
Imbolc is traditionally celebrated on the 1st of February halfway between the Winter Solstice and Spring Equinox marking the beginning of Spring and return of light. Imbolc is associated with Goddess Brigid, Goddess of healing, poetry and crafts who is celebrated during this time. Some of the many plants that are sacred to Brigid are rosemary and blackberry that have inspired this cake.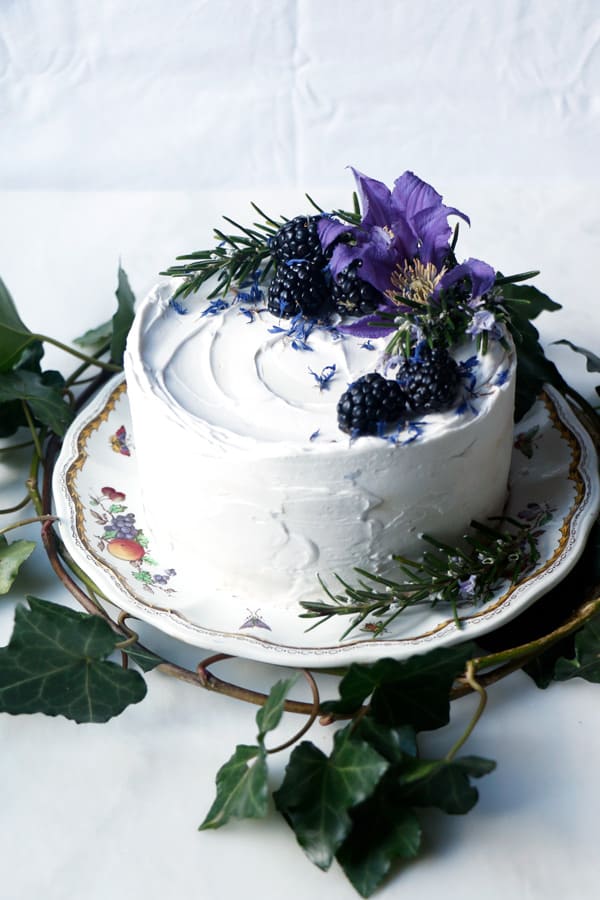 I've used my trusted gluten-free vegan sponge cake recipe that I've adapted from my Vegan Apple Cake. It's lovely and moist and the addition of fresh rosemary creates such delicate interesting flavour. The cake is filled with quick blackberry chia jam and frosted with whipped coconut frosting. You could omit the chia seeds here and just make thicker blackberry compote, it was a last-minute decision.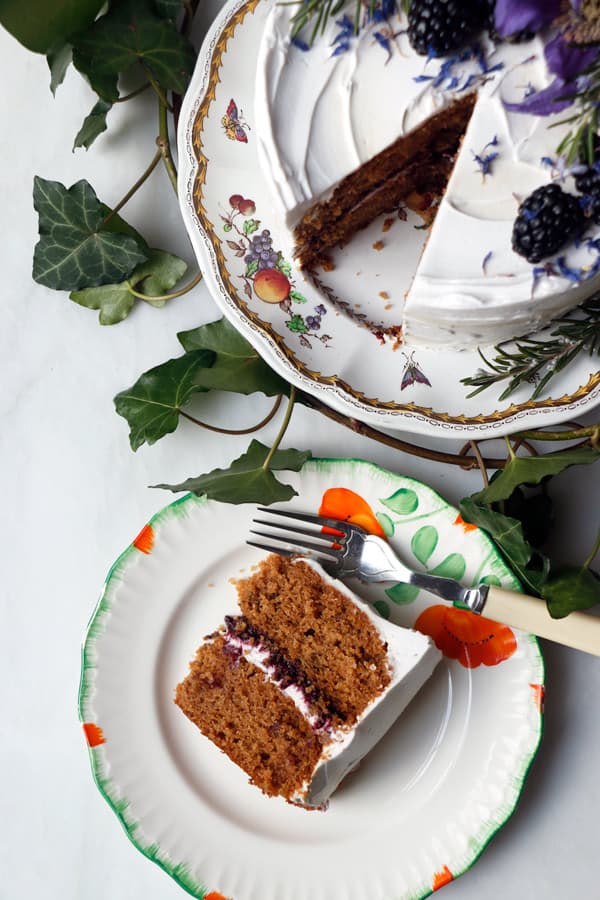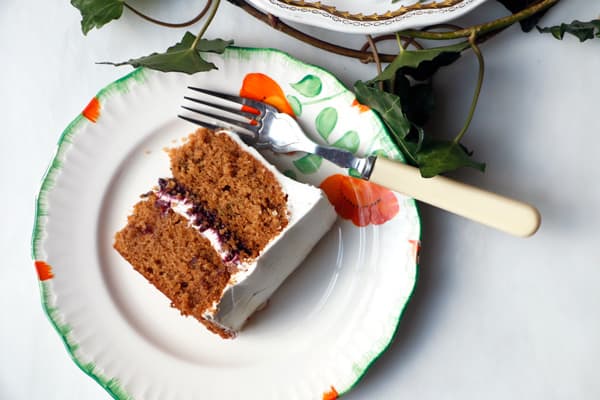 It's a small 6″ two-layer cake, perfect for a little celebration. Rosemary and blackberry are truly delightful together and I am inspired to create more recipes with these two wonderful healing plants. Hope you enjoy it :)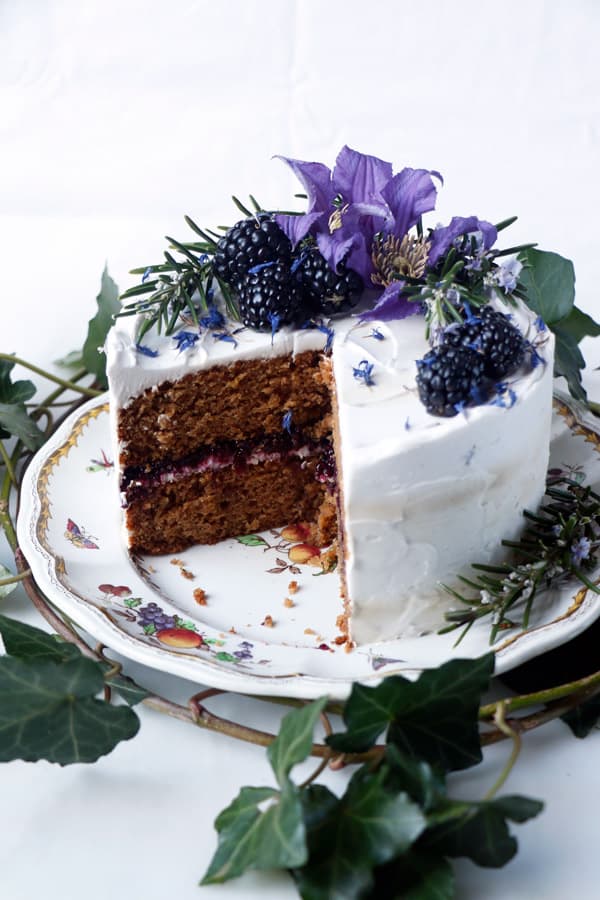 Yield: 6" layer cake
Rosemary Blackberry Layer Cake (vegan & gluten-free)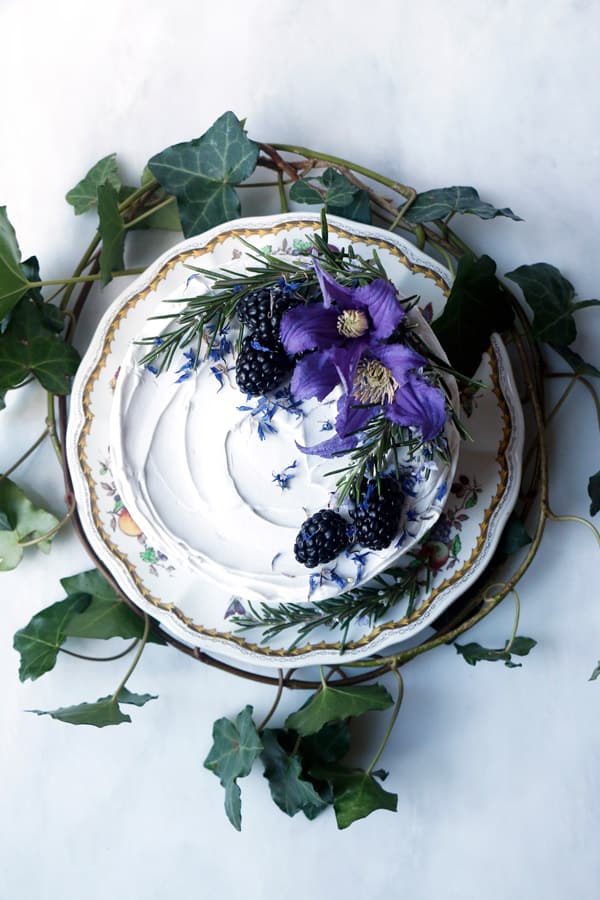 Ingredients
100g ground almonds (1 cup)
70g brown rice flour (1/2 cup)
35g buckwheat flour (1/4 cup)
30g arrowroot (1/4 cup)
1tsp baking powder
1tsp bicarbonate of soda
pinch sea salt
100g coconut sugar (3/4 cup)
1tbsp chopped fresh rosemary
1/2 lemon, zest
2tbsp ground flaxseed + 6tbsp water
80ml apple sauce (1/3 cup)
80ml olive oil (1/3 cup)
60ml almond milk or as needed (1/4 cup)
2tsp lemon juice
Blackberry chia jam:
200g frozen blackberries (2 cups)
squeeze of lemon juice
1tbsp coconut sugar
1/4tsp cinnamon
1/4tsp cardamom
1tbsp chia seeds
To assemble:
whipped coconut cream
blackberries
rosemary sprigs
dried cornflowers
Instructions
Mix 2tbsp ground flaxseed with 6tbsp water and set aside to thicken.
Preheat the oven to 180°C (350F)
Grease and line the base and dust the sides of two 6" round cake baking tins.
In a large bowl whisk together ground almonds, brown rice flour, buckwheat flour, arrowroot, baking powder, bicarbonate of soda and salt. Stir in sugar, rosemary and lemon zest and set aside.
In a small bowl whisk together gelled flax eggs, apple sauce, olive oil, almond milk and lemon juice.
Add the wet mix to the dry mix and mix until well combined. You should have loose pourable muffin consistency. Spoon the mixture evenly into your prepared tins and level out the surface. Bake for about 30 min or until a cocktail stick comes out clean. Remove from the oven once ready and leave to cool down for 20 min before removing from the tins.
To make the blackberry chia jam place blackberries, lemon juice, coconut sugar, cinnamon and cardamom into a small pot and gently heat for about 10 minutes until blackberries are soft and mushy. Take off the heat and roughly mash them with a fork. Stir in chia seeds and leave to cool down for a bit before transferring into a fridge to set.
Once the cakes are completely cool, you can frost the cake. Place the bottom layer onto a cake stand and spread generously with some whipped coconut frosting followed by generous amount of blackberry jam. Top with the second cake layer and frost the top and the sides of the cake.
Decorate with few blackberries, rosemary sprigs and dried cornflowers.
Enjoy!
Notes
You could omit the chia seeds and just make thicker blackberry compote if you prefer.
*please note the flowers are only used to enhance the photos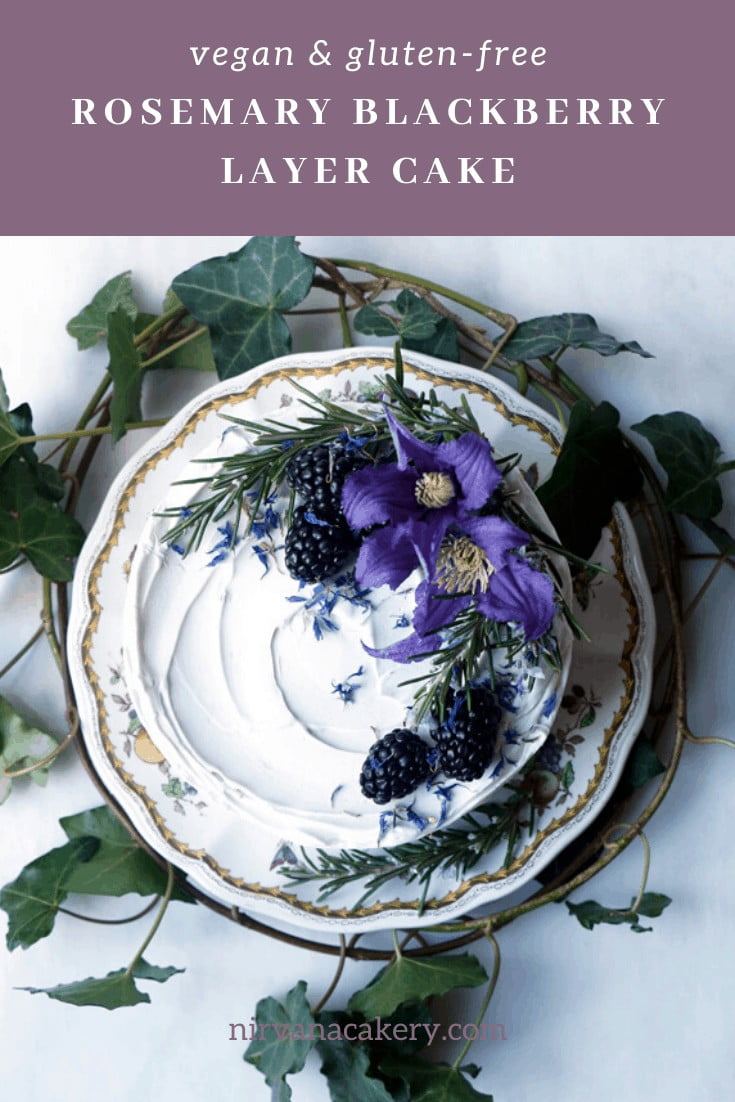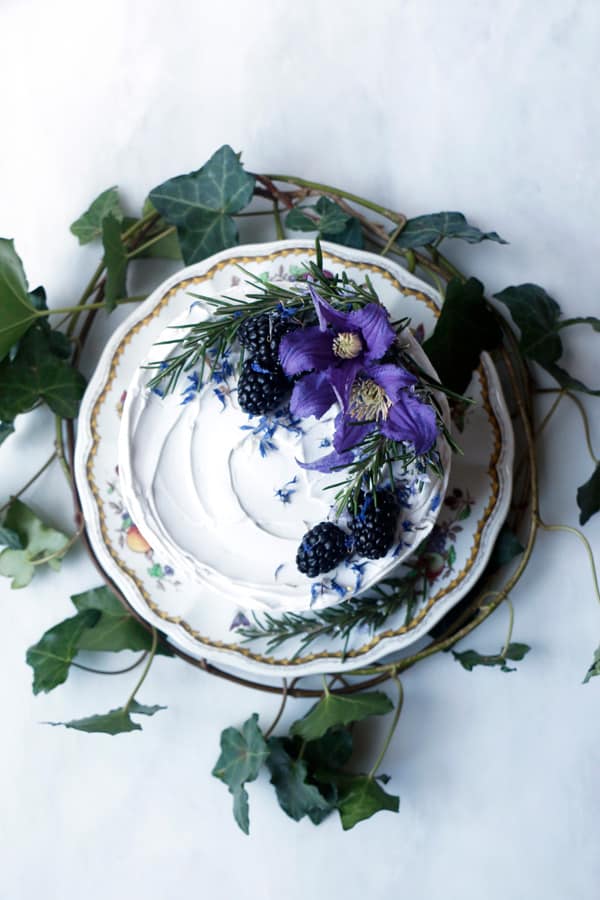 Similar Posts: