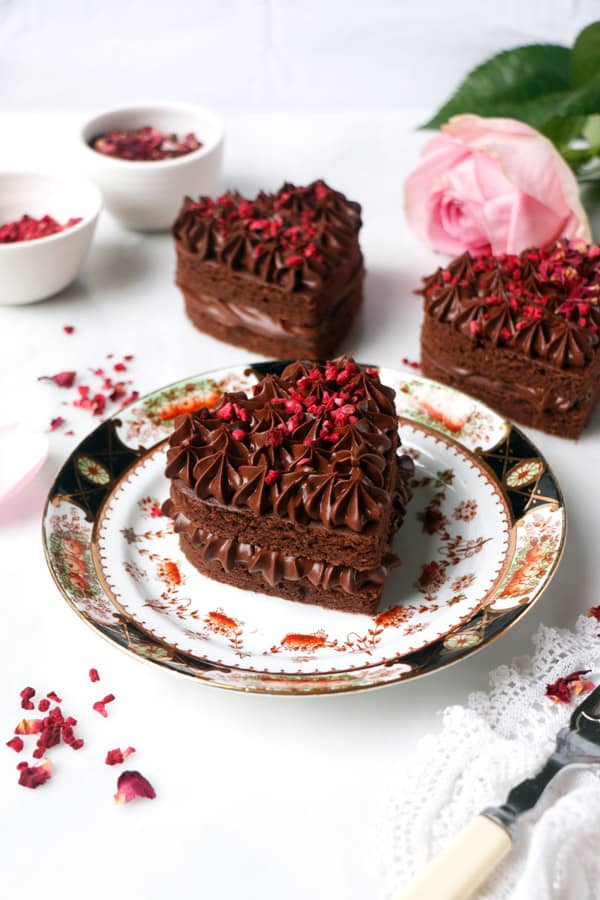 Special thank you to Amore di Mona for sponsoring this post.
Hearts, roses, raspberries and chocolate in today's recipe! With Valentines Day around the corner, I was inspired to create a cake recipe for the occasion and I hope that you love these Rose Raspberry Chocolate Heart Cakes that I'm sharing with you today.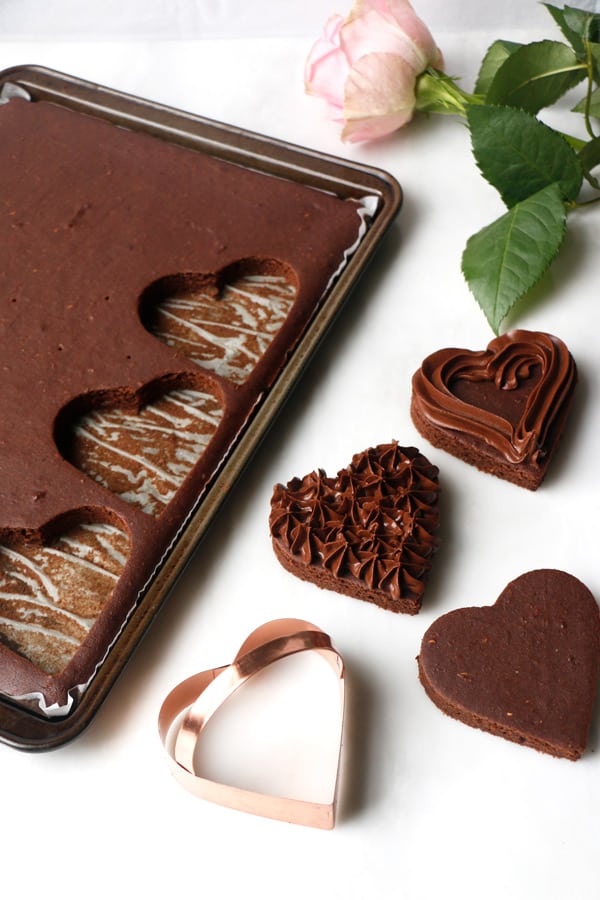 This year is all about us moving more deeply into our hearts releasing old pains, old hurts, everything that no longer serves us and our highest good. And so I encourage you to be brave and follow the path of your heart and see where it leads you.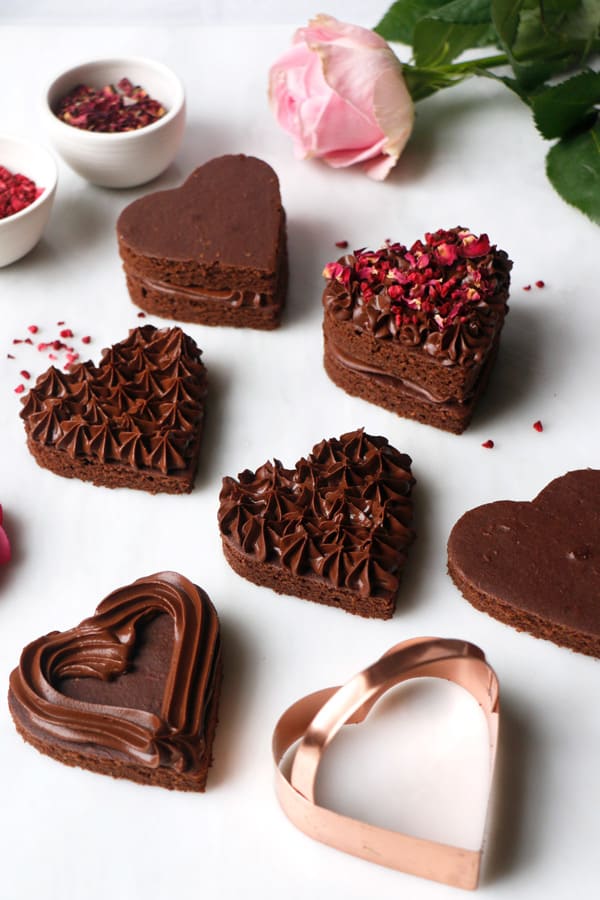 It's not an easy journey but it's the only way to true joy and lasting happiness.
These cute little heart cakes are adapted from my Chocolate Gingerbread Mini Cakes that I've created last Christmas. They are simple to create and yet so effective. I've used raspberry puree, rose water and cardamom in the chocolate sponge cake that gives them a slightly fruity yet delicate flavour.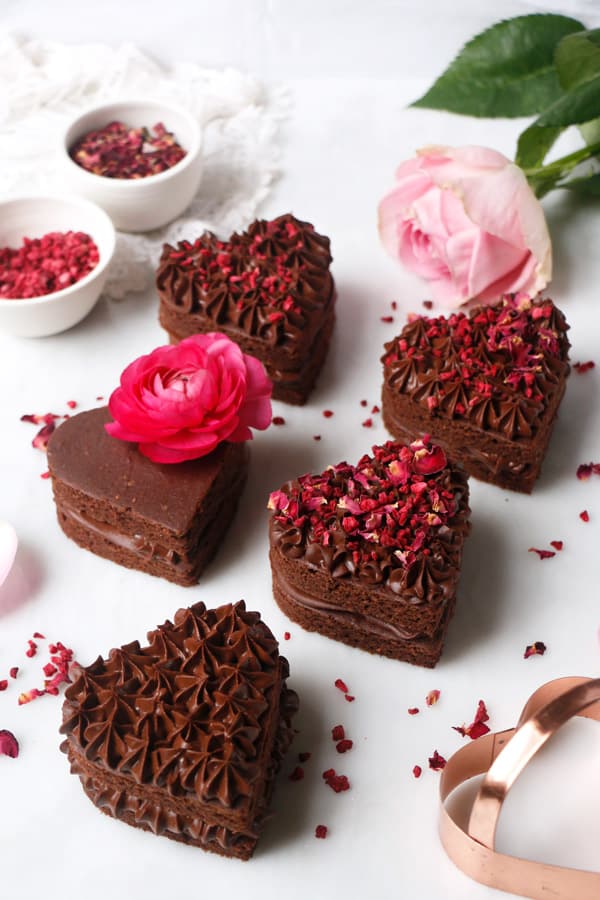 The heart cookie cutter that I've used is about 8cm large and I've made five two-layer cakes from this recipe. I feel that they'd be lovely cakes to make for a wedding too.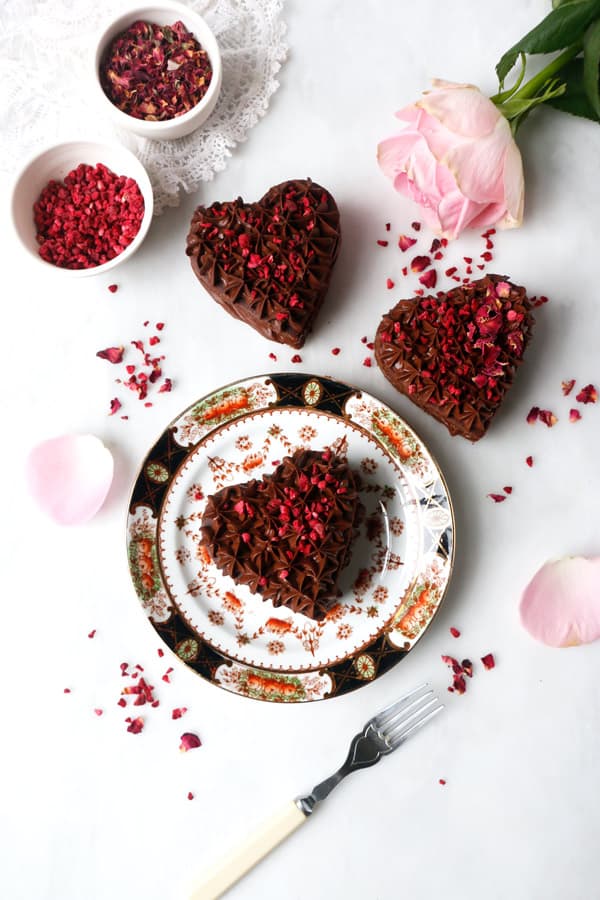 Amore di Mona chocolate makes the most luscious ganache that looks beautiful piped on top. I've also used some freeze dried raspberries and edible dried rose petals to sprinkle on top. Both are fairly widely available now and create such a lovely finish.
Hope you enjoy making these for you and your loved ones :)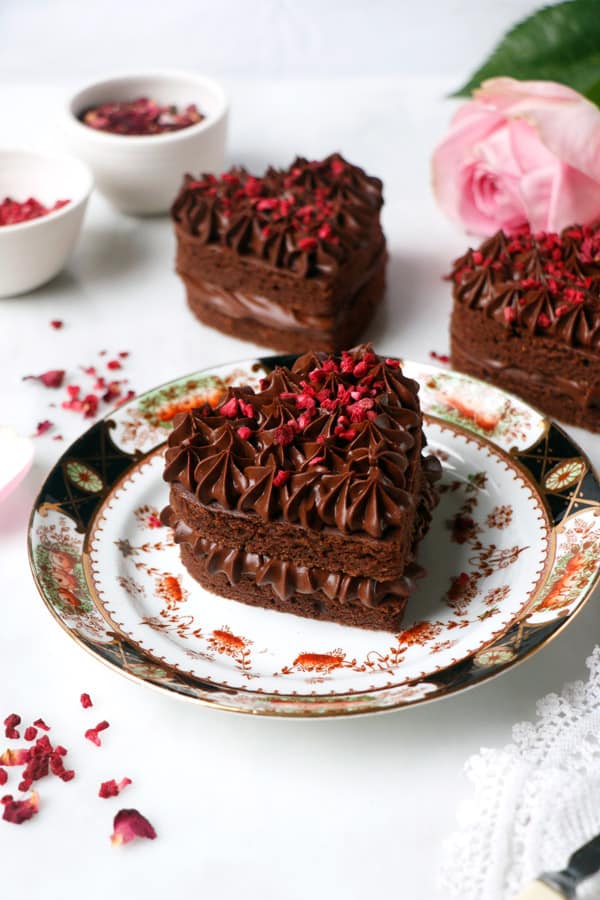 Yield: 5 two layer heart cakes
Rose Raspberry Chocolate Heart Cakes (vegan & gluten-free)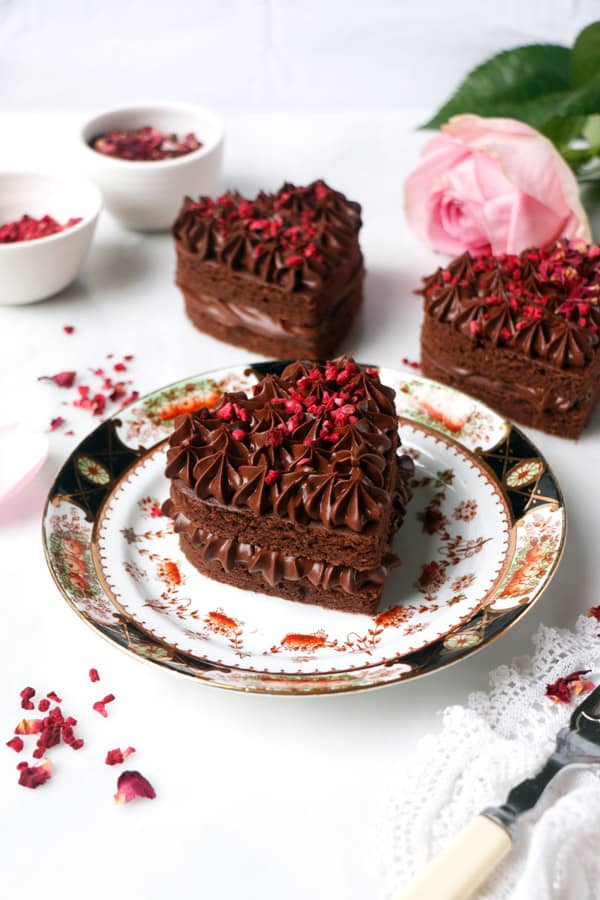 Ingredients
95g brown rice flour (3/4 cup)
70g buckwheat flour (1/2 cup)
70g sunflower seeds (1/2 cup), ground into flour consistency
30g tapioca flour (1/4 cup)
30g cacao or cocoa powder (1/4 cup)
100g rapadura sugar (3/4 cup)
1½tsp baking powder
1tsp bicarbonate of soda
1tsp cinnamon
1/2tsp cardamom
pinch sea salt
3tbsp ground flaxseed + 9tbsp water
100g frozen raspberries (1 cup)
80ml olive oil (1/3 cup)
60ml maple syrup (1/4 cup)
1tbsp rose water
1tsp vanilla
2tsp apple cider vinegar
60ml hot water (1/4 cup)
Chocolate ganache: make the night before
220g dark vegan chocolate (7.7oz)
240ml oat cream (1 cup)
1tbsp maple syrup (optional)
Decoration:
freeze dried raspberries
edible dried rose petals
Instructions
Preheat the oven to 180°C (350F)
Grease and line a 25 x 35cm Swiss roll tin with baking paper.
Mix 3tbsp ground flaxseed with 9tbsp water and set aside to thicken.
Place the frozen raspberries into a small pot and gently heat until soft. Mash with fork into a puree and set aside. You should have about 1/2 cup.
In a large bowl whisk together brown rice flour, buckwheat flour, ground sunflower seeds, tapioca flour, cacao powder, sugar, baking powder, bicarbonate of soda, cinnamon, cardamom and salt.
In a small bowl whisk together gelled flax eggs, raspberry puree, olive oil, maple syrup, rose water, vanilla and apple cider vinegar.
Add the wet mix to the dry mix and mix until well combined. Add hot water bit by bit to achieve pourable muffin consistency.
Pour the mixture onto the lined tin and smooth out the surface.
Bake for about 20 minutes or until a cocktail stick comes out clean.
Remove from the oven and leave to cool down.
Once cooled cut out shapes using heart cookie cutter.
Spoon ganache into a piping bag fitted with large star nozzle, pipe on top of the cakes and layer them on top of each other.
Chocolate ganache:
Roughly chop the chocolate for the chocolate ganache and place into a medium bowl. Place the oat cream and maple syrup into a small pot and gently heat until boiling point. Pour over the chopped chocolate and stir until completely melted and smooth. Leave to cool down before placing into a fridge to set overnight into a pipeable consistency. It should be perfect consistency for piping but if it's too hard leave it at room temperature for a little while to soften.
Decorate your cakes with some freeze dried raspberries and edible rose petals.
Enjoy!
Notes
The cookie cutter that I've used is about 8cm large and I've made five two-layer cakes from this recipe.
I've used oat cream in the ganache to keep he recipe nut-free, but you can use another vegan cream or coconut cream in here. Oat cream has a single cream consistency so if you're using coconut cream you can use either less chocolate or little more cream because it sets more solid in the fridge. I always leave it set overnight.
If you don't need these to be nut-free, you can replace sunflower seeds with ground almonds and rapadura sugar with coconut sugar.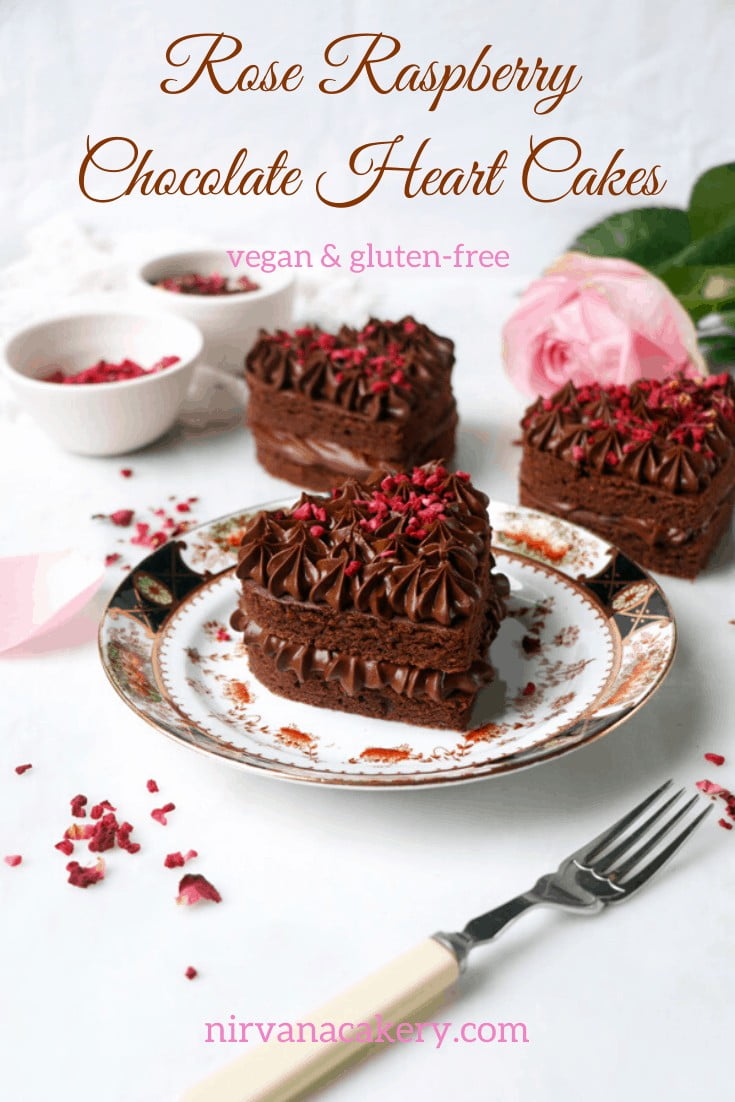 Similar Posts: