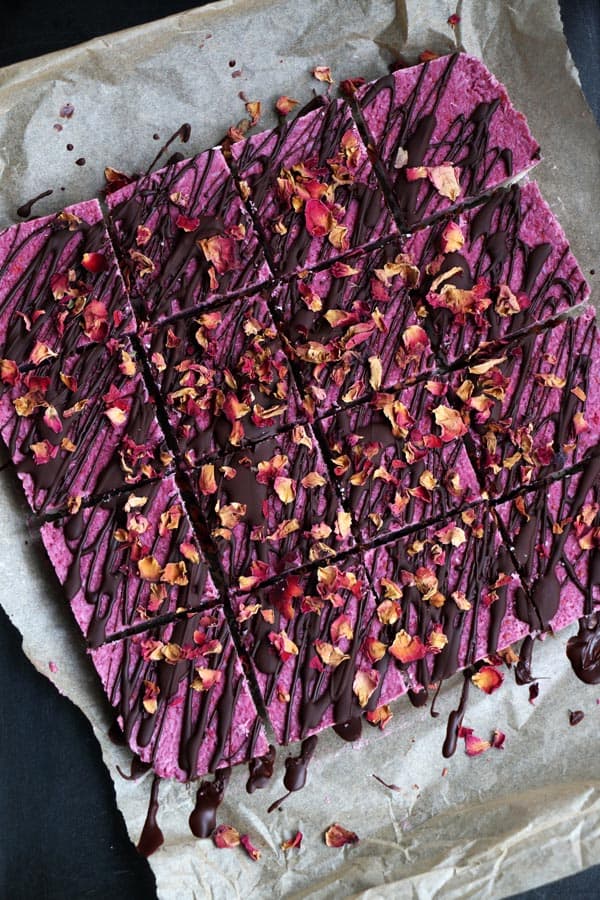 With Valentine's Day coming soon, I wanted to create something to fit the occasion and so these Coconut and Raspberry Bars have been born today. I got quite creative with this recipe and I'm very happy how they turned out.
It's actually a very simple recipe, yet effective and pure bliss. They are very coconut rich, nut-free, dairy-free and oh so nice:)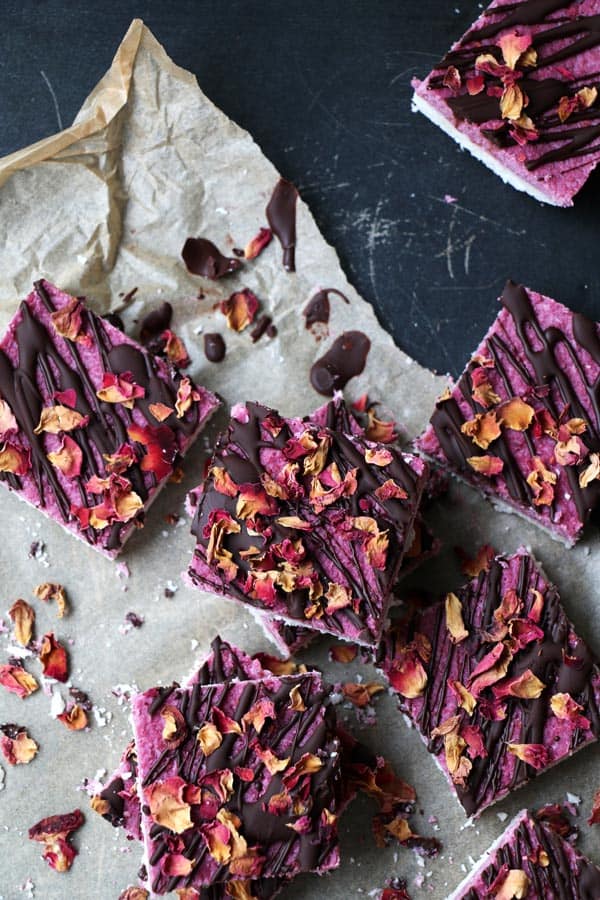 The bottom layer has a mix of creamed coconut, coconut oil, maple syrup and desiccated coconut which makes a nice solid texture once set. I've used creamed coconut from Biona, which is the same thing as coconut butter, but much better value.
The top layer has raspberries mixed into the first layer to create a contrasting colour and flavour. The raspberries give it a nice sharp and zesty taste, but not too overpowering. Finally, it's all topped with dark chocolate and rose petals, just perfect for Valentine's Day:) Enjoy with the beautiful people you love!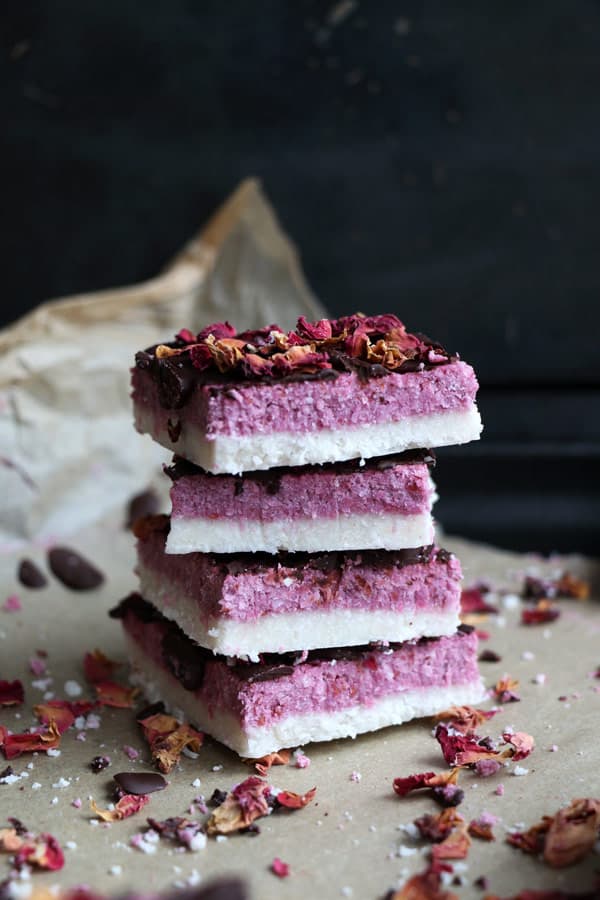 Yield: 16 bars
Coconut and Raspberry Bars (grain-free & vegan)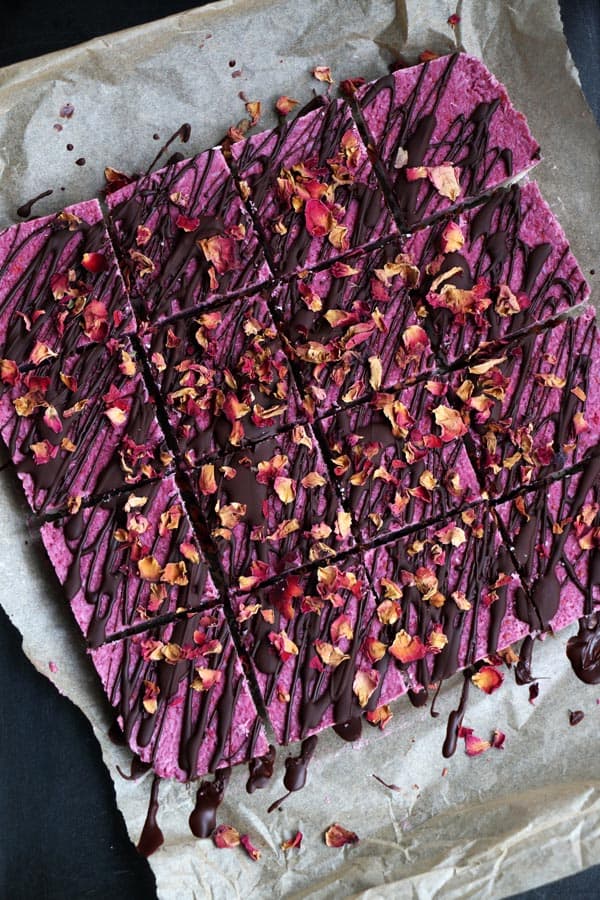 Ingredients
200g bar creamed coconut/coconut butter (1 cup)
4tbsp coconut oil
3tbsp maple syrup
1tsp vanilla
pinch of pink Himalayan salt
125g desiccated coconut (1 1/4 cup)
100g frozen raspberries (1 cup)
1tsp lemon juice
1tsp maple syrup
25g desiccated coconut (1/4 cup)
50g dark chocolate
dried rose petals
Instructions
Line about 7"square dish with parchment paper.
Place raspberries into a small pot with 1tsp lemon juice and 1tsp of maple syrup and simmer for about 5 min until soft and mushy. Leave to cool down.
In a different pot gently melt creamed coconut with coconut oil, stir in 3tbsp maple syrup, 1tsp vanilla and pinch of salt. Place 125g desiccated coconut into a bowl, pour the coconut mixture over and mix well. Spoon 2/3 of a mixture into prepared dish and press down.
Add raspberry mix to the remaining 1/4 of a mixture together with 25g of desiccated coconut and mix well. Spoon on top of the white layer and smooth down.
Place into a fridge for about an hour or freezer for about 30 min to set.
In the mean time gently melt chocolate in a double boiler and leave to cool.
Once set remove from the fridge and with a sharp knife cut into 16 squares. Drizzle with melted chocolate all over and sprinkle with rose petals.
Store in a fridge.
Enjoy!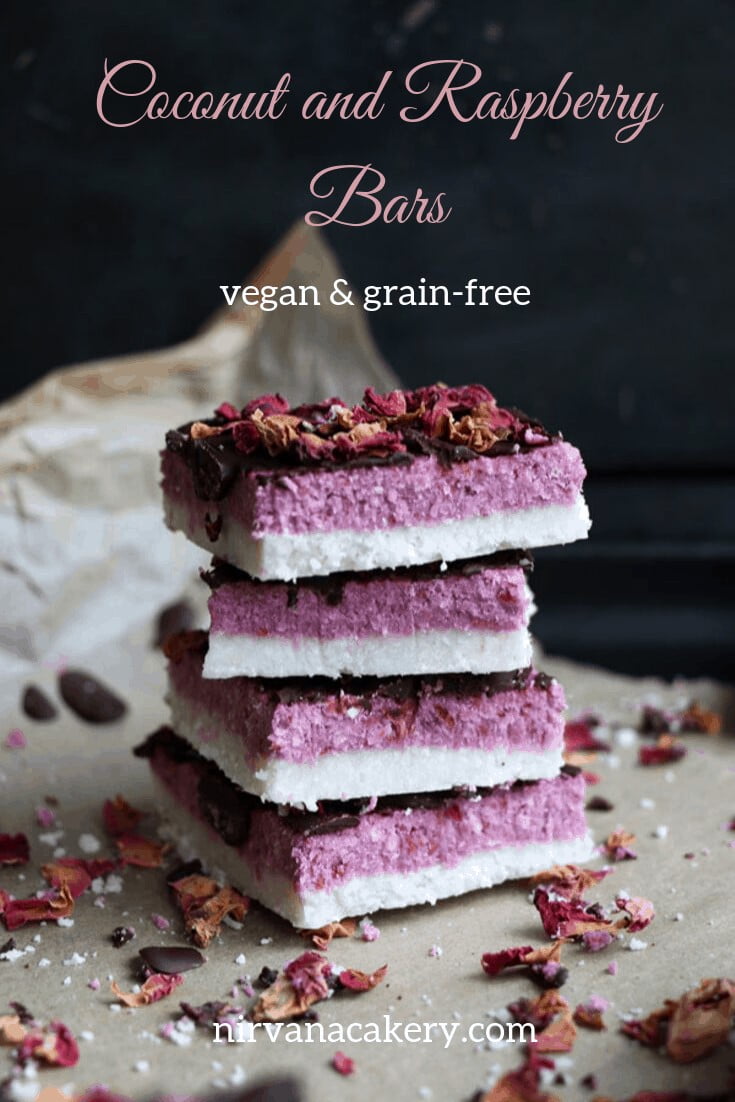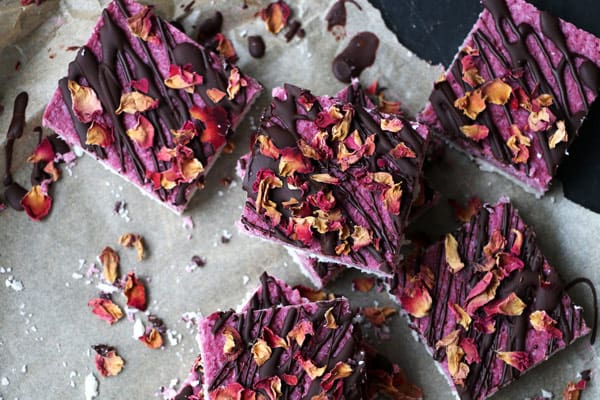 Similar Posts: