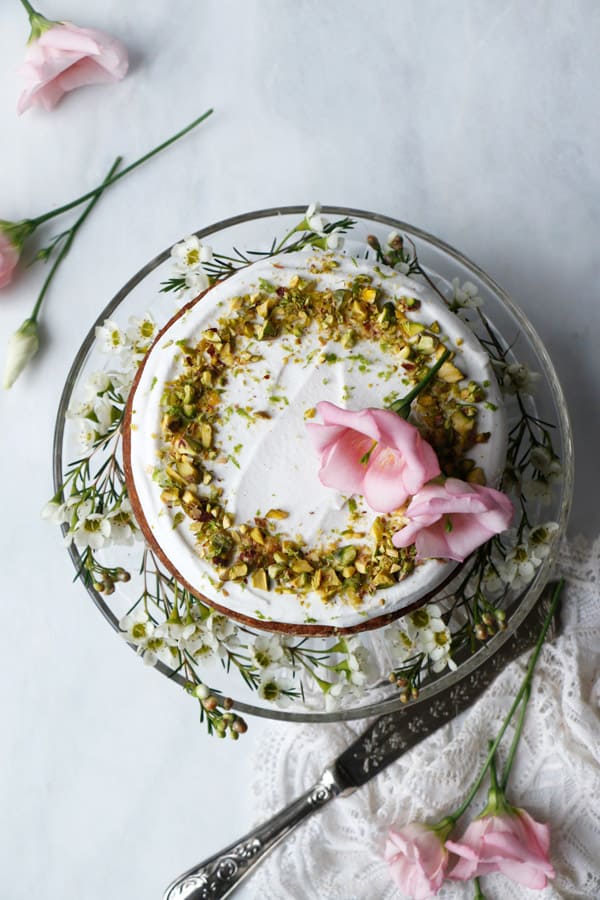 With International Women's Day today and Mother's Day this Sunday this is the week to celebrate the feminine, the soft, the light, the beauty of being you.
And this Cardamom Pistachio Carrot Cake is my little offering to celebrate all of you beautiful, loving, compassionate, nurturing beings of Love & Light.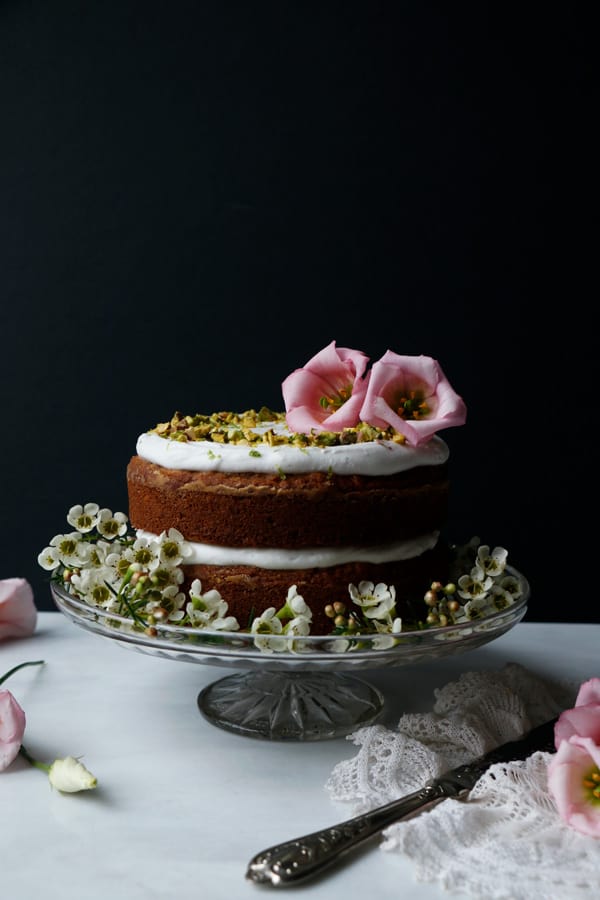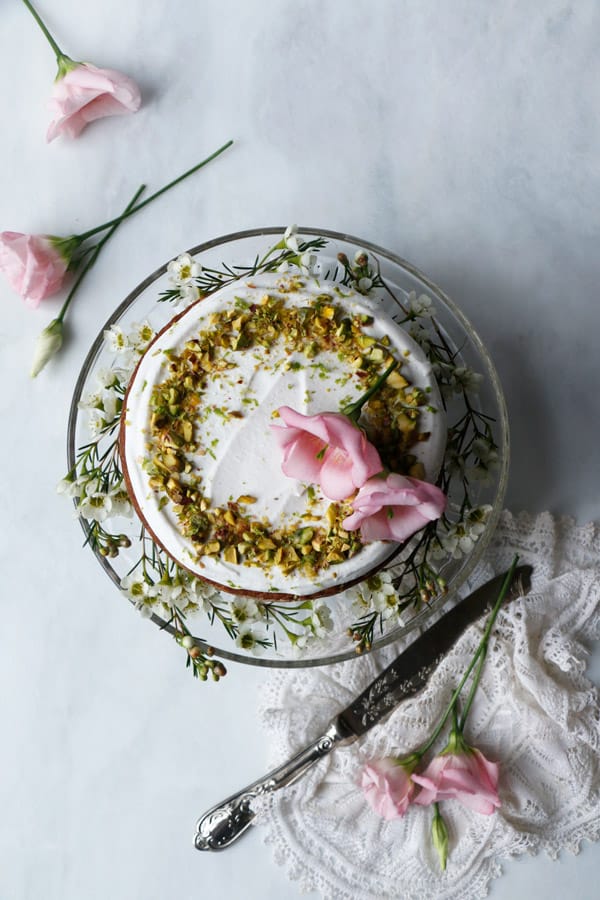 Quite traditional, a bit more wholesome, with my favourite spice of course, I had to sneak in some cardamom :) then we have the gorgeous pistachios and lime zest, all the good things. And if these flavours are not to your taste you can easily replace them with cinnamon, walnuts and orange zest.
The sponge is lovely, moist and rises well. I've used my favourite simple coconut frosting that I've used many times before. This time it came out slightly more loose, it often depends on thickness of the coconut yogurt, but it always sets on the cake so you needn't worry if this happens to you.
The coconut yogurt mixed with coconut cream gives it that slightly cheesy flavour which works really nicely on carrot cake. I don't tend to add any sweetener to the frosting these days, I don't think it really needs it, but you can add 2tsp of maple syrup if you like. Decorate this deliciousness with some chopped pistachios, lime zest & ever so important blooms.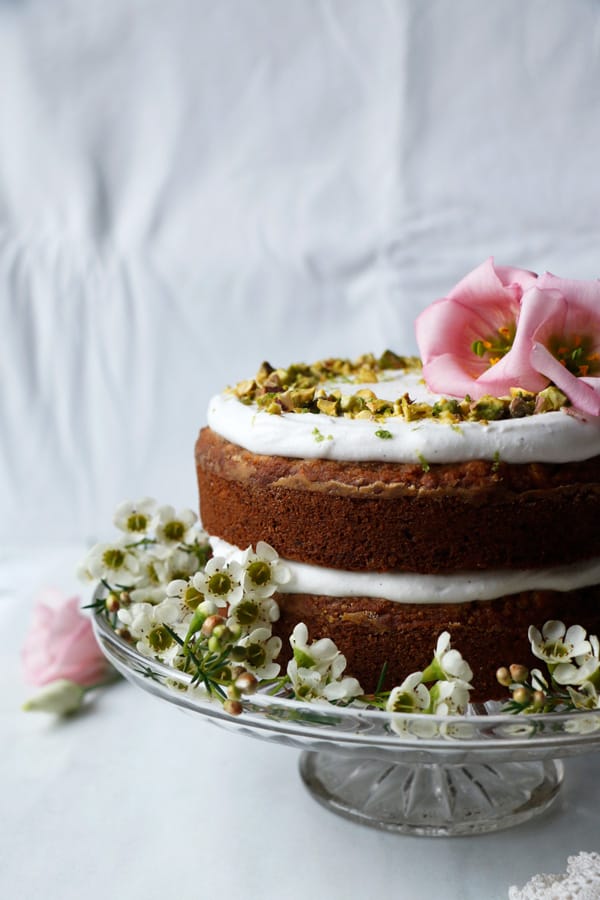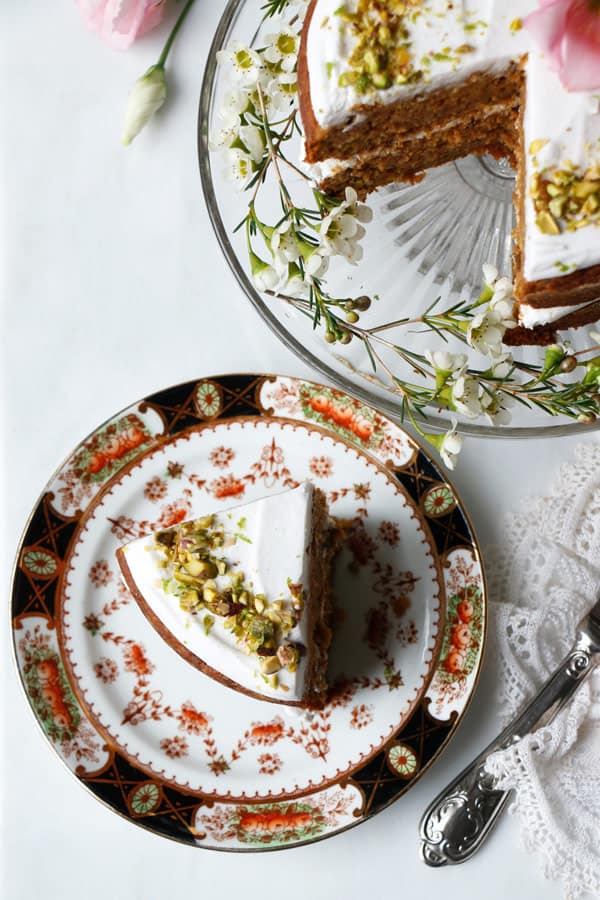 Yield: 6" two layer cake
Cardamom Pistachio Carrot Cake (gluten-free & vegan)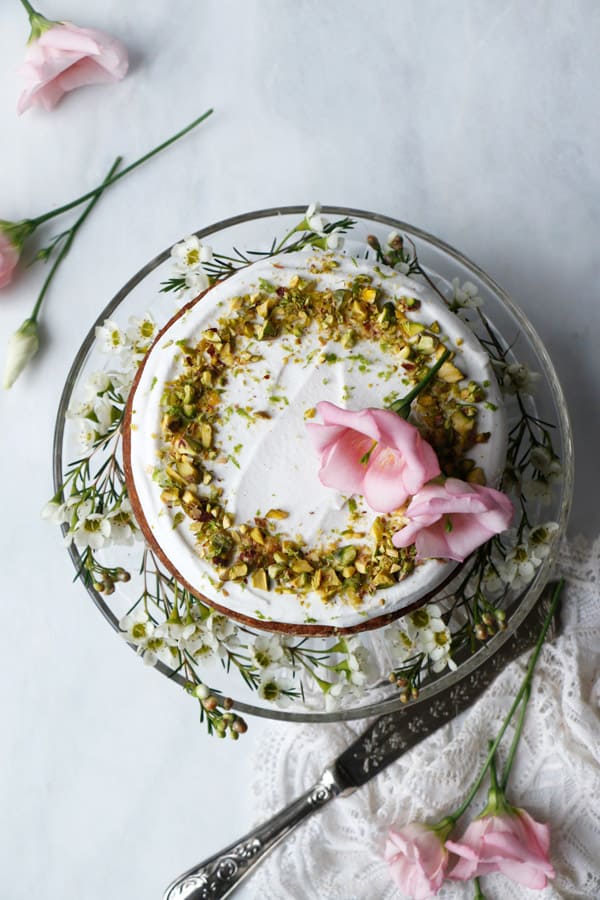 Ingredients
Carrot cake:
200g carrots, grated (1¼ cup packed)
½ lime, zest
100g ground almonds (1 cup)
35g buckwheat flour (1/4 cup)
70g brown rice flour (1/2 cup)
30g arrowroot (1/4 cup)
30g desiccated coconut (1/3 cup)
1tsp baking powder
1tsp bicarbonate of soda
1tsp cardamom
1tsp cinnamon
¼tsp ground ginger
pinch sea salt
100g coconut sugar (3/4 cup)
2tbsp ground flaxseed + 6tbsp water
80ml olive oil (1/3 cup)
120ml almond milk (1/2 cup)
2tsp apple cider vinegar
2tbsp maple syrup
80g pistachios, chopped (1/2 cup)
Coconut frosting:
1x 400ml can full fat coconut milk, refrigerated overnight
125g coconut yoghurt (1/2 cup)
Topping:
chopped pistachios
lime zest
Instructions
Mix 2tbsp ground flaxseed with 6tbsp water and set aside to thicken.
Peel and grate carrots, add lime zest and set aside.
Preheat the oven to 180°C (350F)
Grease and line two 6" round cake baking tins.
In a large bowl whisk together ground almonds, buckwheat flour, brown rice flour, arrowroot, desiccated coconut, baking powder, bicarbonate of soda, cardamom, cinnamon, ginger, salt and sugar and set aside.
In a small bowl whisk together flax eggs, olive oil, almond milk, apple cider vinegar and maple syrup.
Add the wet mix to the dry mix and mix until well combined.
Stir in grated carrots with the lime zest. You should have muffin consistency. Add little more almond milk if needed. Finally fold in chopped pistachios.
Spoon the mixture evenly into your prepared tins and level out the surface.
Bake for about 35-40 minutes or until a cocktail stick comes out clean.
Remove from the oven once ready and leave to cool down for 20 min before removing from the tins.
To make the frosting scoop the solid part of the coconut milk into a bowl, try not to get any liquid in. Add coconut yoghurt and whip until smooth. It will thicken as you continue to whip. If you like sweetener you can add 2tsp of maple syrup. Place into a fridge until you're ready to frost the cake.
Once the cakes are completely cool, you can frost the cake. Place the bottom layer onto a cake stand and using spatula spread generously with the coconut frosting. Top with the second layer and frost the top of the cake.
Decorate your cake with chopped pistachios & lime zest.
Store in fridge before serving.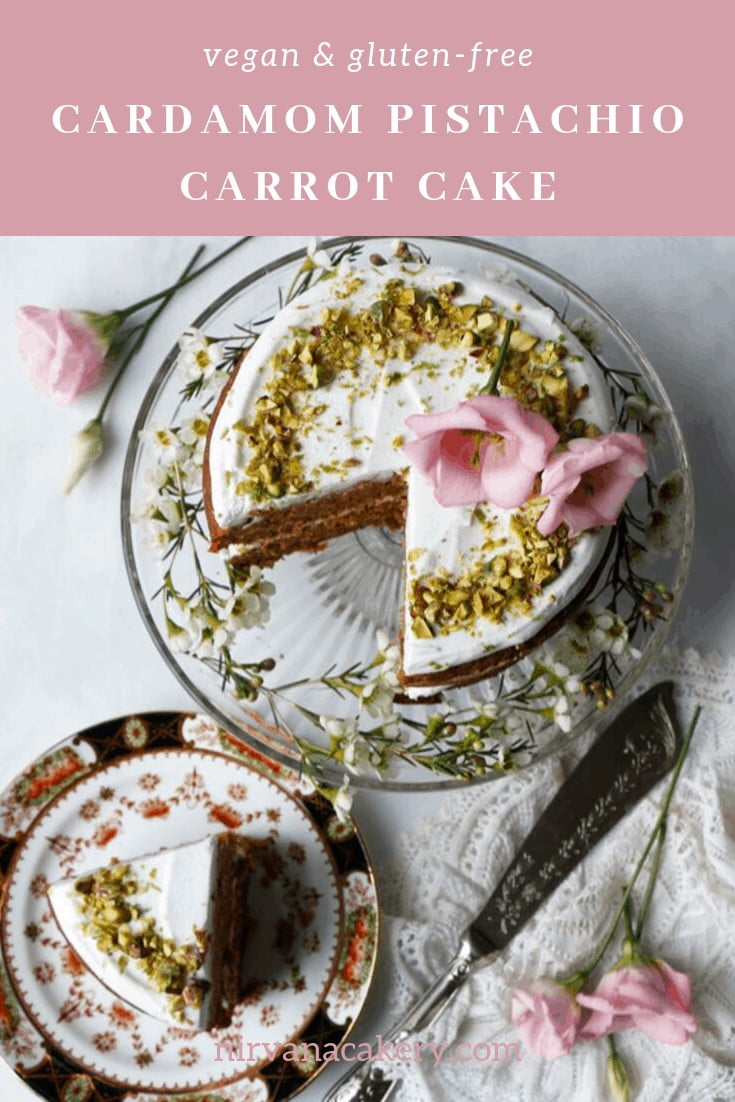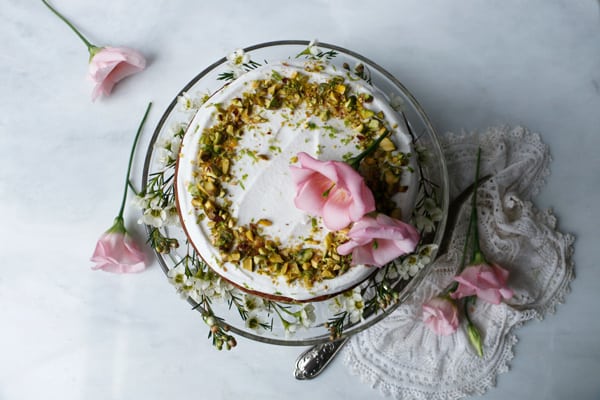 Similar Posts: