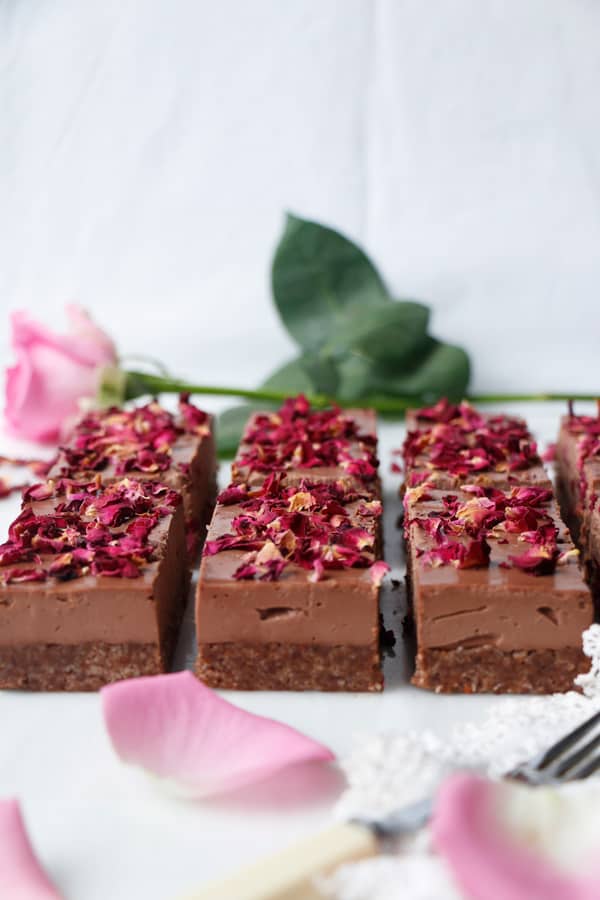 Today I have the promised Rose Cardamom Chocolate Cheesecake for you. I have developed this cheesecake for a special event later this month and I'm so happy with this recipe, it's so special, so feminine and the taste is absolutely divine.
I hope I'm not too late getting this recipe to you in case you would like to make it this Valentines Day, it would be perfect.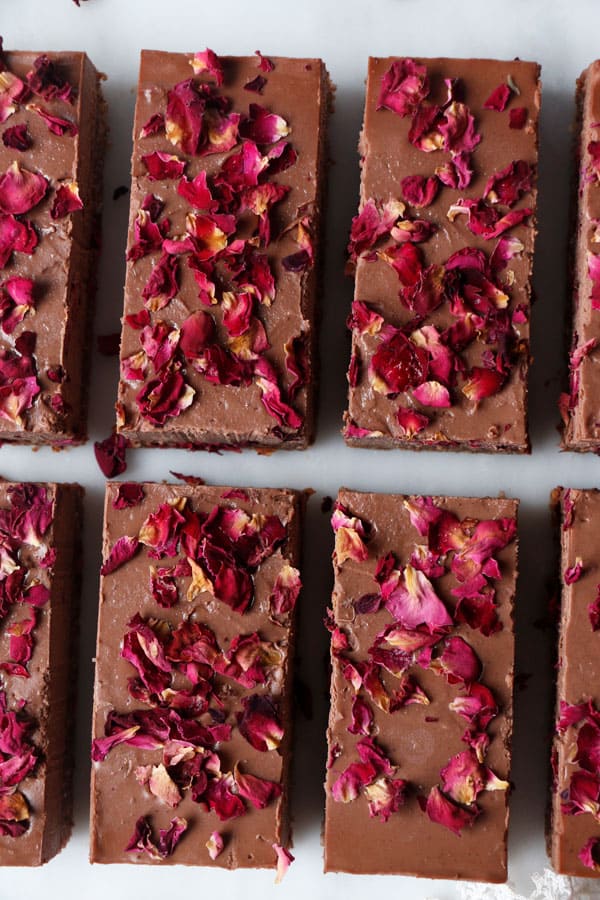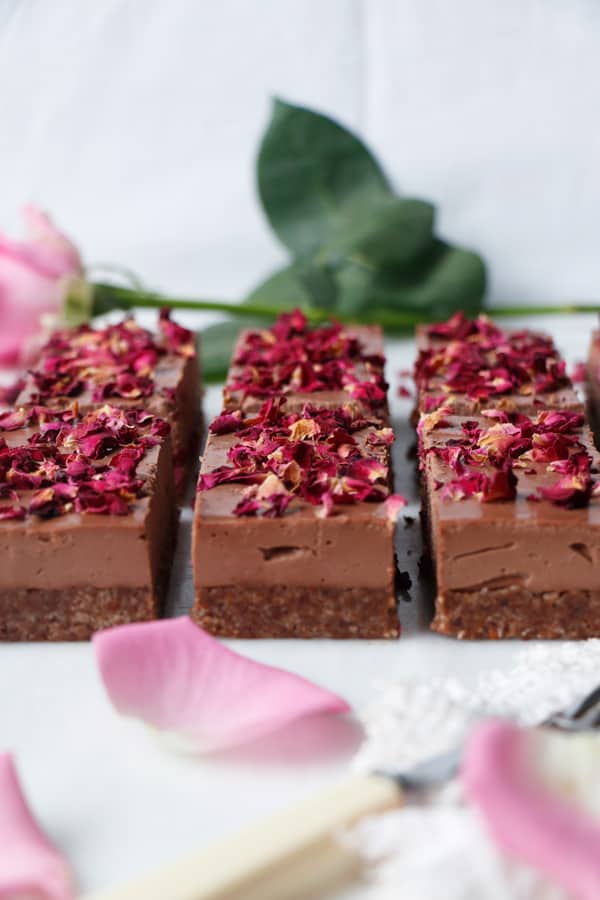 I've decided to make this cheesecake into bars, however, you could also use 6″ round cake tin if you prefer. I've chosen some wonderful ingredients for this recipe; the crust is made of a mix of brazil nuts, almonds, desiccated coconut, medjool dates, raw cacao and cardamom. The top creamy layer is a mix of cashews, cacao butter, coconut oil, raw cacao, cardamom, rose water and maple syrup for sweetener. Everything works beautifully in harmony and it's a pure pleasure to taste.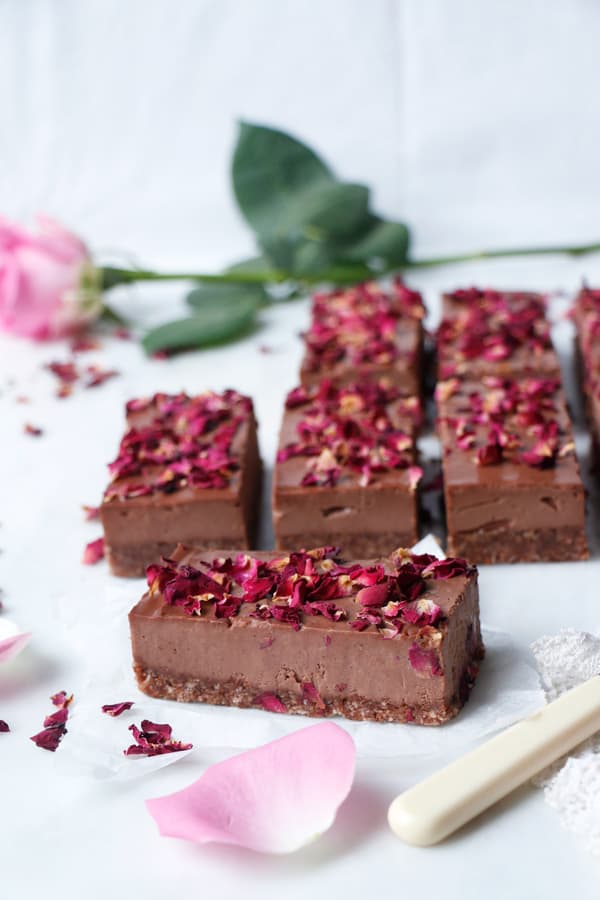 Yield: 8 large bars
Rose Cardamom Chocolate Cheesecake (vegan & grain-free)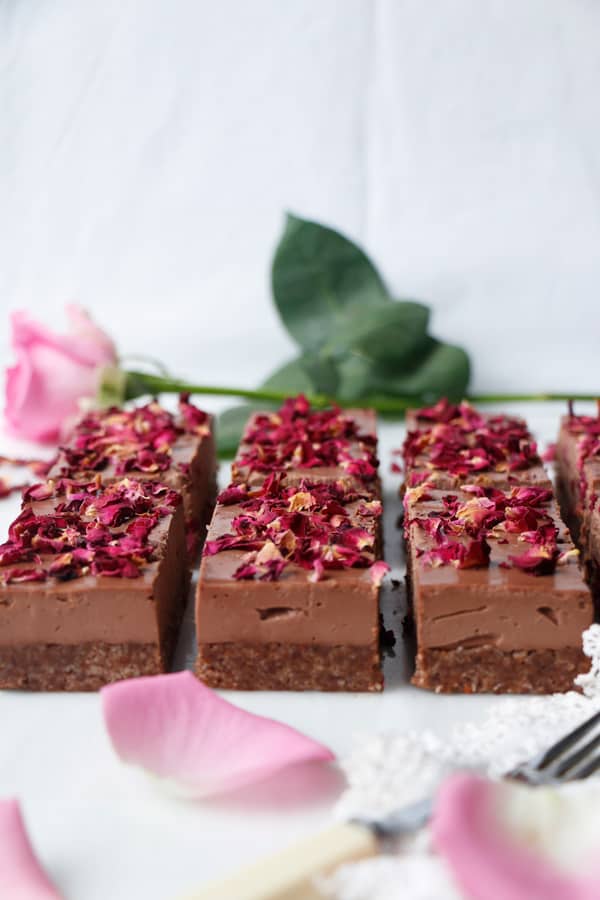 Ingredients
Crust layer:
120g mix of brazil nuts and almonds (1 cup)
50g desiccated coconut (1/2 cup)
6 Medjool dates, pitted
1tbsp raw cacao powder
1/2tsp ground cardamom
pinch sea salt
1tsp coconut oil
Rose chocolate layer:
240g cashews, soaked for 4 hours or overnight (2 cups)
80ml maple syrup (1/3 cup)
80ml almond milk (1/3 cup)
1tsp vanilla extract
2tsp rose water
60g raw cacao powder (1/2 cup)
1/2tsp ground cardamom
80ml melted cacao butter (1/3 cup)
2tbsp melted coconut oil
Topping:
Instructions
Prepare 7" square cake tin with removable base.
Place brazil nuts and almonds into a food processor and pulse few times until ground. Add desiccated coconut, pitted dates, cacao, cardamom and salt and blend until the mixture comes together. Add coconut oil and blend again. You should have a sticky mix when pressed together.
Spoon the crust mix into the tin, spread evenly onto the base and press tightly down. Place into a fridge.
Rinse the soaked cashews under running water and place into high speed blender. Add maple syrup, almond milk, vanilla, rose water and blend until smooth. Add extra almond milk if needed. Add cacao, cardamom, melted cacao butter and coconut oil and blend until incorporated. I kept the mixture quite thick so it holds well at room temperature.
Spoon the mixture onto the crust layer and smooth out the top. Sprinkle with some rose petals. Cover the cake with a layer of baking paper and cling film on top to prevent frostbite and place into a freezer until set.
Once set carefully remove from the tin and with a sharp knife cut into 8 bars.
Leave to thaw before serving.
Store in a fridge or freezer.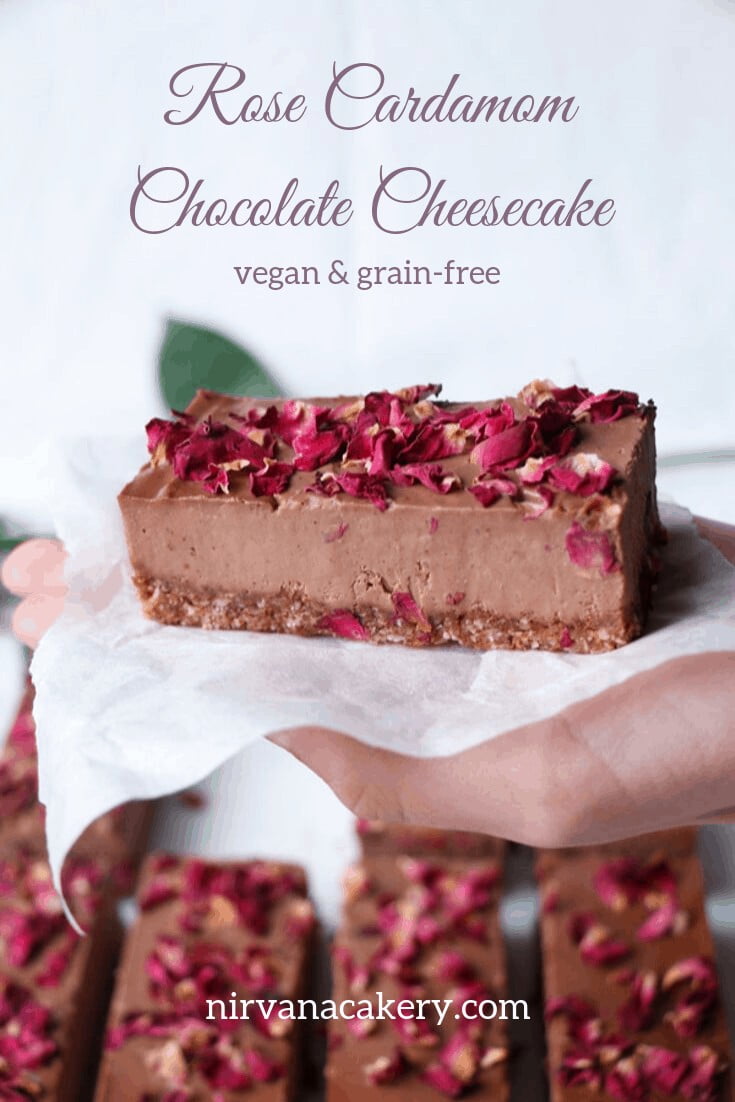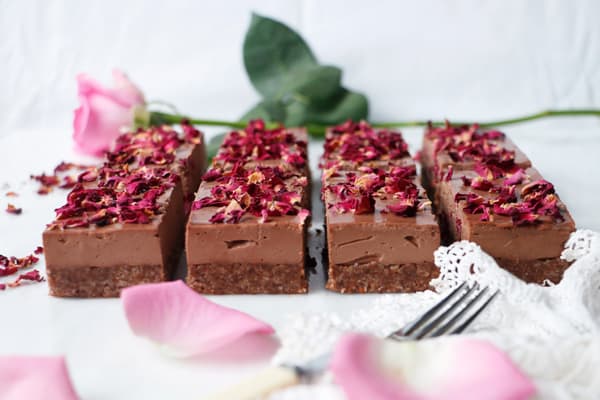 Similar Posts: