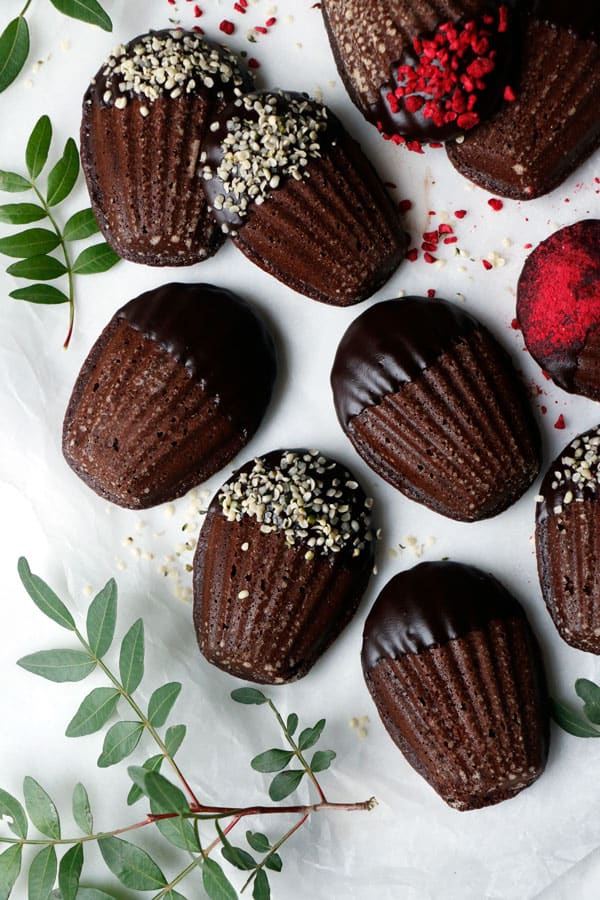 Special thank you to Amore di Mona for sponsoring this post.
These Raspberry Chocolate Madeleines are beautifully light, chocolatey with a secret raspberry surprise in center dipped in luscious dark chocolate and sprinkled with dried raspberries and shelled hemp seeds.
This is my first time making madeleines and I couldn't be happier with how they turned out, absolutely delicious. I'm already thinking of new possible flavor combinations that I could bake next. Also I need to make the most of my new madeleine baking tin!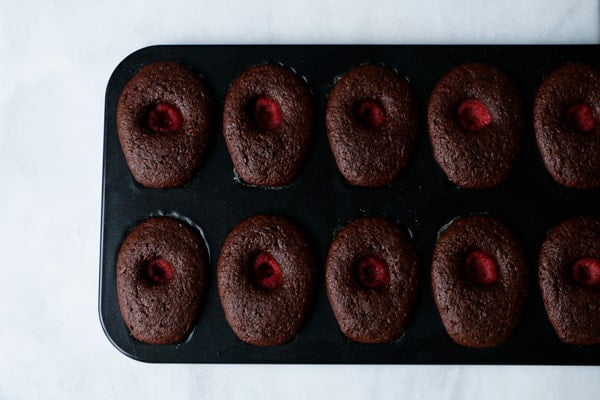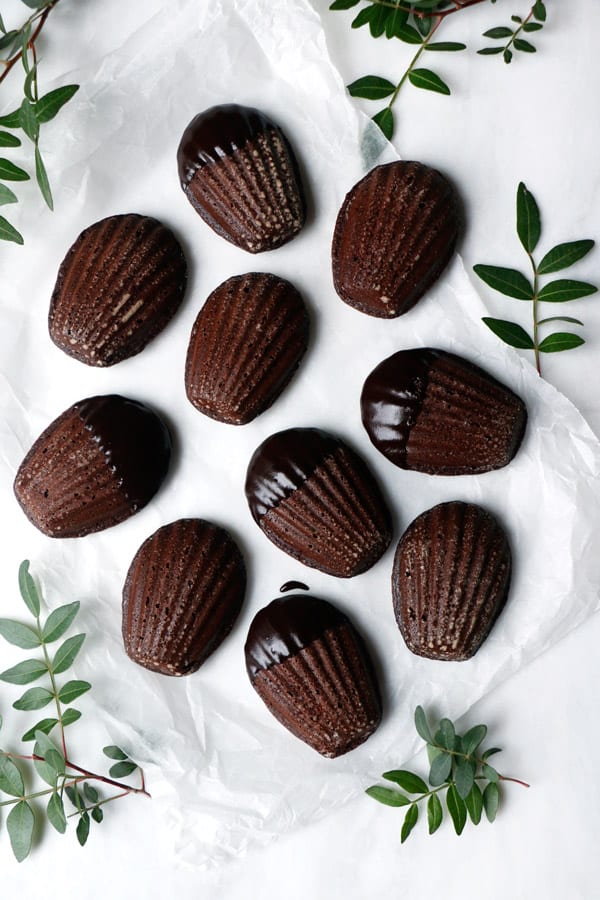 I've developed this recipe for Amore di Mona vegan chocolate and many of you already know that these aside of being vegan and gluten-free are also nut and coconut-free. Wonderful for all of you that are on a very restricted diets. I am aware that some of you can't tolerate oats, but I did included them in this recipe to make the madeleines extra light and fluffy as you would expect from a good madeleine. Please replace the oats with another gluten-free flour if necessary.
This is my second version of this recipe as I needed to make few adjustments to get the quantity right to fit the tin perfectly and they are even better than the first version. You can bake them little longer for more crispy flavour or less time for lighter more fluffy version.
Have lots of fun decorating these, they look really pretty dipped in chocolate and sprinkled with toppings. Enjoy :)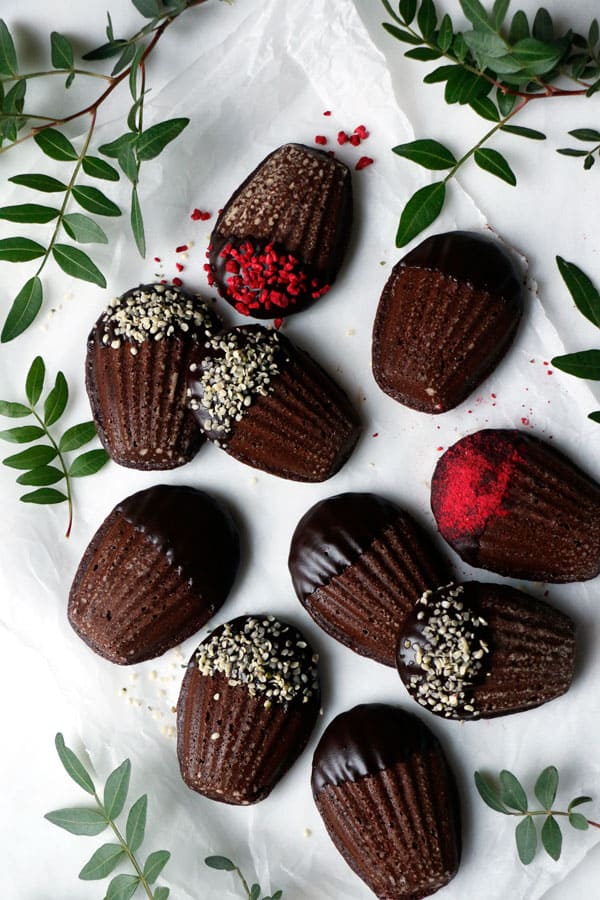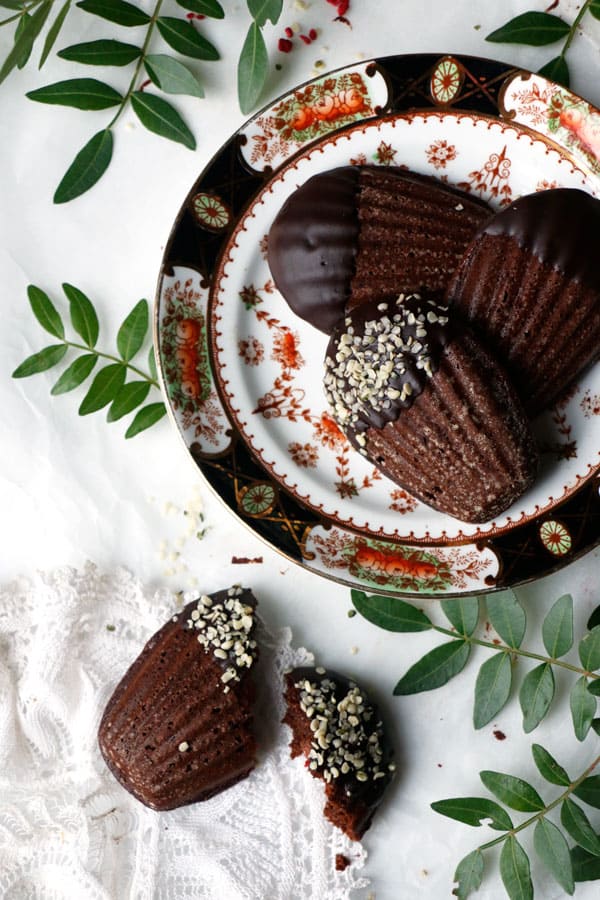 Yield: 12 madeleines
Raspberry Chocolate Madeleines (gluten-free & vegan)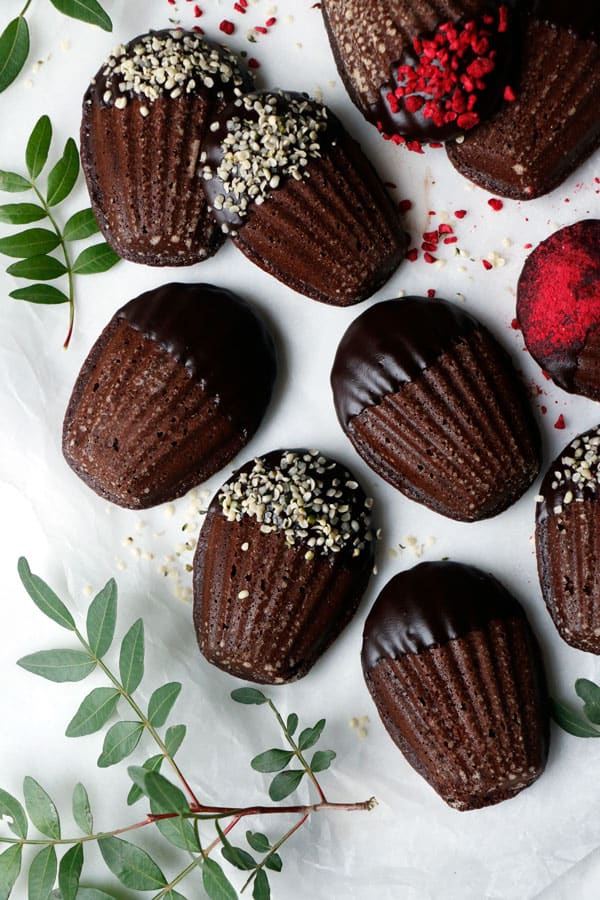 Ingredients
35g brown rice flour (1/4 cup)
35g sunflower seeds (1/4 cup), ground into flour consistency
25g gluten-free oats (1/4 cup), ground into flour consistency
2tbsp tapioca flour
2tbsp raw cacao powder
75g rapadura sugar (1/2 cup)
1/2tsp baking powder
½tsp bicarbonate of soda
1/4tsp cinnamon
pinch sea salt
2tbsp ground flaxseed + 6tbsp water
60ml olive oil (1/4 cup)
60ml plant milk (1/4 cup)
1tsp apple cider vinegar
1tsp vanilla extract
12 raspberries
Topping:
100g dark vegan chocolate (3.5oz)
freeze dried raspberries
shelled hemp seeds
Instructions
Mix 2tbsp ground flaxseed with 6tbsp water and set aside to thicken.
Preheat the oven to 180°C (350F)
Grease and lightly dust 12 hole madeleine baking tin.
In a large bowl whisk together brown rice flour, ground sunflower seeds, ground oats, tapioca flour, cacao, sugar, baking powder, bicarbonate of soda, cinnamon and salt. Set aside.
In a small bowl whisk together flax eggs, olive oil, plant milk, apple cider vinegar and vanilla.
Add the wet mix to the dry mix and mix until well combined. You should have pourable muffin consistency.
Spoon the mixture evenly into each of the madeleine holes until almost full. Press one raspberry each into centre with the stem side up.
Bake for about 15 to 20 minutes or until a cocktail stick comes out clean.
Remove from the oven and leave to cool down for 20 minutes before carefully moving onto a wire rack. To remove them from the tin, slide them out.
Roughly chop the chocolate, place into heatproof bowl and gently melt over pot of simmering water.
Dip each madeleine into melted chocolate and sprinkle with freeze dried raspberries or shelled hemp seeds.
Enjoy!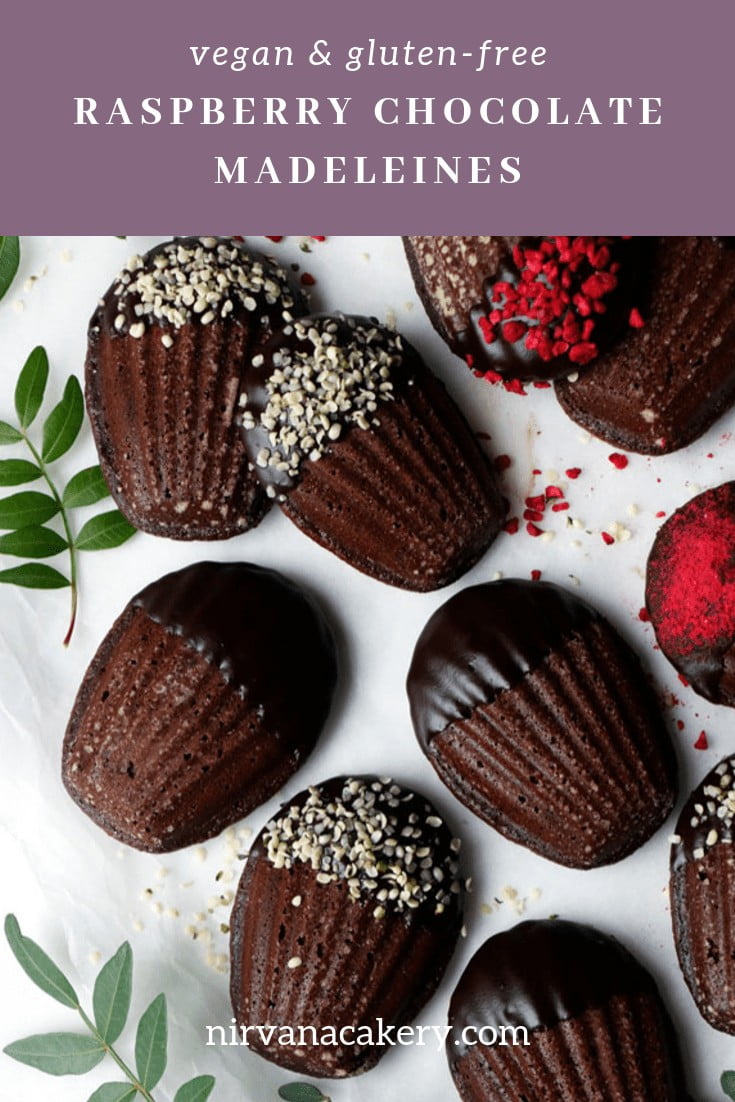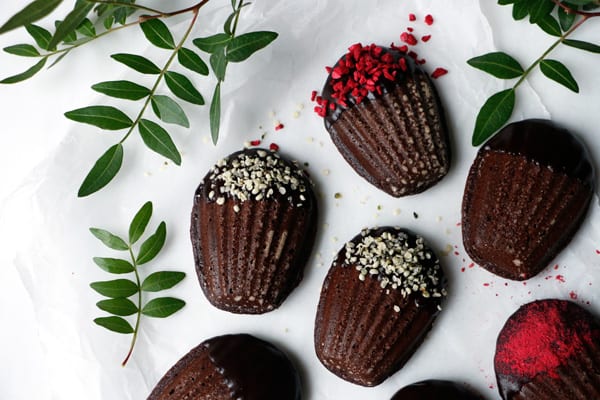 Similar Posts: