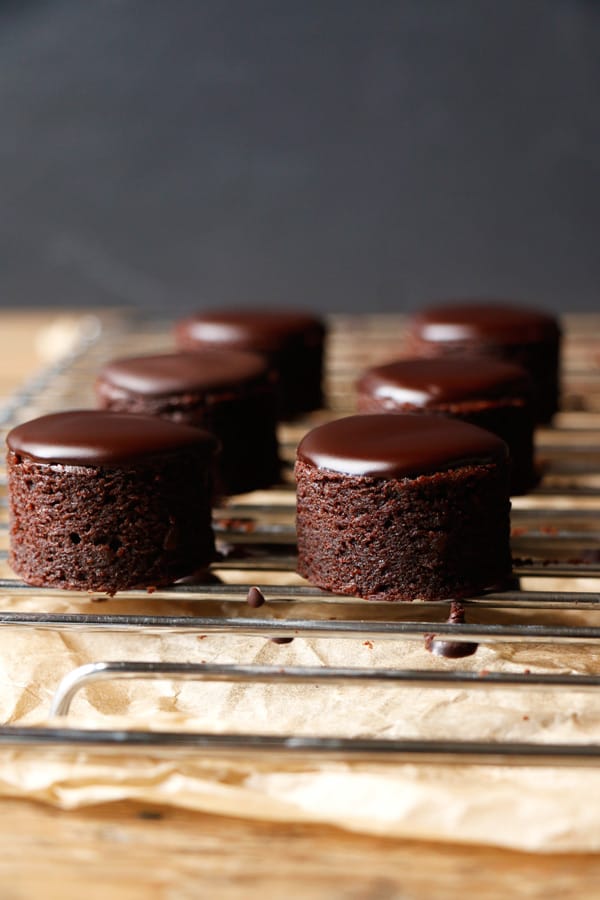 Special thank you to Amore di Mona for sponsoring this post.
I have some serious chocolate indulgence for you today – Vegan Brownie Petit Fours. I've realised I don't even have a brownie recipe on my blog and since I collaborate with a vegan chocolate company, brownies are a must.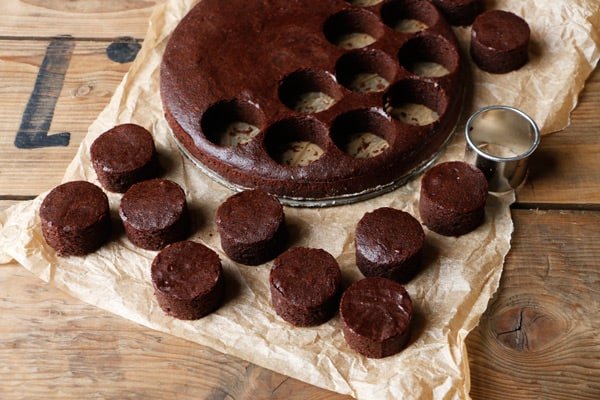 Because Amore di Mona chocolate is so luxurious I wanted to create brownies that were little more special and I've made them into these cute petit fours. What do you think?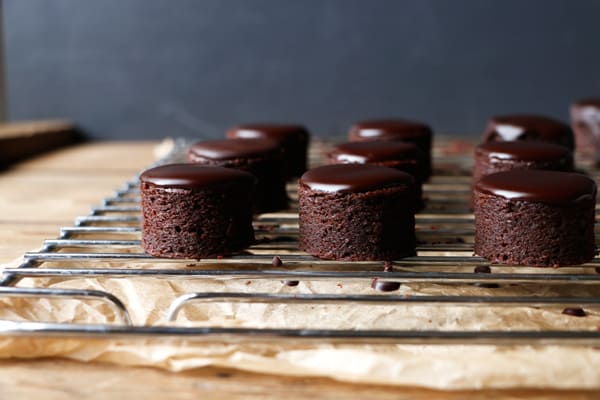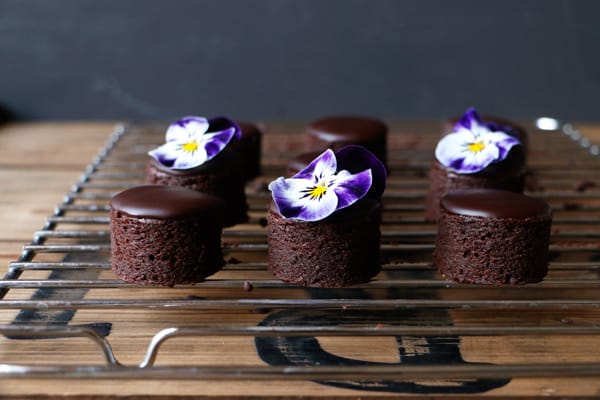 The brownies are really moreish and chocolatey, just what you expect from a good brownie. They are little more sweet than some of my other recipes, but I feel it was needed in this type of brownie. I've whisked flax eggs with rapadura sugar first to create some volume, than added olive oil and folded in the dry ingredients. I've used a mix of quinoa, brown rice and tapioca flours, but you could add your own spin to this gluten-free mix. Finally fold in good quality melted dark chocolate with high cocoa content.
To make these into petit fours I've used 1 1/2″ round pastry cutter. After playing around covering them with chocolate I've decided for the simple look and only used a dollop of melted chocolate on top. That way you can see the texture of the brownie and I really like the simplicity of it. Do play around, you can coat the whole brownie, have some chocolate drip over the top, any way you like. For the decoration few simple edible flowers look gorgeous on top. Enjoy:)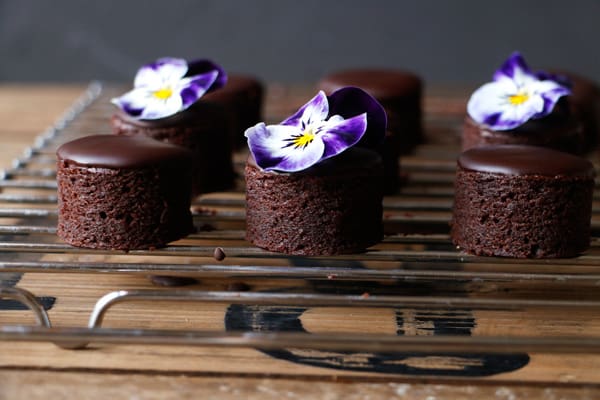 Yield: 16 petit fours
Vegan Brownie Petit Fours (gluten-free, nut-free)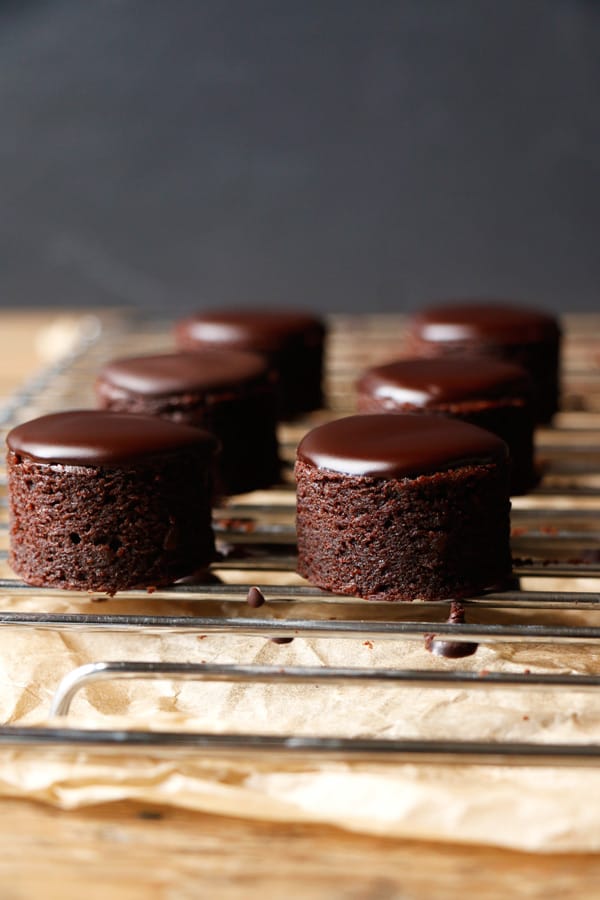 Ingredients
Brownies:
75g rapadura sugar (1/2 cup)
3tbsp ground flaxseed + 9tbsp water
80ml olive oil (1/3 cup)
45g brown rice flour (1/3 cup)
40g quinoa flour (1/3 cup)
2tbsp tapioca flour
pinch sea salt
1tsp baking powder
150g bulk chocolate (3 cubes) or dark vegan chocolate (5.3oz)
80ml rice milk (1/3 cup)
Topping:
100g bulk chocolate (2 cubes) or dark vegan chocolate (3.5oz)
edible flowers
Instructions
Preheat the oven to 175°C (350F)
Line 8" round baking tin with baking paper.
Add 3tbsp of ground flaxseed into a small bowl, add 9tbsp of water, stir and set aside to thicken.
Finely chop the chocolate and place into small bowl. Gently heat the rice milk until boiling point, pour over finely chopped chocolate and stir until completely smooth. If not completely melted, gently heat in a double boiler.
In a stand up mixer whisk flax eggs with sugar for about 5 minutes, add olive oil and mix for another minute.
In a large bowl whisk together brown rice flour, quinoa flour, tapioca, salt and baking powder. Add to the wet ingredients and mix just until incorporated.
Finally fold in the melted chocolate.
Spoon into the prepared tin and level the surface.
Bake for about 20-25 minutes. It's ready when the centre stops moving when gently shaken.
Leave to cool down completely in the tin.
Once cooled remove from the tin and cut out shapes using 1 1/2" round pastry cutter.
In a double boiler melt the chocolate for the topping and dollop a spoonful on top of each brownie.
Decorate with some edible flowers.
Enjoy!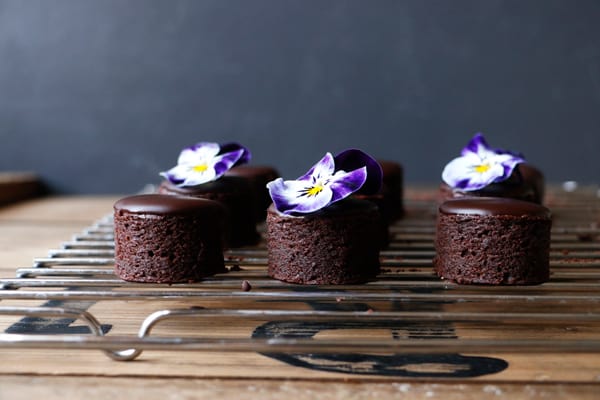 Similar Posts: