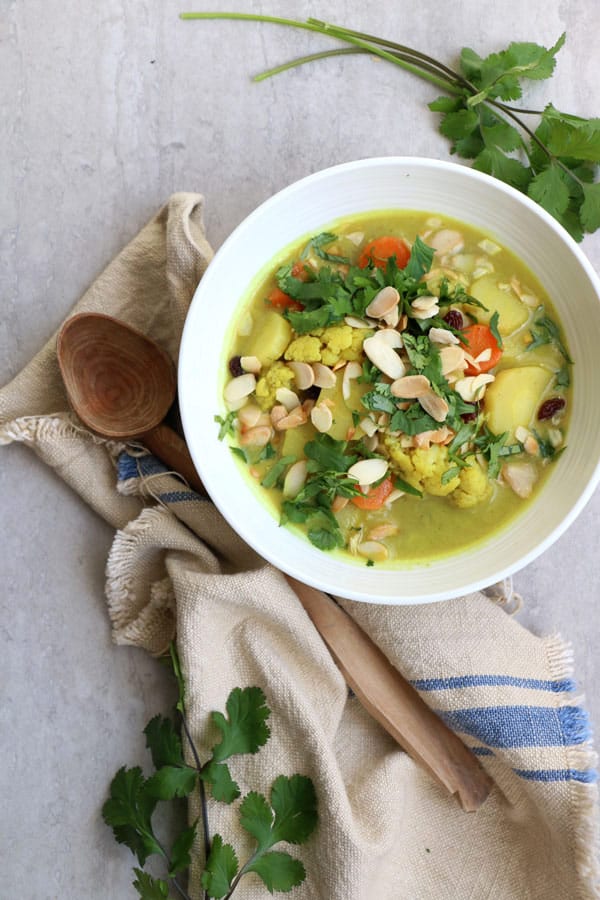 Welcome the 1st of March, we are a step closer to welcome the spring! Although it doesn't feel like it today with heavy rain, dark clouds and cold weather we've been having. If you need a little cheering up, maybe you can be tempted with this bowl of Cauliflower and Parsnip Coconut Curry. It's healthy, cozy and wholesome packed with some yummy veggies and warming spices. This is a sweet tasting curry with cauliflower, sweet root vegetables, coconut milk, almonds, raisins and spices.
It's a quick recipe, all of the vegetables cook very quickly, but the sauce does need a bit more simmering to blend all the flavours nicely together. You can boil the sauce even longer and then just add the parsnip and cauliflower towards the end. They only need 5-10 minutes to cook. I've actually managed to overcook the cauliflower the second time making this recipe and almost given up on taking these pictures. So it might be better to take the pot off the heat early rather than later. If you don't have all the spices, you could replace them with 2tsp of garam masala blend instead. You could also use only one can of coconut milk with some water to make up for the difference, but the extra coconut milk makes the sauce a bit more creamy and thicker. Hope you'll enjoy this recipe, it's really tasty:)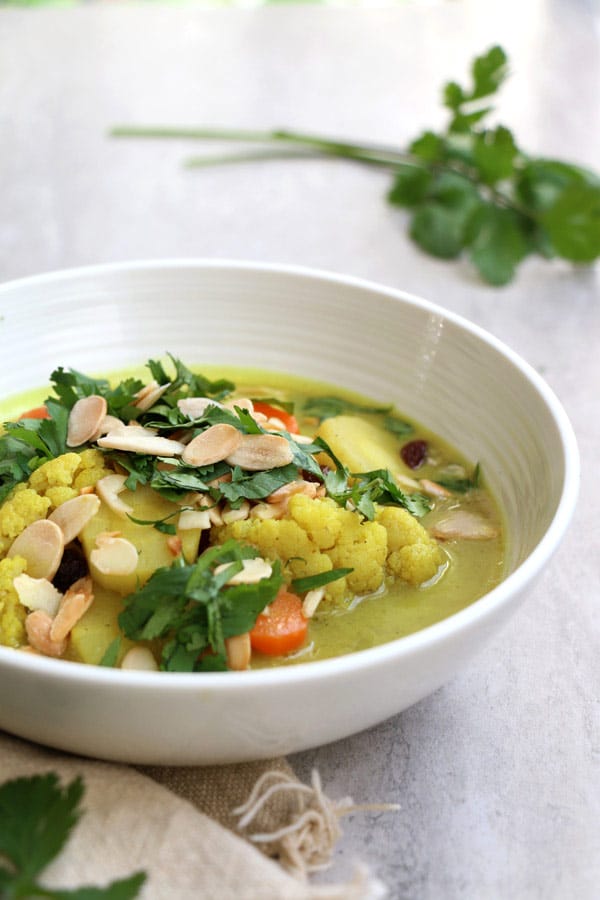 Yield: 4 servings
Cauliflower and Parsnip Coconut Curry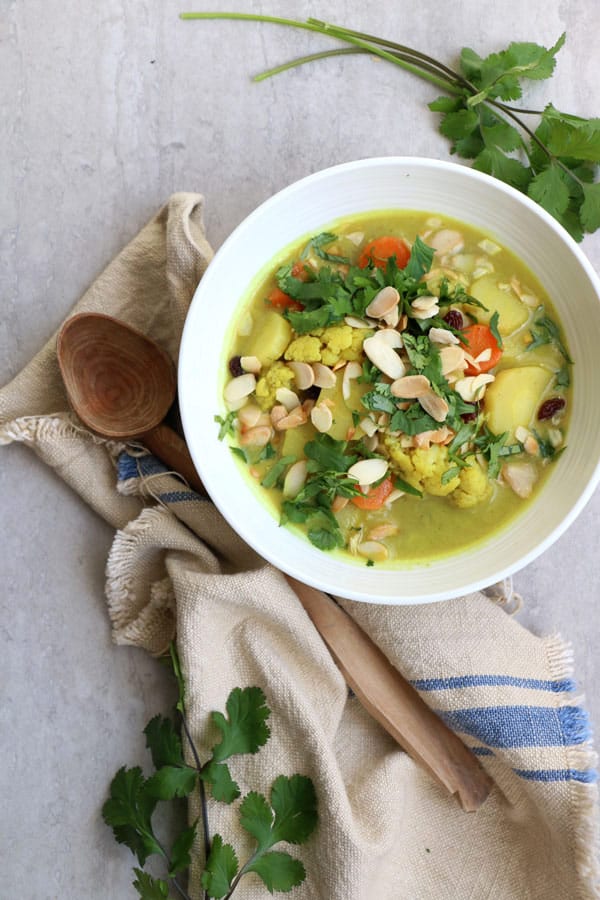 Ingredients
1 cauliflower, cut into florets
2-3 parsnips, chopped
2 carrots, chopped
2tbsp coconut or olive oil
1 onion, chopped
2 garlic cloves, finely chopped
1tbsp finely chopped ginger
1tsp coriander
1tsp turmeric
1/2tsp cinnamon
1/2tsp cardamom
1/8tsp cloves
2x400ml can full fat coconut milk
2tbsp ground almonds
40g raisins (1/4 cup)
sea salt & pepper
To serve:
toasted flaked almonds
fresh coriander
cooked rice
Instructions
In a large pot fry chopped onions with coconut oil for 5 minutes until translucent. Add garlic and ginger and fry for another 3 min. Add coriander, turmeric, cinnamon, cardamom and cloves and cook for another minute. Stir in coconut milk and ground almonds and bring to a boil.
Add chopped carrots to the pot and leave to simmer for 10 minutes.
After 10 minutes add parsnips and cauliflower and simmer for further 5-10 minutes until the vegetables are soft, but not overcooked.
Take off the heat, stir in raisins and season with salt and pepper to taste.
Serve with plenty of chopped fresh coriander, toasted flaked almonds and cooked rice.
Similar Posts: