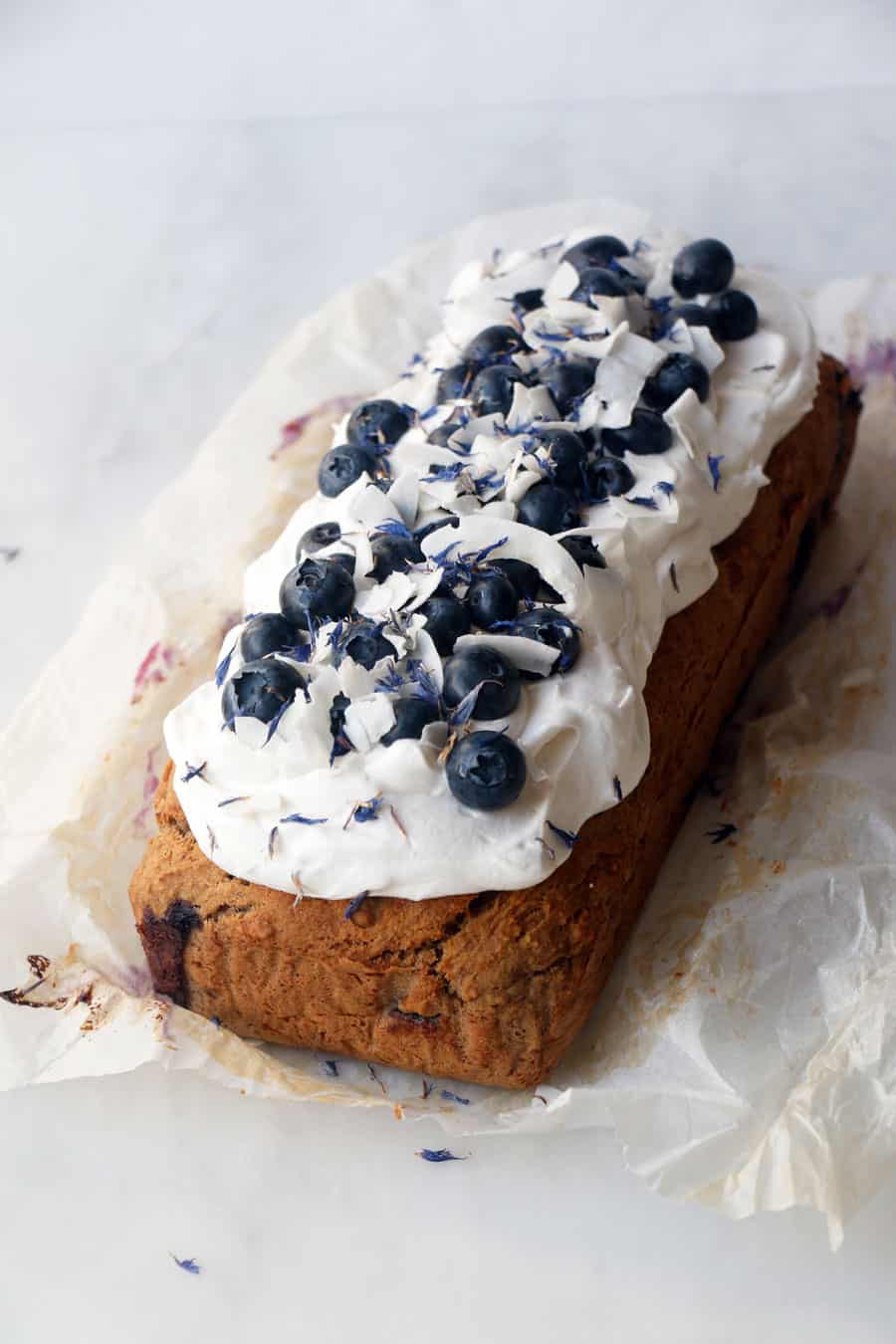 You can never have enough Banana Bread recipes in your collection. Baking a cozy wholesome banana bread is so nurturing for the soul. And those who will enjoy it :)
And so here is my newest version Blueberry Banana Bread recipe for you to try.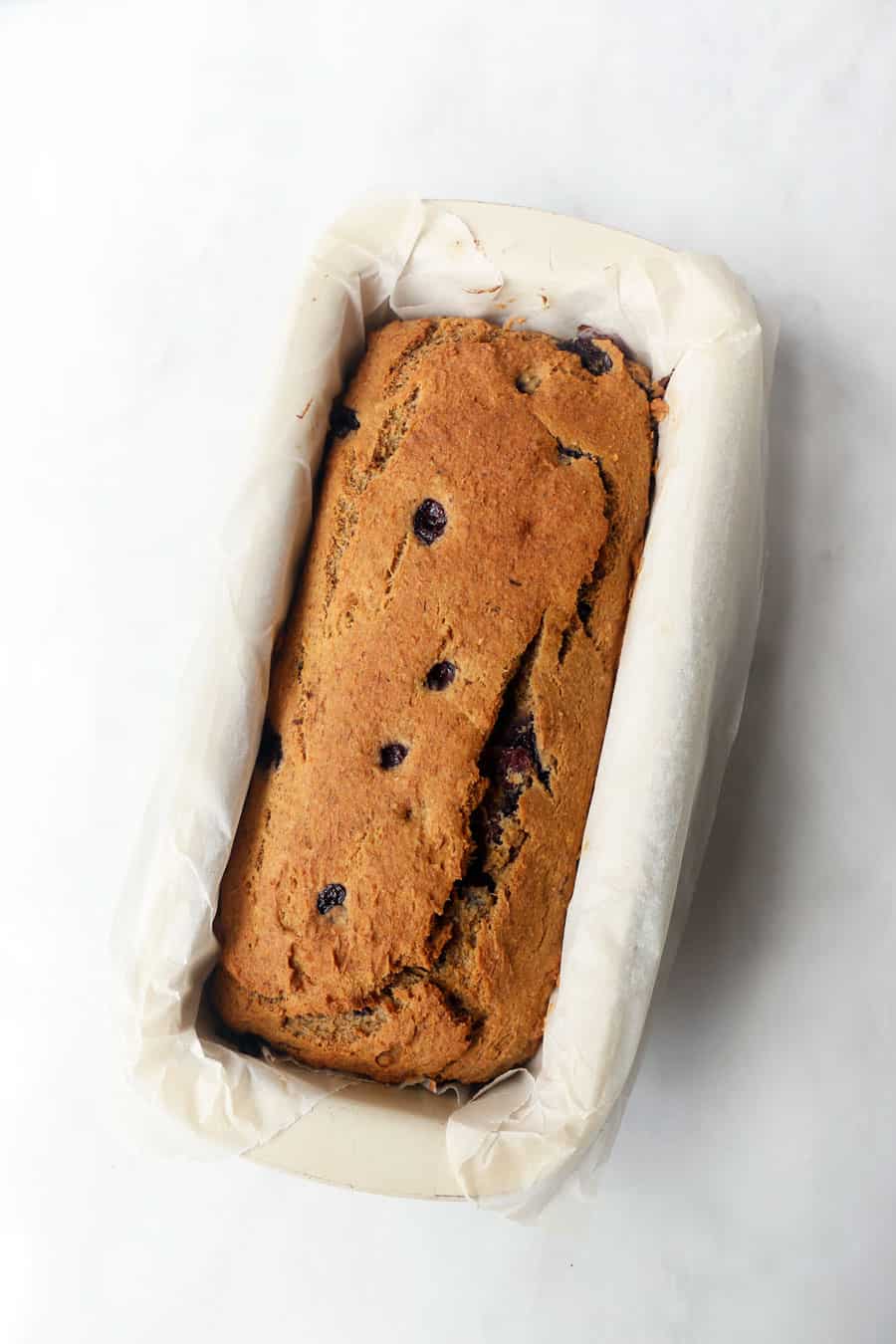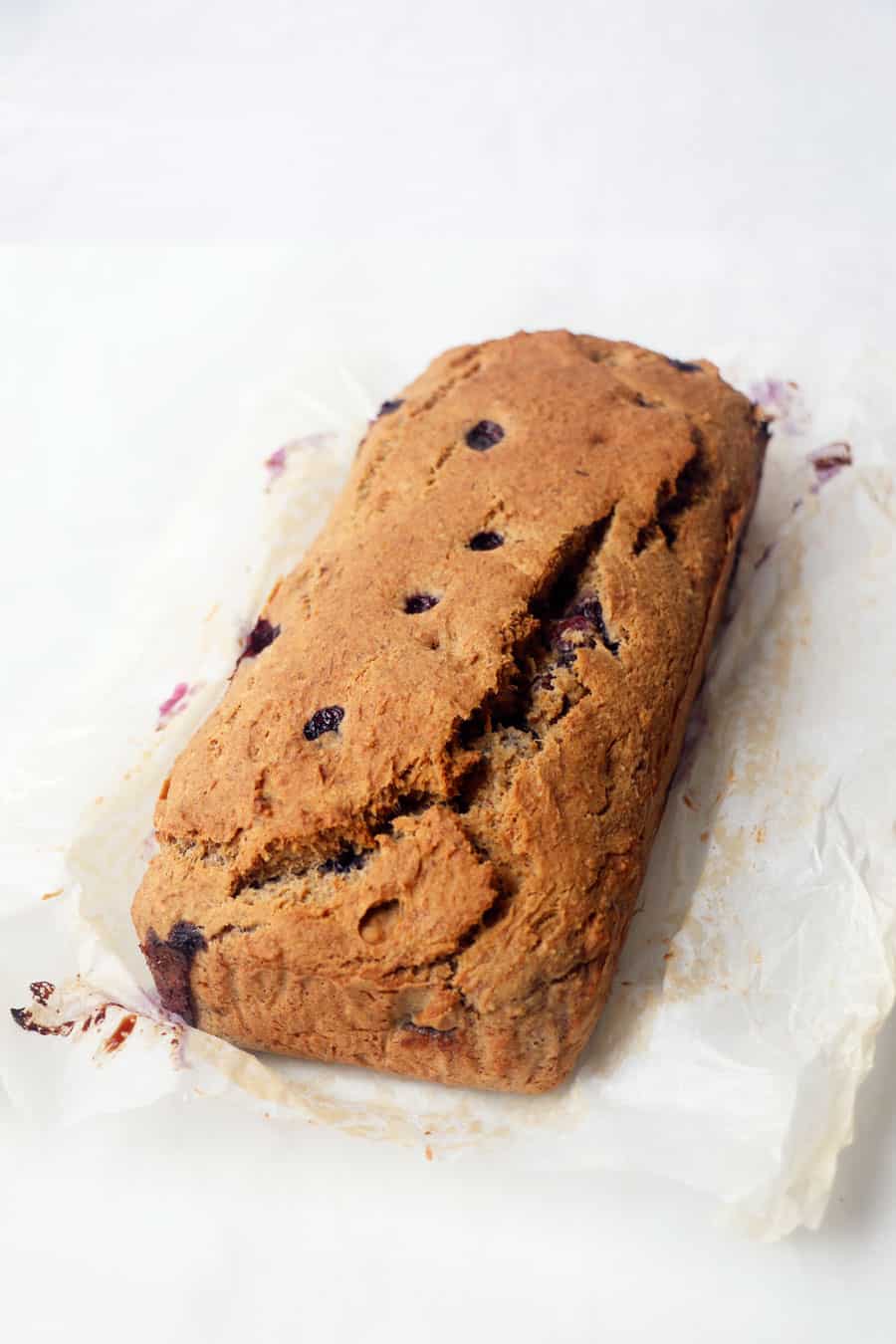 The recipe is a variation of my Carob Banana Bread and as lovely.
I've used a mix of sorghum flour, brown rice flour, tapioca and ground almonds for my gluten-free mix. Please feel free to adjust the flours to your taste. This time I have not used any sweetener in my bread but there is an option to add a little. If your bananas are super ripe the bread is sweet enough and not necessary to add any. Unless you'd like it to taste more like a cake then you can add more.
To make it more special I have topped my banana bread with some whipped oat cream, blueberries, coconut flakes and edible dried cornflowers.
Hope you love it :)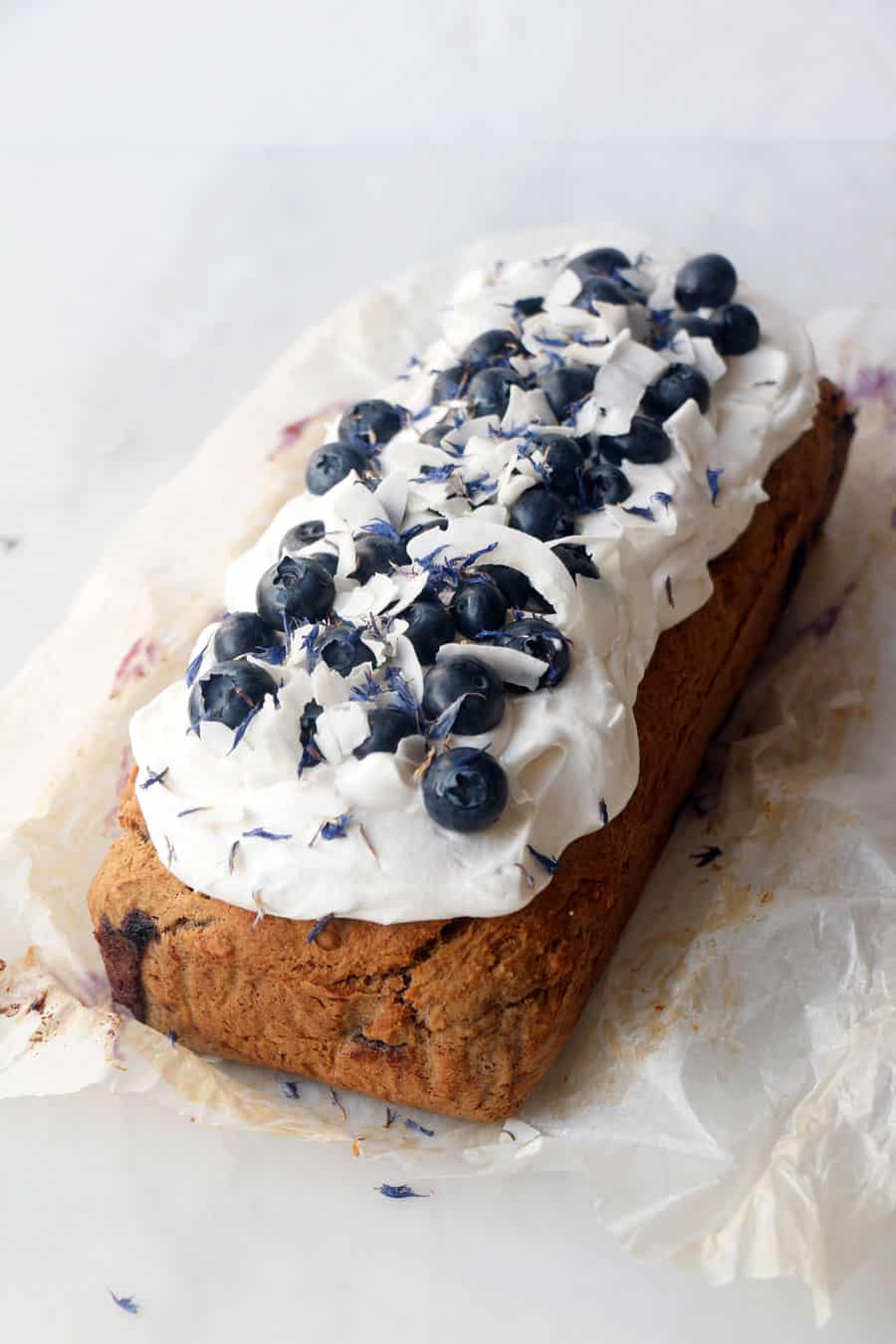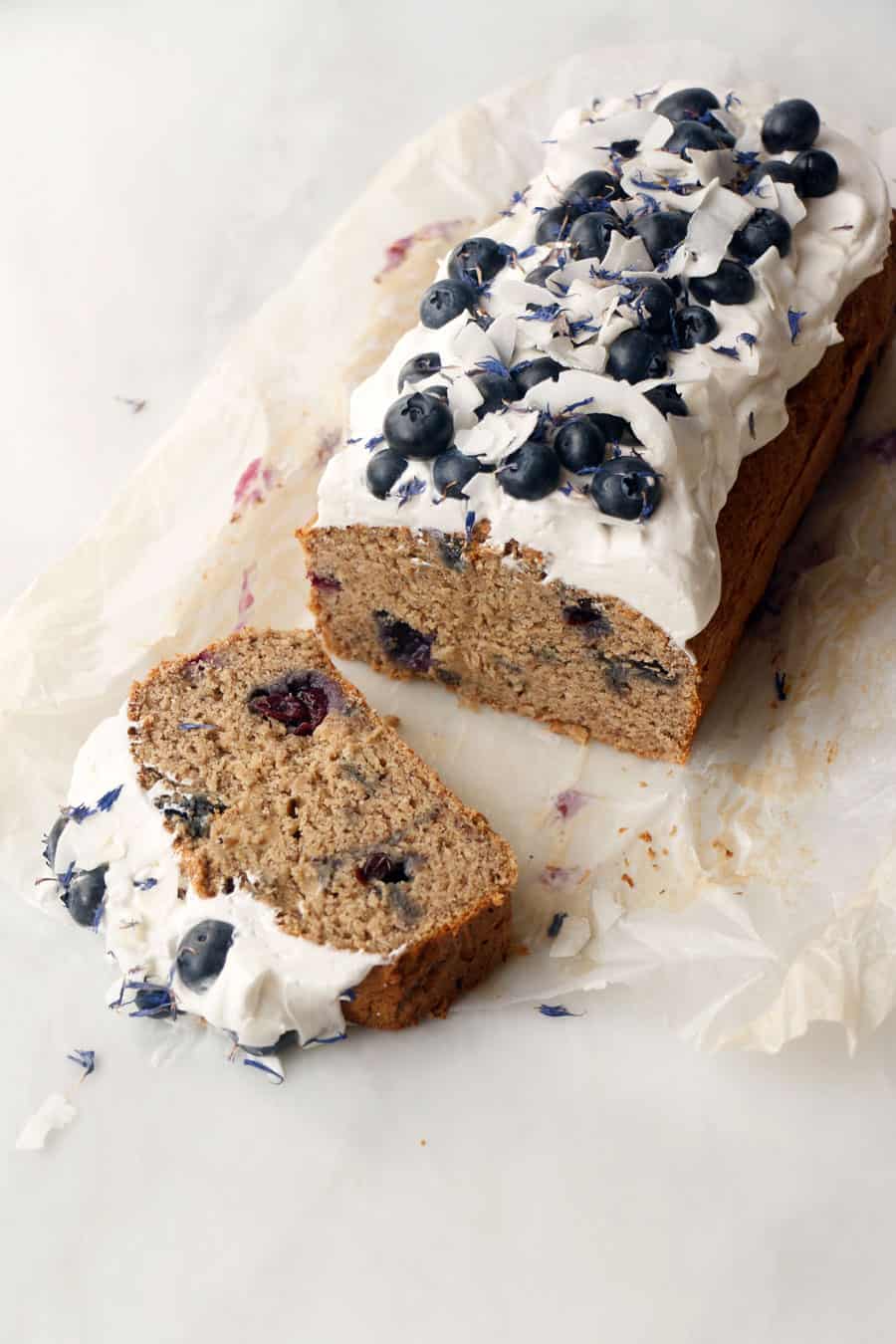 Yield: 1 banana bread loaf
Blueberry Banana Bread (vegan & gluten-free)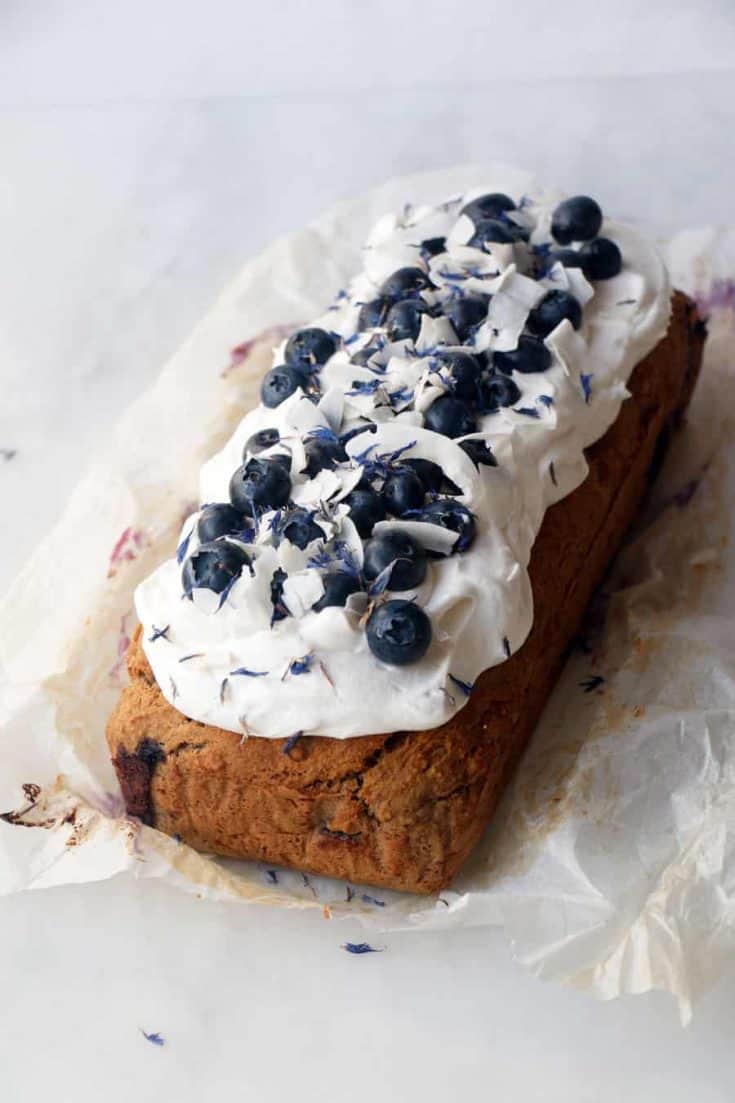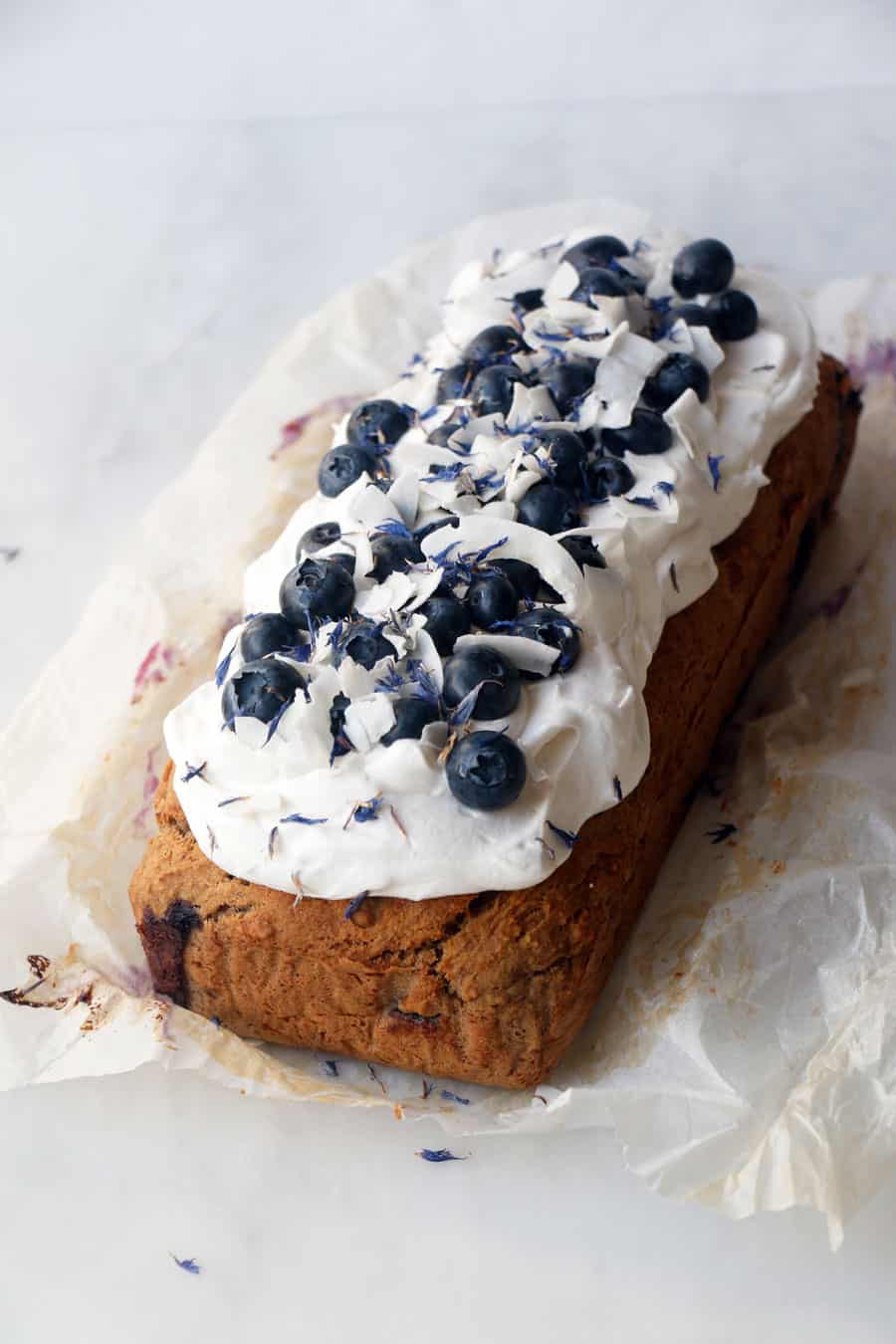 Ingredients
3 medium bananas (300g)
100g ground almonds (1 cup)
95g sorghum flour (3/4 cup)
70g brown rice flour (1/2 cup )
30g tapioca flour/arrowroot (1/4 cup)
1tsp baking powder
1tsp bicarbonate of soda
1tsp cinnamon
1tsp ginger (optional)
pinch of sea salt
2tbsp ground flaxseed + 6tbsp water
60ml olive oil (1/4 cup)
2tsp apple cider vinegar
2tbsp maple syrup or almond milk for sugar free option
150g blueberries (1 cup)
Toppings:
whipped plant-based cream
blueberries
flaked coconut
edible dried cornflowers
Instructions
Preheat the oven to 180°C (350F)
Line 10" x 4½" loaf tin with baking paper.
Mix 2tbsp of ground flaxseed with water and set aside to thicken.
Peel and mash the bananas with a fork and set aside.
In a large bowl whisk together ground almonds, sorghum flour, brown rice flour, tapioca flour, baking powder, bicarbonate of soda, cinnamon, ginger and salt and set aside.
In a different bowl whisk gelled flax eggs, olive oil, apple cider vinegar and maple syrup or milk if using.
Add the wet mix together with the mashed bananas to the dry mix and mix until combined. You should have thick bread mix.
Fold in blueberries.
Spoon into your lined tin and level the surface.
Bake for about 45 minutes or until a cocktail stick comes out almost clean. Will be slightly sticky.
Remove from the oven and leave to cool down.
If you'd love to decorate it top with whipped plant-based cream, blueberries, flaked coconut and edible flowers.
Enjoy!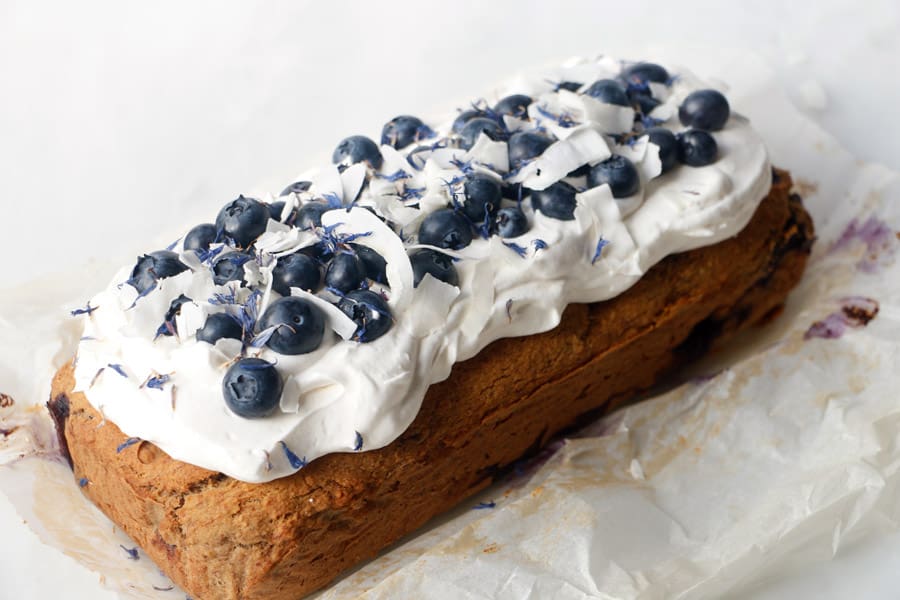 Similar Posts: