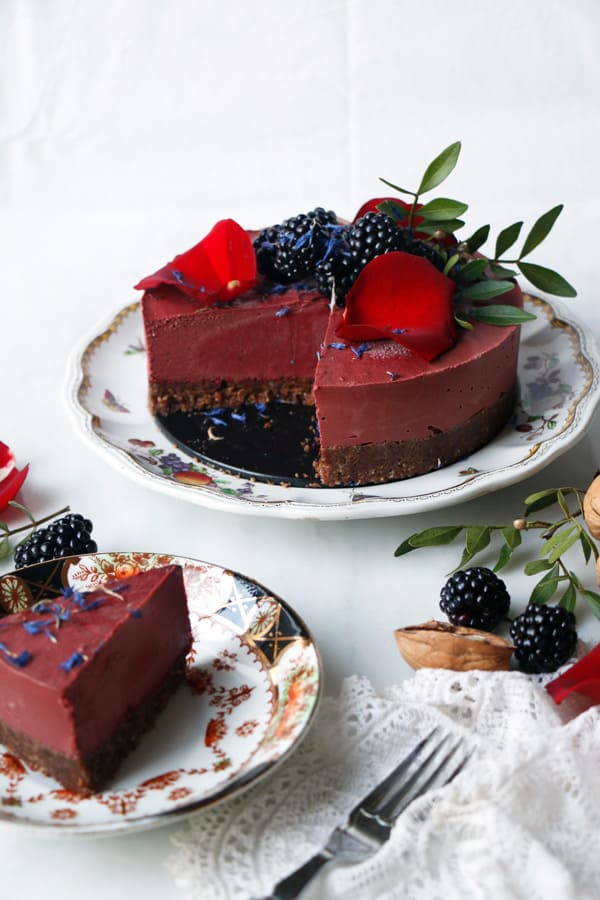 I'm in need of some red in my life and so the ingredient I have chosen for January and for my first post this year is beetroot. You probably already know that I'm in love with beets and probably surprised that I don't have enough beetroot dessert recipes on my blog so I've created two new ones – Chocolate Beet Cheesecake and Hibiscus Beet Tart coming next week.
I've even picked red rose petals for my styling, quite surprising to me because I don't like red roses, but I guess that's what I need in my life right now. Part of my healing journey I suppose.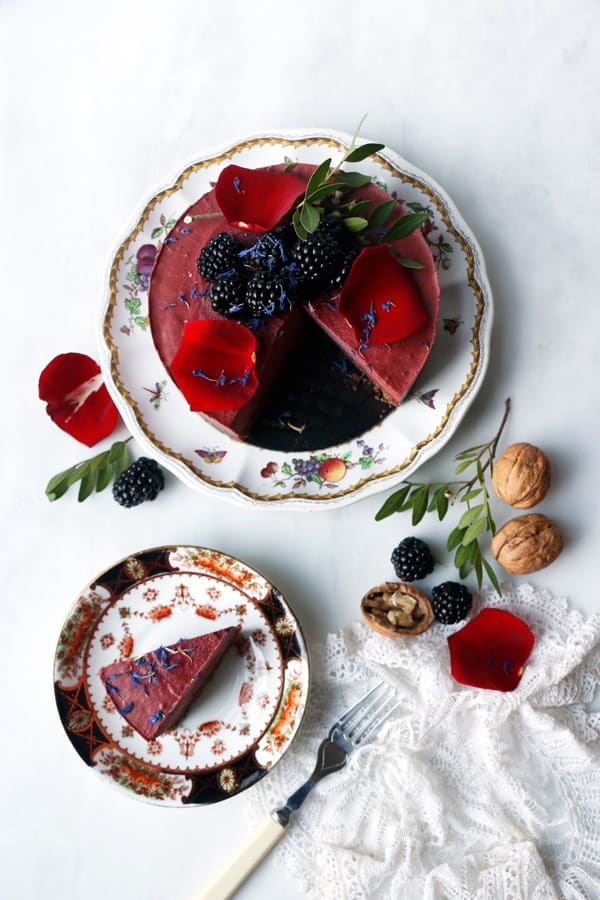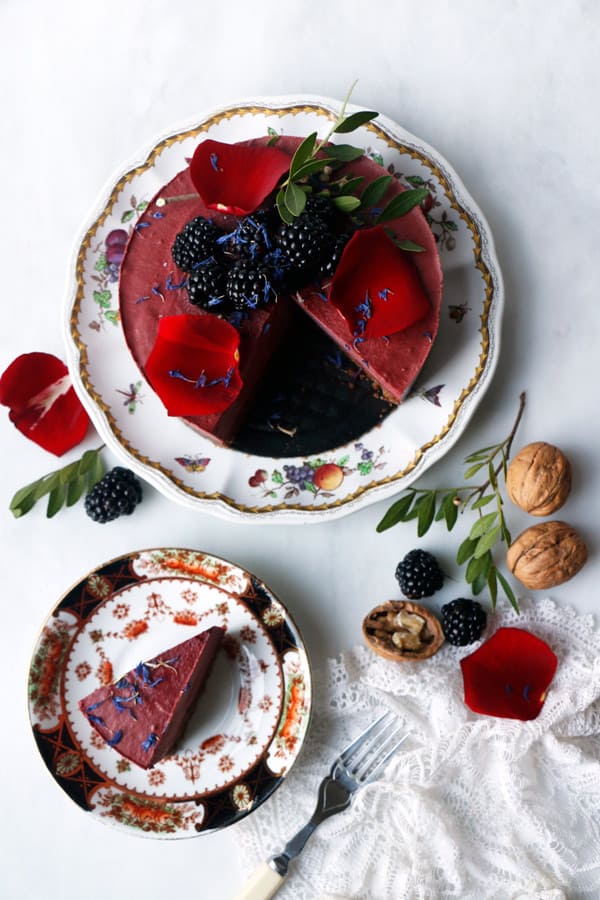 In this cheesecake recipe I'm teaming up beetroot with the classic combination – chocolate, and you're in for such a treat. It's not a completely raw recipe, I've decided to use cooked beetroot, it's January and I wanted something cosier. However, you can use raw beetroot in this recipe if you prefer. Even though it's a chilled dessert it's earthy, rich, satisfying.
The colour will deepen more and will change to the one in the photos. I've taken the photos while still fairly frozen as I was racing with the time to have enough daylight. After some time in the fridge, it will become darker.
I've also added a little reishi powder, but it's completely optional, it won't affect the taste in any way and blend in nicely with the rest of the ingredients. You can decorate your cake as you like, I've used a few blackberries, dried cornflowers, rose petals and a blueberry sprig.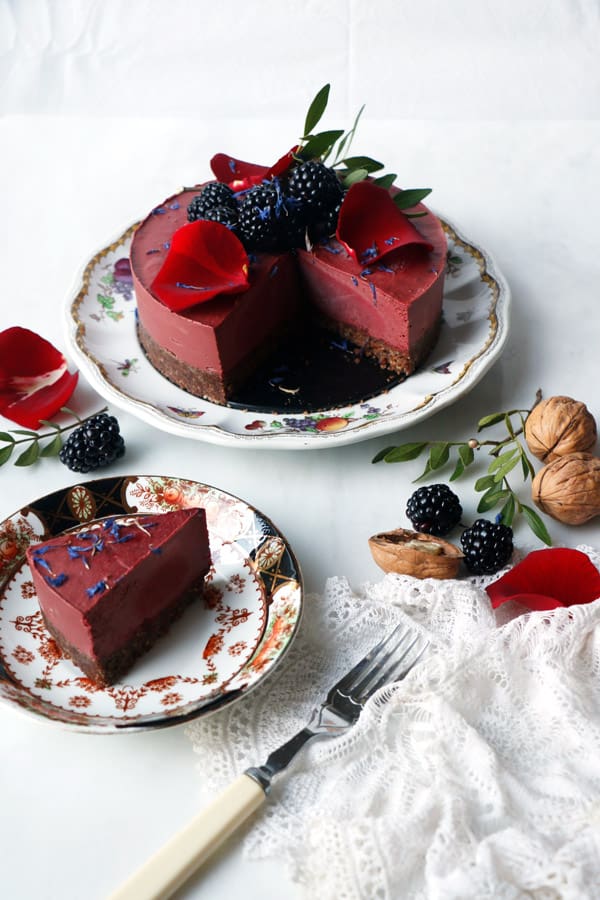 Yield: 6" cake
Chocolate Beet Cheesecake (vegan & grain-free)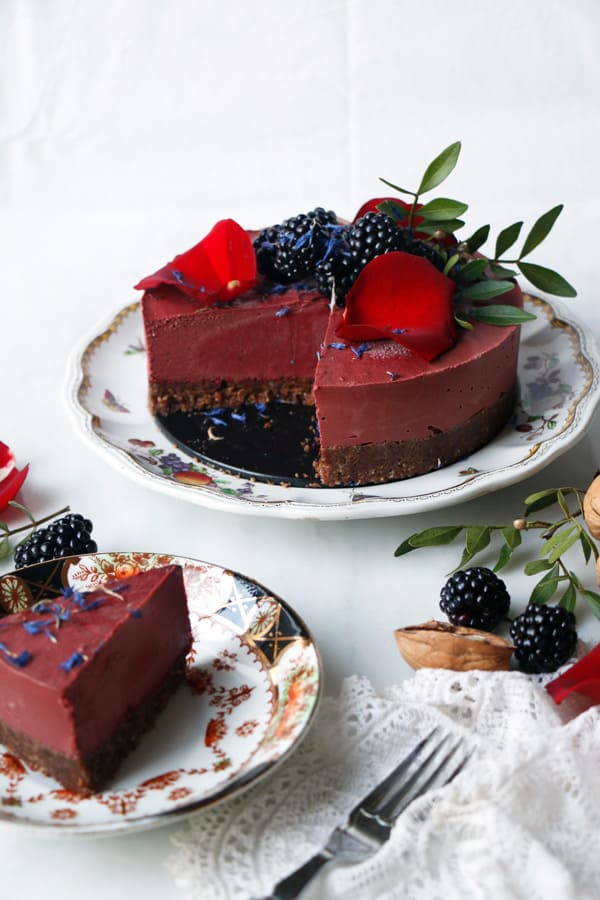 Ingredients
Crust layer:
100g walnuts (1 cup)
40g pumpkin seeds (1/4 cup)
5 Medjool dates, pitted
1tbsp raw cacao powder
1/2tsp cinnamon
pinch sea salt
1tsp maple syrup
Chocolate beetroot layer:
200g cashews, soaked for 4 hours or overnight (1 1/2 cup)
200g beetroot, about 2 medium-sized beets, steamed or boiled
60ml beetroot water (from steaming) (1/4 cup)
60ml maple syrup (1/4 cup)
1tsp vanilla
30g raw cacao powder (1/4 cup)
1tsp reishi powder (optional)
60ml coconut oil, melted (1/4 cup)
Instructions
Prepare 6" round cake tin with removable base.
Place walnuts and pumpkin seeds into a food processor and pulse few times until ground. Add pitted dates, cacao, cinnamon and salt and blend until the mixture comes together. Add 1tsp of maple syrup and blend again. You should have a sticky mix when pressed together.
Spoon the crust mix into the tin, spread evenly onto the base and press tightly down. Place into a fridge.
Peel and quarter the beets and place into a small pot with little water. Cover and leave to steam/boil for about 30 minutes until soft. Reserve 60ml (1/4 cup) of steaming water.
Rinse the soaked cashews under running water and place into high speed blender. Add cooked beetroot, beet water, maple syrup and vanilla and blend until smooth. Add cacao, reishi powder and melted coconut oil and blend until incorporated.
Spoon the mixture onto the crust layer and smooth out the top. Cover the cake with a layer of baking paper and cling film on top to prevent frostbite and place into a freezer until set.
Once set carefully remove from the tin and place onto a serving dish.
Leave to thaw before serving. The colour will deepen over time.
Decorate to your liking.
Store in a fridge or freezer.
Enjoy!
Notes
You can use raw beetroot if you prefer, omit the beet water, you shouldn't need it.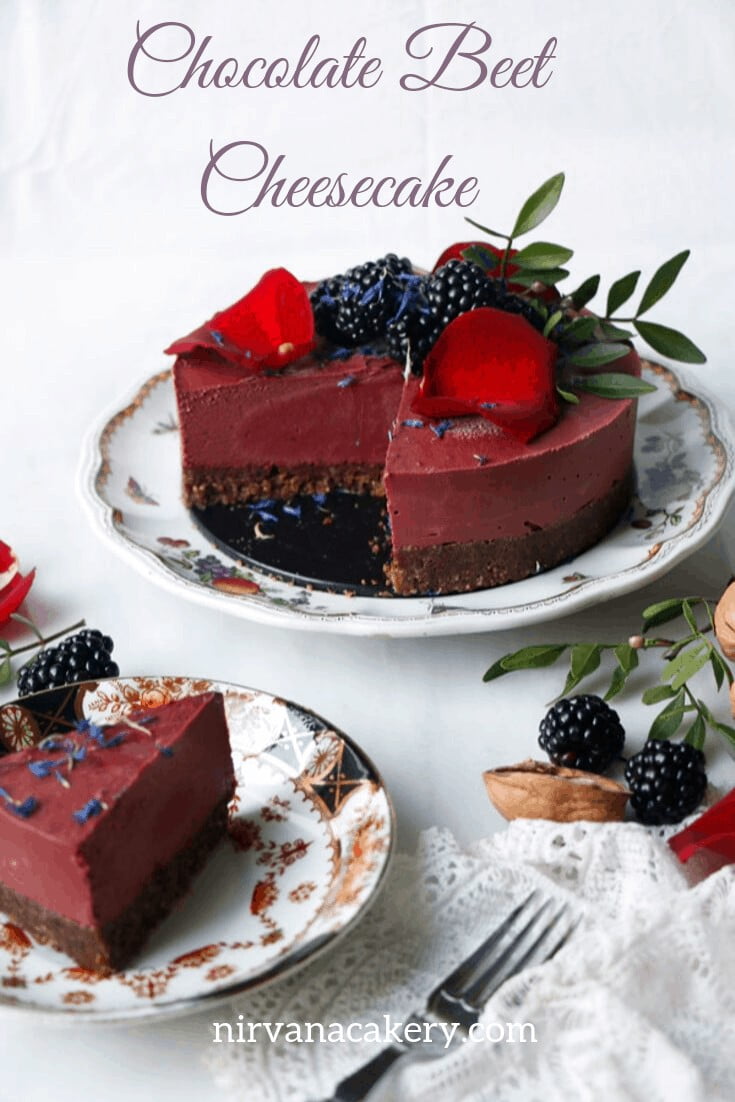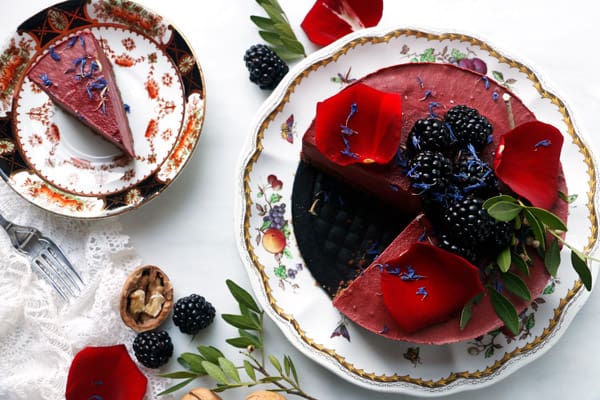 Similar Posts: