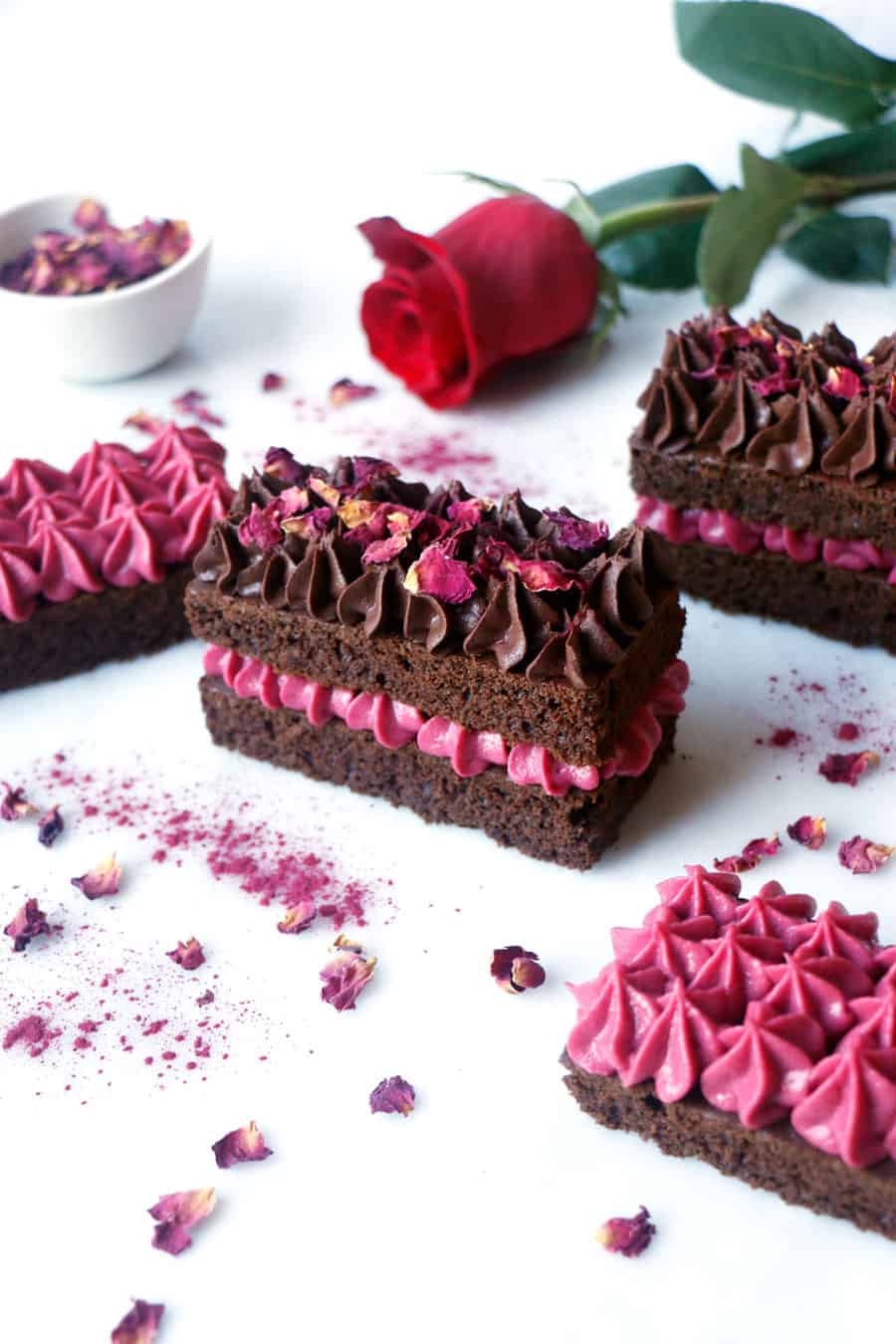 Special thank you to Amore di Mona for sponsoring this post.
It's Valentine's week and I've got some deliciousness in form of this Rose Chocolate Valentine Gateau for you today. All natural, plant-based and totally yummy!
Two layers of chocolate rose sponge cake filled with rose vanilla cream and chocolate ganache topped with dried rose petals. Perfect for a little romance, would you think?
Since making my Black Forest Gateau last summer I always wanted to try a mini version and I thought Valentines is such perfect occasion to have a go. So I had a little play with Amore di Mona vegan chocolate, colours, roses; all the good stuff!
The winter light wasn't on my side, neither home schooling my son in between while trying to bring the recipe together, what can I say? We all do our best in these times and we so deserve love, joy and beauty in our life. I hope this helps :)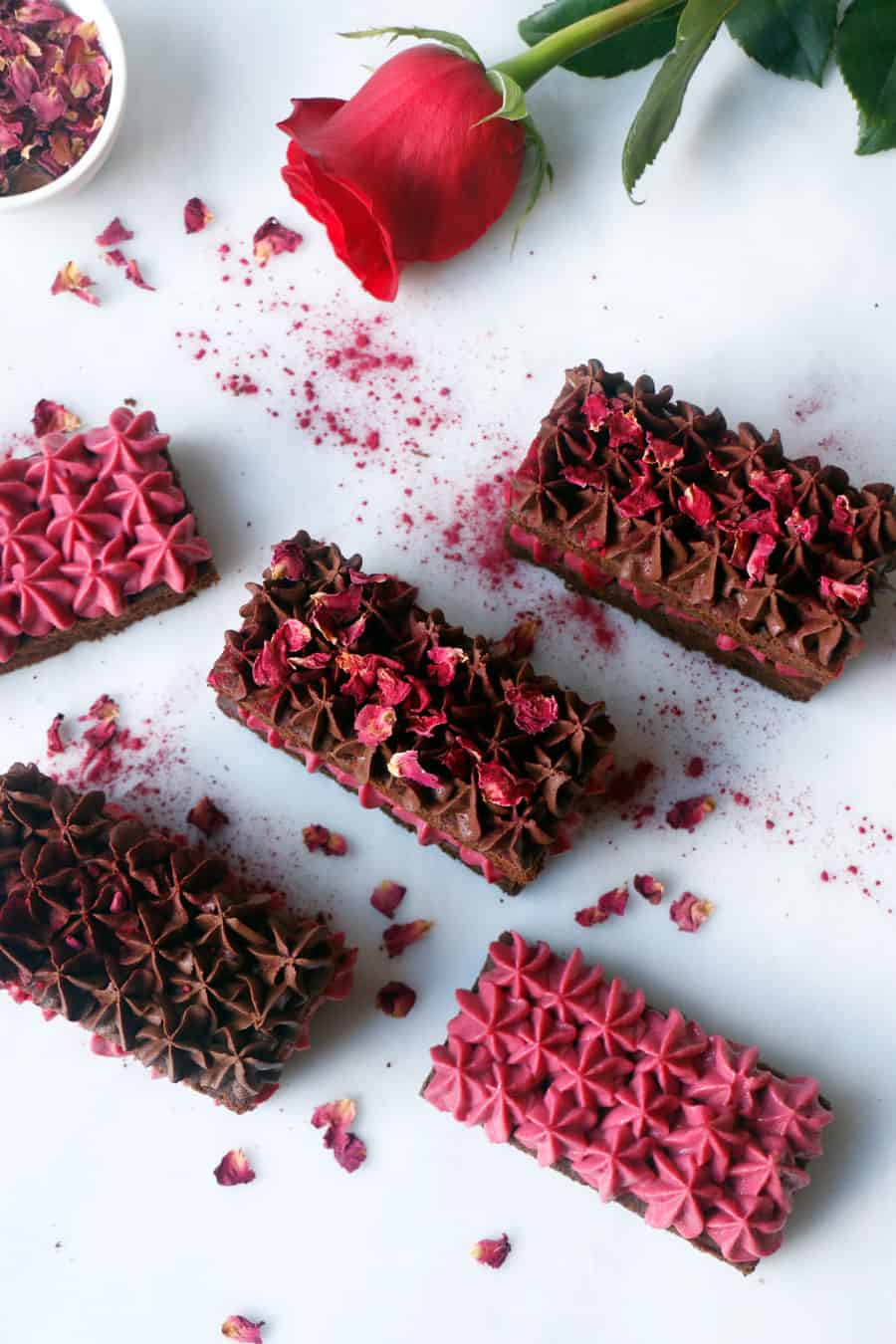 For the sponge cake I've opted for oat flour and sorghum flour, they're both neutral flavoured, worked really well together keeping the cake light and moist, not competing with the other flavours. I've used Swiss roll size tin to bake large rectangle and then cut it into twelve individual rectangles to have six two layer mini cakes.
You're probably wondering about the lovely pink colour in my rose vanilla cream which comes from beetroot powder. Beetroot powder is widely available and so lovely to colour your frostings in natural way. For the cream you can use oat cream or coconut cream, the coconut cream will give you thicker frosting. If you don't have maple butter use 2tbsp of sugar and stir in 2tbsp of coconut oil at the end. Seed or nut butter works as well. It just ads little more stability.
The luscious chocolate ganache completes the gateau with sprinkling of rose petals and little beetroot powder.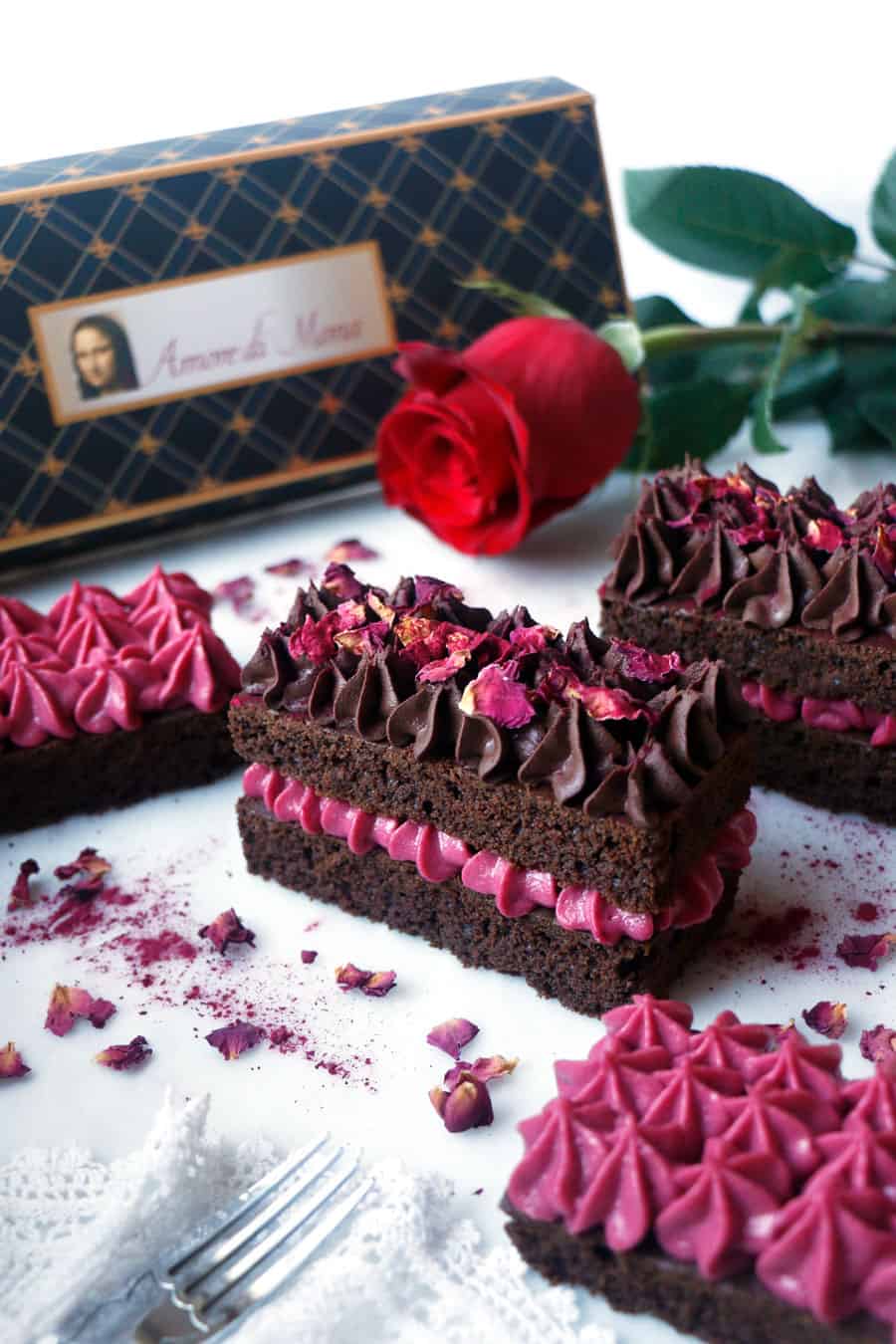 Yield: 6 mini gateaus
Rose Chocolate Valentine Gateau (vegan & gluten-free)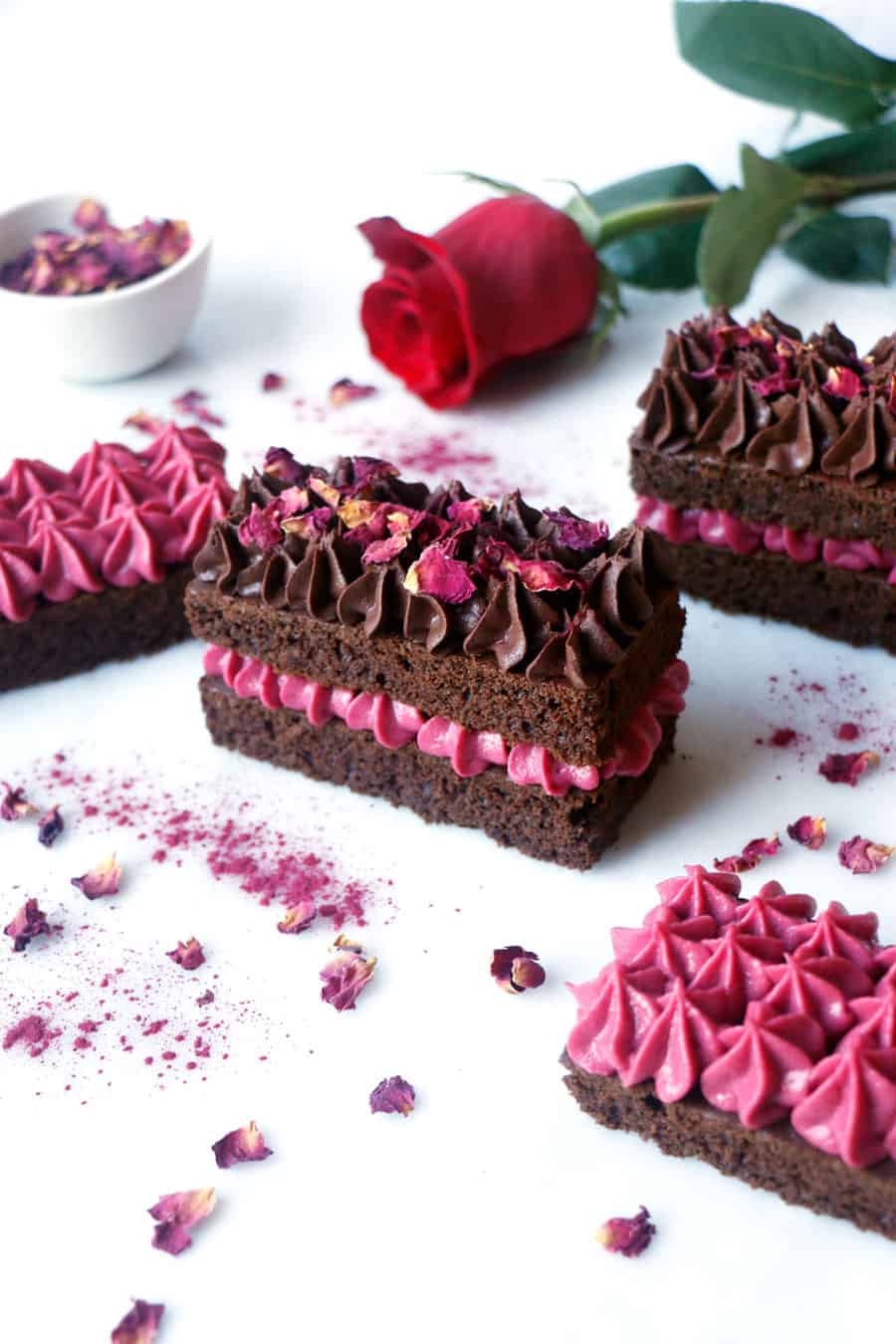 Ingredients
100g gluten-free oats (1 cup), ground into flour consistency
70g sunflower seeds (1/2 cup), ground into flour consistency
70g sorghum flour (1/2 cup)
30g tapioca flour (1/4 cup)
30g cacao or cocoa powder (1/4 cup)
100g rapadura sugar (3/4 cup)
1½tsp baking powder
1tsp bicarbonate of soda
pinch sea salt
3tbsp ground flaxseed + 9tbsp water
80ml apple sauce (1/3 cup)
80ml olive oil (1/3 cup)
120ml plant-based milk (1/2 cup)
2tsp apple cider vinegar
1tbsp rose water
Rose vanilla cream:
480ml plant-based cream (2 cups)
1tsp vanilla extract
1tsp rose water
2tsp agar powder
1½tbsp cornflour
2tbsp maple cream
2tsp beetroot powder
Chocolate ganache: make the night before
220g dark vegan chocolate (7.7oz)
240ml oat cream (1 cup)
Topping:
edible rose petals
beetroot powder
Instructions
Preheat the oven to 180°C (350F)
Grease and line 25 x 35cm Swiss roll tin with baking paper.
Mix 3tbsp ground flaxseed with 9tbsp water and set aside to thicken.
In a large bowl whisk together oat flour, ground sunflower seeds, sorghum flour, tapioca flour, cacao powder, sugar, baking powder, bicarbonate of soda and salt.
In a small bowl whisk together gelled flax eggs, apple sauce, olive oil, milk, apple cider vinegar and rose water.
Add the wet mix to the dry mix and mix until well combined. Add extra plant-based milk if needed to achieve pourable muffin consistency.
Spoon the mixture onto the lined tin and smooth out the surface.
Bake for about 15 minutes or until a cocktail stick comes out clean.
Remove from the oven and leave to cool down.
Once cooled cut in half to have two long rectangles. Now cut each into six even rectangles so you will have twelve rectangles altogether.
Rose vanilla cream:
Place cream, vanilla and rose water into medium pot. Whisk in agar powder and cornflour and bring to boil whisking continuously. Leave to simmer for 5 minutes whisking in between. Take off the heat and stir in the maple cream. Leave to cool down for 15 minutes and then whisk the mix until smooth. Place into a fridge for about an hour whisking every 15 to 20 minutes until you have thick smooth cream. Now whisk in the beetroot powder to achieve the desired colour shade. Store in fridge until needed.
Chocolate ganache:
Roughly chop the chocolate for the chocolate ganache and place into a medium bowl. Place the cream into a small pot and gently heat until boiling point. Pour over the chopped chocolate and stir until completely melted and smooth. Leave to cool down before placing into a fridge to set overnight into a pipeable consistency. It should be perfect consistency for piping but if it's too hard leave it at room temperature for a little while to soften.
To assemble the gateau place the bottom layers on top of your serving platter. Using piping bag decorate the top with rose vanilla cream. Top with the second layer and using piping bag decorate the top with chocolate ganache. Sprinkle the gateaus with rose petals and dust with beetroot powder.
Store in fridge.
Notes
I've made the vanilla cream with oat cream and with coconut cream. The coconut cream will give you thicker frosting.
If you don't have maple butter use 2tbsp of sugar and stir in 2tbsp of coconut oil at the end. Seed or nut butter works as well. It just ads little more stability.
You can also replace the rose vanilla cream with your favourite whipped plant-based cream.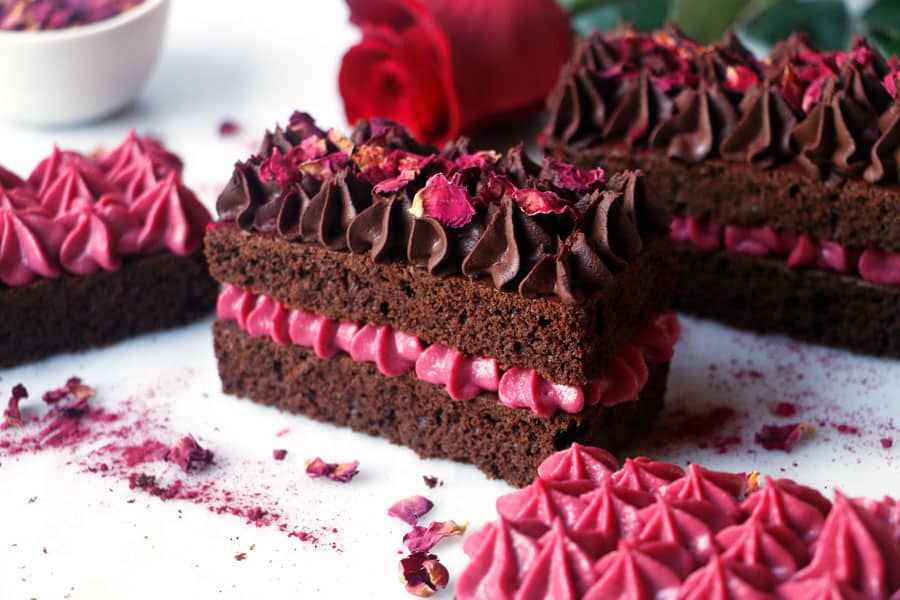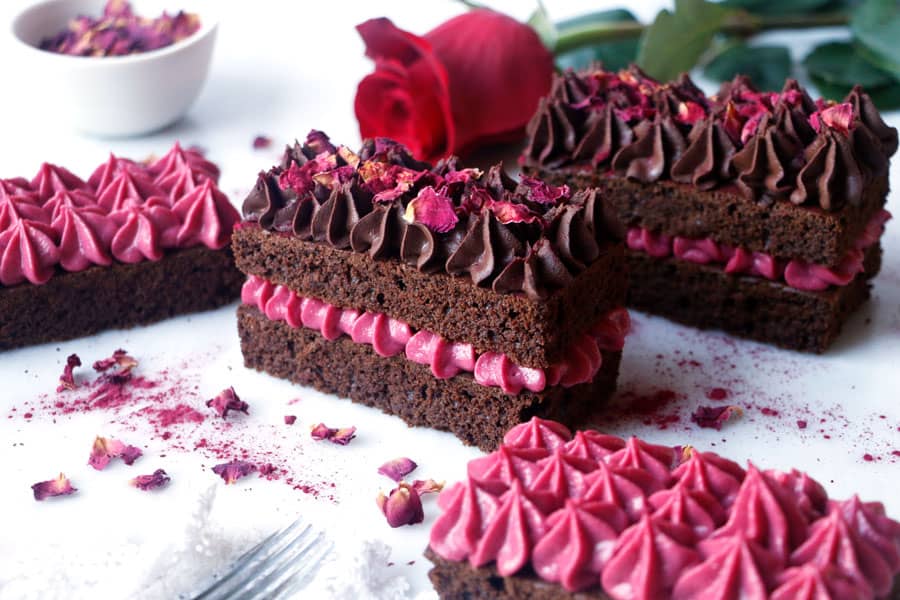 Similar Posts: