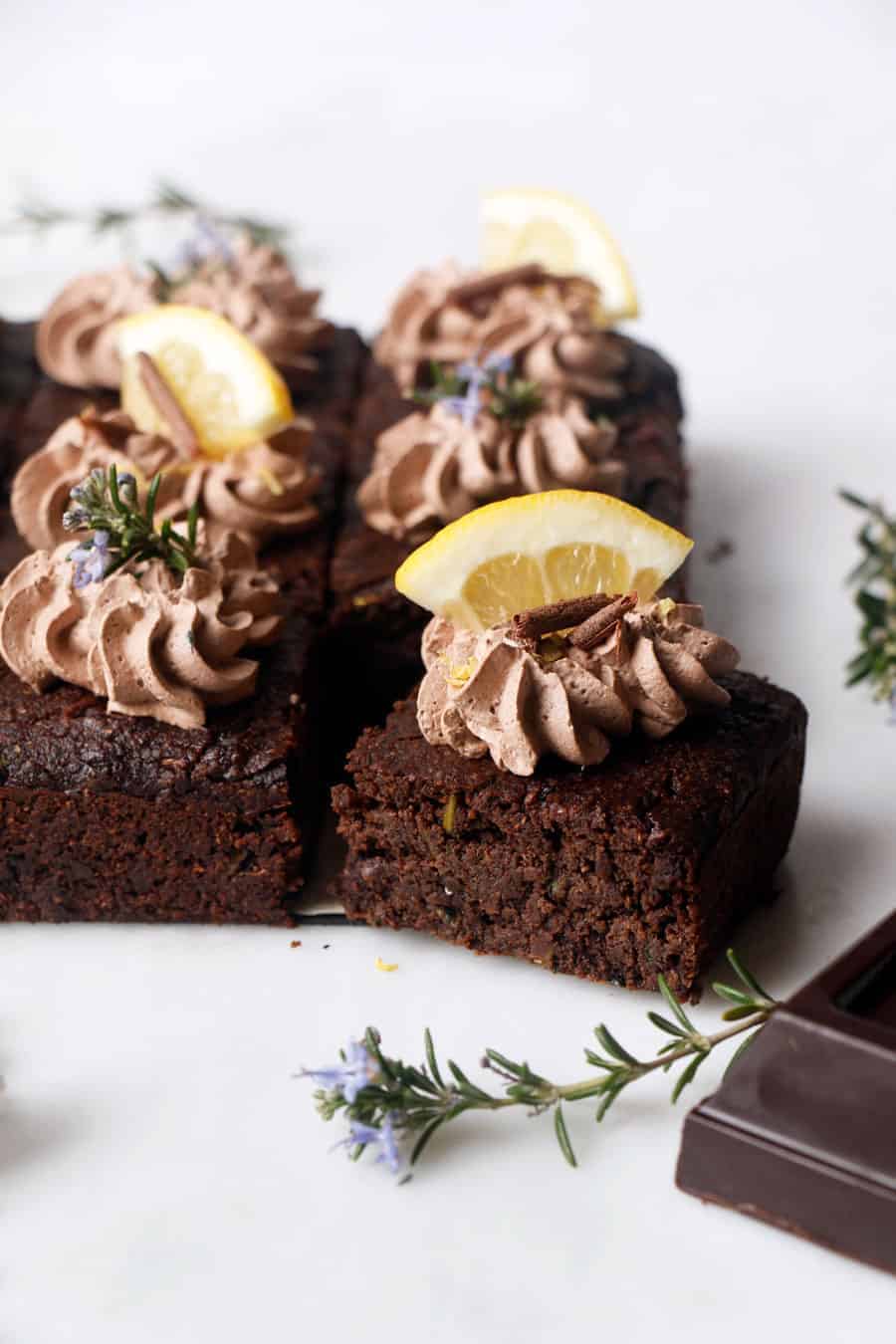 Special thank you to Amore di Mona for sponsoring this post.
My Easter special Rosemary Lemon Brownies are probably the healthiest baked brownies you will find. With an original rosemary lemon flavour, dark chocolate, hidden zucchini and grain-free cassava and tigernut flour these make a fabulous wholesome yet indulgent treat.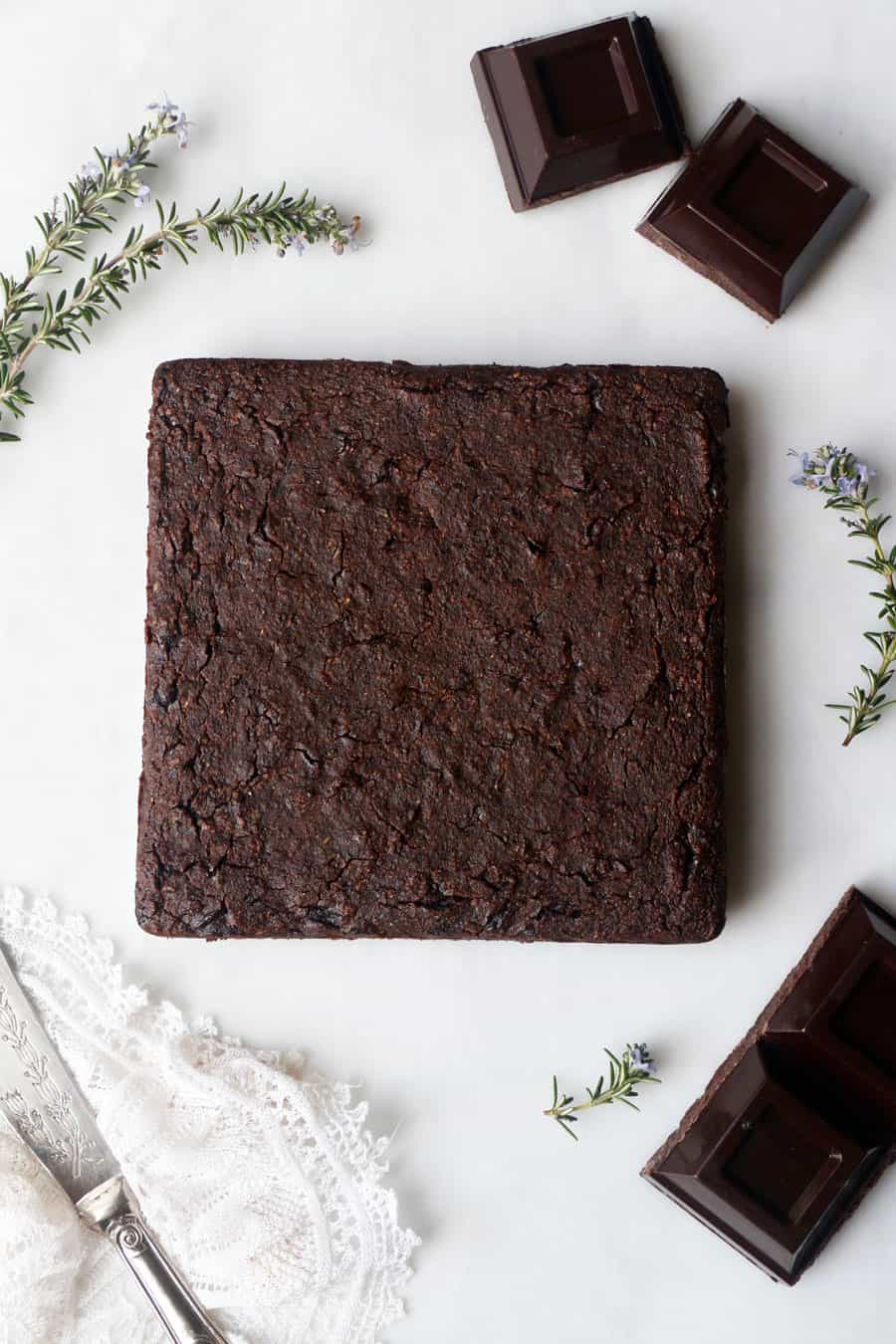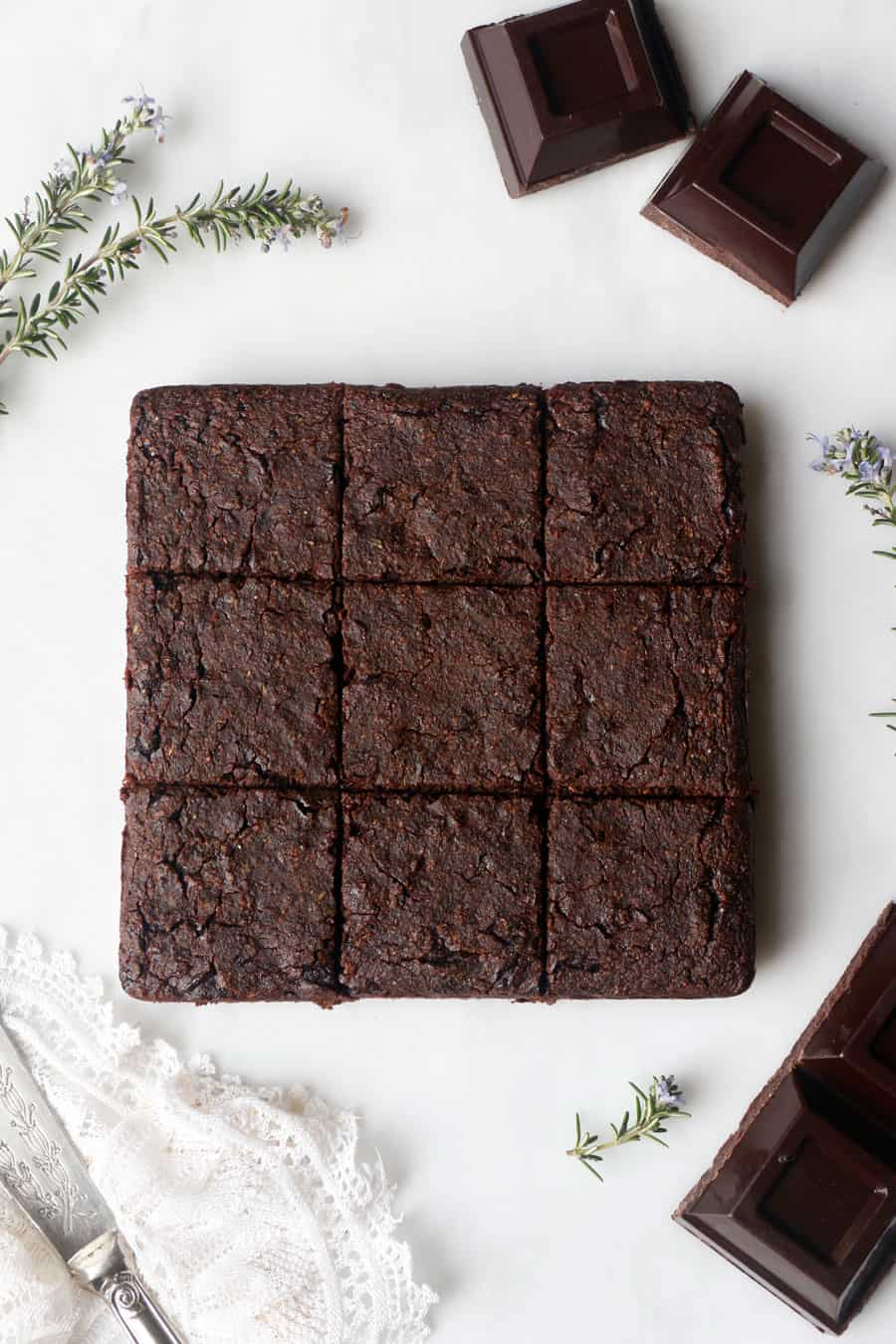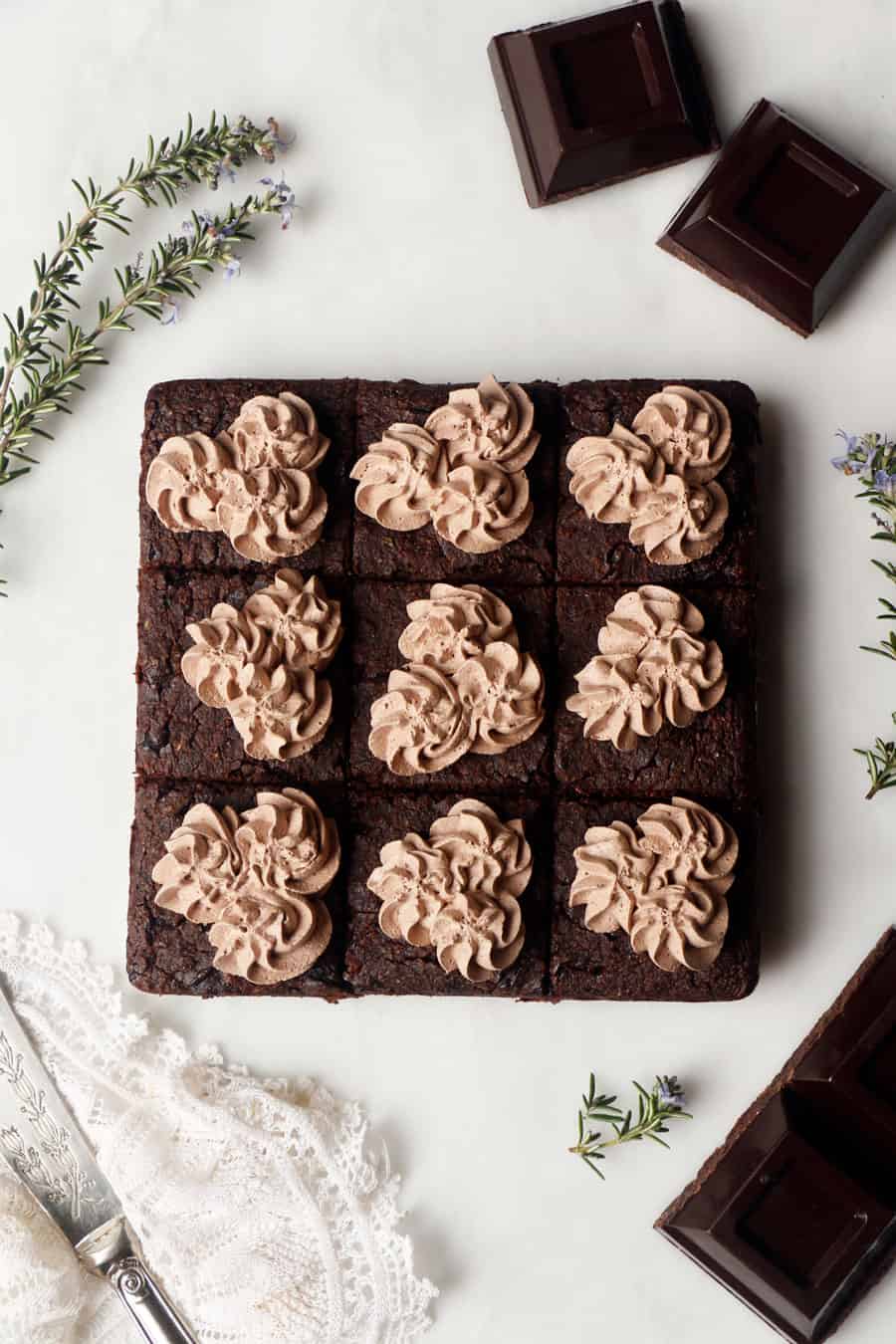 I am continuing to experiment with grain-free flours and cassava and tigernut are quickly becoming one of my favourites to bake with and worked really well in this recipe. As you can see I have also used zucchini that is completely disguised in the brownies and ads extra fudginess.
Brownies are normally loaded with sugar and I really tried to use the least sugar possible without affecting the final result. I've used rapadura, you can use any of your favourite raw sugar.
The flavours I've used are different to what you would normally expect in brownies. Lemon is often paired with white chocolate but it's rather interesting with dark chocolate too. Definitely worth to try if you never have. In my opinion rosemary and dark chocolate are fabulous combo and if you love this herb as much as me you are in for a treat.
However the flavours are open for your own adaptation and you could put your own spin on the recipe or try it without the lemon zest to see what you prefer.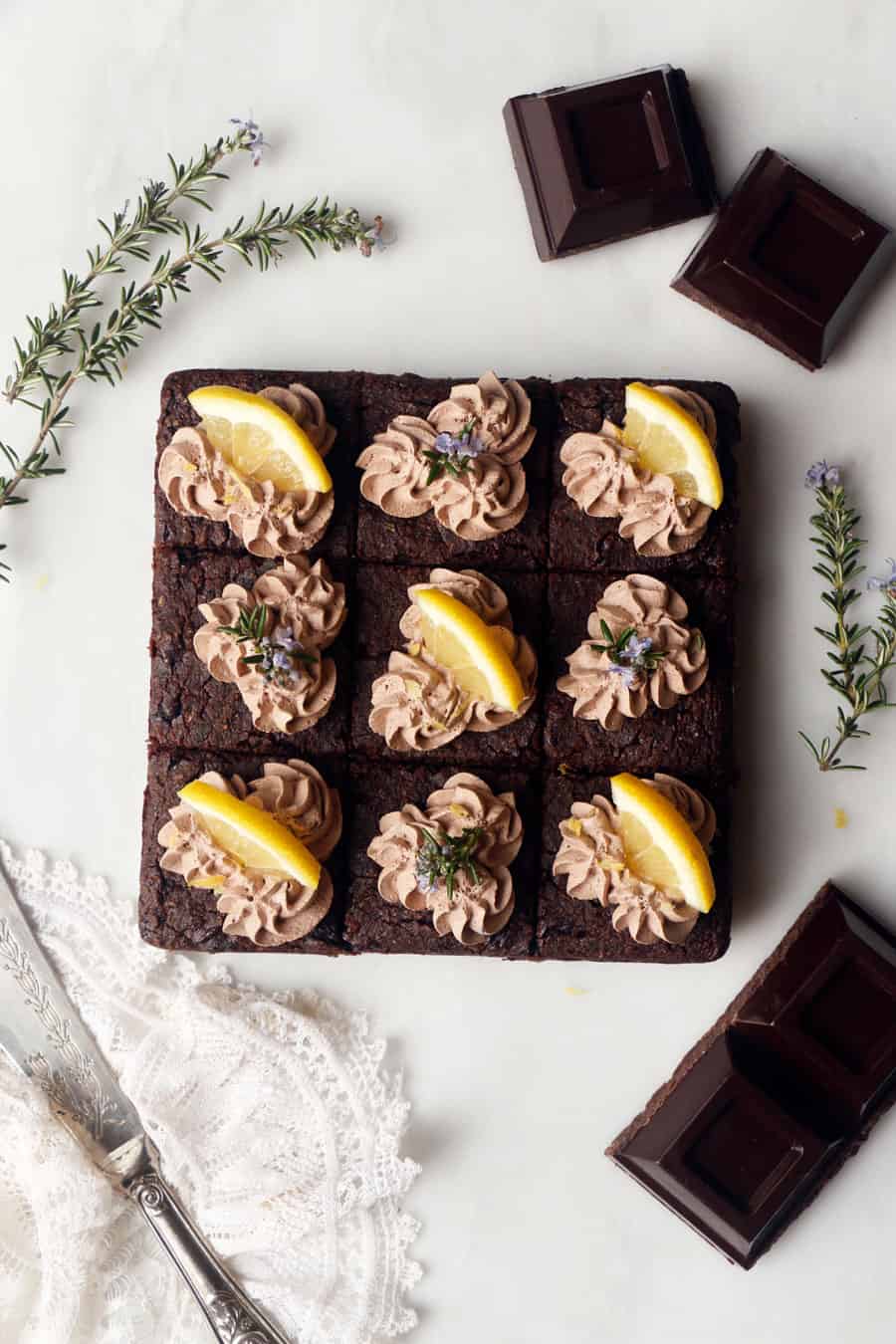 As you would expect from brownies they are fudgy and moreish. I have used 120g of dark vegan chocolate in the recipe and you could add even little more if you like. To make them extra special I have decorated them with some whipped oat cream mixed with little cacao powder and topped them with rosemary sprigs, lemon slices, lemon zest and shaved chocolate.
Hope you love them :)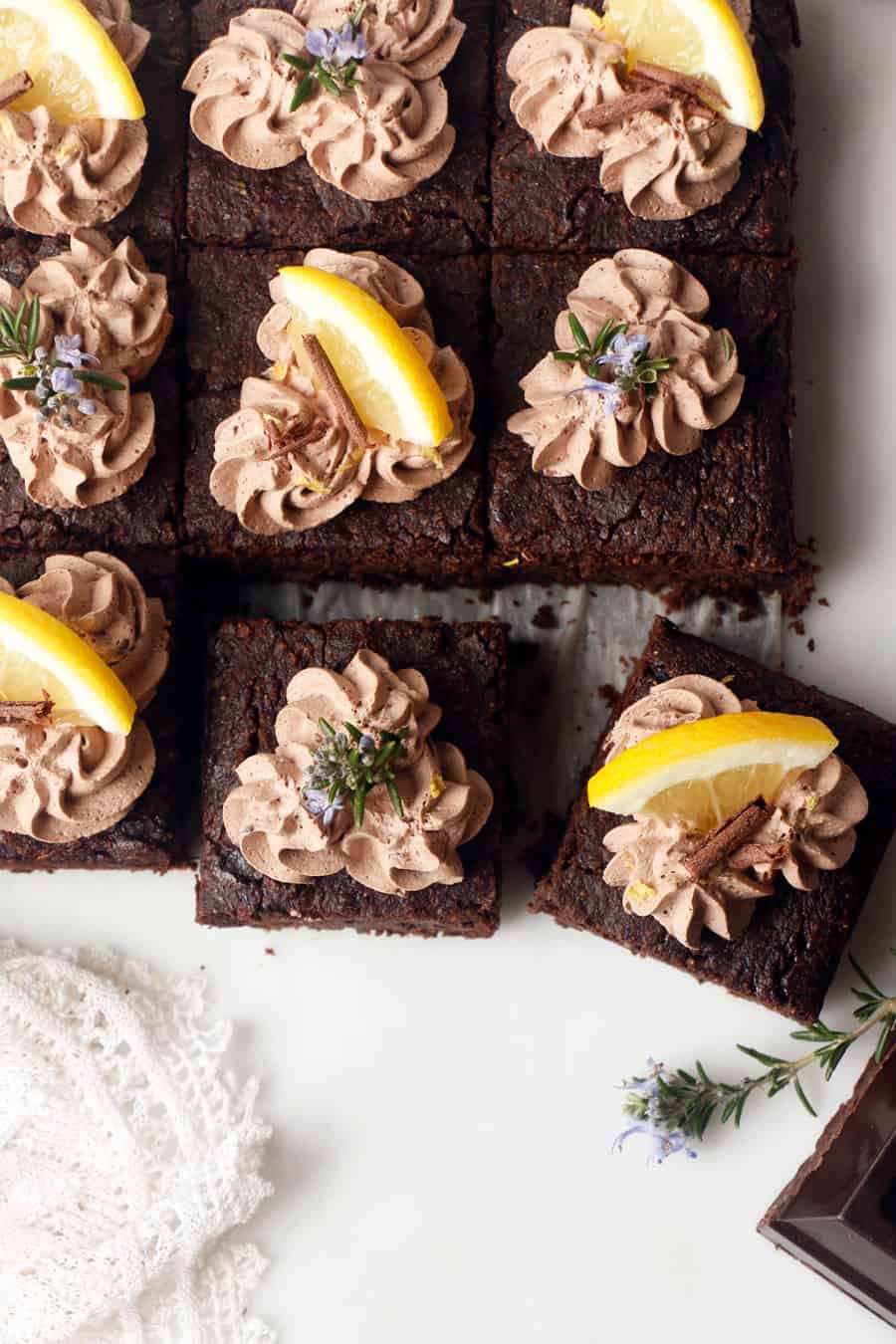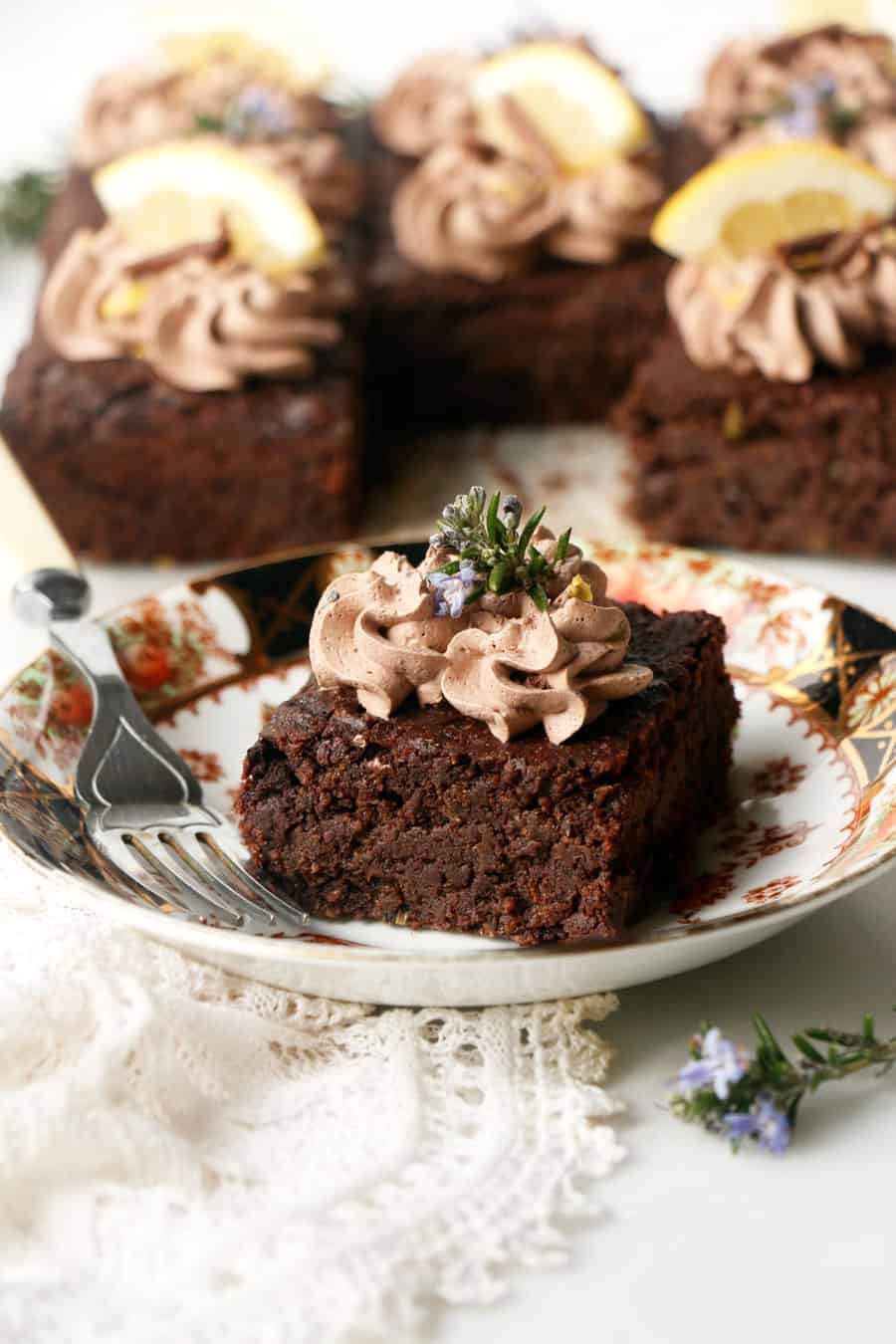 Yield: 9 brownies
Rosemary Lemon Brownies (vegan & grain-free)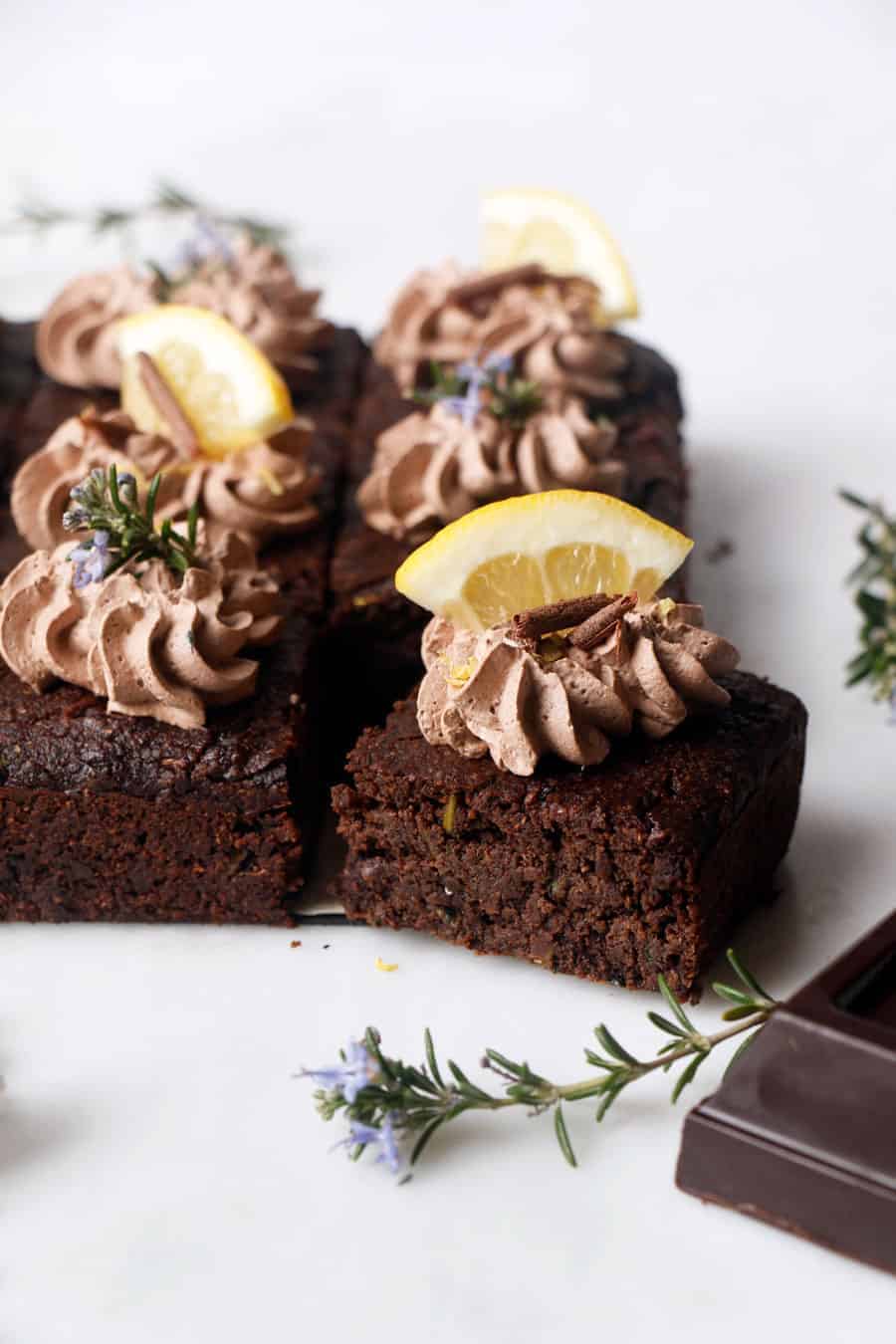 Ingredients
150g zucchini, roughly grated (1 cup)
1-2tsp finely chopped rosemary
zest of 1 lemon
70g cassava flour (1/3 cup)
70g tigernut flour (1/2 cup)
30g cacao powder (1/4 cup)
75g rapadura sugar (1/2 cup)
1tsp baking powder
pinch sea salt
2tbsp ground flaxseed + 6tbsp water
60ml olive oil (1/4 cup)
60ml plant-based milk or as needed (1/4 cup)
120g dark vegan chocolate (4.2oz)
Topping:
whipped plant-based cream
1-2tsp cacao powder
shaved chocolate
lemon slices
lemon zest
fresh rosemary sprigs
Instructions
Mix 2tbsp ground flaxseed with 6tbsp water and set aside to thicken.
Preheat the oven to 180°C (350F)
Line 7"x7" square baking tin.
Roughly grate the zucchini. Finely chop fresh rosemary. Set aside.
Roughly chop the chocolate. Set aside.
In a large bowl whisk together cassava flour, tigernut flour, cacao powder, sugar, baking powder and salt.
Add zucchini, rosemary, lemon zest, gelled flax eggs and olive oil to the dry mix and mix until well combined. Add plant milk as needed to have thicker brownie mix. The amount will depend on the moisture in zucchini. I've used just under ¼ cup.
Fold in chopped chocolate.
Spoon the mixture into the cake tin and level out the surface.
Place into the oven and bake for about 25 minutes.
Remove from the oven and leave to cool down.
Once cooled cut into 9 equal squares.
To decorate whip your favourite plant-based cream and fold in little cacao powder. Pipe on top of brownies and decorate with shaved chocolate, lemon slices, lemon zest and fresh rosemary sprigs.
Store in fridge.
Enjoy!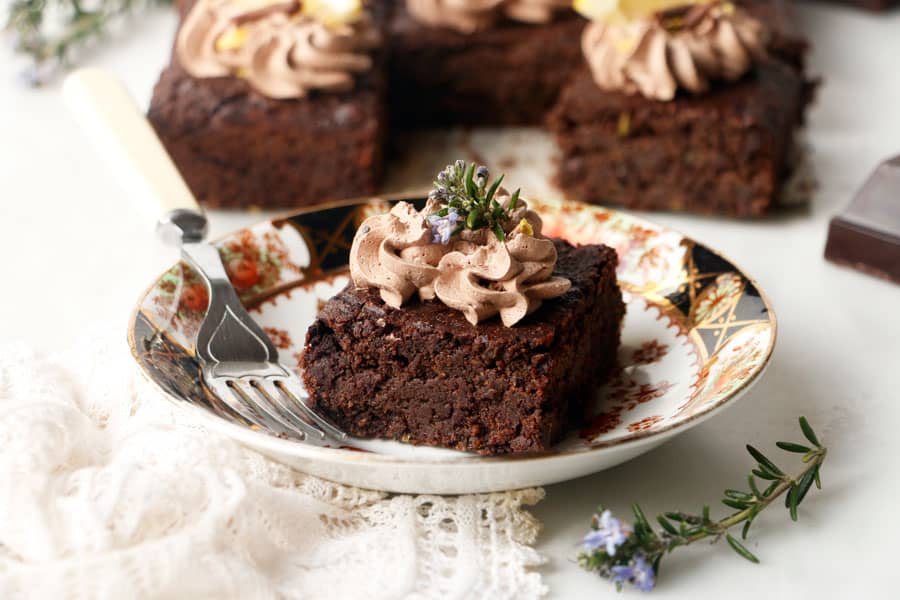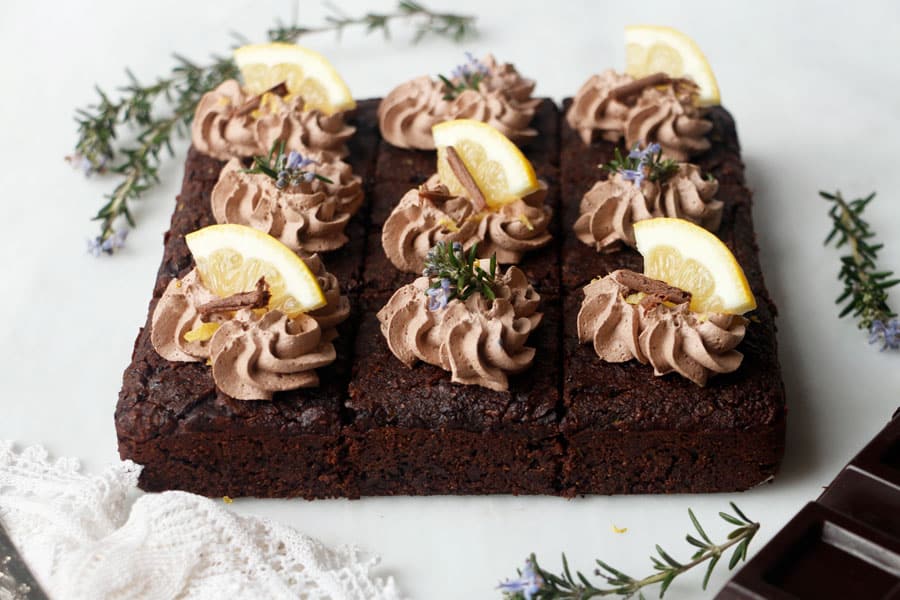 Similar Posts: