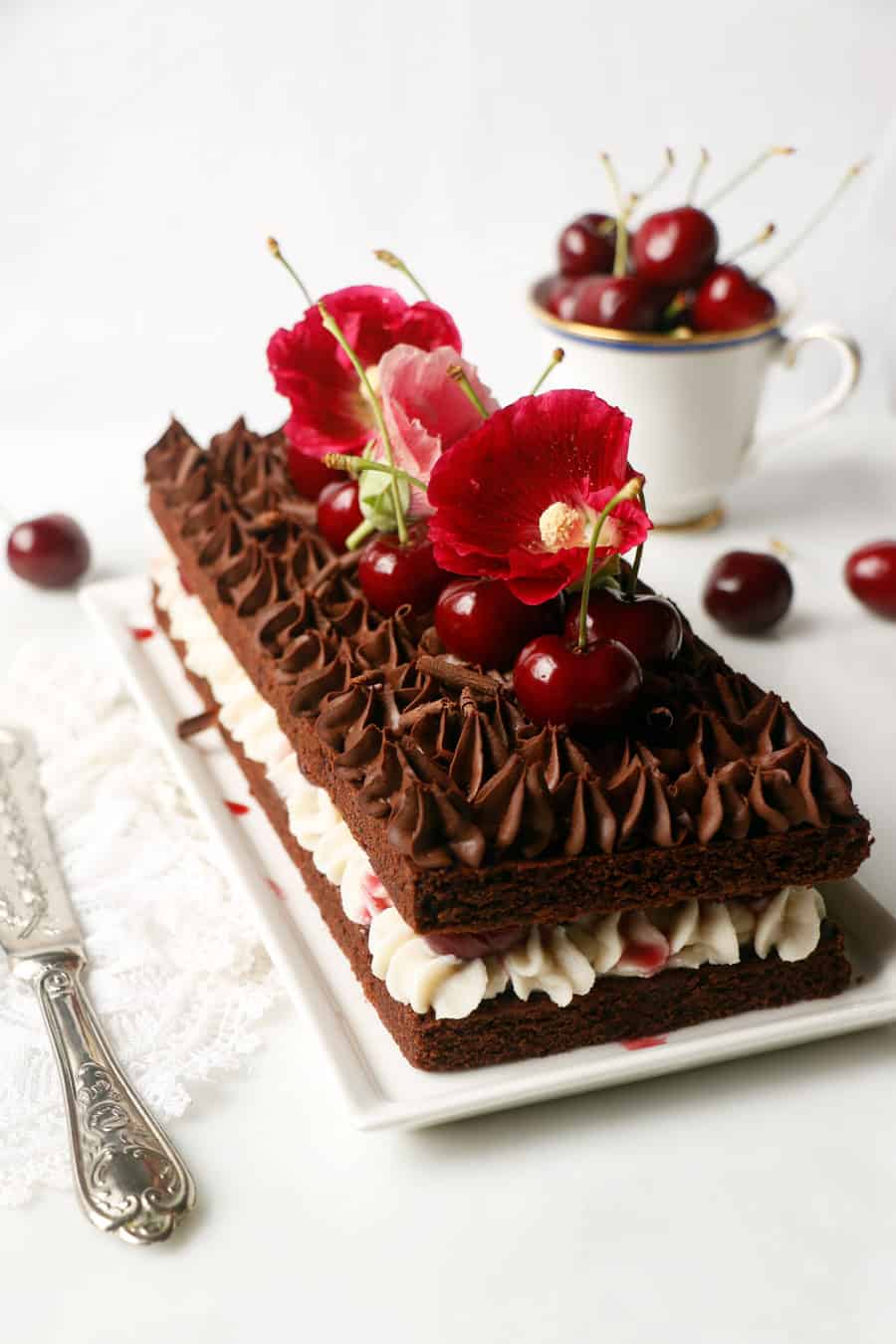 Special thank you to Amore di Mona for sponsoring this post.
Happy July beautiful! I'm so happy to bring you my vegan, gluten-free and nut-free version of a classic recipe Black Forest Gateau. It's been quite a journey to create this recipe and I'm so happy with the result.
Created with wholesome ingredients and low sugar and tasting just fabulous this is one special dessert for your summer celebrations.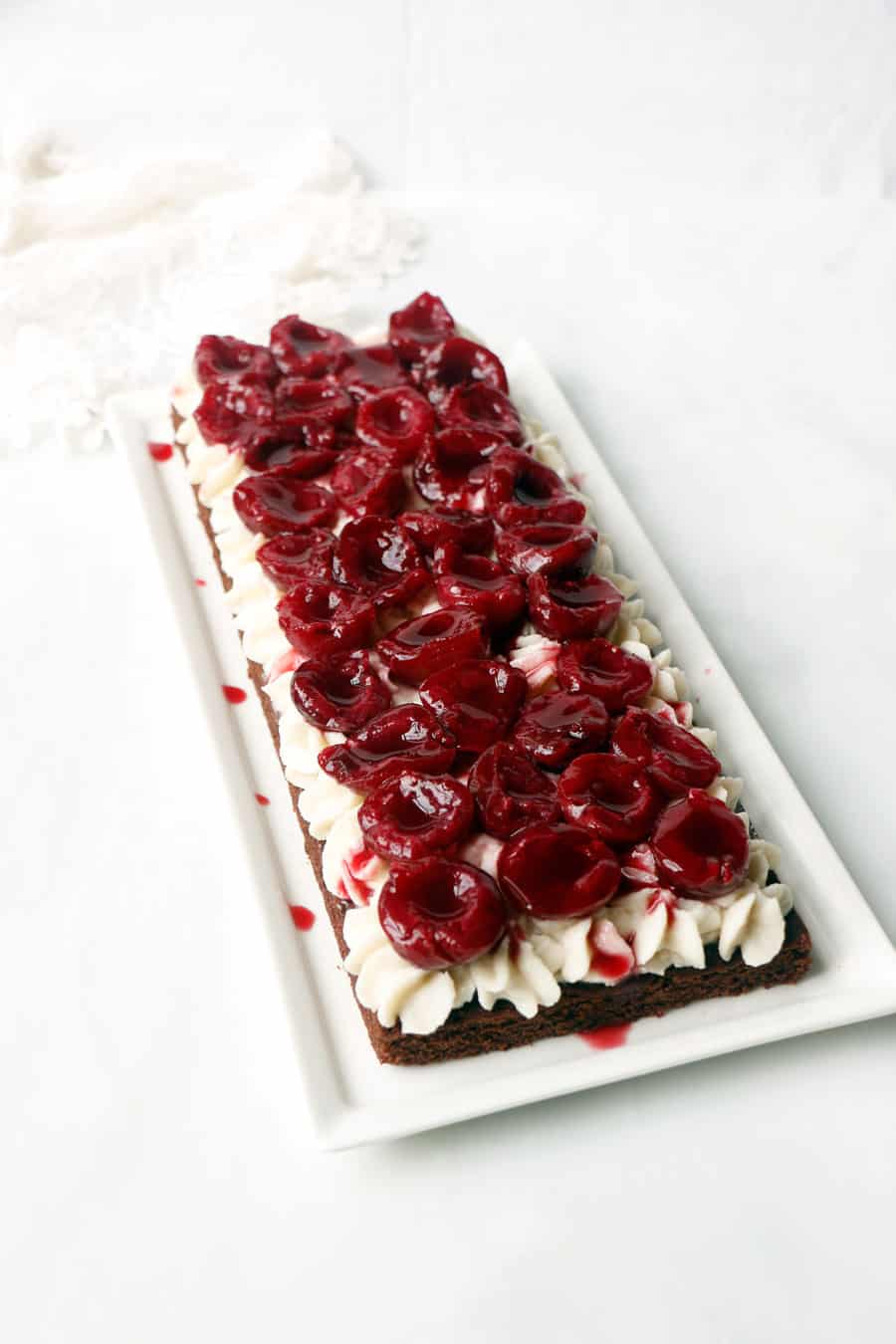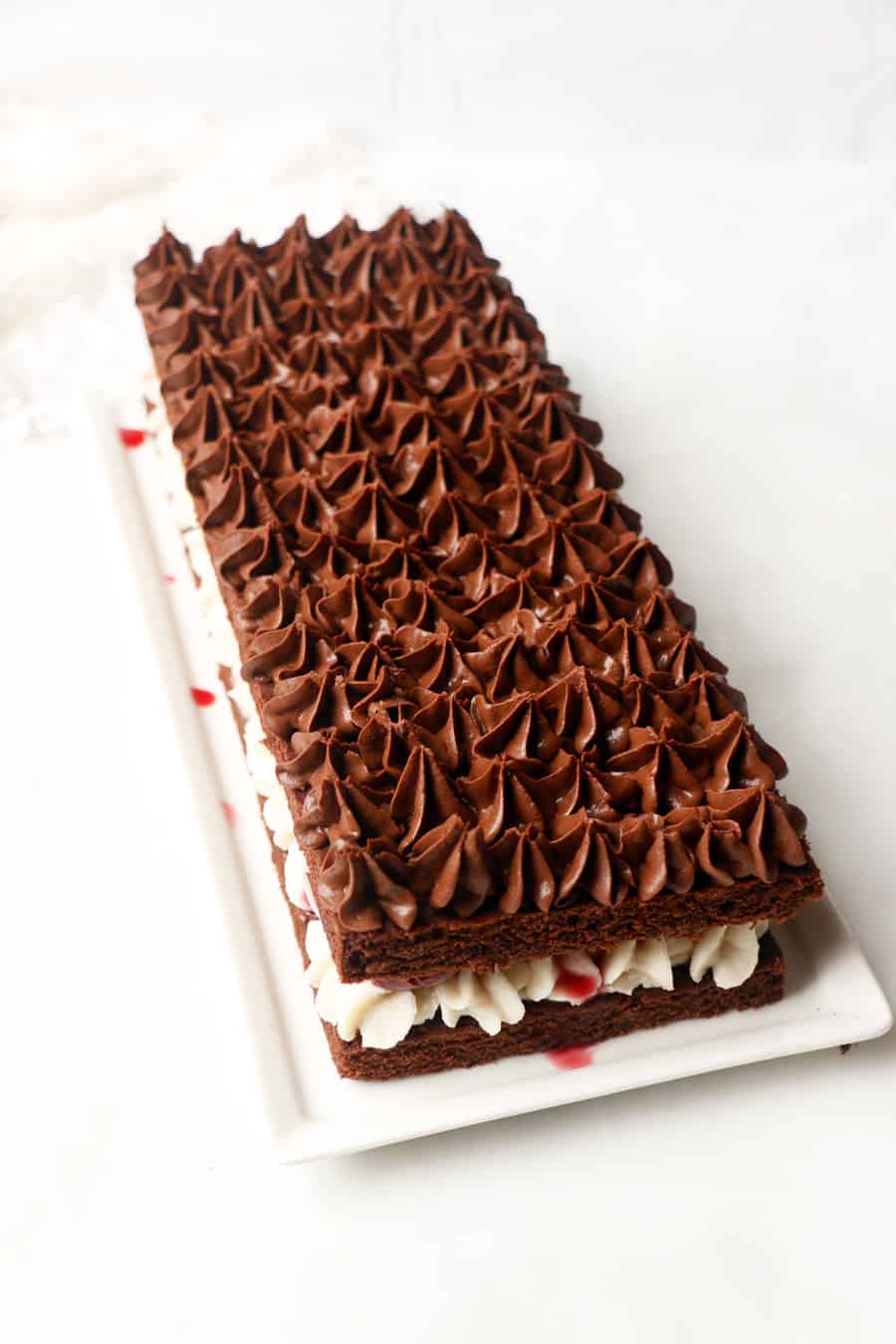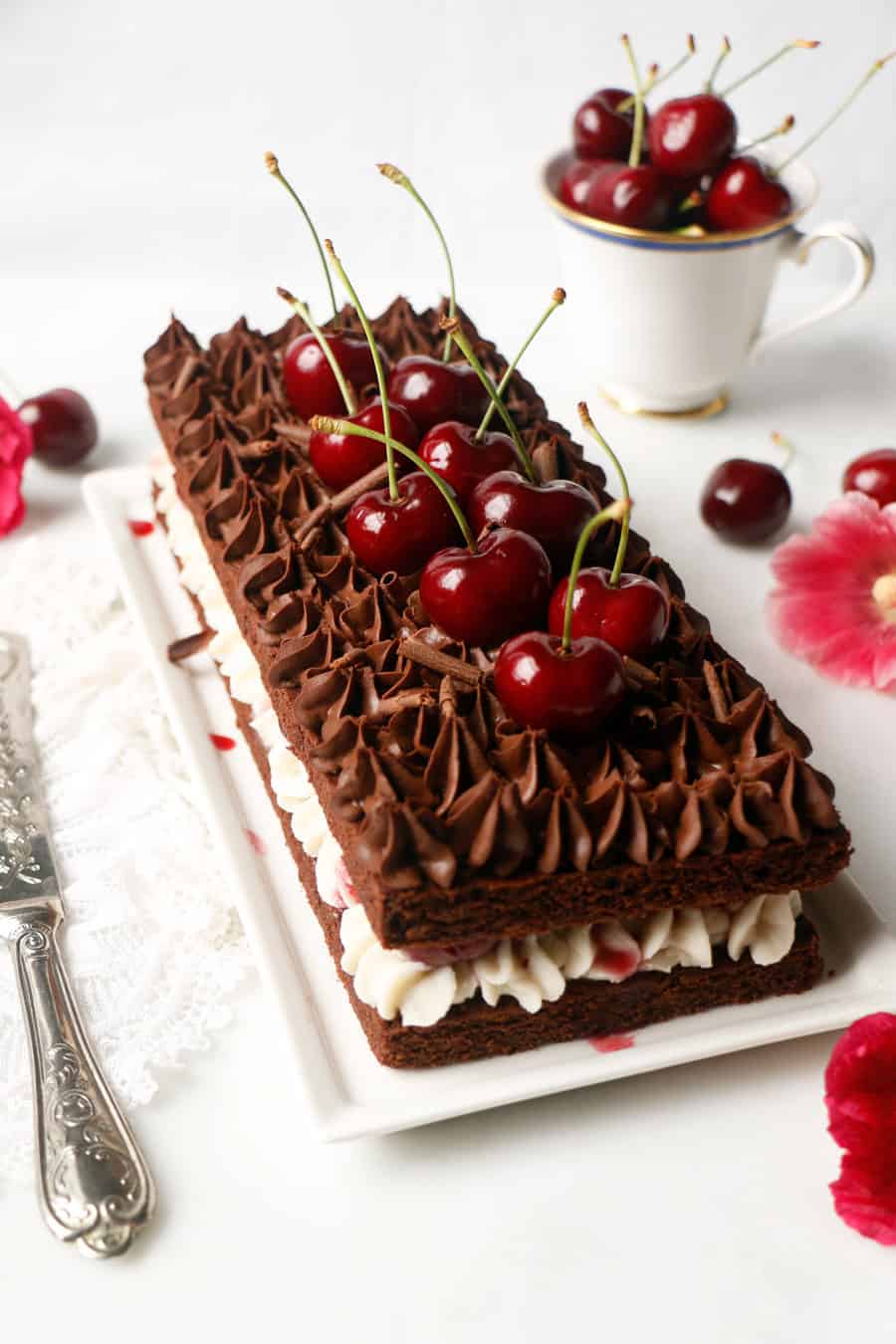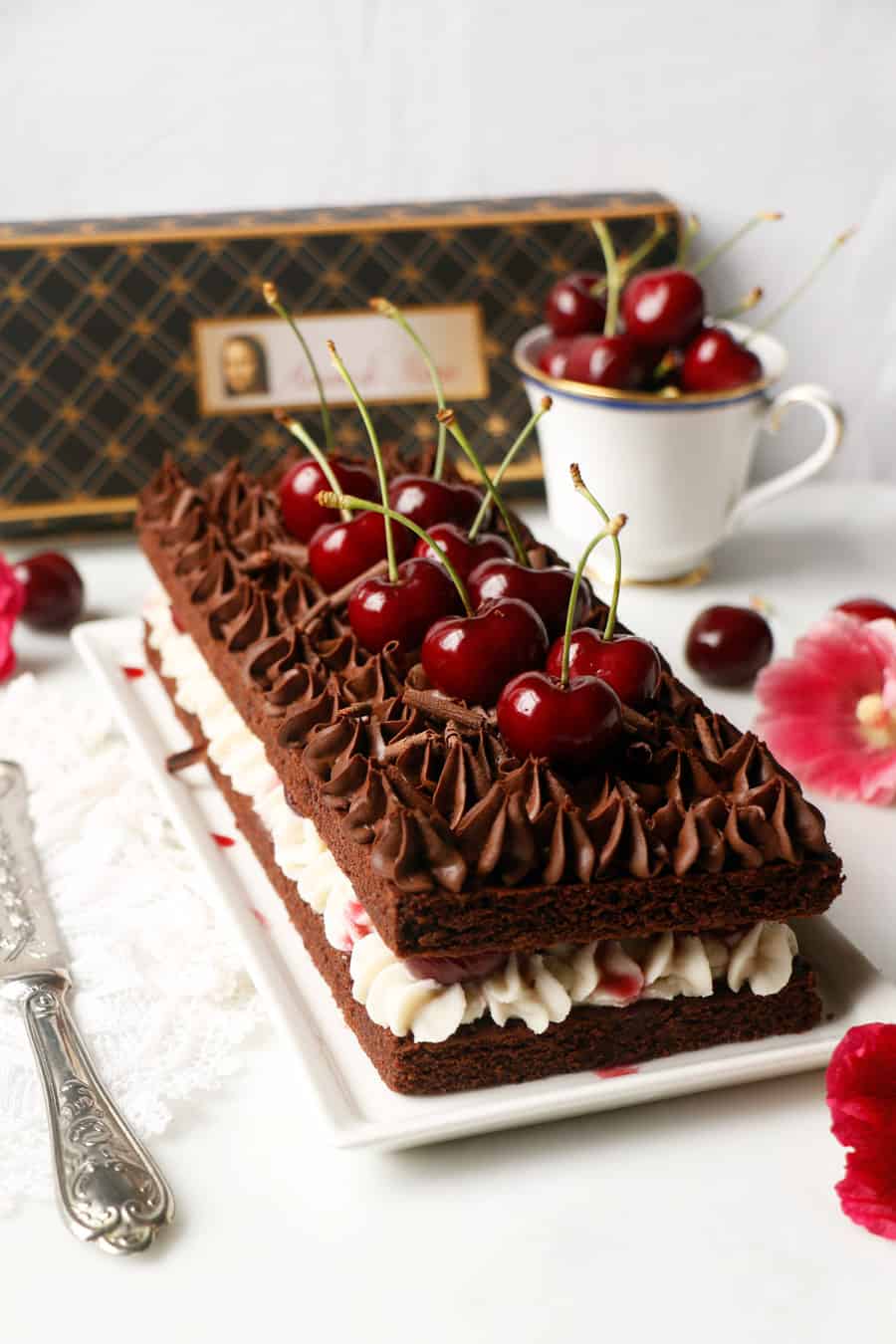 Few elements in this recipe, but it's not complicated. I've chosen to make my Black Forest Gateau as a rectangular cake. I've baked the chocolate sponge in a 25 x 35cm Swiss roll tin and then cut two long rectangles that I've trimmed down to fit my serving platter.
For the fillings, I've used agar vanilla cream, cherry compote and chocolate ganache. Traditionally whipped cream is used and if you like please do use your favourite whipped plant-based cream.
Because cherries are in season I've made my own cherry compote but you can also buy a ready-made one or even get Kirsch cherries.
Another ingredient traditionally used is Kirsch liqueur but because I don't drink alcohol I haven't used it in my recipe, but if you like add a splash into the cherry compote or you could add little into the sponge cake.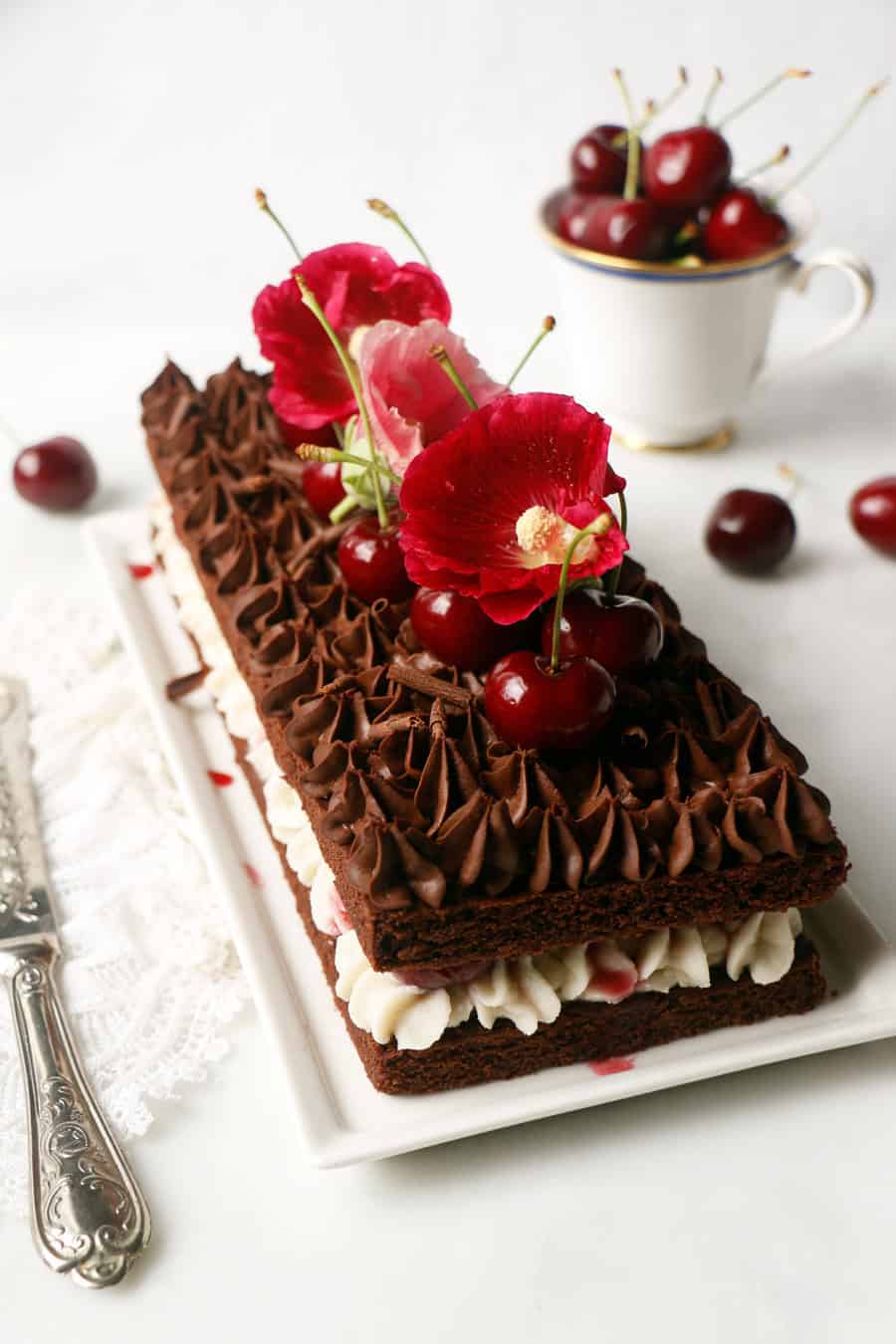 The recipe is open to your own adaptation and you can get playful and creative using different elements to build the gateau. I also think it would look really lovely making rectangular mini cakes.
I wanted to make it pretty and sophisticated and I've piped the frostings. I think cherries make the most wonderful cake decoration and I love using them on top of cakes. They reflect light so beautifully. And of course, are fabulous with chocolate! And I just love how the Hollyhock brought everything together.
Happy cake making!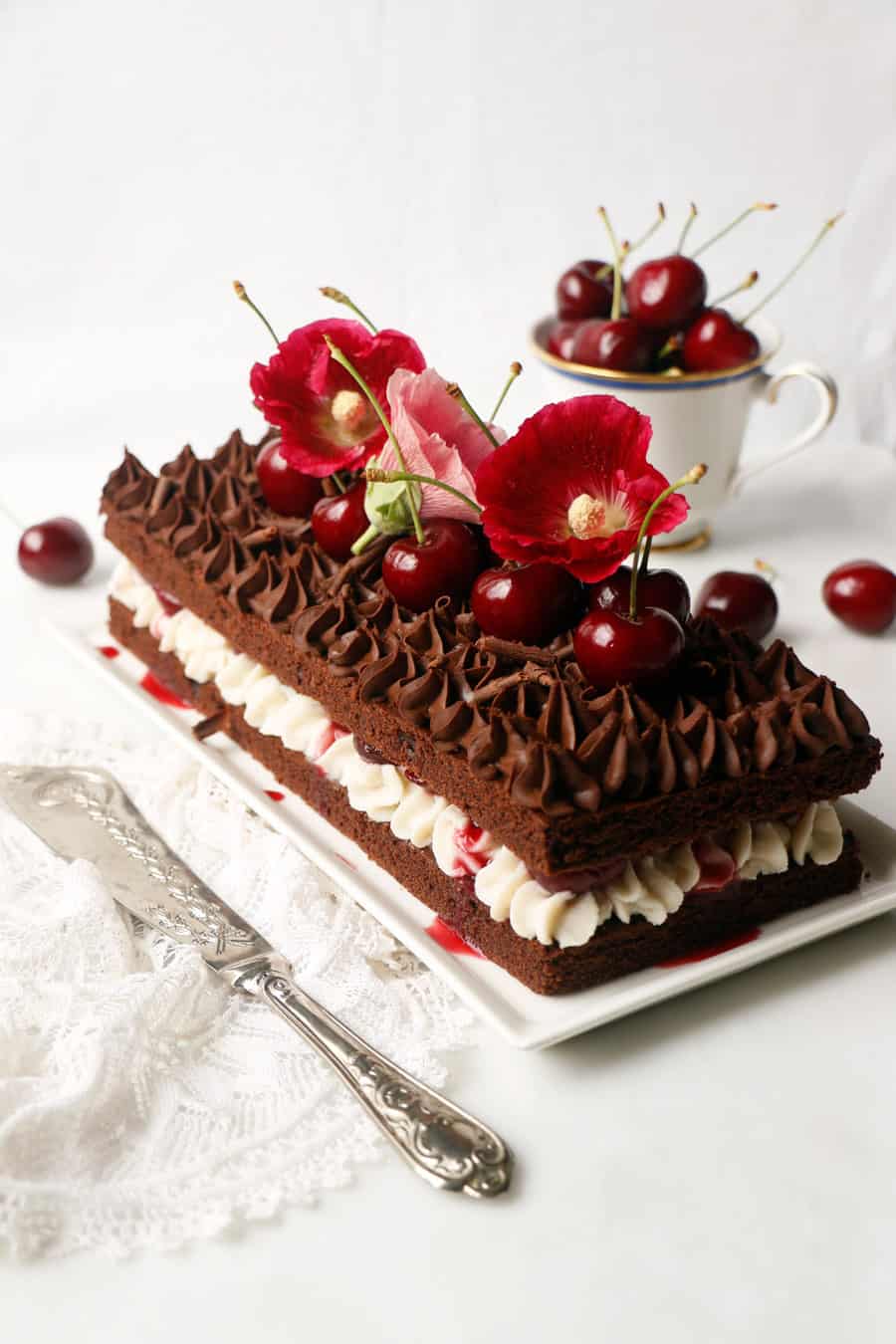 Black Forest Gateau (vegan & gluten-free)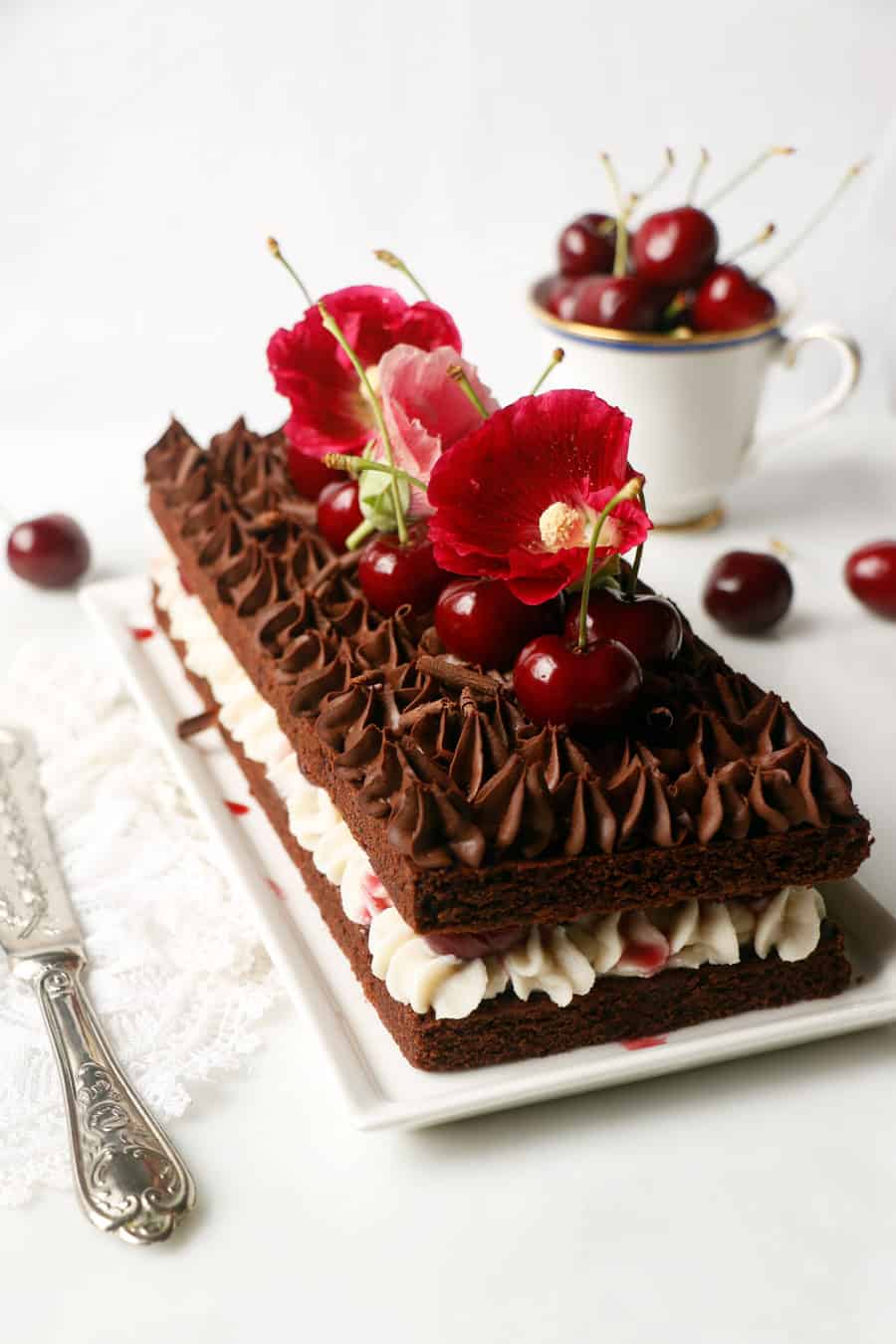 Ingredients
95g brown rice flour (3/4 cup)
70g sorghum flour (1/2 cup)
70g sunflower seeds (1/2 cup), ground into flour consistency
30g tapioca flour (1/4 cup)
30g cacao or cocoa powder (1/4 cup)
100g rapadura sugar (3/4 cup)
1½tsp baking powder
1tsp bicarbonate of soda
pinch sea salt
3tbsp ground flaxseed + 9tbsp water
80ml apple sauce (1/3 cup)
80ml olive oil (1/3 cup)
60ml maple syrup (1/4 cup)
2tsp apple cider vinegar
60ml hot water (1/4 cup) + more as needed
Cherry compote:
300g cherries (2 cups)
1tbsp rapadura sugar
1tbsp lemon juice
3tbsp water
1/4tsp agar powder
Vanilla cream:
480ml plant-based cream (2 cups)
1 vanilla bean or 1tsp vanilla extract
2tsp agar powder
1½tbsp cornflour
2tbsp maple cream
Chocolate ganache: make the night before
120g dark vegan chocolate (4.2oz)
120ml oat cream (1/2 cup)
Topping:
cherries
shaved chocolate
edible flowers
Instructions
Preheat the oven to 180°C (350F)
Grease and line 25 x 35cm Swiss roll tin with baking paper.
Mix 3tbsp ground flaxseed with 9tbsp water and set aside to thicken.
In a large bowl whisk together brown rice flour, sorghum flour, ground sunflower seeds, tapioca flour, cacao powder, sugar, baking powder, bicarbonate of soda and salt.
In a small bowl whisk together gelled flax eggs, apple sauce, olive oil, maple syrup, apple cider vinegar and water.
Add the wet mix to the dry mix and mix until well combined. Add extra water 1tbsp at the time if needed to achieve pourable muffin consistency.
Pour the mixture onto the lined tin and smooth out the surface.
Bake for about 15 minutes or until a cocktail stick comes out clean.
Remove from the oven and leave to cool down.
Once cooled cut in half to have two long rectangles. Trim the edges to fit the size of your cake platter. The size of my gateau was about 25cm x 11cm.
Cherry compote:
Place pitted cherries into medium pot. Add sugar, lemon juice and water and bring to boil. Simmer for 5 to 10 minutes until soft. Take off the heat and whisk in agar powder. Leave to cool down before transferring to fridge until ready to use. The agar will help to thicken the sauce little.
Vanilla cream:
Place cream and vanilla into medium pot. Whisk in agar powder and cornflour and bring to boil whisking continuously. Leave to simmer for 5 minutes whisking in between. Take off the heat and stir in the maple cream. Leave to cool down for 15 minutes and then using electric whisk whisk the mix until smooth. Place into a fridge for about an hour whisking every 15 to 20 minutes until your have thick smooth cream. Store in fridge until needed.
Chocolate ganache:
Roughly chop the chocolate for the chocolate ganache and place into a medium bowl. Place the oat cream into a small pot and gently heat until boiling point. Pour over the chopped chocolate and stir until completely melted and smooth. Leave to cool down before placing into a fridge to set overnight into a pipeable consistency. It should be perfect consistency for piping but if it's too hard leave it at room temperature for a little while to soften.
To assemble the gateau using a cake lifter place the bottom layer on top of your serving platter. Using piping bag decorate the top with vanilla cream. Arrange the cherry compote on top, drizzle with some of the sauce and top with the second layer of the sponge cake. Using piping bag decorate the top with chocolate ganache. Top the gateau with few cherries, shaved chocolate and edible flowers.
Store in fridge.
Notes
Extra step you can brush the sponge with little cherry syrup.
I've made the vanilla cream with oat cream and with coconut cream. Either work well. If you don't have maple cream you can use nut or seed butter in here instead and add little sugar.
You can also replace the vanilla cream with your favourite whipped plant-based cream.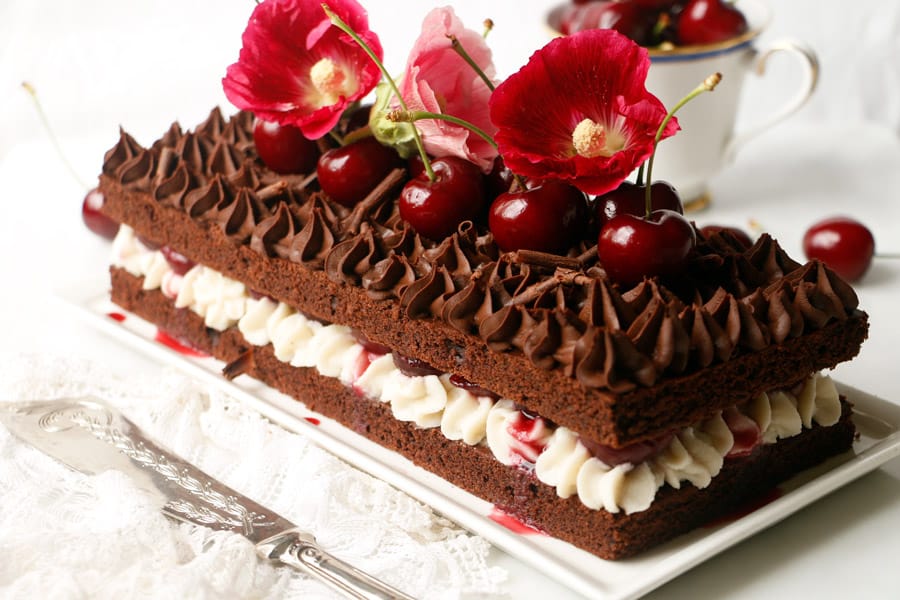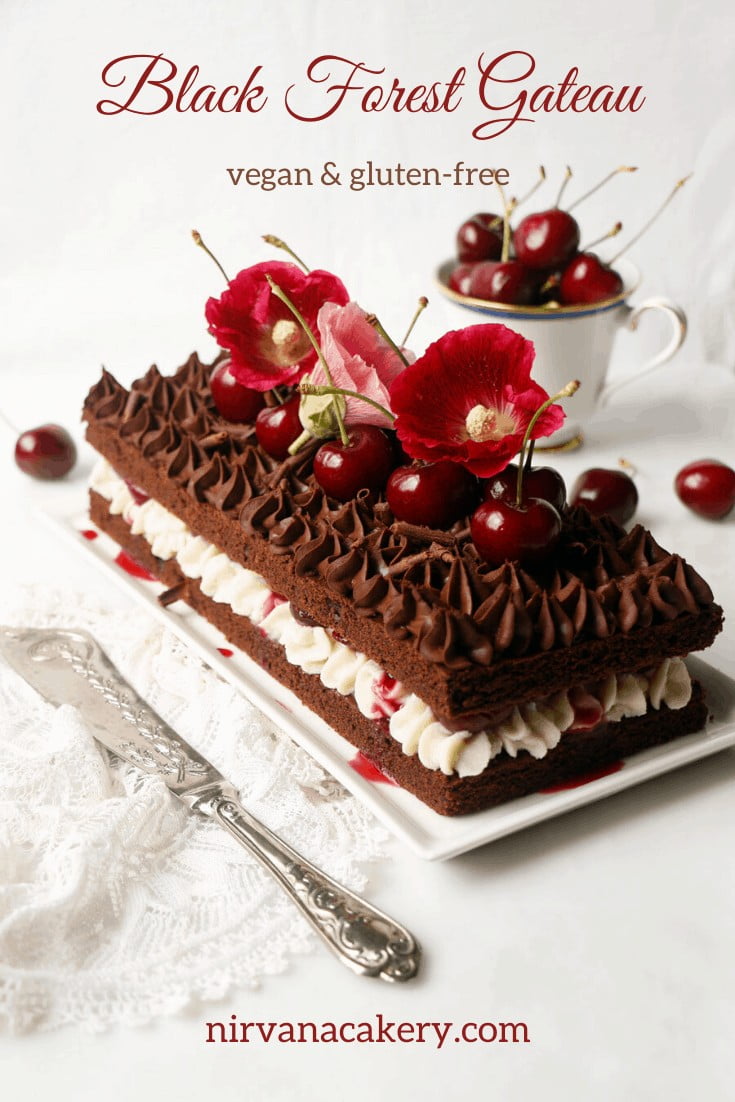 Similar Posts: