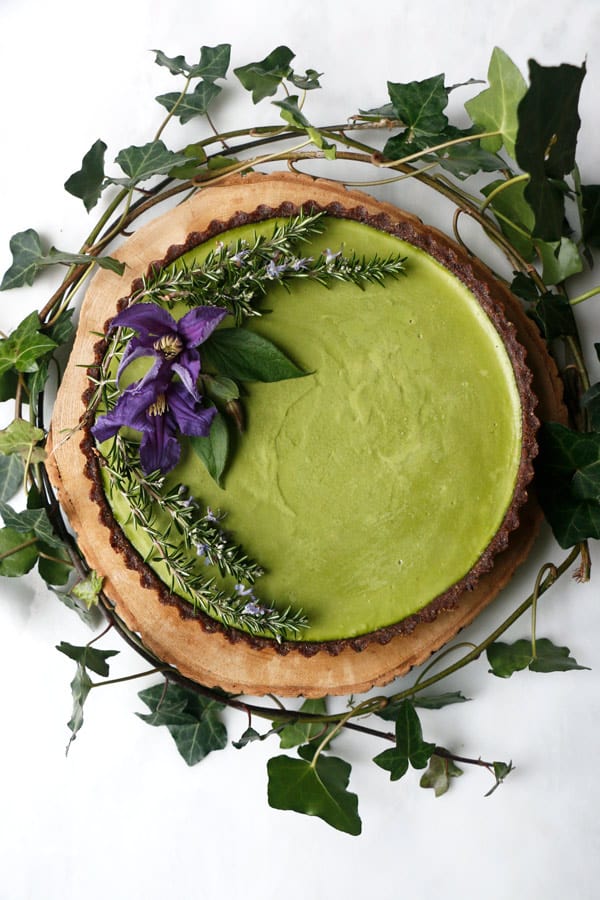 Happy New Year! I hope that 2020 has started well for you and you're all well and happy despite everything negative that is happening in the world. I really do hope that this year will bring the necessary change so needed in our world so we finally move towards more Love, Compassion and Peace on our planet.
My colour for this year is GREEN, I am aiming to bring more plants, more nature and more magick into my recipes and photography to remind us all how beautiful and precious our planet is.
This Kale Chocolate Vegan Cheesecake is a remake of an old recipe from 3 years ago which I thought would be amazing to kick-off 2020. The colour is so beautiful and uplifting and sure to lift our spirits during the month of January.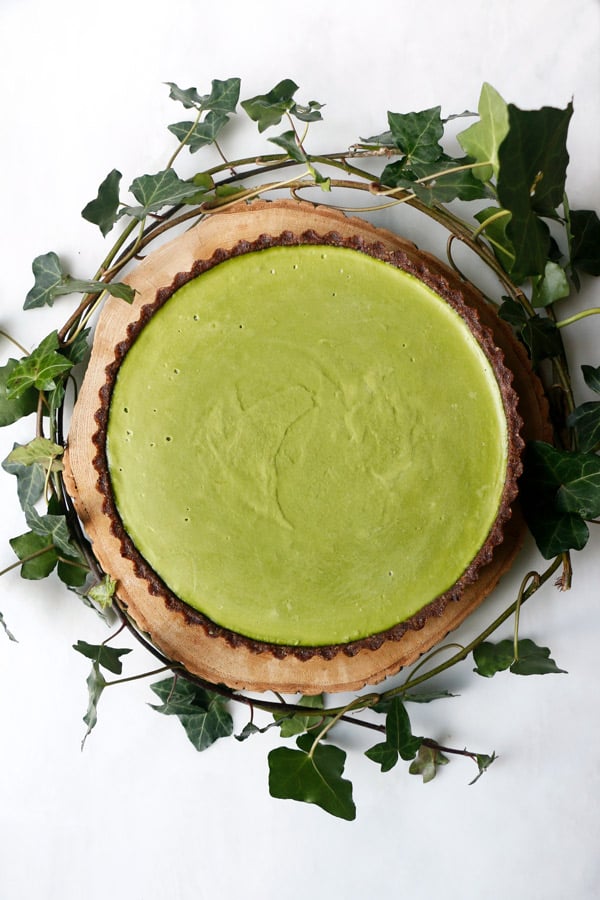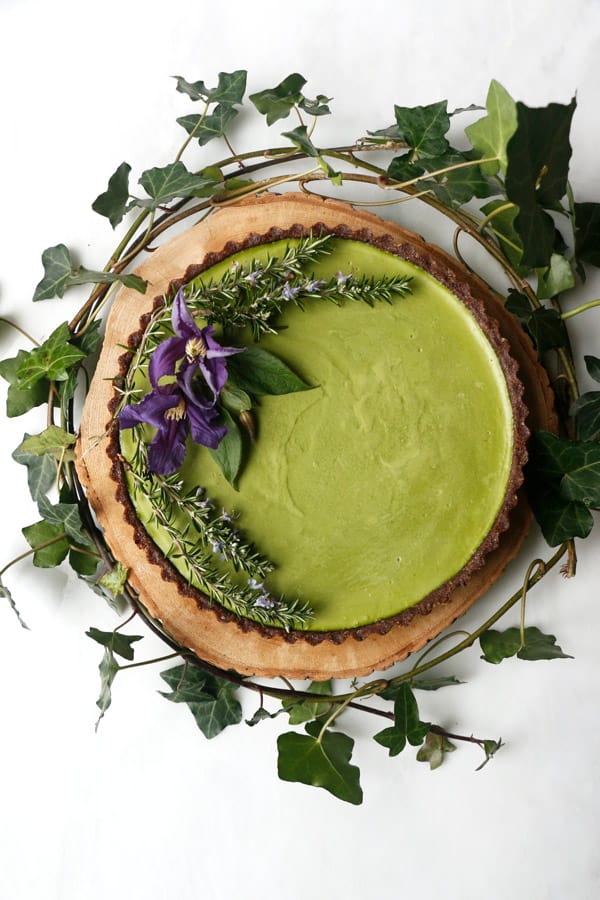 It's a simple raw vegan cheesecake recipe with wonderful wholesome ingredients and earthy kale filling.
I've made the crust with a mix of walnuts, pumpkin seeds, medjool dates, coconut oil, raw cacao and cinnamon. You can make it with or without the cacao depending on your taste.
For the cheesecake layer, I've used a mix of cashews, coconut butter, lemon juice and lemon zest, maple syrup, kale and apple. Originally I've made this recipe with curly kale but this time I've used Tuscan kale to increase the green colour.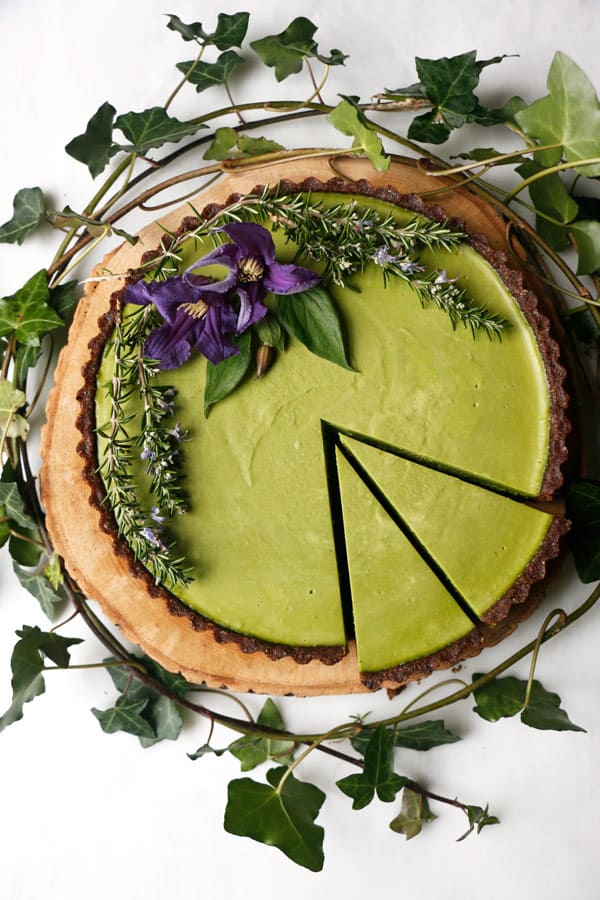 I've added a fair amount of kale but I recommend to start with less and increase it according to your taste. If you only use a little bit you won't even notice the taste but if you do add as much as I did the cheesecake will have a deep earthy flavour.
This might not be a recipe for everyone, some of you will love it and some of you not so much! You will have to make it to decide :)
Enjoy with your kale loving friends!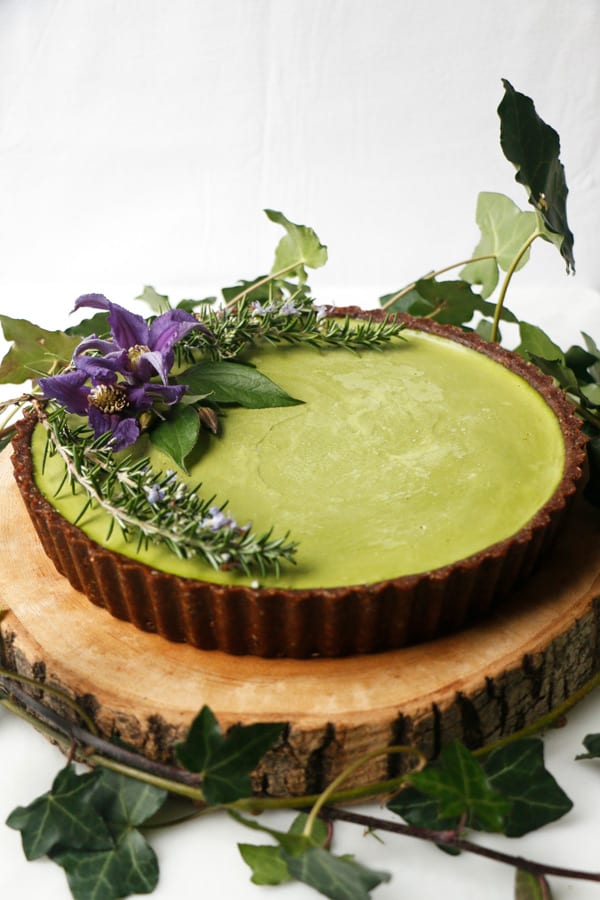 Yield: 9" tart
Kale Chocolate Vegan Cheesecake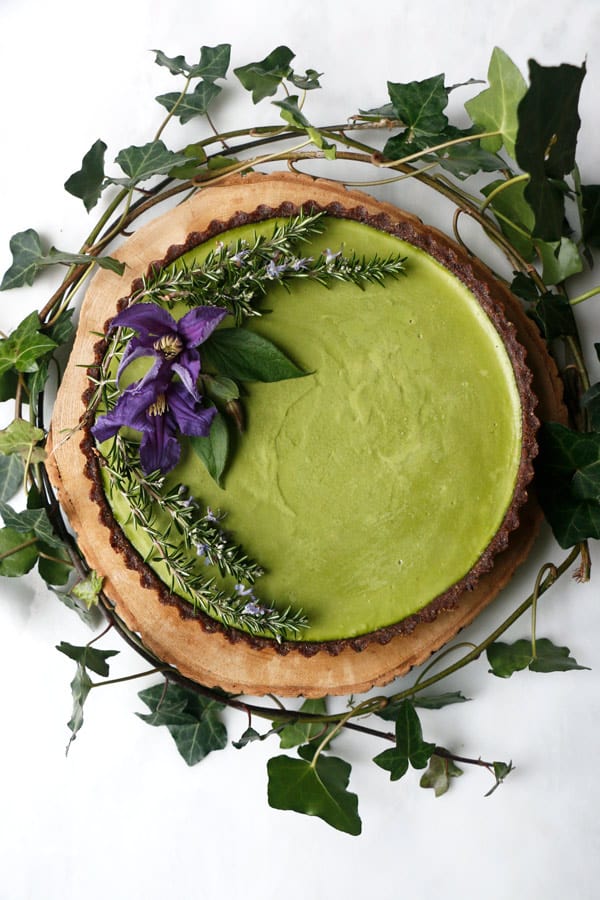 Ingredients
Crust layer:
150g walnuts (1 1/2 cups)
60g pumpkin seeds (1/2 cup)
2tbsp raw cacao powder
1tsp cinnamon
pinch sea salt
6 medjool dates, pitted
2tsp coconut oil
Kale layer:
50g to 100g kale, any hard stems removed (1 to 2 cups)
1 apple, cored and quartered
200g cashews, soaked for 4 hours (1 1/2 cups)
80ml maple syrup (1/3 cup)
zest of 1 lemon
juice of 1 lemon
60ml almond milk (1/4 cup)
200g coconut butter/creamed coconut (1 cup)
Instructions
Prepare 9" tart tin with removable base.
Place walnuts and pumpkin seeds into a food processor and pulse few times until coarsely ground. Add cacao, cinnamon, salt and pitted medjool dates and blend until the mixture comes together. Add coconut oil and blend again until you have a sticky mix when pressed together.
Spoon the crust mix into the tart tin, spread evenly onto the base and around the edges to create the crust. Place into fridge while making the kale layer.
In a double boiler gently melt coconut butter and set aside.
Rinse the soaked cashews under running water and place into high speed blender. Add kale, apple, maple syrup, lemon zest and juice, and almond milk and blend until smooth. Taste and add more kale if desired. If needed you can add little more almond milk too. Finally add melted coconut butter and blend until just incorporated.
Spoon onto the crust layer and smooth out the top.
Place into a freezer for at least couple of hours or overnight to set.
Once set carefully remove from the tin.
Place onto a serving dish and decorate to your liking.
Leave to thaw before serving.
Store in a fridge or freezer.
Enjoy!
Notes
You can use curly kale or Tuscan kale, in this recipe I've used the Tuscan kale for deeper colour. I recommend to start with less kale and increase it according to your taste.
*please note the flowers are only used to enhance the photos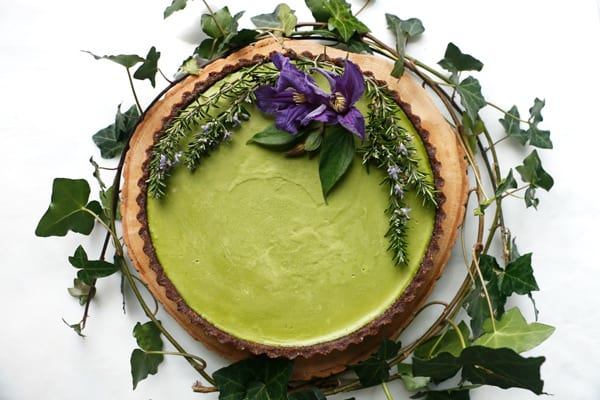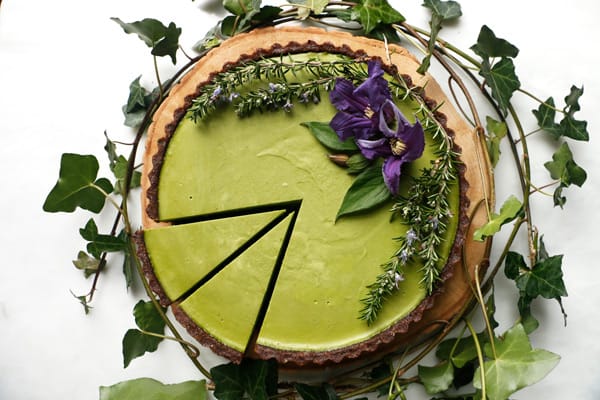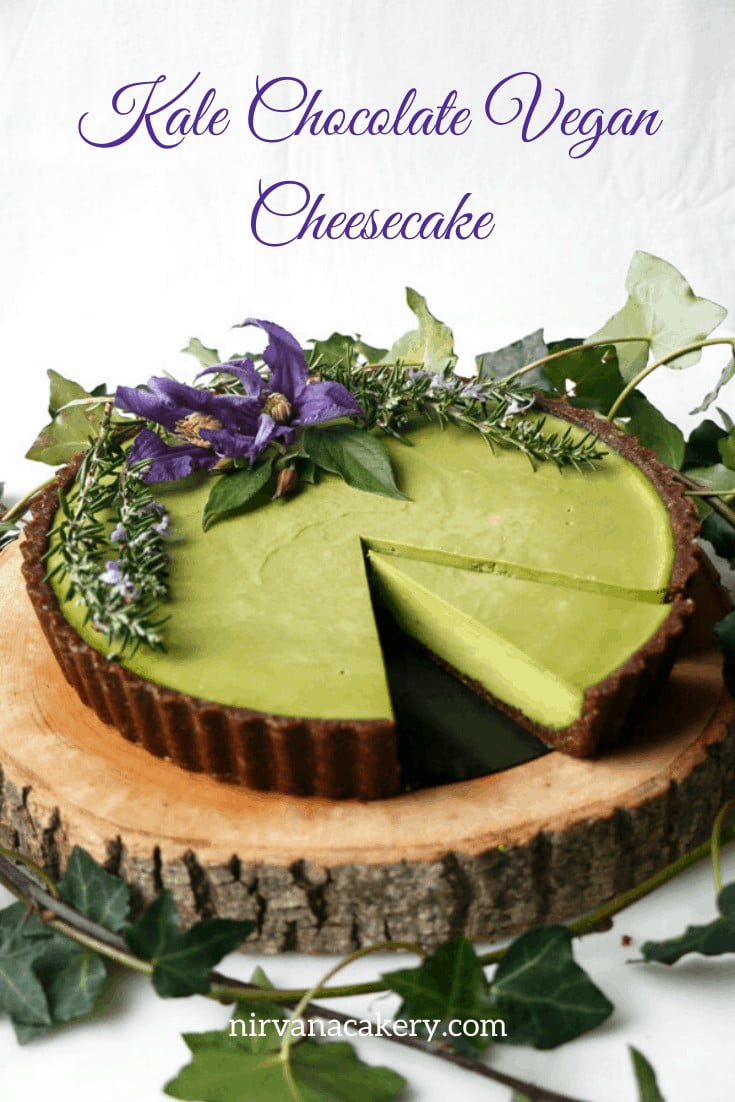 Similar Posts: