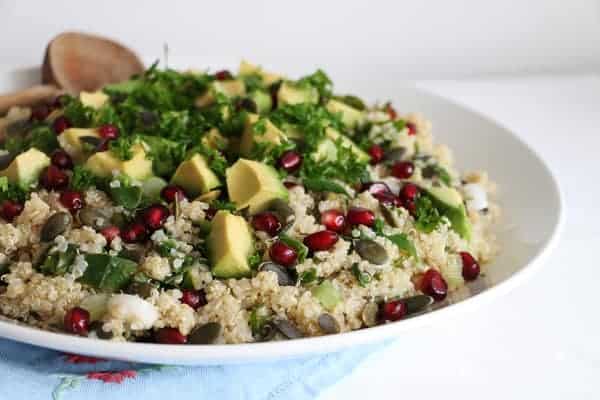 So I have finally learned how to cook quinoa without overcooking it and making it all mushy, phew! Now I can enjoy all the yummy quinoa salads. This salad with kale and pomegranate is my favourite that I have made so far and I would love to share this recipe with you. Packed with super healthy nutritious and tasty ingredients, it's a perfect salad for all year long.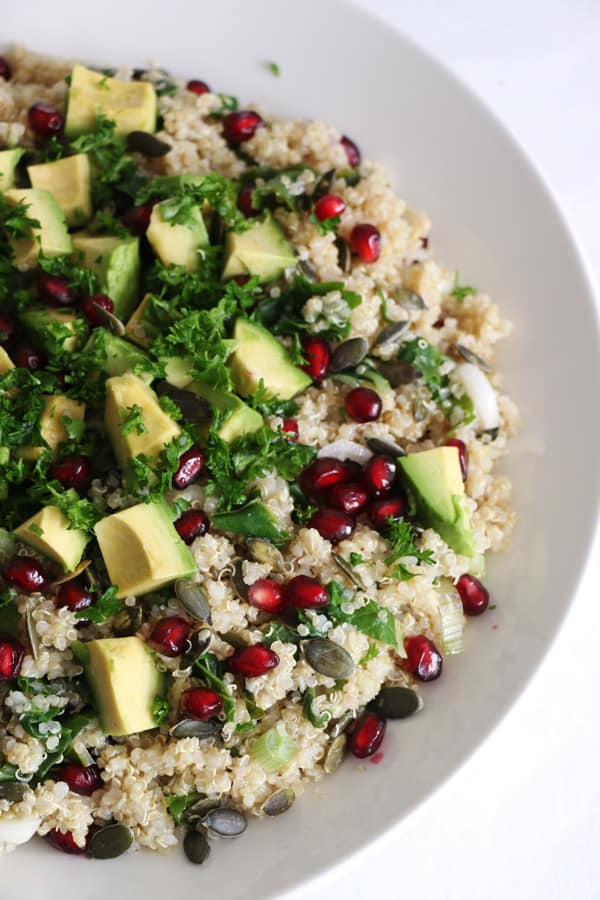 I love it, my husband likes it and my son makes faces, but eventually gets through it! I think it's the spring onions he doesn't like. Unfortunately they get to test all of my recipes! How lucky are they:) You can use any type of kale for this recipe, normally I use Curly Kale, but this time I've used Red Russian Kale. I like to slightly steam my kale, but if you prefer, add it raw to the salad. You can serve this salad perfectly on its own with quinoa being protein-rich food or as a side dish. I love mine with a big dollop of my Sweet Potato Hummus. Yum!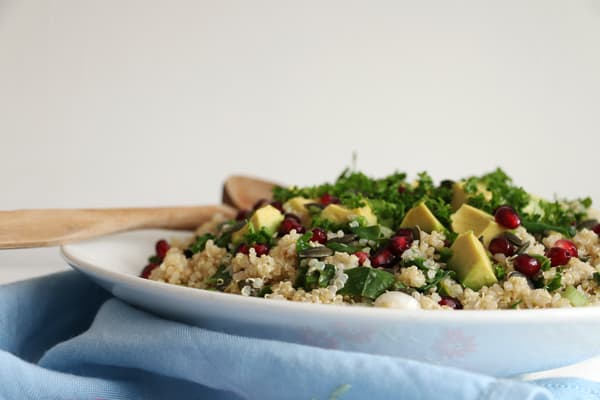 Yield: 6 servings
Quinoa, Kale and Pomegranate Salad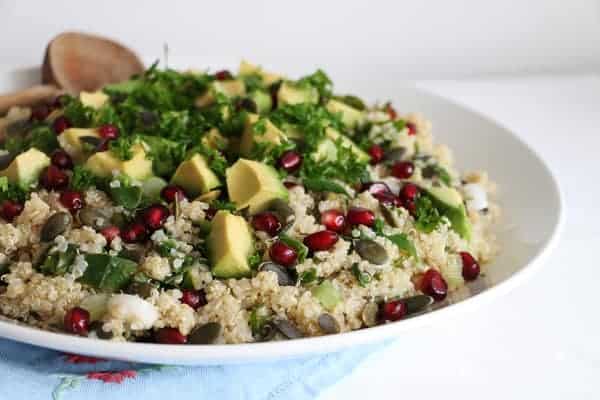 Ingredients
250g quinoa ( 1 1/2 cups)
200g kale, big bunch
3 spring onions, washed and chopped
1 pomegranate, seeds
45g pumpkin seeds ( 1/3 cup)
3 tbsp olive oil
1 lemon, juice
salt and pepper
1 avocado, cut into small pieces
parsley to garnish
Instructions
Measure 1 1/2 cup of quinoa, rinse well and place into a pot.
Add exactly double the volume of water and bring to a boil. Simmer covered for exactly 15 min.
After 15 min remove from the heat and leave to stand for 5 min. Fluff up with a fork and transfer to a mixing bowl.
Chop kale into smaller pieces, wash well, place into a pot, cover with 1/2" of water and steam covered for 5 min. Rinse under cold water, drain well and place into a mixing bowl. Skip the cooking step if you prefer to use kale raw.
In a large mixing bowl mix quinoa, kale, spring onions, pomegranate seeds, pumpkin seeds, olive oil, lemon, salt and pepper.
Transfer to a serving dish. Top with avocado pieces and garnish with parsley.
Enjoy!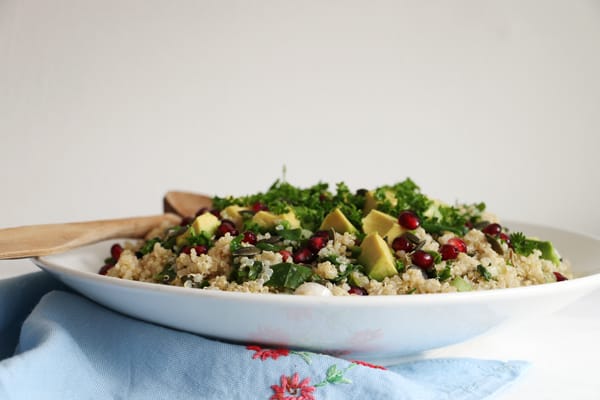 Similar Posts: