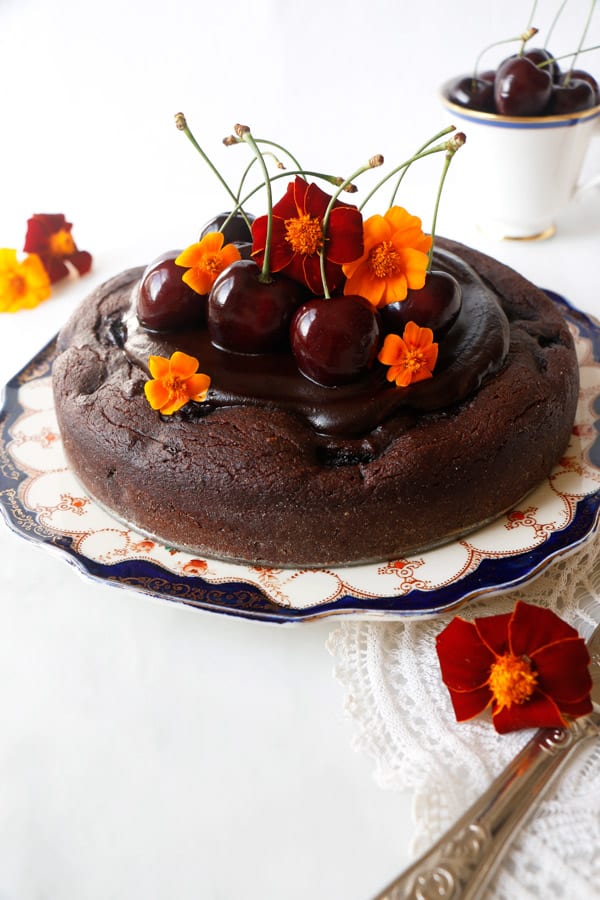 Special thank you to Amore di Mona for sponsoring this post.
I have a real cherry chocolate treat for you today. Cherries are in full season at the moment and cherries and chocolate are just such wonderful combination. This yummy Cherry Chocolate Torte is moist, rich and amazing served still warm with some vegan ice cream or whipped cream.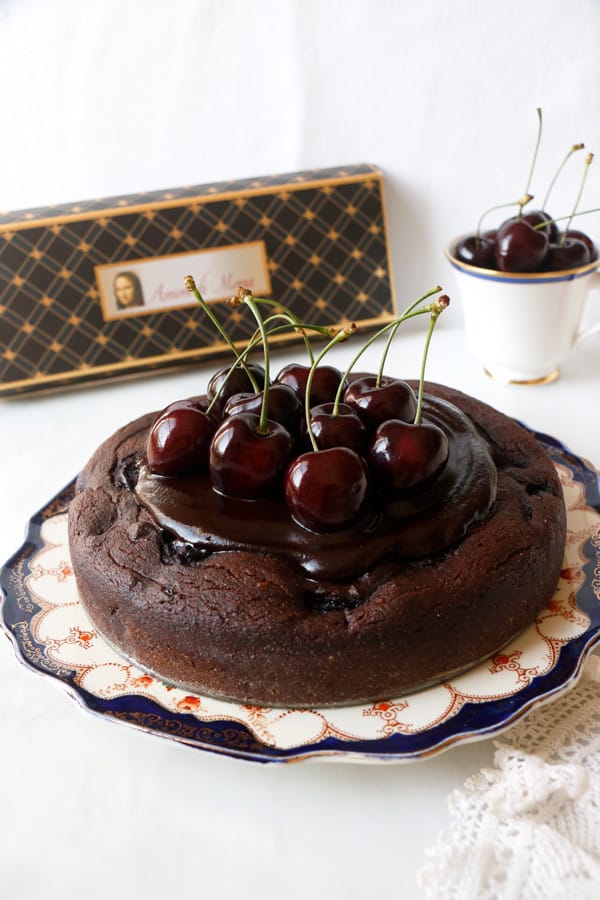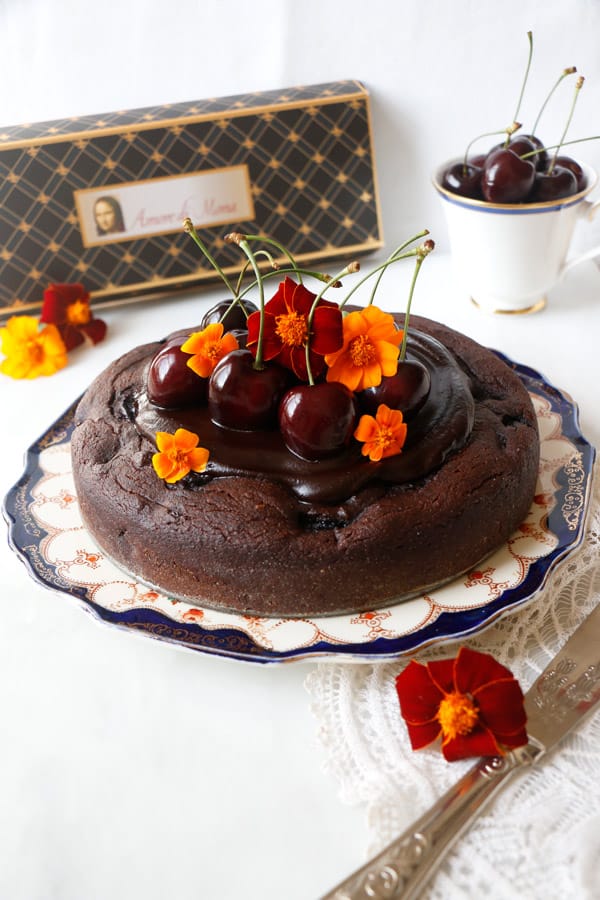 It's a nut-free recipe with little added flour and dark chocolate to ensure it's a rich and indulgent treat.  I've used ground sunflower seeds, brown rice flour and tapioca for my gluten-free mix which I love to use in chocolate recipes. I've added some lovely juicy cherries that make the torte even more moist and add to the texture and yummy flavour.
For the topping, I've used more melted chocolate and some extra cherries. I've also added some beautiful edible flowers which give the torte a summery feel.
I really do recommend serving it still warm while the chocolate on top is still slightly melted, it tastes wonderful. Hope you love it!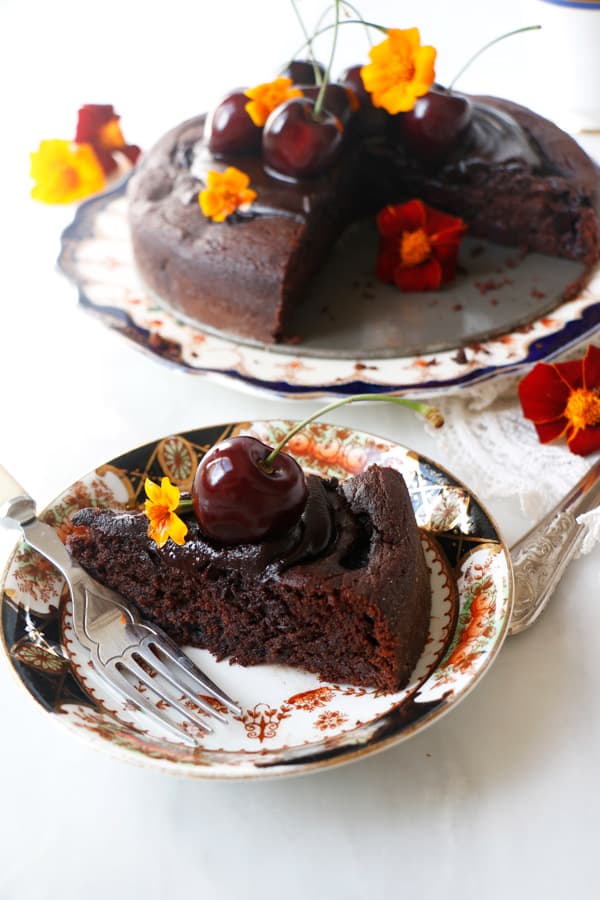 Yield: 8" torte
Cherry Chocolate Torte (vegan & gluten-free)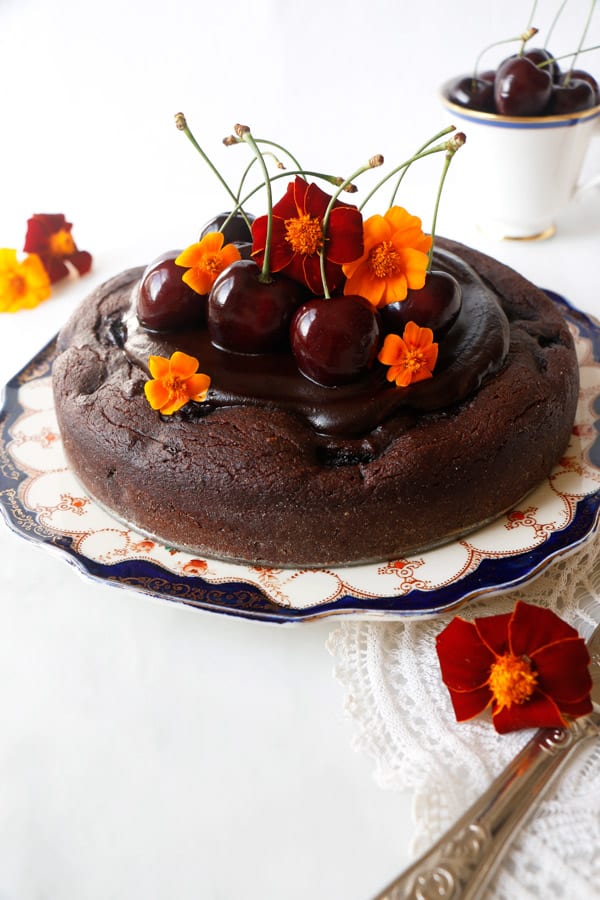 Ingredients
200g cherries, pitted and halved (1 1/2 cups)
70g brown rice flour (1/2 cup)
70g sunflower seeds (1/2 cup), ground into flour consistency
2tbsp tapioca flour
50g rapadura sugar (1/3 cup)
1tsp baking powder
1/2tsp bicarbonate of soda
pinch sea salt
2tbsp ground flaxseed + 6tbsp water
60ml olive oil (1/4 cup)
60ml plant milk (1/4 cup)
1tsp apple cider vinegar
1tsp vanilla extract
120g dark vegan chocolate (4.2oz)
Topping:
120g dark vegan chocolate (4.2oz)
cherries
edible flowers (optional)
Instructions
Mix 2tbsp ground flaxseed with 6tbsp water and set aside to thicken.
Preheat the oven to 180°C (350F)
Grease and line the base and dust the sides of 8" round cake spring form baking tin.
In a large bowl whisk together brown rice flour, ground sunflower seeds, tapioca flour, sugar, baking powder, bicarbonate of soda and salt.
In a small bowl whisk together flax eggs, olive oil, plant milk of your choice, apple cider vinegar and vanilla.
Roughly chop the chocolate, place into heatproof bowl and gently melt over pot of simmering water.
Add the wet mix to the dry mix and mix until well combined. Fold in the melted chocolate.
Now fold in pitted and halved cherries leaving few to scatter on top.
Spoon the mixture into the cake tin and level out the surface. Press the remaining cherries onto the top.
Place into the oven and bake for about 30 to 35 minutes or until a cocktail stick comes out with just few crumbs left on.
Remove from the oven and leave to cool down for 20 minutes before carefully removing from the tin.
Roughly chop the chocolate for the top, place into heatproof bowl and gently melt over pot of simmering water. Stir until smooth.
Carefully transfer your cake onto serving dish and pour the melted chocolate on top.
Top your cake with more cherries and few edible flowers.
Lovely served still warm with vegan ice cream or whipped cream.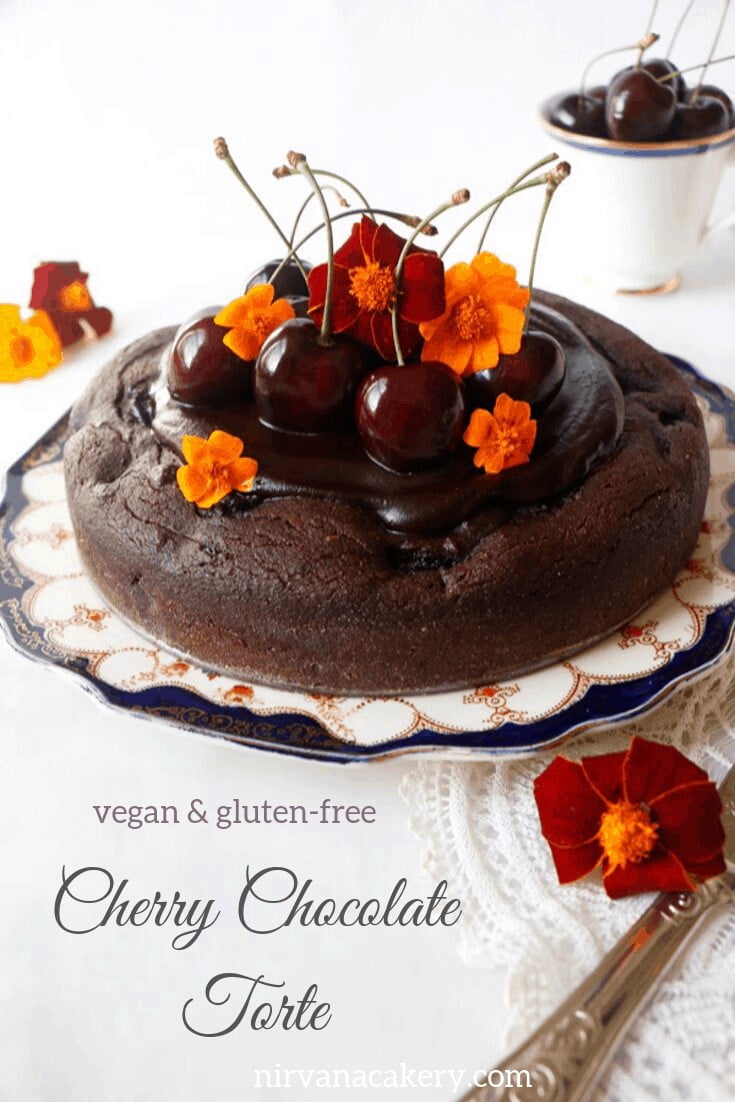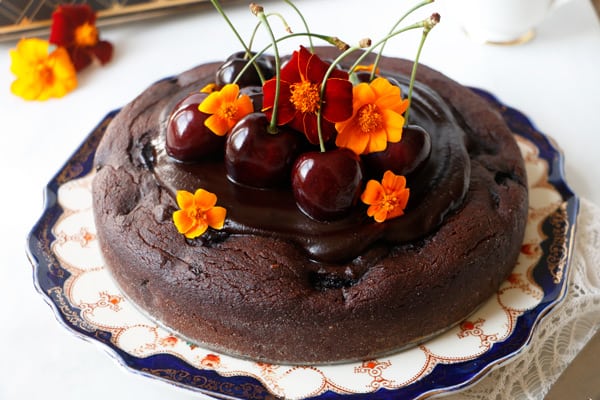 Similar Posts: