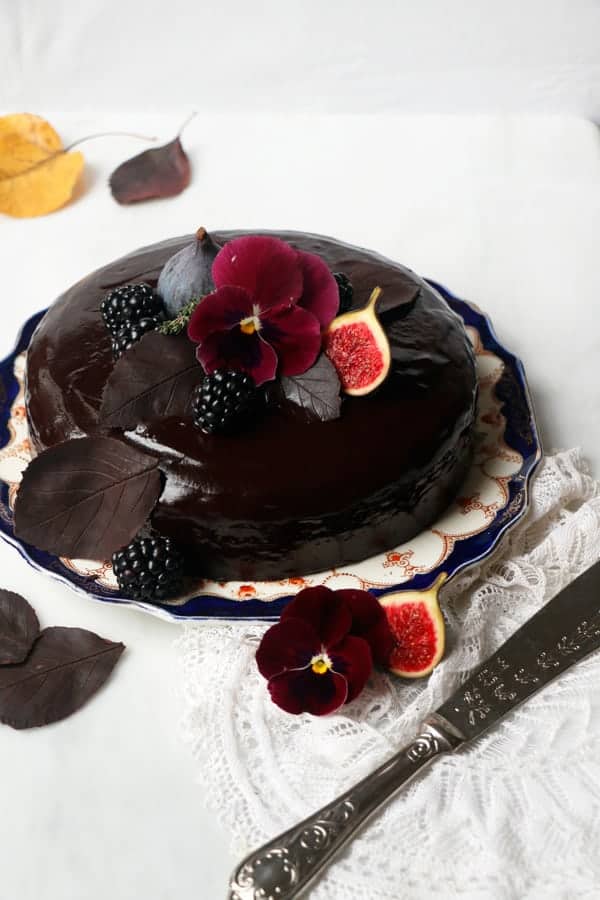 Special thank you to Amore di Mona for sponsoring this post.
Autumn really is one of my favourite seasons, the colours, the chill in the air yet still plenty of warm days, not forget the incredible Farmers markets. And today I have another Autumn inspired recipe for you – an Autumn Chocolate Cake.
It's a rich indulgent cake with a simple decoration of chocolate leaves, figs and blackberries that I hope will inspire your baking.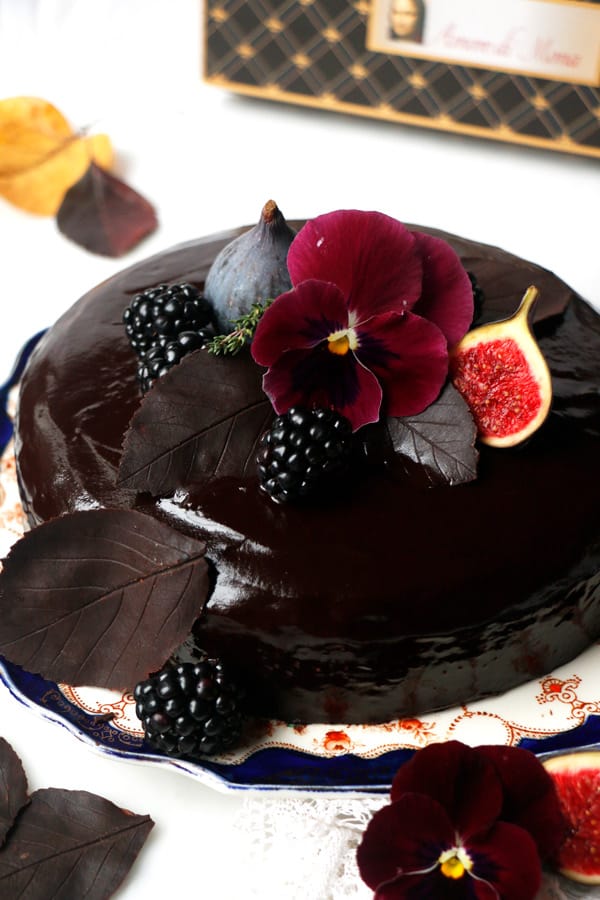 This cake is an adaptation of my Sachertorte that I've created for Amore di Mona last year. It's a really lovely moist cake and you will never be able to tell that it's vegan and gluten-free. It's that good.
As with all of my cakes it's minimally sweetened, just enough to enhance the flavours of other ingredients and to taste the beautiful decadent flavour of the dark chocolate. I've chosen to coat the cake with a fig jam, please feel free to use any of your favourite jam.
When making the chocolate leaves choose freshly fallen leaves so they keep strong once being peeled off. Coat the bottom part of the leaf where the veins appear more prominent. Experiment with a variety of leaves, some are easier to work with than others.
Choose seasonal fruit for the topping and some fresh flowers to add touch of colour. Enjoy :)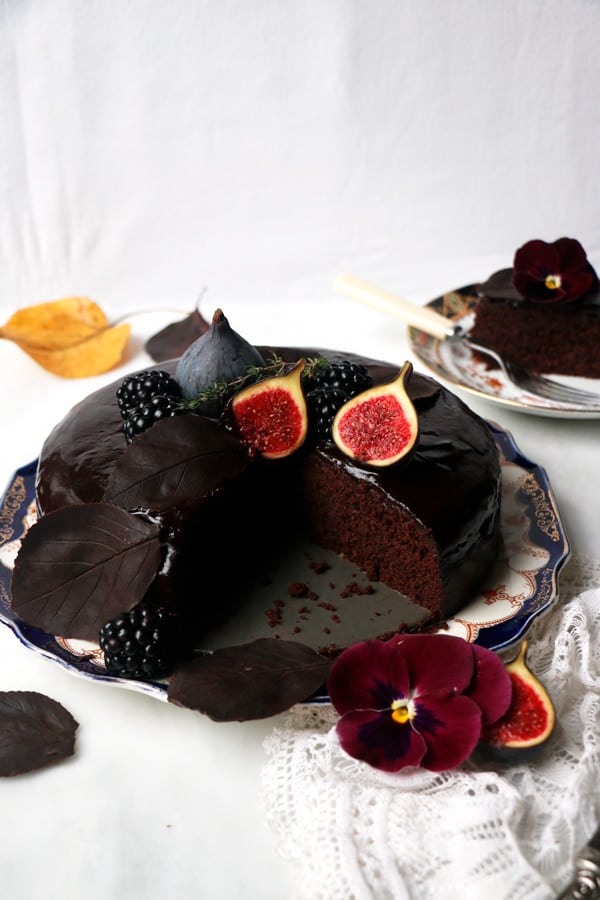 Yield: 8" cake
Autumn Chocolate Cake (vegan & gluten-free)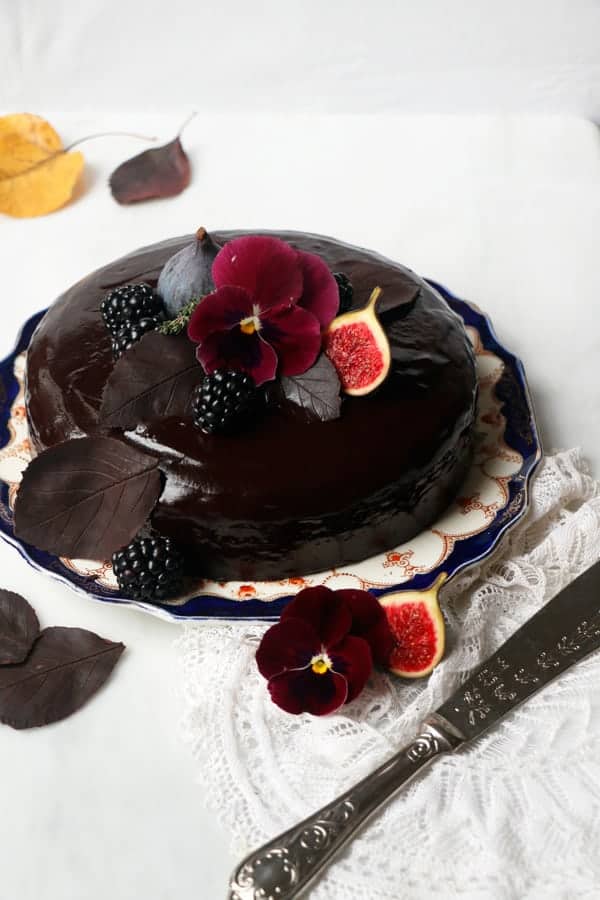 Ingredients
70g brown rice flour (1/2 cup)
35g buckwheat flour (1/4 cup)
70g sunflower seeds (1/2 cup), ground into flour consistency
30g tapioca flour (1/4 cup)
75g rapadura sugar (1/2 cup)
1tsp baking powder
1tsp bicarbonate of soda
pinch sea salt
3tbsp ground flaxseed + 9tbsp water
80ml olive oil (1/3 cup)
80ml plant milk (1/3 cup)
2tsp apple cider vinegar
1tsp vanilla extract
150g chocolate or dark vegan chocolate (5.3oz)
Topping:
fig jam or jam of your choice
100g chocolate or dark vegan chocolate (3.5oz)
fresh figs and blackberries
Chocolate leaves
100g chocolate or dark vegan chocolate (3.5oz)
selection of fresh autumn leaves
Instructions
Mix 3tbsp ground flaxseed with 9tbsp water and set aside to thicken.
Preheat the oven to 180°C (350F)
Grease and line the base and dust the sides of 8" round cake spring form baking tin.
In a large bowl whisk together brown rice flour, buckwheat flour, ground sunflower seeds, tapioca flour, sugar, baking powder, bicarbonate of soda and salt.
In a small bowl whisk together flax eggs, olive oil, plant milk of your choice, apple cider vinegar and vanilla.
Roughly chop the chocolate, place into heatproof bowl and gently melt in a double boiler.
Add the wet mix to the dry mix and mix until well combined. Fold in the melted chocolate.
Spoon the mixture into the cake tin and level out the surface.
Bake for about 25 minutes or until a cocktail stick comes out with just few crumbs left on.
Remove from the oven and leave to cool down for 20 minutes before carefully moving onto a wire rack.
Once the cake is completely cooled use brush or spatula to coat the whole cake with a very thin layer of jam. Leave to set.
Roughly chop the chocolate for coating, place into heatproof bowl and gently melt in a double boiler. Stir until smooth. Pour over the cake and use spatula to gently smooth the chocolate over the edge and around the side of the cake.
Carefully transfer onto serving dish.
Gently melt the chocolate to make the chocolate leaves. Wash and pat dry the leaves. Line a baking sheet with some greaseproof paper. Using brush coat the bottom part of the leaves with a layer of chocolate and place onto the sheet with the chocolate side up. Place into freezer until set. Very gently peel the leaves off.
Carefully arrange your chocolate leaves, figs and blackberries on top of the cake. Decorate with flowers if you wish.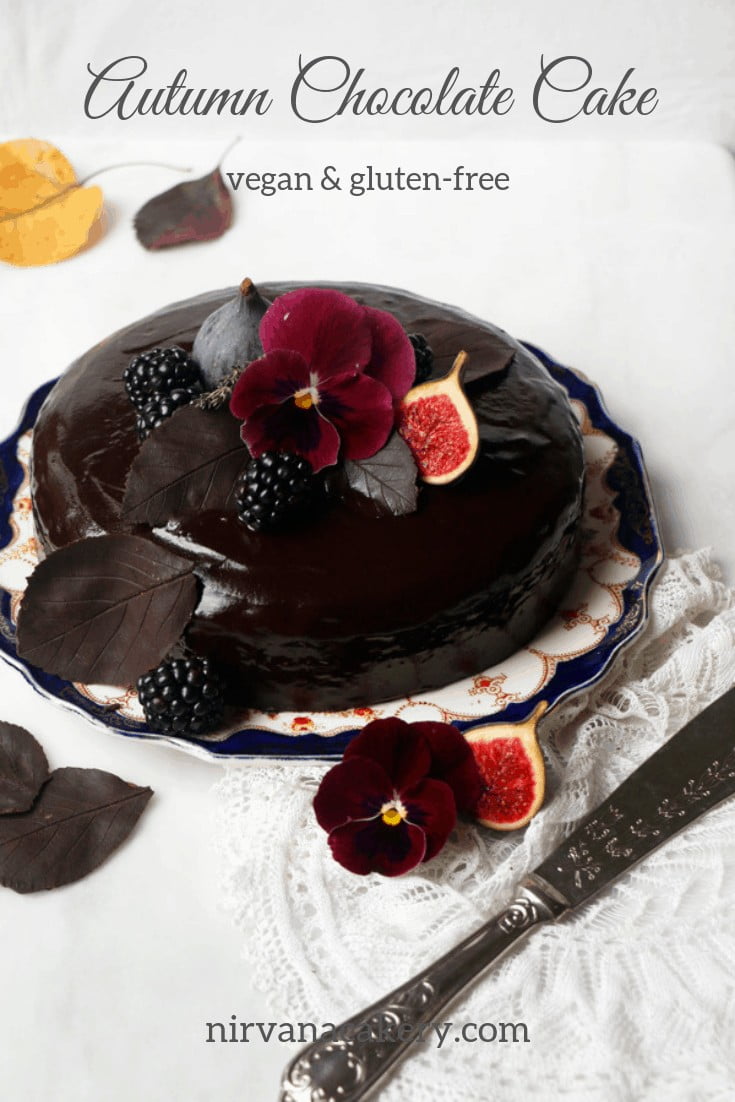 Similar Posts: