Absolutely divine wholesome gluten-free vegan pumpkin roll with light cashew coconut frosting.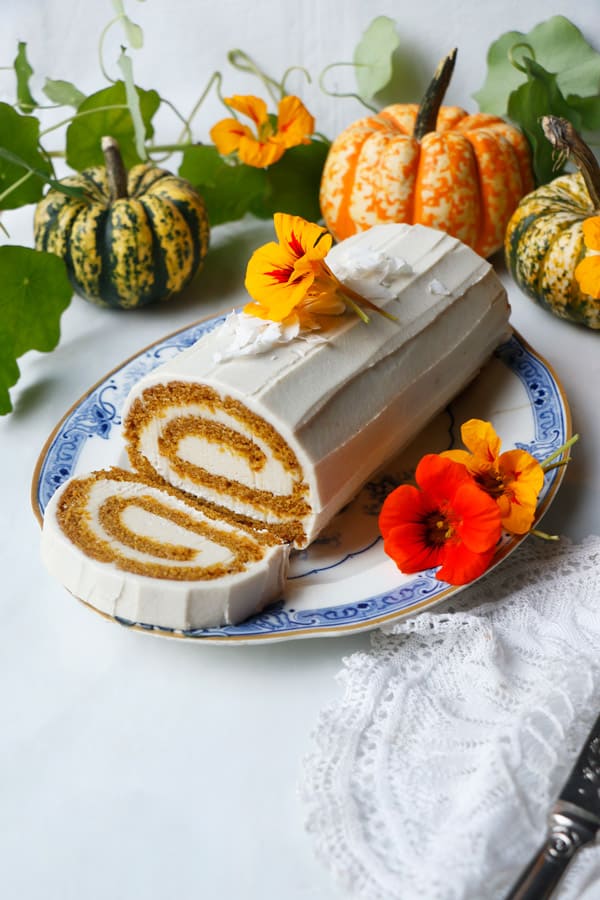 Happy November! Today I'm continuing with my pumpkin theme and bringing you a recipe for this lovely Gluten-free Vegan Pumpkin Roll. After seeing one in my Pinterest feed I got really inspired to make one!
Not the easiest recipe to make gluten-free vegan but certainly possible. After making Buche de Noel last year I feel more comfortable making a sponge that won't fall apart after rolling. This one is my fourth one and I'm happy how it turned out.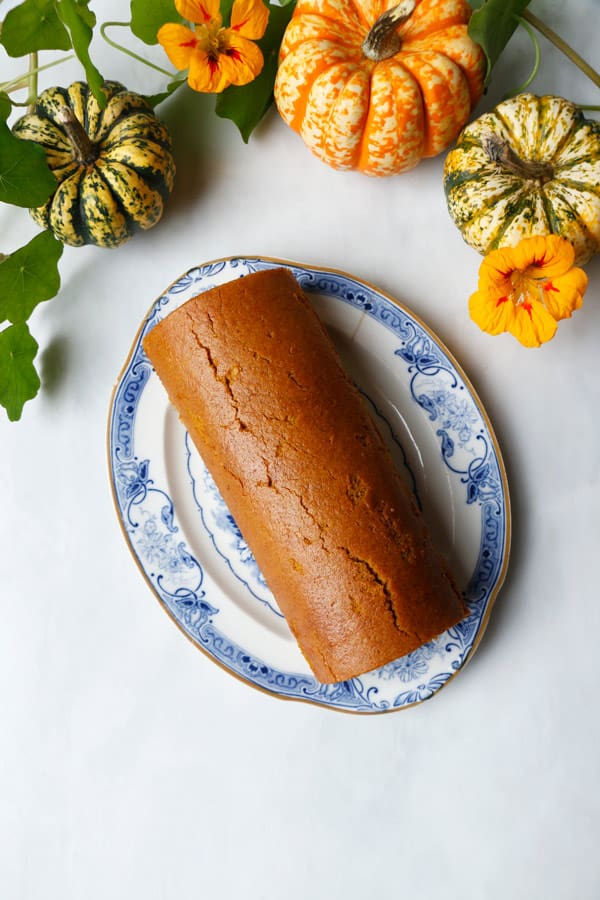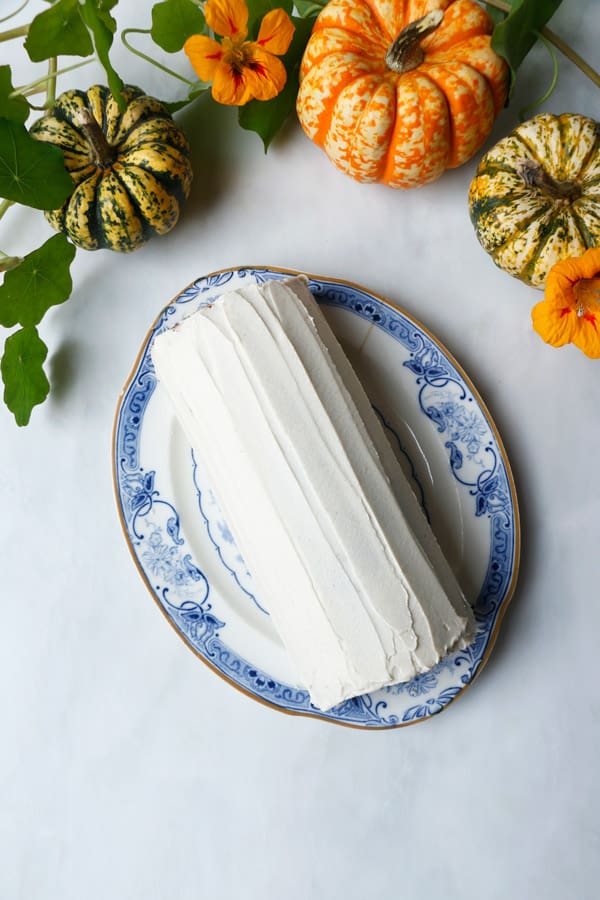 I've used ground almonds, brown rice flour, buckwheat flour and little more tapioca flour than I do usually for my gluten-free mix and aquafaba and flax egg to bind it and make it stronger. It only had one little crack after I've unrolled it but then got few more after rolling it back with the frosting, you can see the photo.
It might turn out perfect it might have some cracks don't worry the frosting will hold it nicely together once set. I've chosen to frost my pumpkin roll to cover the few cracks and imperfections and to make it stronger. I think it looks really pretty too with the white frosting.
I've made pumpkin puree from a steamed Hokkaido (Red Kurri) squash because it has the most beautiful orange color. For that reason, I've used rapadura instead of coconut sugar because it's lighter in color and the orange shows through well.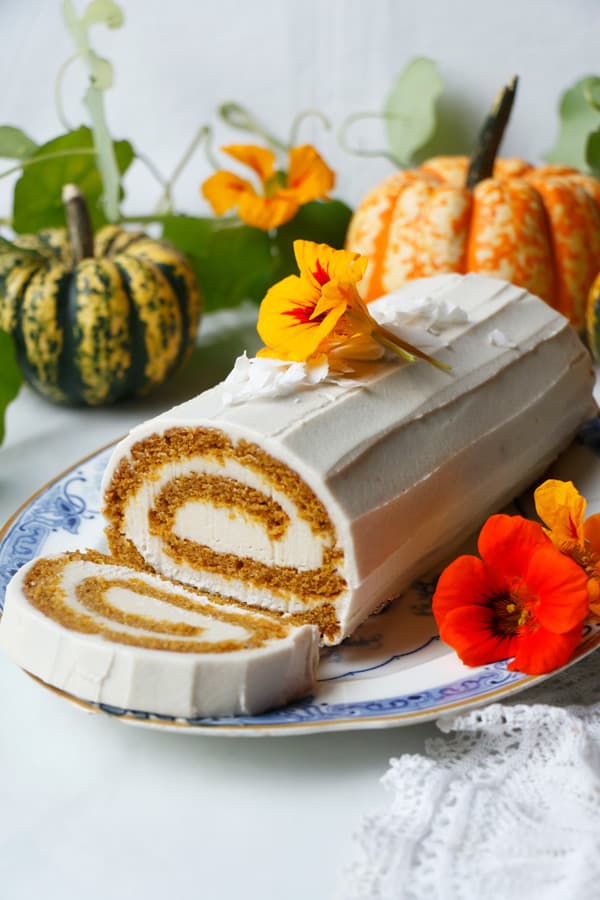 The cashew frosting in this recipe worked really well but you can use any of your favorite vegan frosting. It needs to be fairly thick so it's easy to roll into a sturdy roll. After rolling you can wrap your roll tightly in a layer of baking paper and cling film and leave it to set in fridge and finish the top afterwards. I found that the longer you set it the more clean-cut slices you will have. Next day is always the best.
I forgot to say it tastes absolutely divine! Hope you love it :)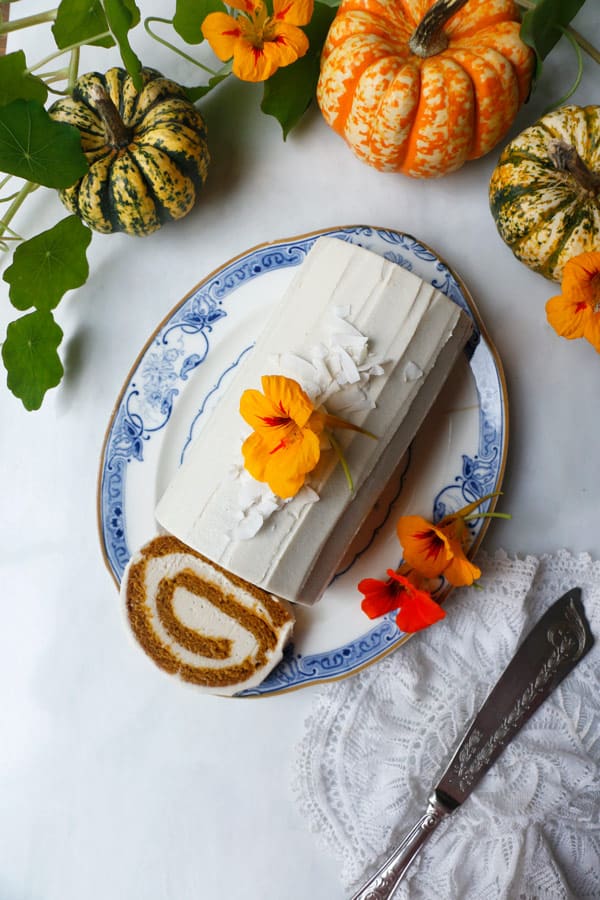 Yield: 12 slices
Gluten-free Vegan Pumpkin Roll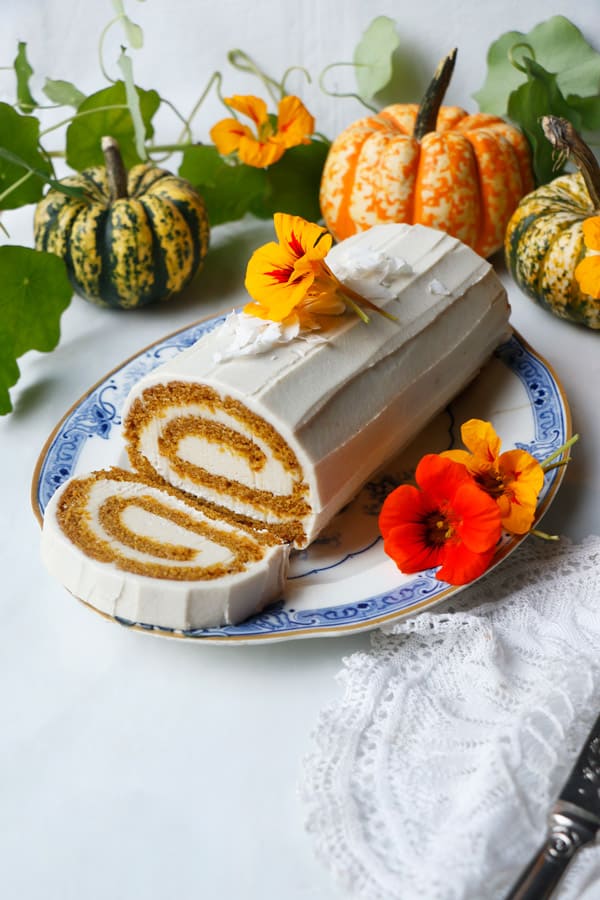 Absolutely divine wholesome gluten-free vegan pumpkin roll with light cashew coconut frosting.
Ingredients
Pumpkin roll:
1/2 cup ground almonds (50 grams)
1/4 cup brown rice flour (35 grams)
1/4 cup buckwheat flour (35 grams)
1/4 cup + 1 tablespoon tapioca flour (40 grams)
1/2 teaspoon baking powder
1/2 teaspoon bicarbonate of soda
1 teaspoon cinnamon
1/2 teaspoon ginger
1/4 teaspoon cloves
1/4 teaspoon allspice
1/8 teaspoon nutmeg
pinch sea salt
1/2 cup rapadura sugar (75 grams)
1/2 cup pumpkin puree (120 ml)
1 tablespoon ground flaxseed + 2 tablespoons water
1/4 cup aquafaba (60 ml)
3 tablespoons olive oil
1 teaspoon apple cider vinegar
Cashew frosting:
200g cashew nuts, soaked for at least 4 hours (1 1/2 cups)
180ml coconut cream (3/4 cup)
2 tablespoons maple syrup
2 teaspoons lemon juice
1 teaspoon vanilla
pinch sea salt
1/3 cup coconut oil (80 ml)
Instructions
Preheat the oven to 350 °F (180 °C)
Line a 25 x 35cm Swiss roll tin with baking paper.
Mix 1tbsp ground flaxseed with 2 tablespoons water and set aside to thicken.
In a large bowl whisk together ground almonds, brown rice flour, buckwheat flour, tapioca flour, baking powder, bicarbonate of soda, cinnamon, ginger, cloves, allspice, nutmeg, salt and sugar and set aside.
In a small bowl whisk together pumpkin puree, flax egg, aquafaba, olive oil and apple cider vinegar.
Add the wet mix to the dry mix and mix until well combined. You should have loose muffin consistency, add little more water if too thick.
Pour the mixture onto your prepared tin and level out the surface.
Bake for about 15 minutes or until a cocktail stick comes out clean.
Remove from the oven.
Dust the top with little sugar, lay a sheet of baking paper on top followed by a damp tea towel. Place baking sheet or something flat on top to help you to flip the cake over. Now carefully peel the baking paper from the top. Dust with little sugar and place another sheet of baking paper on top of the cake. Using a rolling pin carefully roll the cake over the pin and wrap with the tea towel. Leave to cool down for about 20 minutes.
Once cooled carefully unroll the cake and spread with cashew frosting leaving some to frost the top of the cake. Using the help of the paper carefully roll the cake into a roll. Optional step that I recommend, wrap the log tightly in baking paper and cling film and place into fridge for at least 4 hours or overnight to set. The longer you leave it to set the neater slices you will have. Once set using spatula spread the remaining frosting on top and sides and place back into the fridge until serving.
Cashew Frosting:
Place the can of full fat coconut milk into a fridge, preferably overnight.
Place the cashews into a bowl, cover with water and leave to soak.
Rinse the soaked cashews well under running water and place into high speed blender. Scoop the solid part only from the coconut milk can and place into the blender with the nuts. Add maple syrup, lemon juice, vanilla and pinch of salt and blend until smooth. Stop and scoop the sides of the blender as needed. As the ingredients start to warm up, the mix will loosen and becomes easier to blend. Add the coconut oil and blend until incorporated.
Scoop the mix into a small bowl and refrigerate overnight.
When you're ready to frost the cake, whip the mix for couple of minutes until fluffy. The texture will change as you whip. If the frosting doesn't get thick enough, place it into the freezer for 15 minutes and whisk again, repeat until you have desired consistency.
Enjoy!
Notes
I recommend to weight the ingredients for the accuracy.
To make pumpkin puree follow this recipe in notes.
Nutrition Information:
Yield:
12
Serving Size:
1
Amount Per Serving:
Calories:

347
Total Fat:

23g
Saturated Fat:

10g
Trans Fat:

0g
Unsaturated Fat:

12g
Cholesterol:

0mg
Sodium:

231mg
Carbohydrates:

34g
Fiber:

2g
Sugar:

20g
Protein:

4g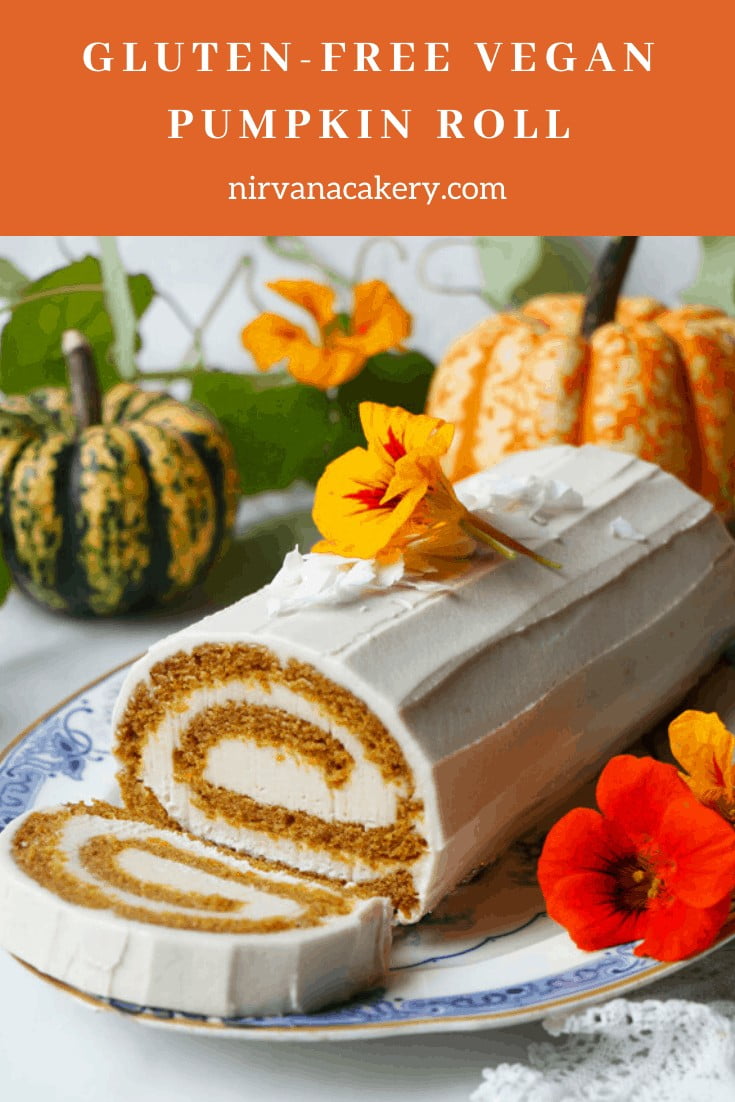 Similar Posts: