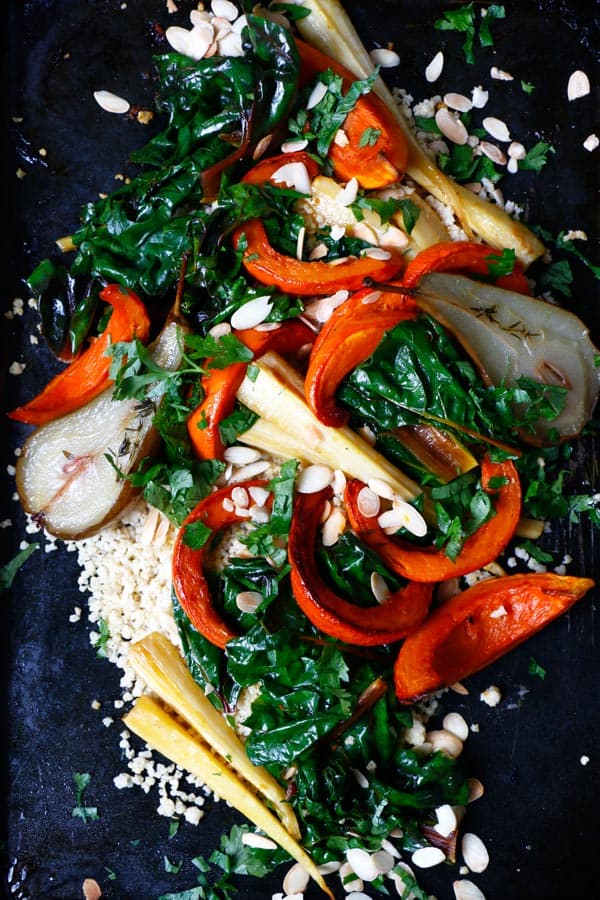 Today I'm jumping onto the pumpkin wagon and bringing you my first pumpkin recipe – Warm Autumn Salad. This recipe is a mix of some of my most favourite autumn veggies and fruit that I've thrown together into a large salad type of a meal – roasted Hokkaido squash with parsnips and pears and my favourite leafy green, chard. Roasting brings out their unique sweetness, no wonder they are my favourite. I've served these yummy veggies with warm lemony millet for a substantial meal.
You can easily adapt this salad to your personal likes and use any of your favourite seasonal veggies, greens or grains. I've used millet, because I haven't cooked some for a while now and fell like a change. Quinoa would work great too. I find millet a bit bland on it's own, but tossed in a salad is much more exciting. I also tend to add a bit of lemon zest and toasted flaked almonds, which I find works really well. Alternatively you can use some veggie broth for boiling instead of the water to add more flavour. Enjoy:) x
Yield: 4-6 servings
Warm Autumn Salad (gluten-free & vegan)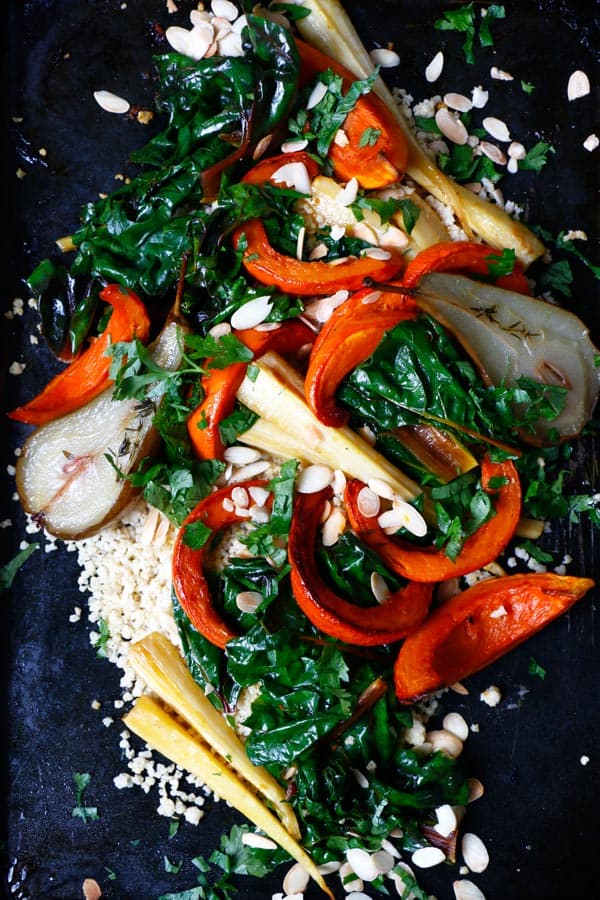 Ingredients
180g millet (1 cup)
1 medium Hokkaido squash
3 parsnips
2 pears
5 sprigs of thyme
1 garlic clove, sliced
medium bunch of chard, chopped
small bunch of fresh parsley
2 figs (optional)
extra virgin olive oil
1/2 lemon, juice & zest
sea salt & pepper
50g flaked almonds, toasted (1/2 cup)
Instructions
Preheat the oven to 200°C (180°C fan)
Carefully trim sides of the squash and cut in half. Scrape out the seeds and chop into wedges. Peel the parsnips and cut them lengthways into quarters. Cut pear into half of quarters as you prefer. Place squash, parsnips and pears onto a baking tray, toss with thyme, sea salt, and good drizzle of olive oil and bake for about 30 - 40 minutes until soft and slightly browned around the edges. The pears might don't need as long.
Measure 1 cup of millet, add to a medium pot and toast the millet on a medium heat for about 5 minutes stirring. Once toasted, add double the amount of water and bring to a boil. Cover and simmer for about 15 minutes until all the water has evaporated. Take off the heat and leave to stand for 10 minutes covered. Fluff up with a fork. Stir in lemon zest, half of the toasted flaked almonds and sea salt.
Rinse and chop the chard. Drizzle little olive oil onto a pan, add sliced garlic and chard and cook for couple of minutes until just wilted.
Place millet onto serving dish, add roasted veggies, chard, drizzle of olive oil, lemon juice, sea salt and pepper and gently toss to combine. Top with chopped fresh parsley, figs if using and the rest of toasted flaked almonds.
Serve right away.
Enjoy!
Notes
To toast almond flakes, simply toss them in a pan on a medium heat until golden.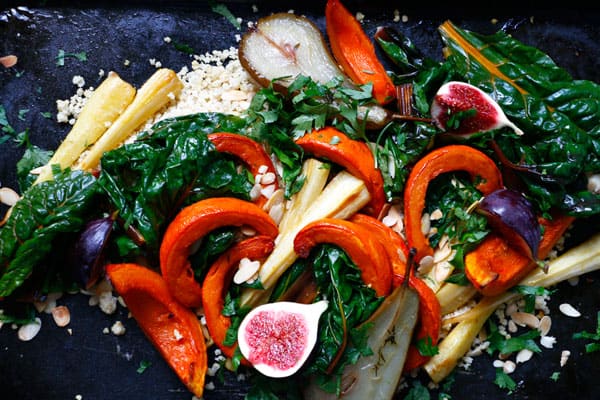 Similar Posts: