Lift your spirits and make the most of the summer produce with these refreshing colorful and delicious Vegan Summer Recipes.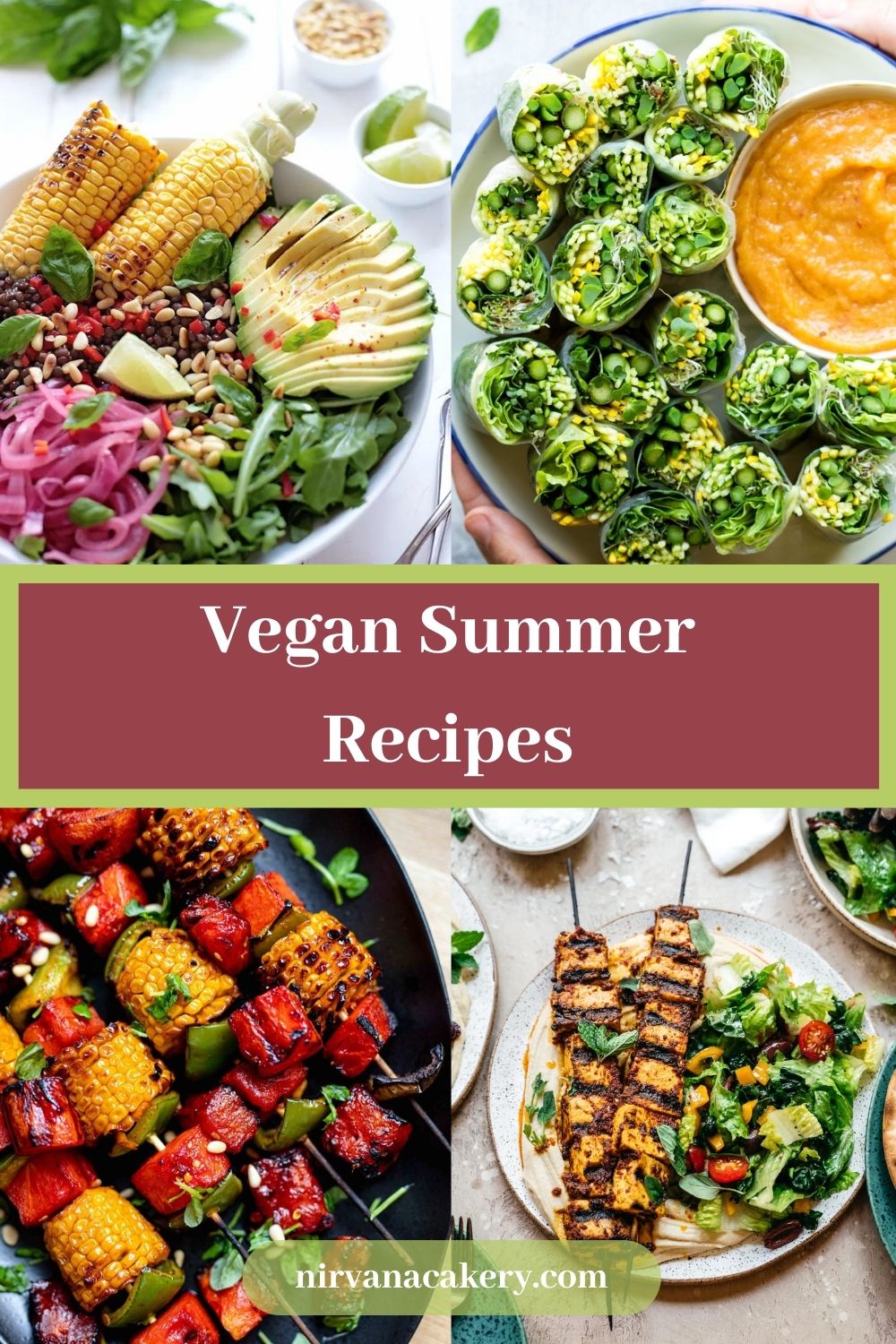 Excited about summer and wondering what exciting vegan recipes to make? Summer recipes should be vibrant, fun, refreshing, light and healthy and that's exactly what you will find in this Vegan Summer Recipes round-up.
Explore laid-back, quick and easy recipes, picnic and BBQ friendly dishes, and food that makes you happy and feels good. Make the best summer-inspired salads, veggie-packed rolls and wraps, cold soups, vegan kebabs and mouth-watering wholesome plant-based desserts and enjoy food that has all the summer vibes.
Scroll below and delight your senses with this delightful collection of the best Vegan Summer Recipes and kick off the summer season the vegan style.
1. Green Summer Rolls with Mango Miso Sauce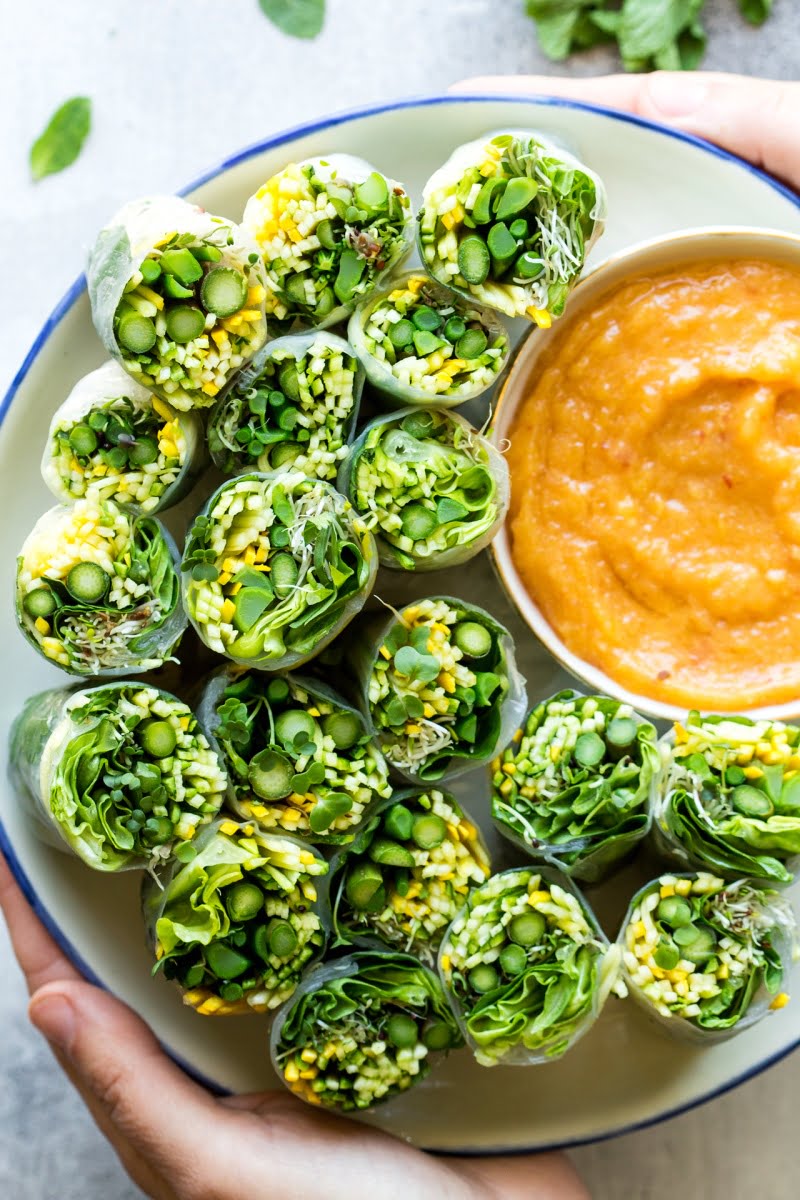 Bring sunshine onto your plate with these Green Summer Rolls with Mango Miso Sauce by Lazy Cat Kitchen. This vibrant recipe features rice paper rolls filled with zucchini, broccoli, asparagus, sprouts and fresh herbs served with luscious mango miso dipping sauce.
2. Mediterranean Grilled Tofu Kebabs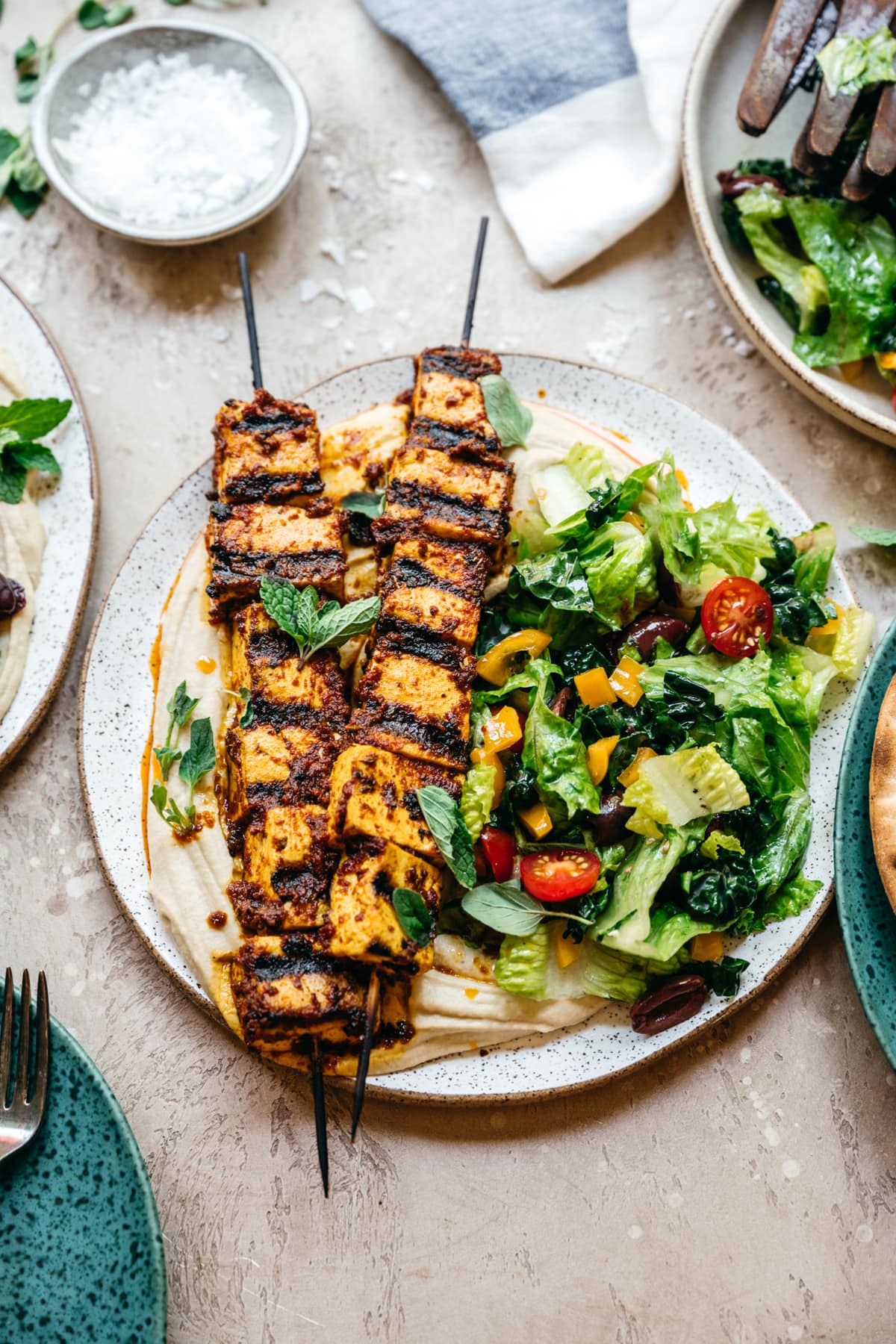 These flavorful Mediterranean Grilled Tofu Kebabs by Crowded Kitchen are the ultimate summer recipe. In this tasty dish, firm tofu is marinated in a blend of Mediterranean/Moroccan spices, charred to perfection and served with hummus, salad and pitta bread.
3. Summer Buckwheat Salad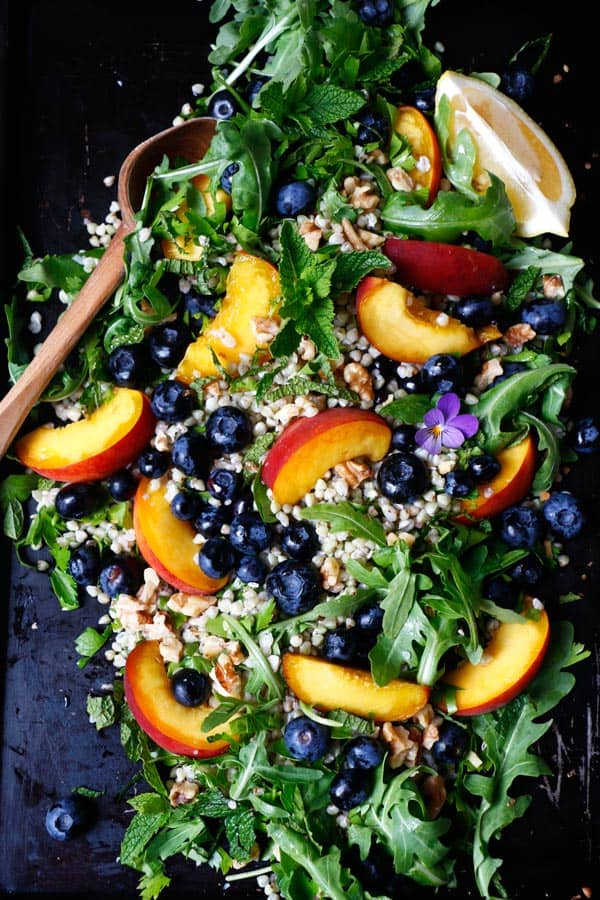 Lift your spirit with this colorful Summer Buckwheat Salad by Nirvana Cakery. In this flavorful healthy salad, buckwheat groats are teamed with rocket leaves, sliced peaches, blueberries, fresh parsley, mint and toasted walnuts.
4. Apricot Frangipane Tart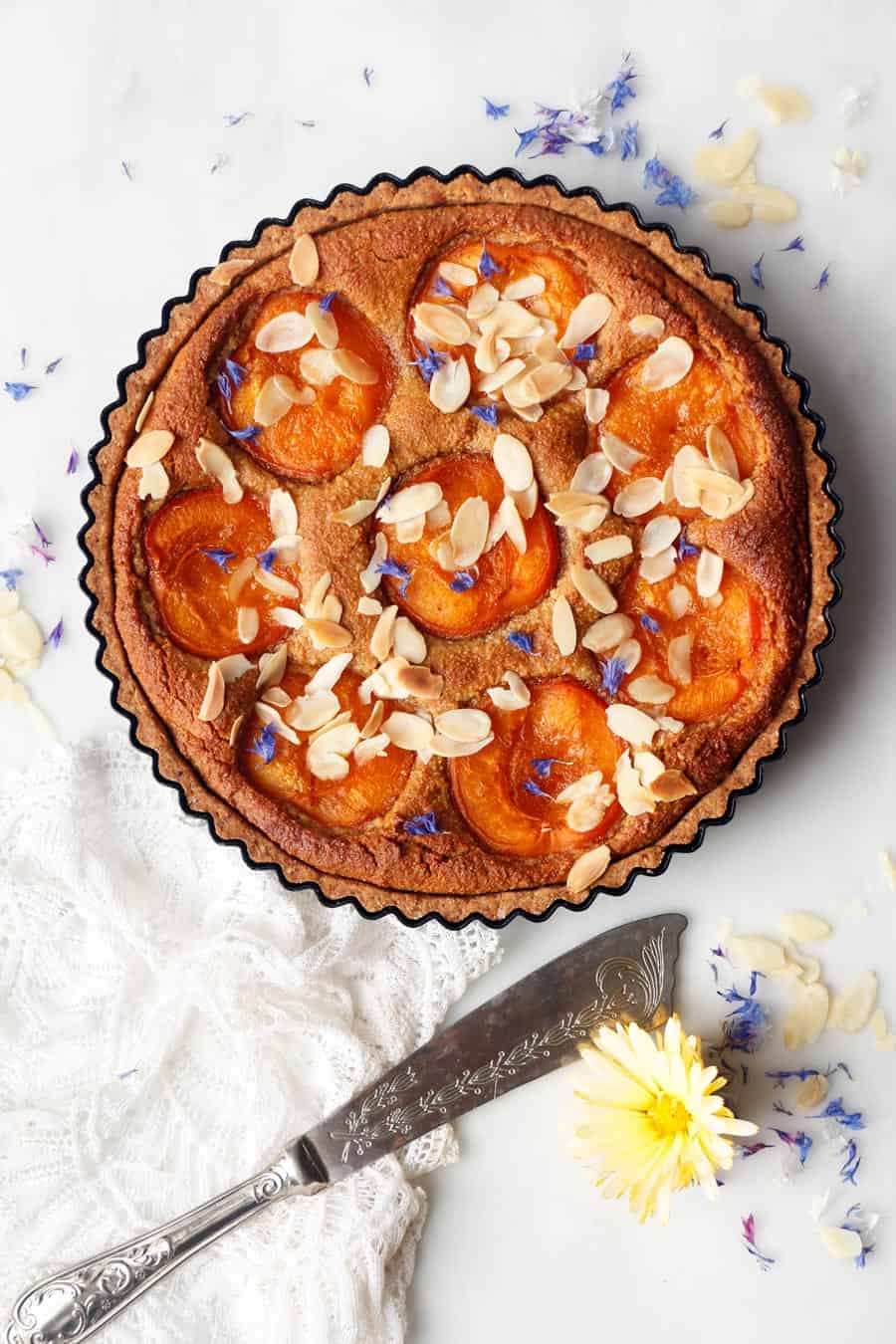 This dreamy Apricot Frangipane Tart by Nirvana Cakery is a delightful vegan gluten-free treat. The grain-free crust made with ground almonds, chickpea and tapioca flour is filled with delicious frangipane filling, topped with apricots and baked to perfection.
5. Easy Gazpacho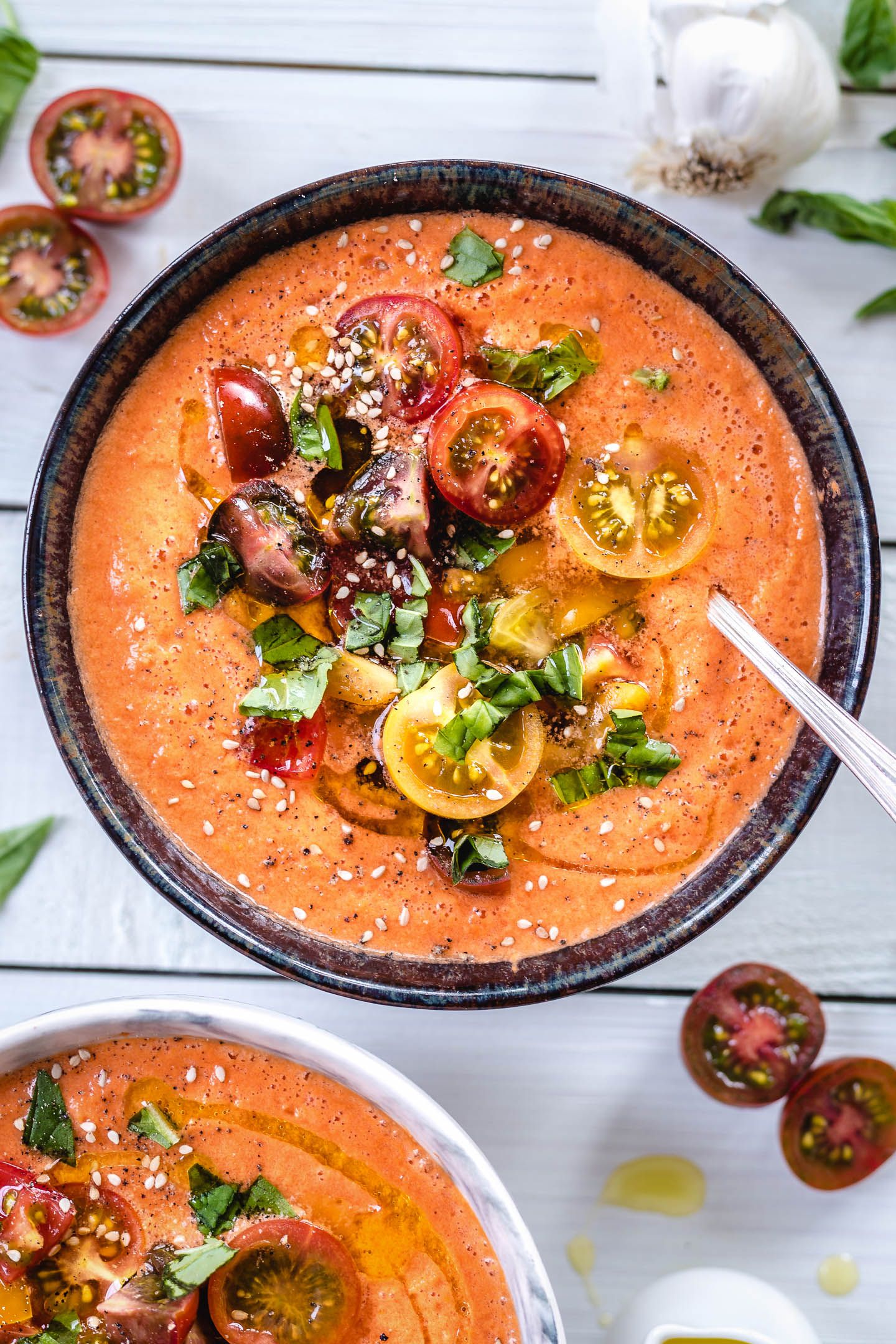 Gazpacho is one of the summer classics and this Easy Gazpacho by Two Spoons won't disappoint. Packed with tomato, cucumber, red pepper, garlic, lemon juice and fresh basil this refreshing recipe is perfect to chill.
6. Edamame Mango Salad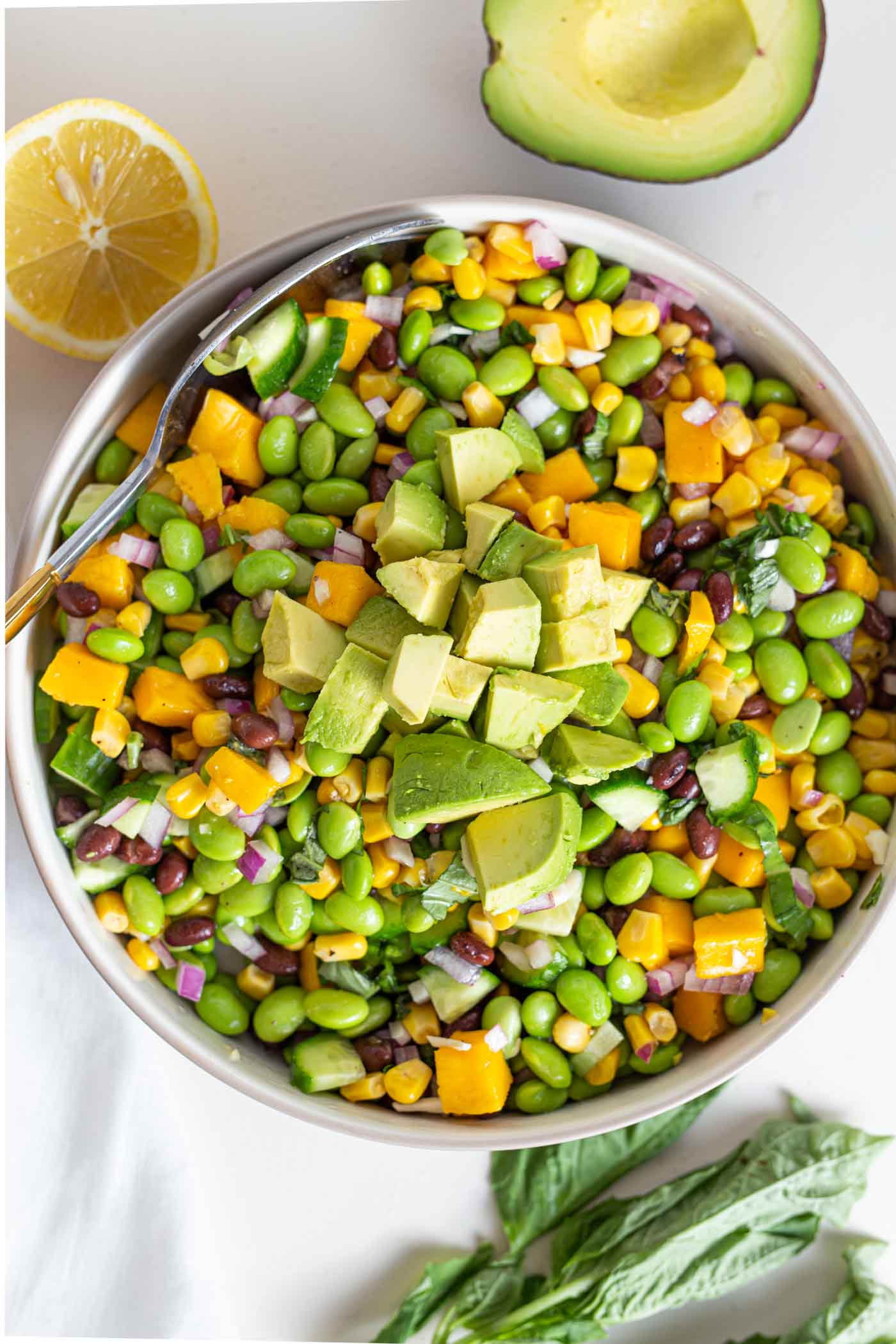 This yummy Edamame Mango Salad by Running on Real Food is a wonderful recipe for hot summer days. In this fresh protein-rich dish, edamame is teamed with mango, cucumber, black beans, corn, avocado and fresh basil.
7. Raspberry Mango Lime Cheesecake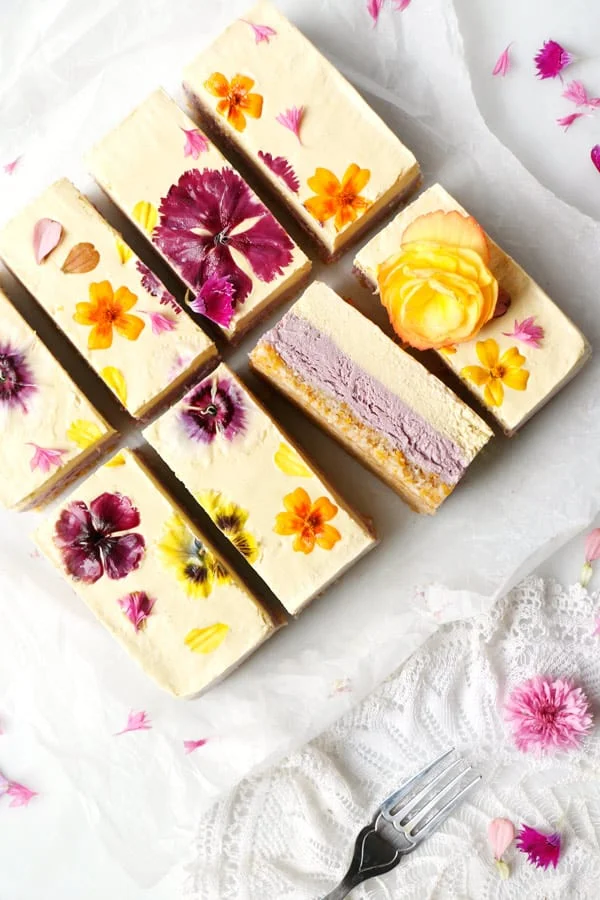 Dance with this heavenly Raspberry Mango Lime Cheesecake by Nirvana Cakery this summer. In this light fruity delicious plant-based dessert, brazil nuts and dried mango crust is topped with two creamy mousse-like consistency raspberry and mango layers.
8. Sesame-Ginger Cucumber Soba Noodle Salad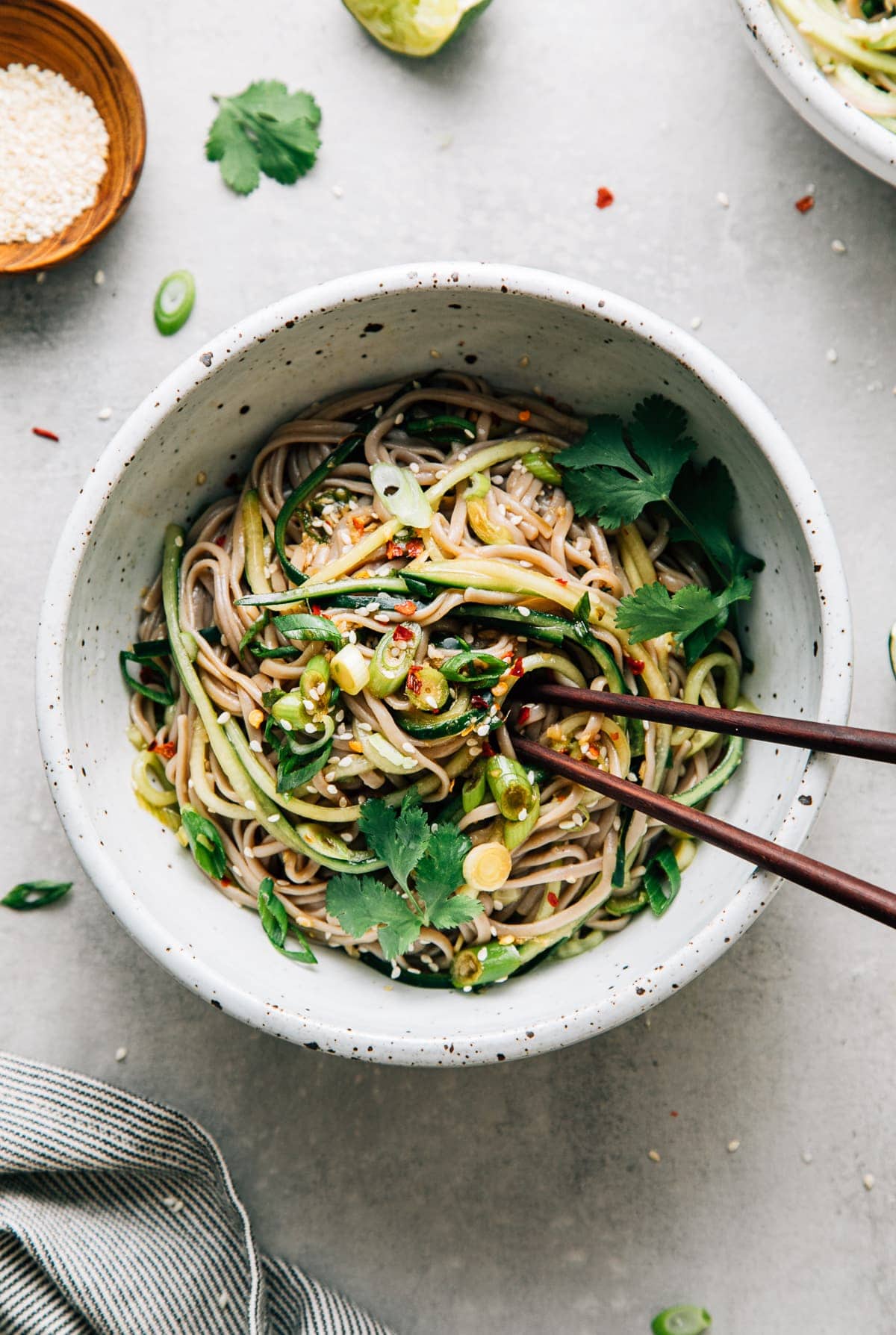 This vegan Sesame-Ginger Cucumber Soba Noodle Salad by The Simple Veganista is a delicious combination of flavors and textures. Soba noodles are joined with julienned cucumber, fresh cilantro and sesame-ginger scallion sauce in this light, refreshing and tasty recipe.
9. Chilled Green Summer Soup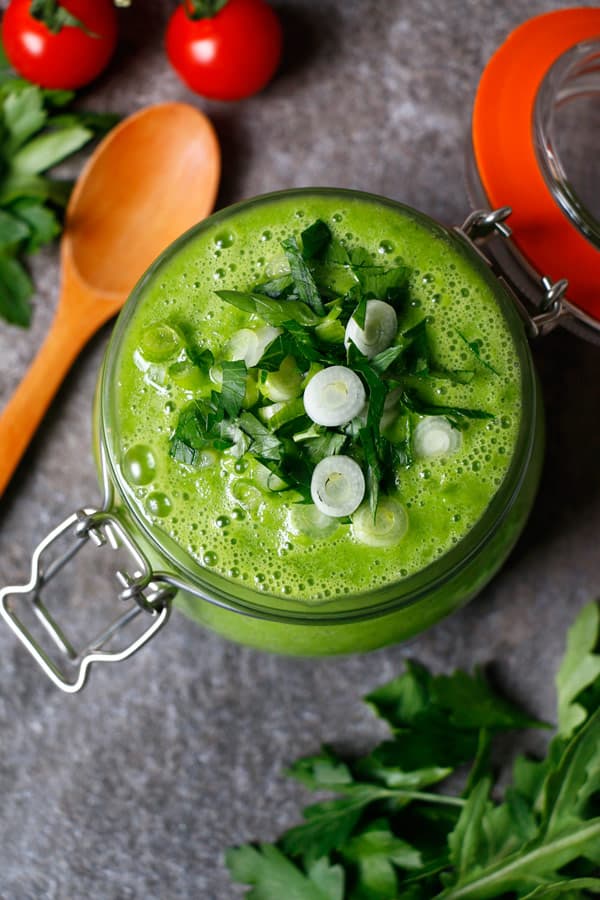 Stay cool with this simple quick Chilled Green Summer Soup by Nirvana Cakery. In this super refreshing recipe cucumber is blended together with rocket, spring onions, fresh parsley, lemon and avocado for a creamy healthy veggie boost.
10. Strawberry Basil Vegan Cheesecake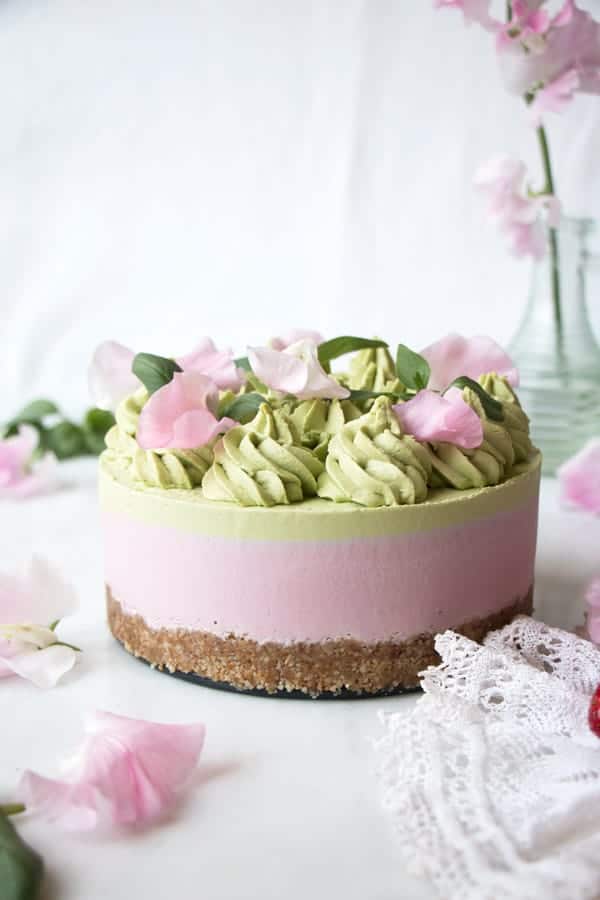 This plant-based Strawberry Basil Vegan Cheesecake by Nirvana Cakery is heaven on earth. With a soft feather-light texture and a divine combination of flavors, this vegan cheesecake is a must-try summer recipe.
11. Summer Vegetable Curry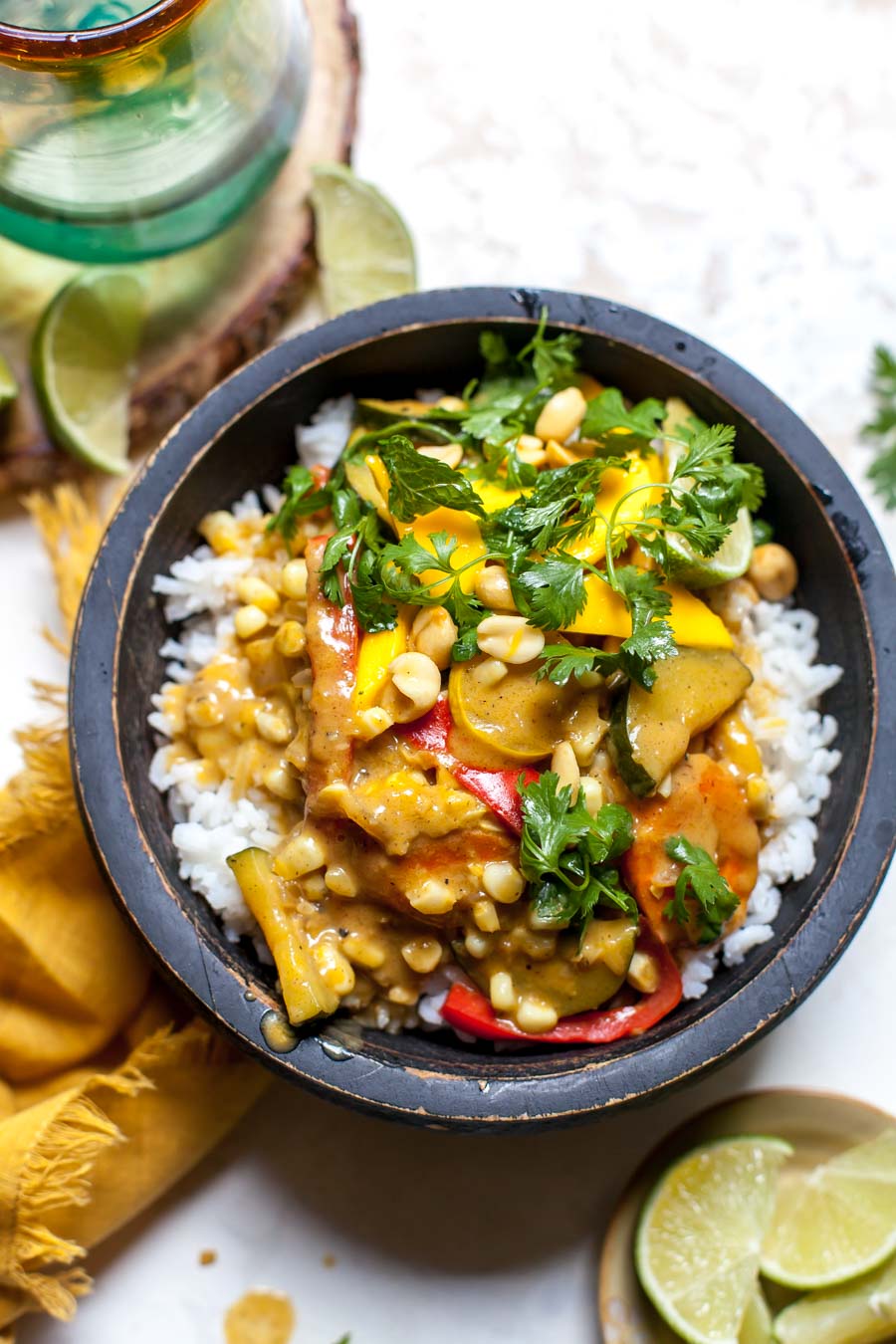 Enjoy this flavorsome Summer Vegetable Curry with Mango-Cilantro Salad by Dishing Out Health. In this hearty yet light recipe summer squash, corn, and bell peppers in a green curry sauce are served with a zippy mango and cilantro salad.
12. Summer Corn Chowder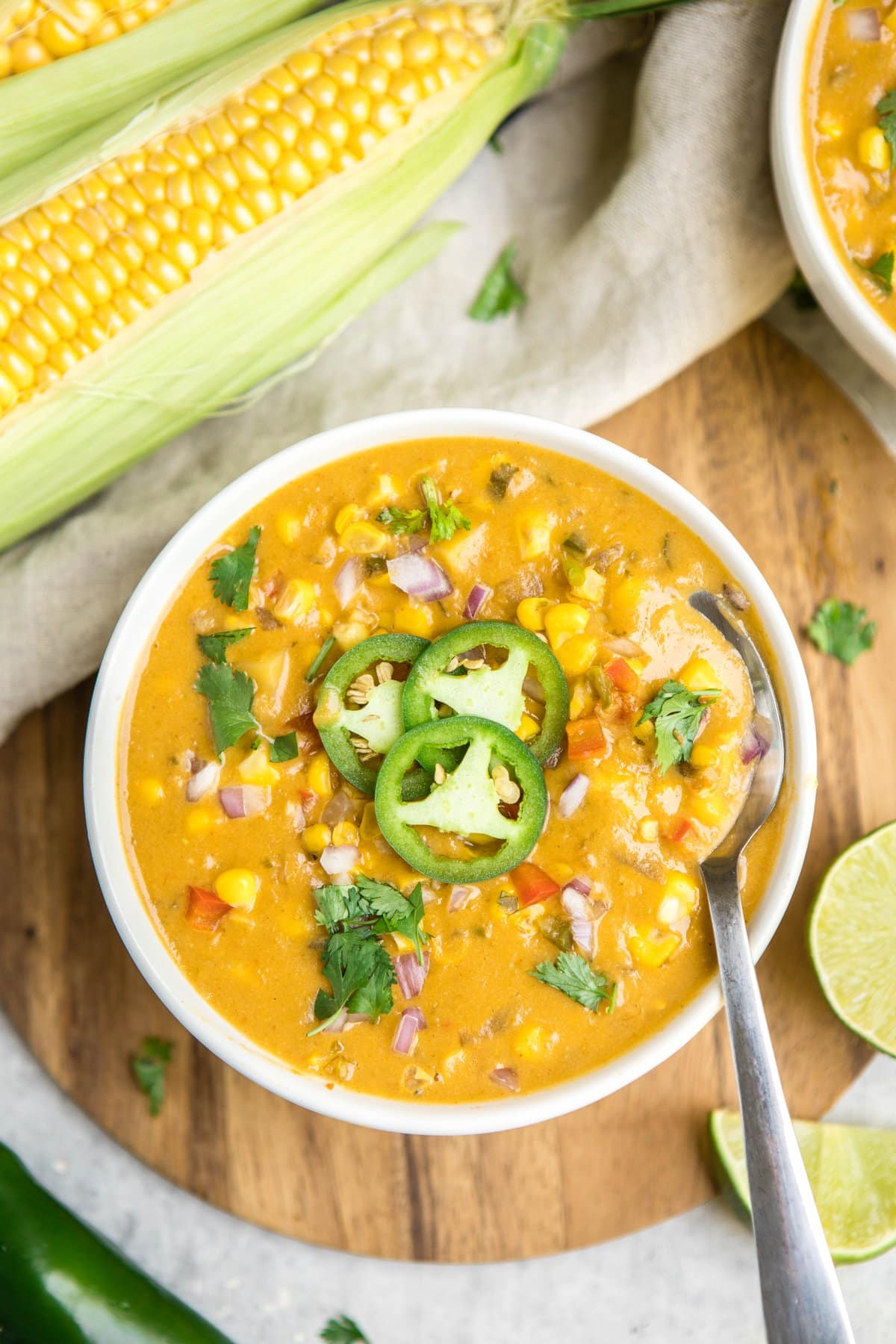 This satisfying Summer Corn Chowder by From My Bowl is thick and creamy and packed with summer ingredients. In this yummy recipe, the base of seared corn is paired with red bell pepper, potatoes, red onion, jalapeños, cilantro and vegan cream cheese.
13. Rainbow "Raw-Maine" Taco Boats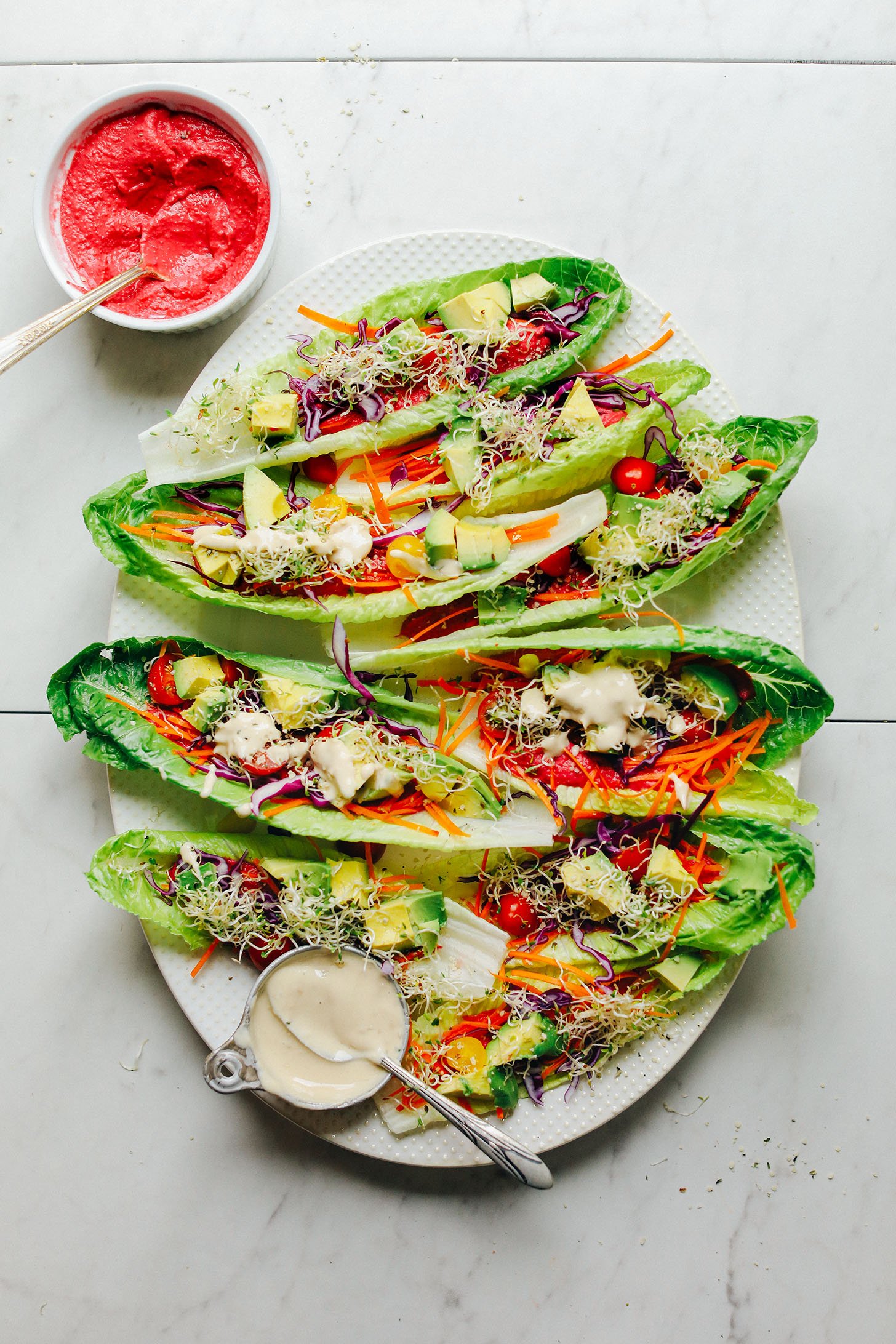 Feel the freshness of summer in these Rainbow "Raw-Maine" Taco Boats by Minimalist Baker. Crunchy romaine leaves are filled with beet hummus, shredded carrots, tomatoes, red cabbage, avocado, sprouts and hemp seeds and drizzled with tahini sauce in this light summer dish.
14. Redcurrant Quinoa Crumble Bars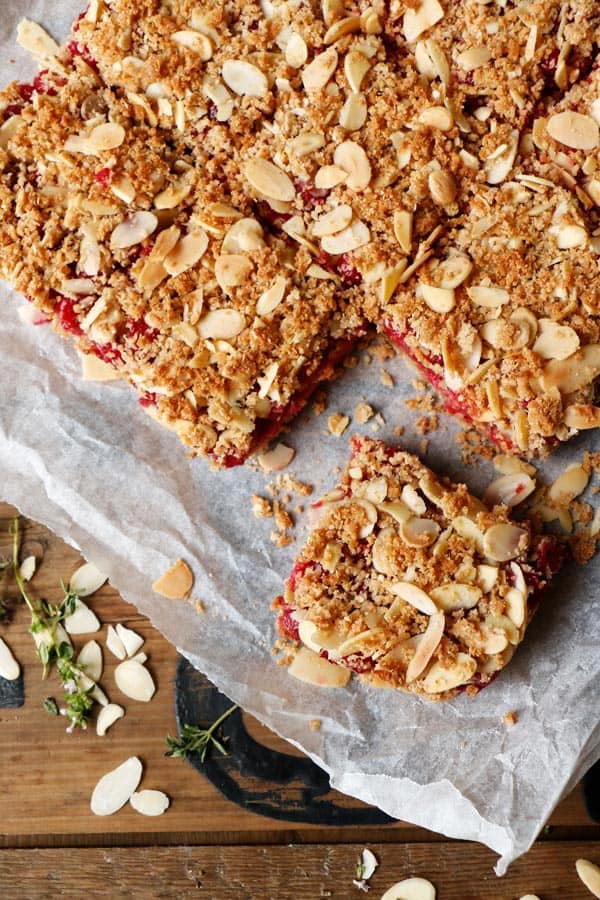 These super wholesome Redcurrant Quinoa Crumble Bars by Nirvana Cakery are bursting with beautiful flavors of redcurrant. This gluten-free vegan recipe is using delicious ground almonds, buckwheat flour and quinoa flakes crumble mix.
15. Grilled BBQ Watermelon Skewers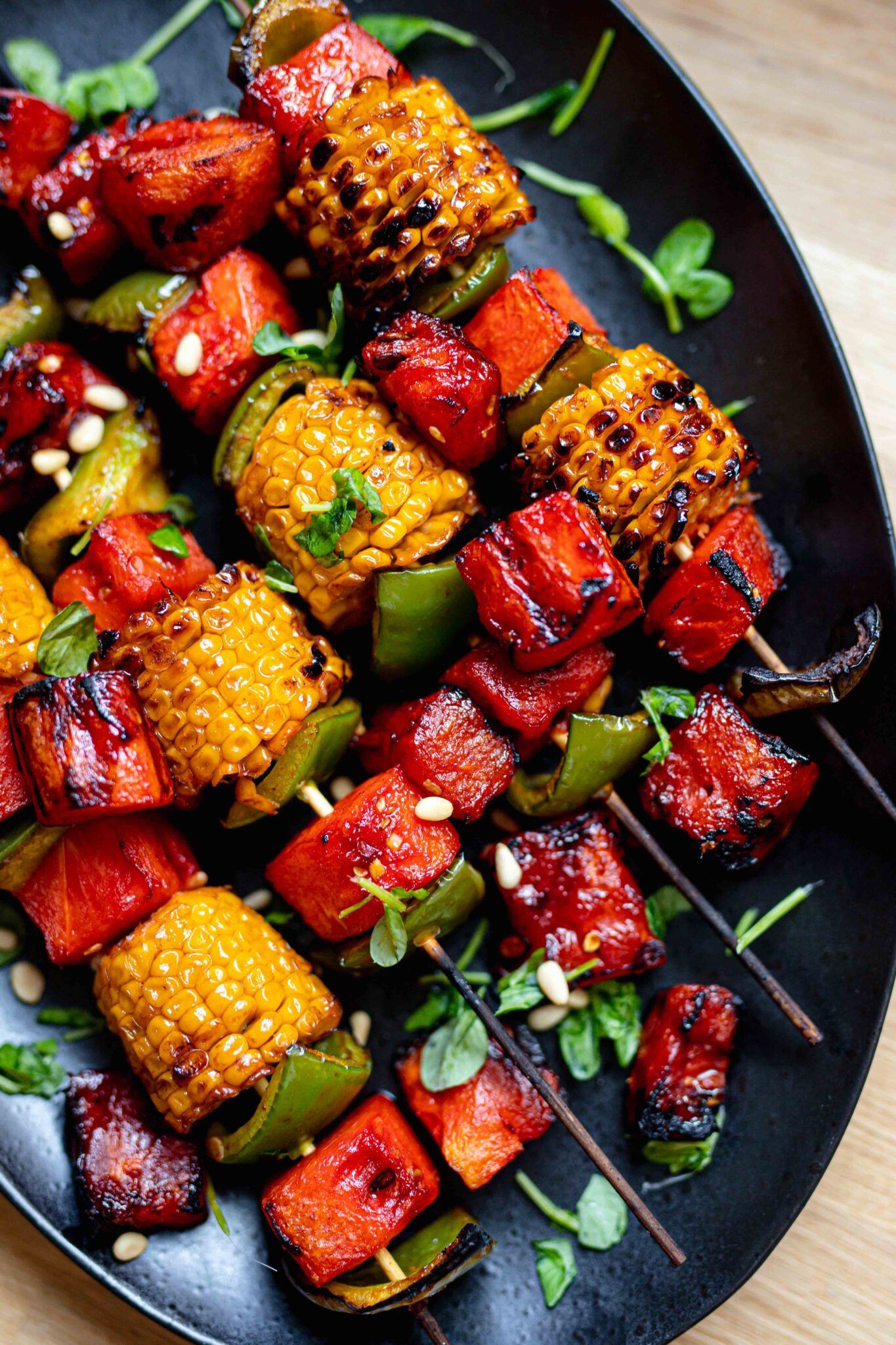 Add color to your plate with these fantastic Grilled BBQ Watermelon Skewers by Lucy & Lentils. In this recipe, the marinade with smoked paprika and soy sauce transforms the flavor of the sweet watermelon into a delicious umami-packed flavor dish.
16. Black Forest Gateau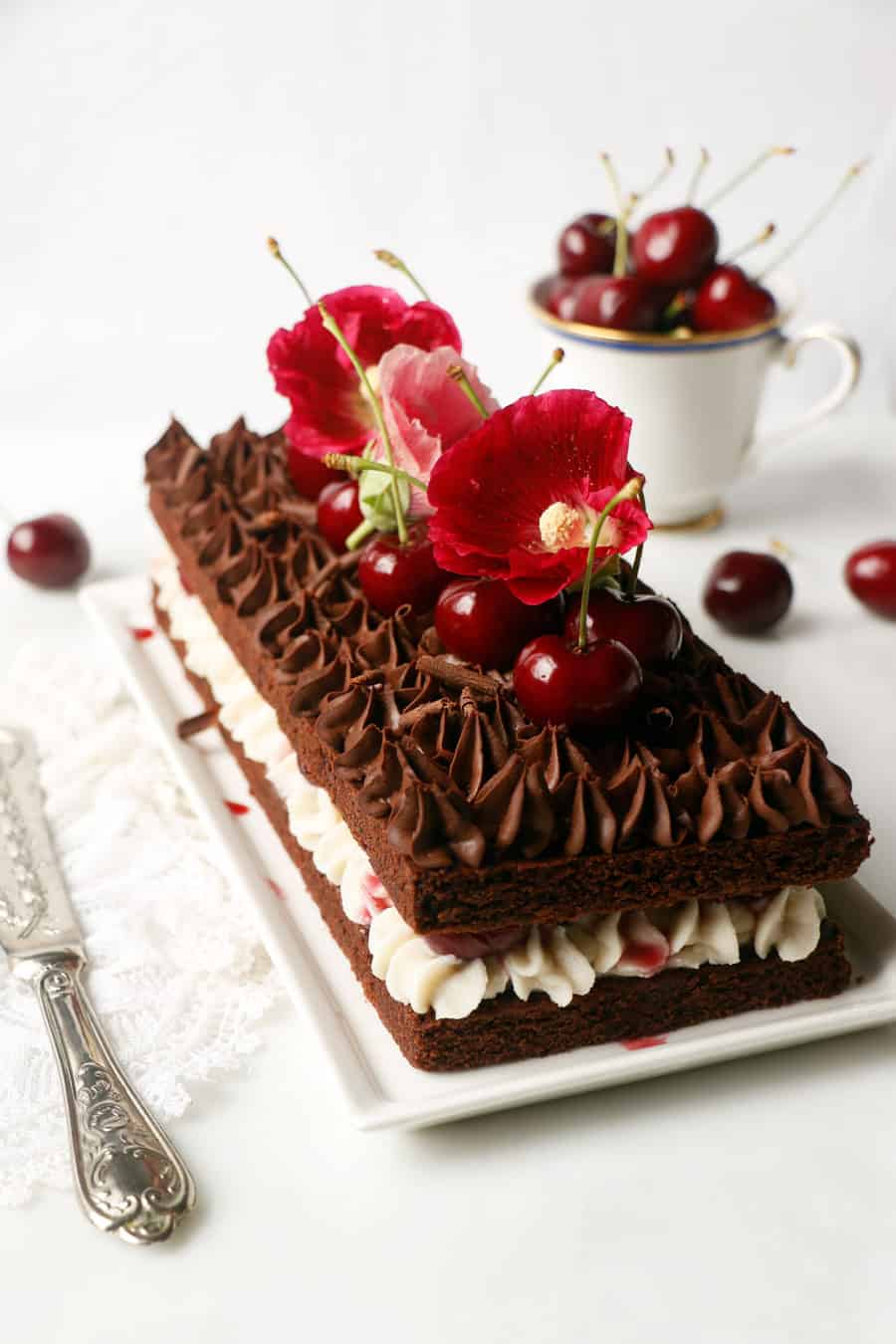 This delightful Black Forest Gateau by Nirvana Cakery is a wholesome gluten-free vegan version of a classic recipe. This luscious dessert features two delicious chocolate sponge cake layers filled with cherry compote, vanilla cream and chocolate ganache.
17. Strawberry Chocolate Torte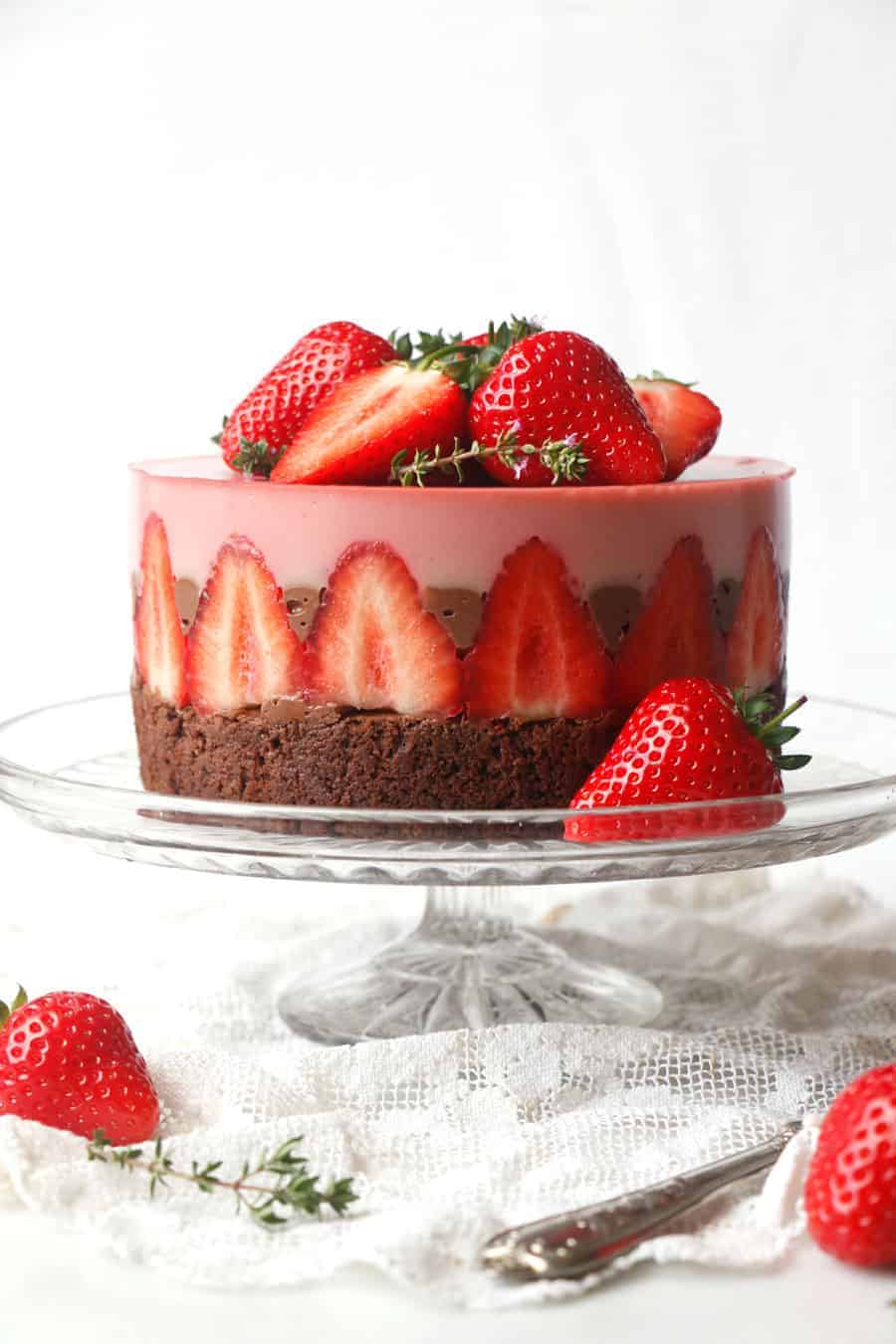 Make this showstopping delicious cake for your summer celebrations. This dreamy Strawberry Chocolate Torte recipe by Nirvana Cakery features a baked chocolate sponge cake topped with light agar-based chocolate and strawberry layers.
18. Quinoa Tabbouleh Salad with Chickpeas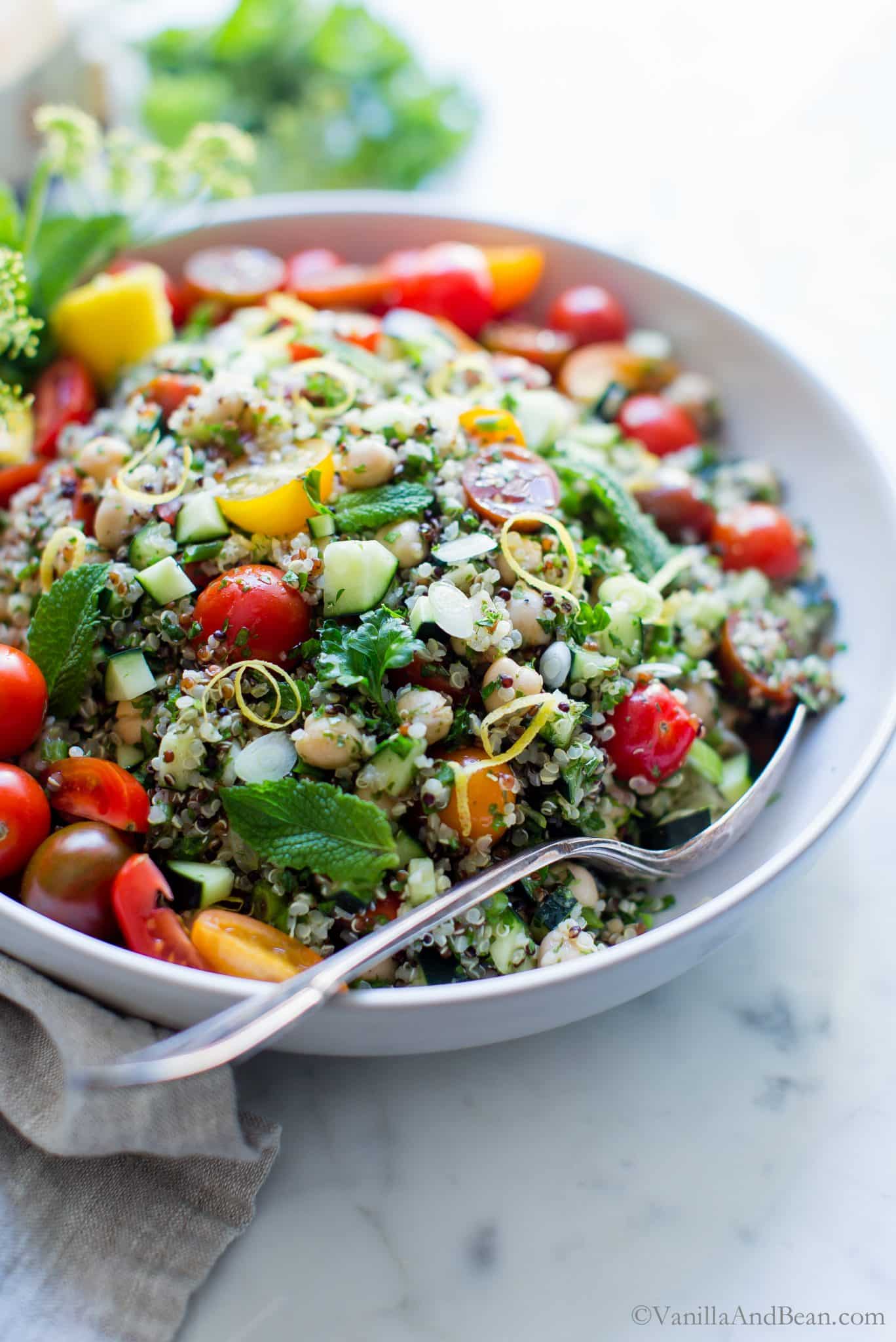 This hearty Quinoa Tabbouleh Salad with Chickpeas by Vanilla and Bean is perfect for lazy alfresco dining. In this yummy dish, quinoa is teamed with chickpeas, cherry tomatoes, cucumber, green onions, mint and parsley and drizzled with a light lemony dressing.
19. Easy Vegetarian Summer Chili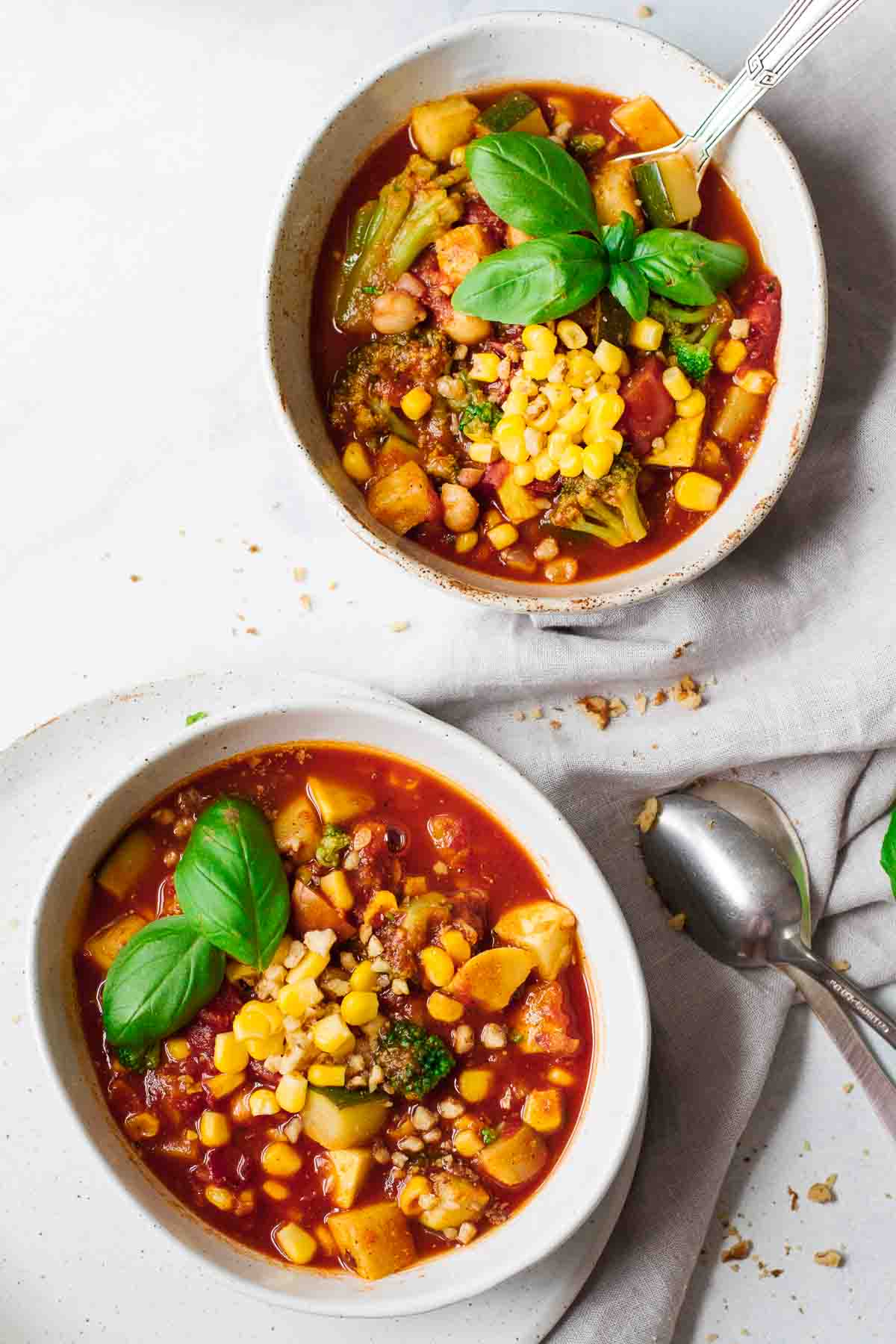 Love chili? You will love this Easy Vegetarian Summer Chili by Jar of Lemons. This hearty quick delicious summer dish is packed with plant-based protein, summer veggies and spice.
20. Vegan Curry Chickpea Salad Collard Wraps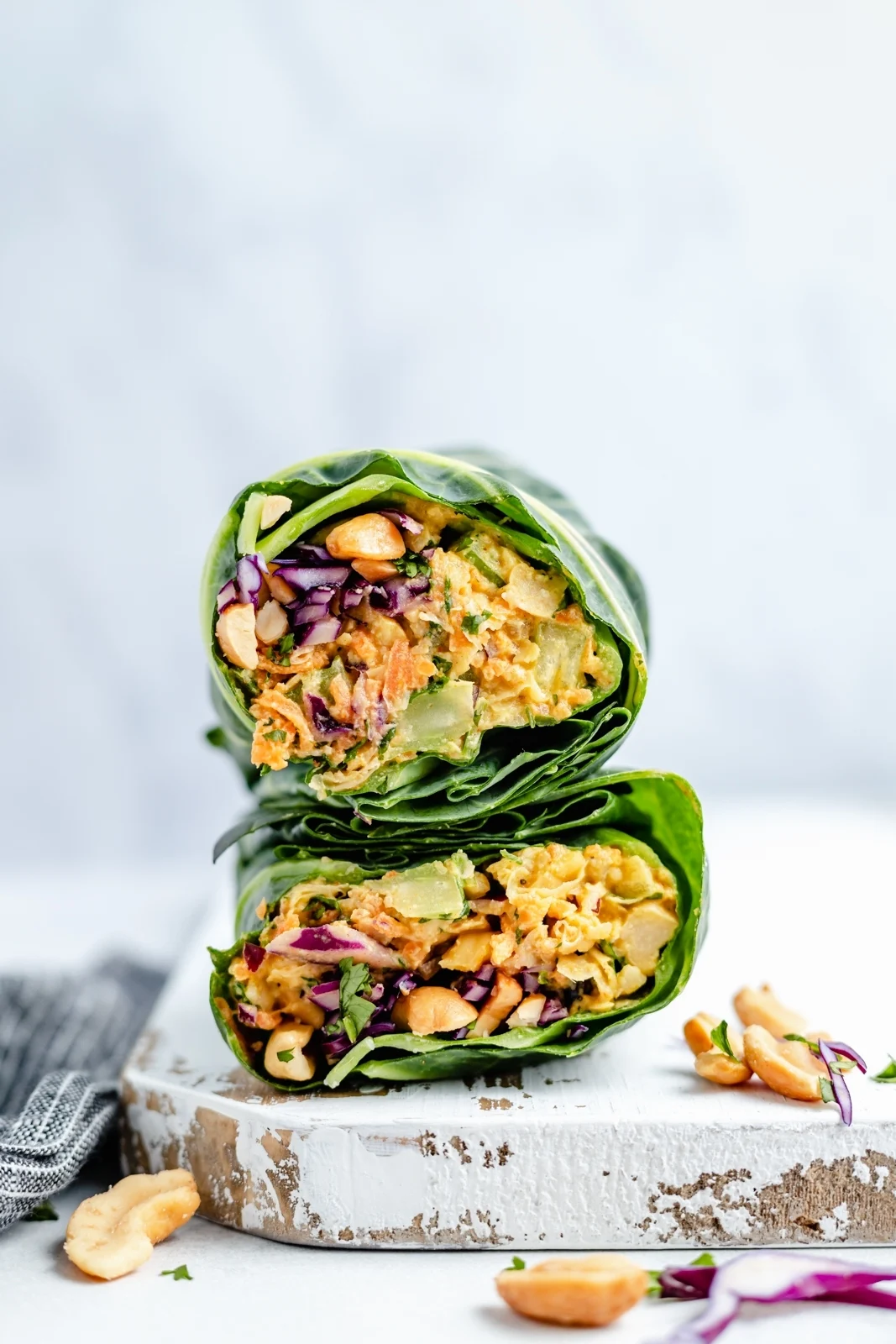 Don't fancy cooking? These delish Vegan Curry Chickpea Salad Collard Wraps by Ambitious Kitchen will make you happy and full. In this recipe, rainbow veggies, protein-packed chickpeas, crunchy cashews and luscious tahini curry dressing are all wrapped in a fresh collard leaf.
21. Strawberry Peach Bavarois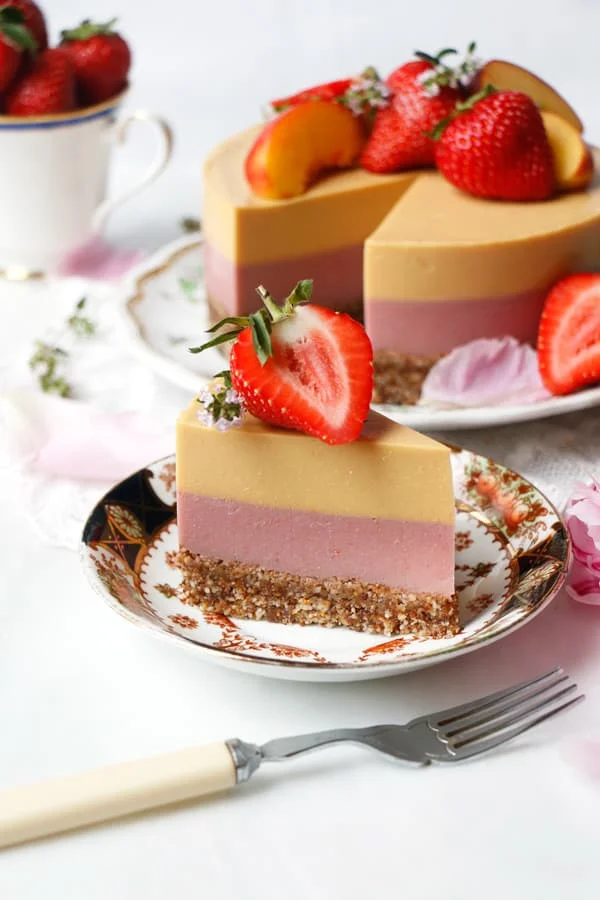 This sensational Strawberry Peach Bavarois by Nirvana Cakery is a light healthy summer dessert. With almond, coconut and fig raw-based crust and stunning strawberry and peach layers, this plant-based treat is one of the summer's delights.
22. Homemade Strawberry Lemonade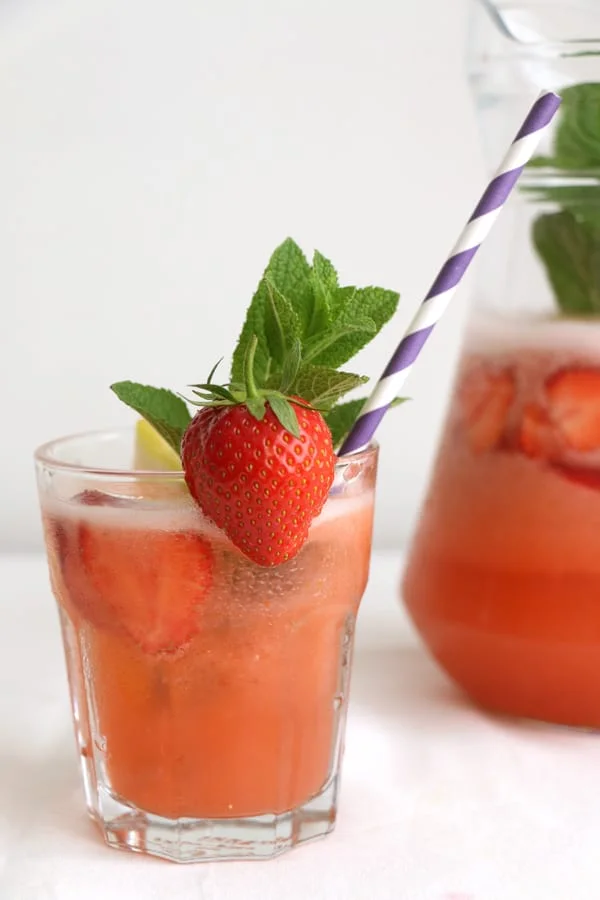 Refresh with this cooling Homemade Strawberry Lemonade by Nirvana Cakery. This simple refreshing drink with a blend of strawberries, lemon juice, maple syrup and water is served in a jug with lots of ice, some extra sliced strawberries, lemon wedges and fresh mint.
23. Plant-Based Summer Moussaka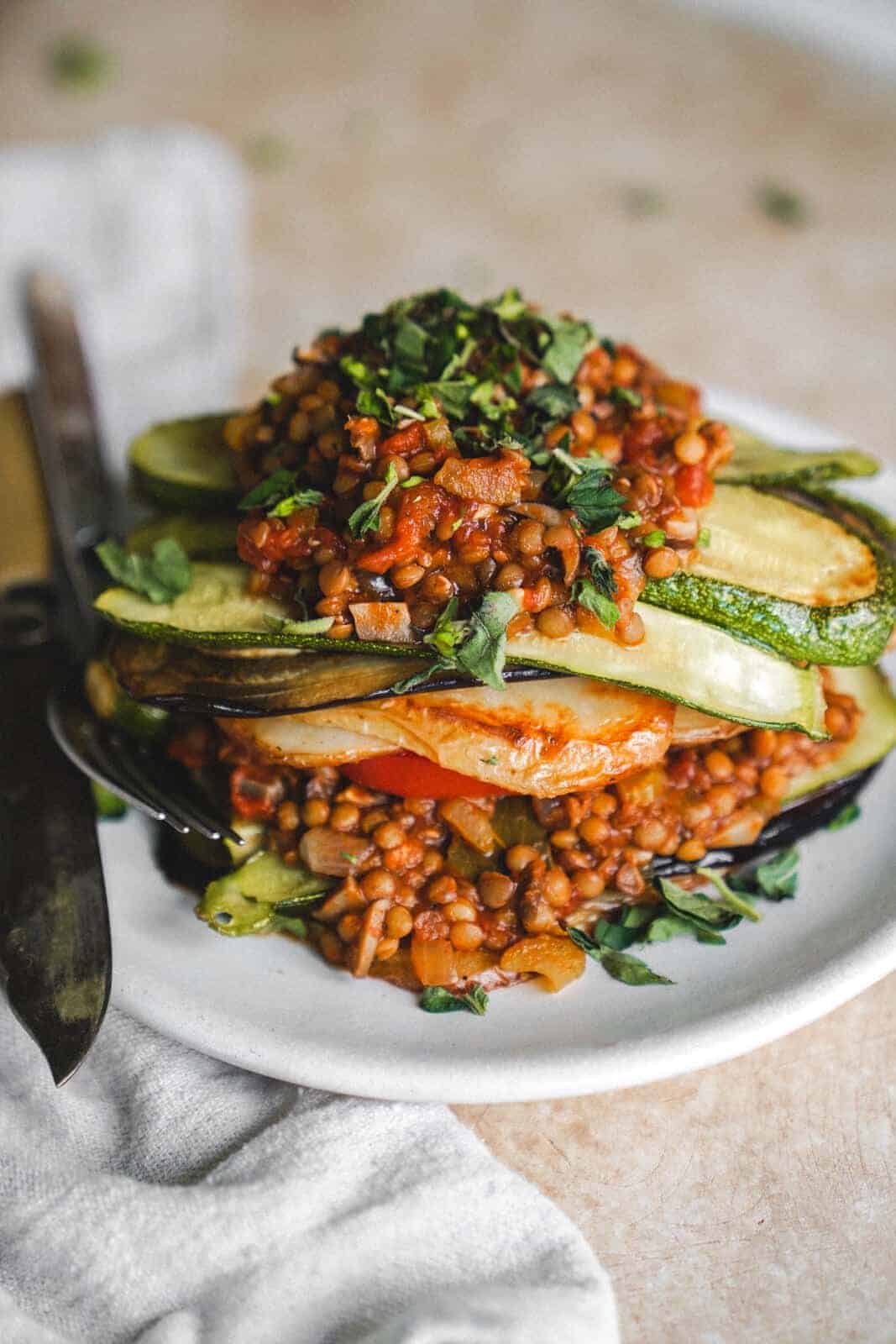 This amazing Plant-Based Summer Moussaka by Food by Maria is a light, airy and healthy vegan twist on the traditional dish. This nutritious recipe with delicious layers of potatoes, eggplant, zucchini and lentil sauce will leave your vegan taste buds fully satisfied.
24. The Best Vegan Potato Salad You'll Ever Eat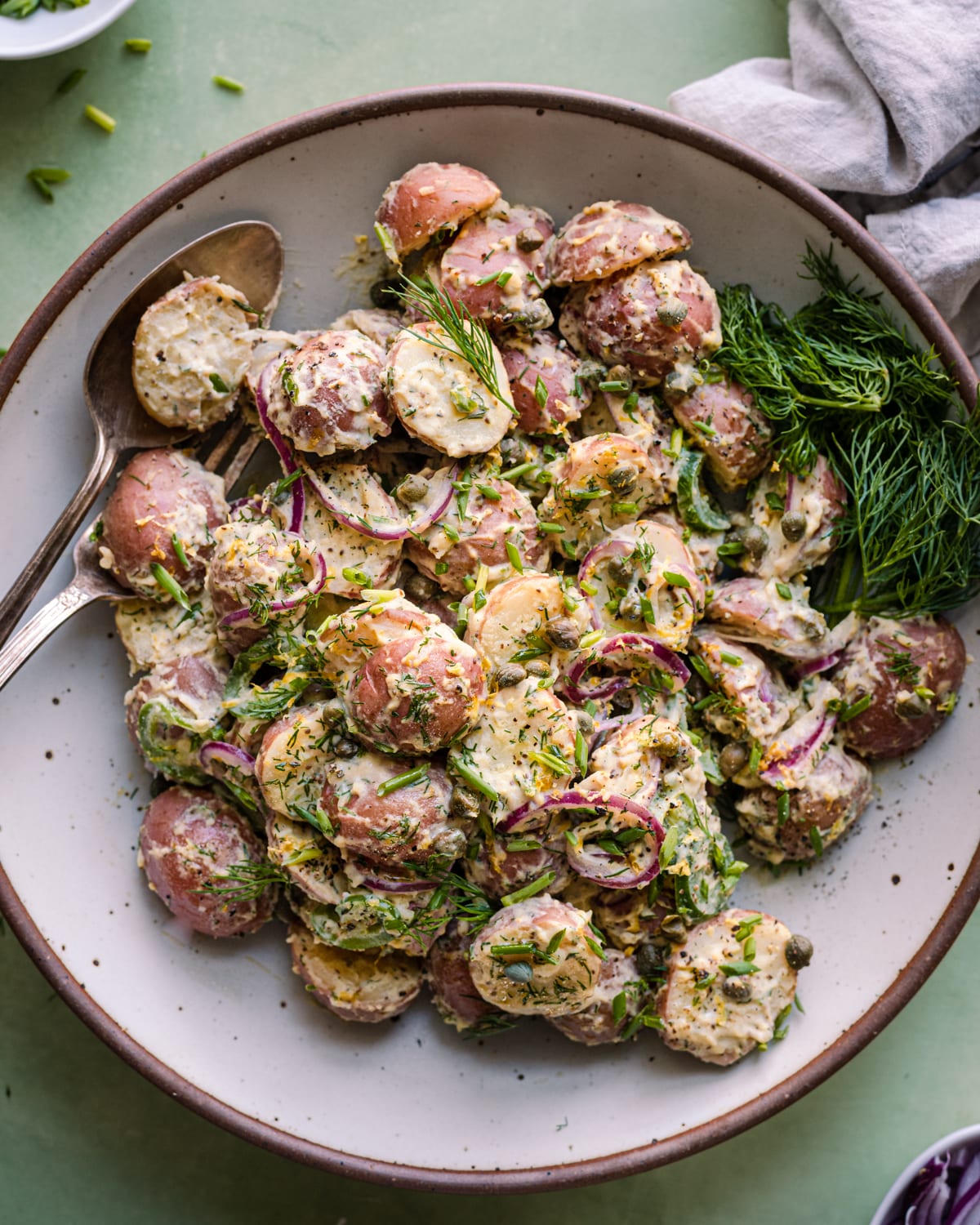 Take this Best Vegan Potato Salad You'll Ever Eat by Rainbow Plant Life to your next BBQ, potluck or picnic. In this yummy recipe, perfectly tender potatoes are teamed with capers, red onions, jalapeño peppers, chives, dill and lemon all coated in a creamy tangy dressing.
25. Pina Colada Popsicles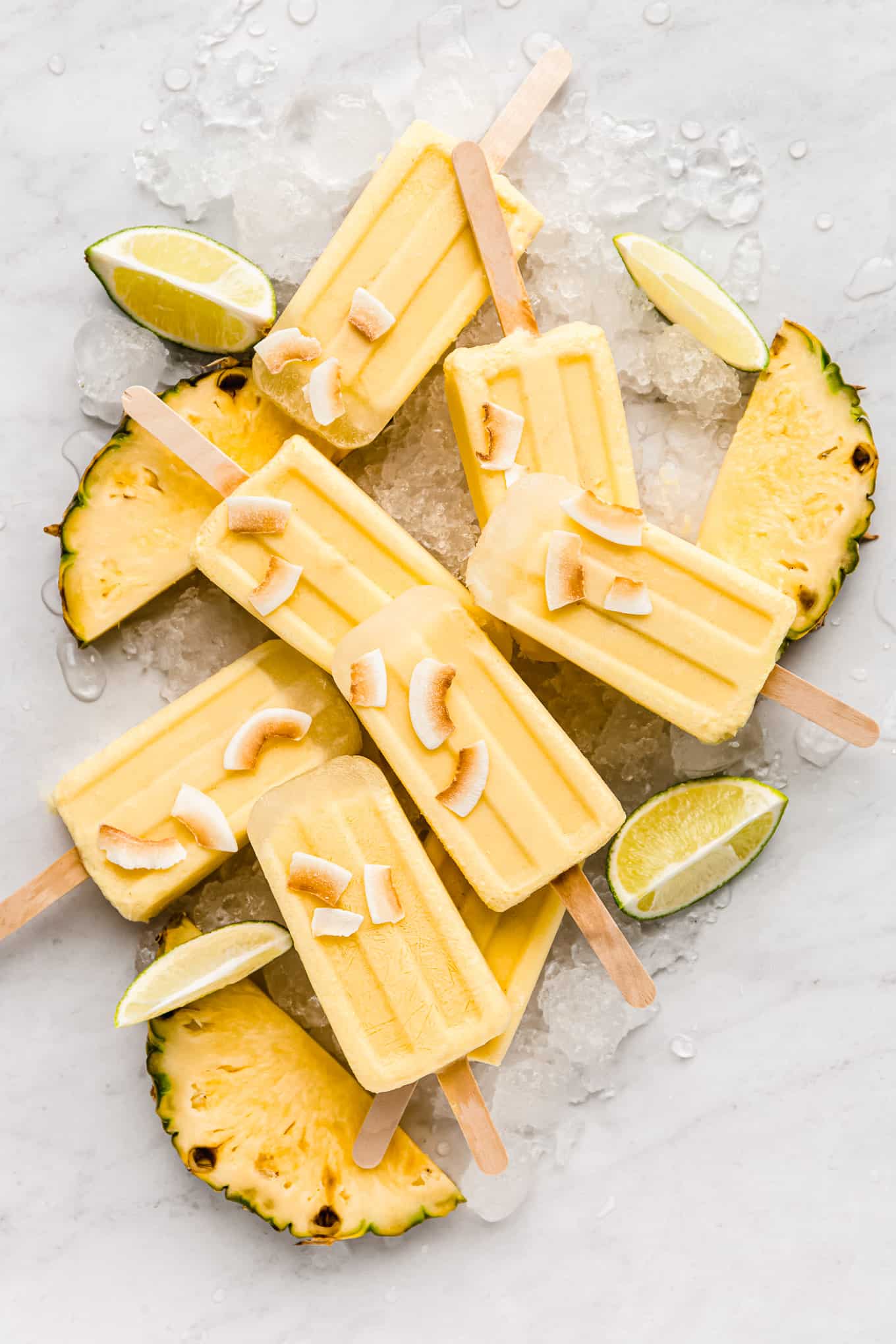 Bring tropics to you with these refreshing Pina Colada Popsicles by Choosing Chia. These easy-to-make healthy popsicles with fresh pineapple, coconut milk and lime will keep you cool in the summer heat.
26. Grilled Corn Salad Bowl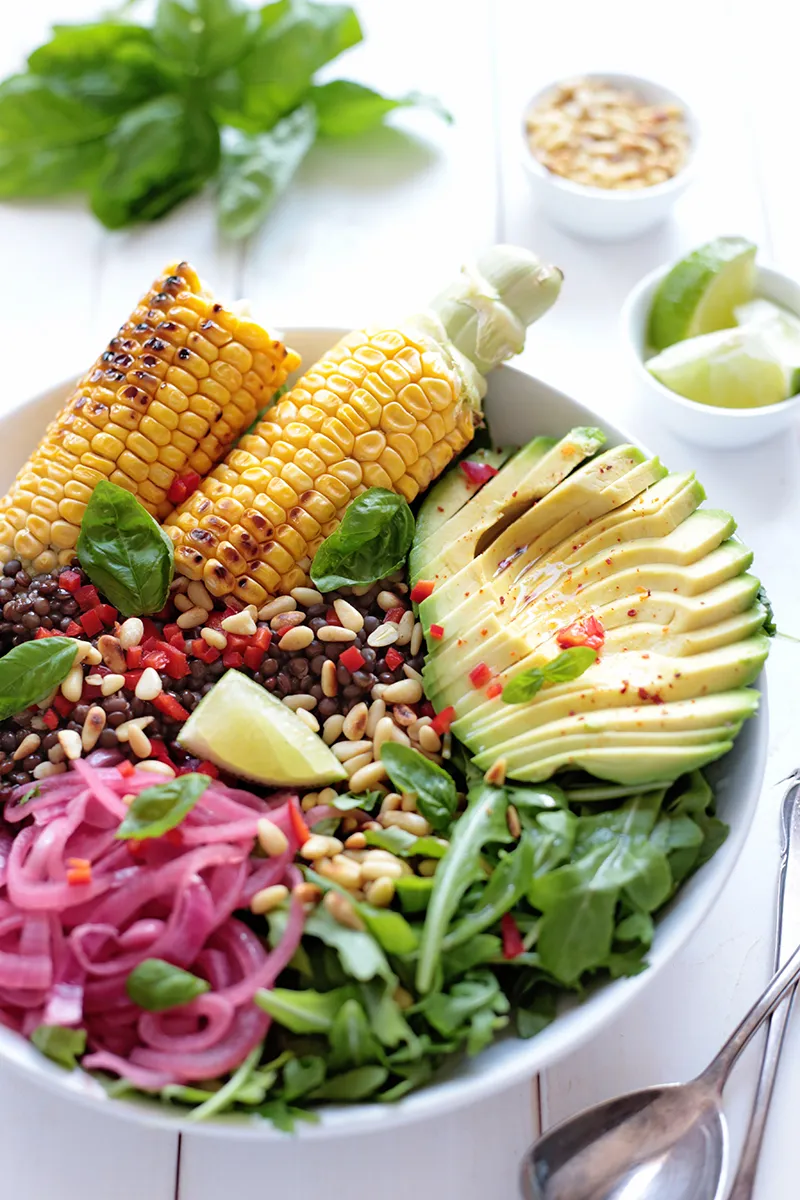 This texture-packed Grilled Corn Salad Bowl by Green Evi is a healthy filling summer recipe. In this tasty dish, grilled corn is paired with beluga lentils, quick pickled onions, avocado, arugula, toasted pine nuts, fresh basil and lime.
27. BBQ Jackfruit Sandwich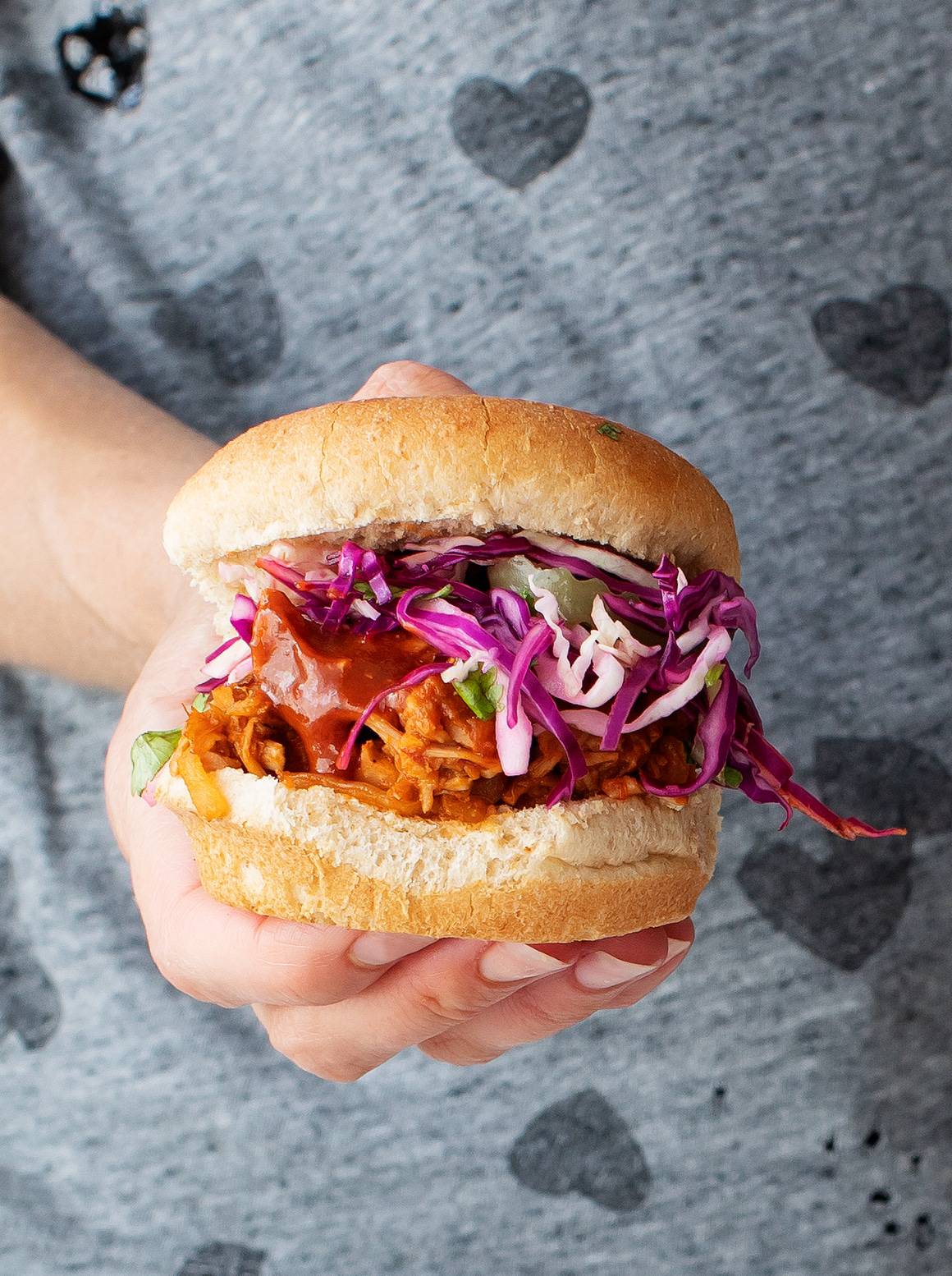 Quench your hunger with this awesome BBQ Jackfruit Sandwich by Love & Lemons. This ultimate vegan party food features meaty jackfruit flavored with chipotle peppers, smoked paprika and cumin barbecue sauce and served inside a bun with a shredded cabbage slaw.
28. Summer Berry Tarts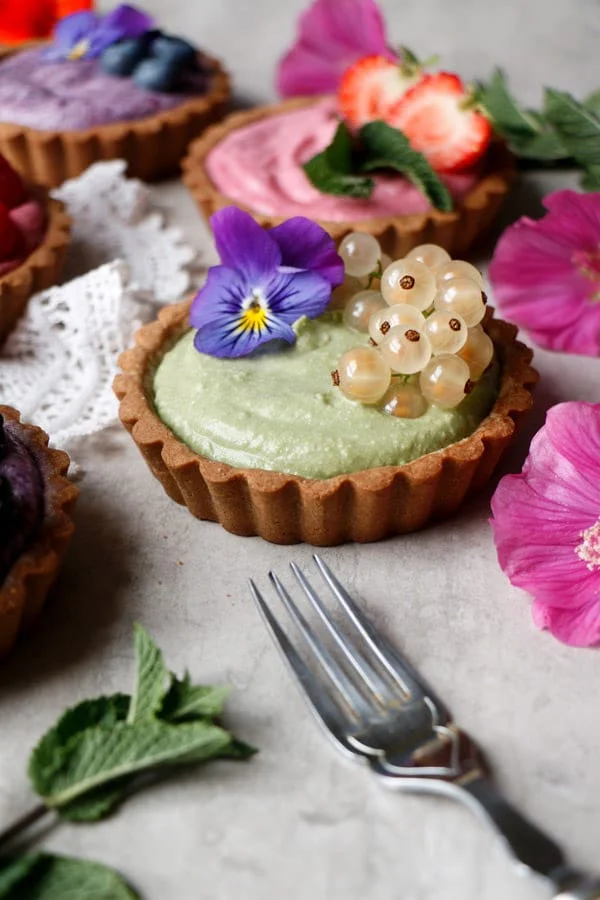 These beautiful Summer Berry Tarts by Nirvana Cakery are baked with the most delicious gluten-free vegan pastry and filled with quick raspberry chia jam, light coconut frosting and topped with summer berries.
29. Summer Berry Cake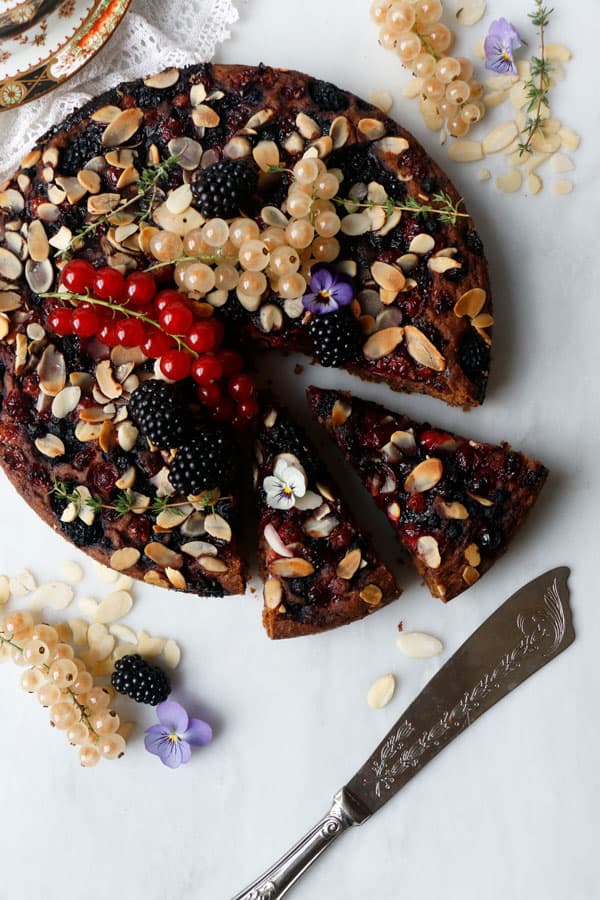 Bake this scrumptious Summer Berry Cake by Nirvana Cakery. This perfectly sweet and tart recipe features a moist gluten-free vegan sponge cake topped with a juicy combination of blackberries, blueberries, raspberries and currants.
30. Heirloom Tomato Tart with a Walnut Base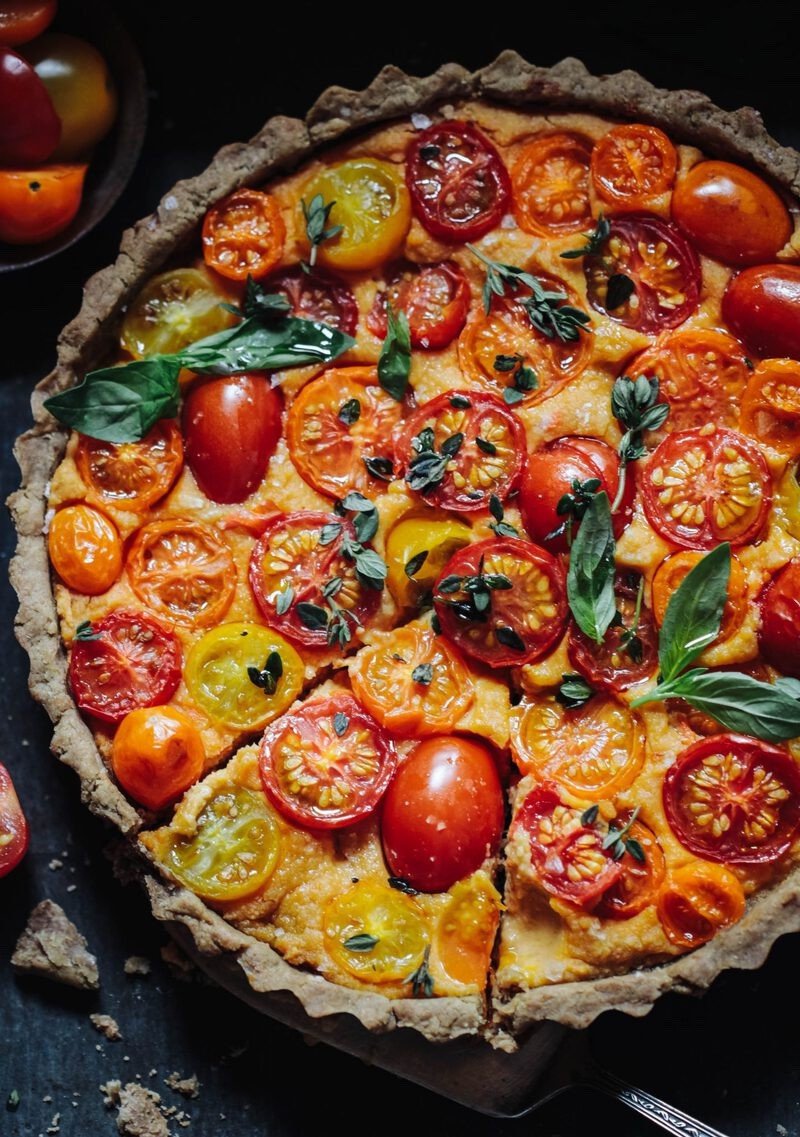 This striking Heirloom Tomato Tart with a Walnut Base by Rebel Recipes makes a perfect centerpiece for your summer gatherings. In this flavorful vegan recipe, a gluten-free nutty tart base is filled with cashew chickpea filling and topped with colored heirloom cherry tomatoes and baked to perfection.
Similar Posts: