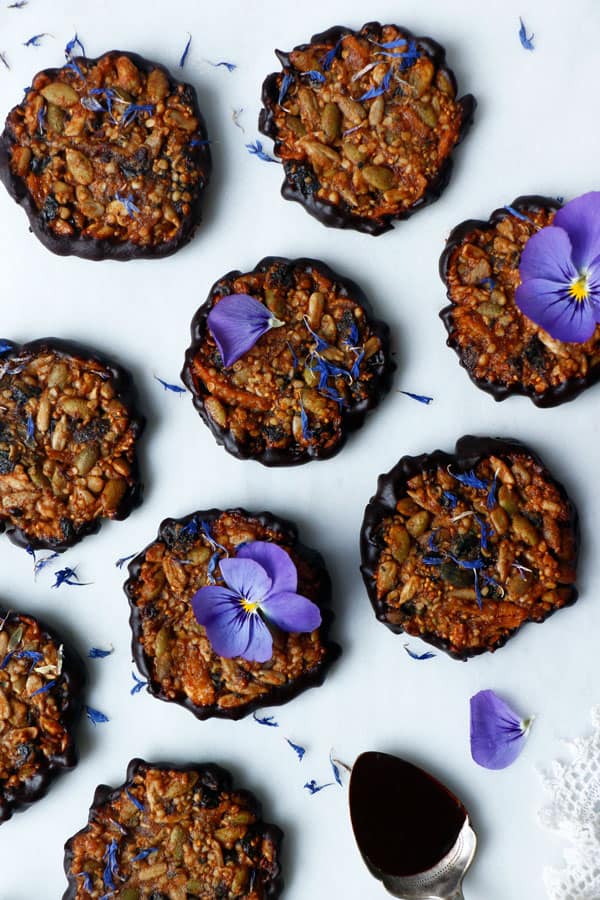 Special thank you to Amore di Mona for sponsoring this post.
These Vegan Florentines are not your typical florentines, they're made with a wholesome mixture of sunflower, pumpkin and hemp seeds with addition of dried figs and sour cherries and then dipped in chocolate for a delicious afternoon treat.
I've created this recipe for lovely Amore di Mona allergy friendly chocolate and all of you that can't tolerate nut or coconut sweet vegan recipes. Here is a treat for you :)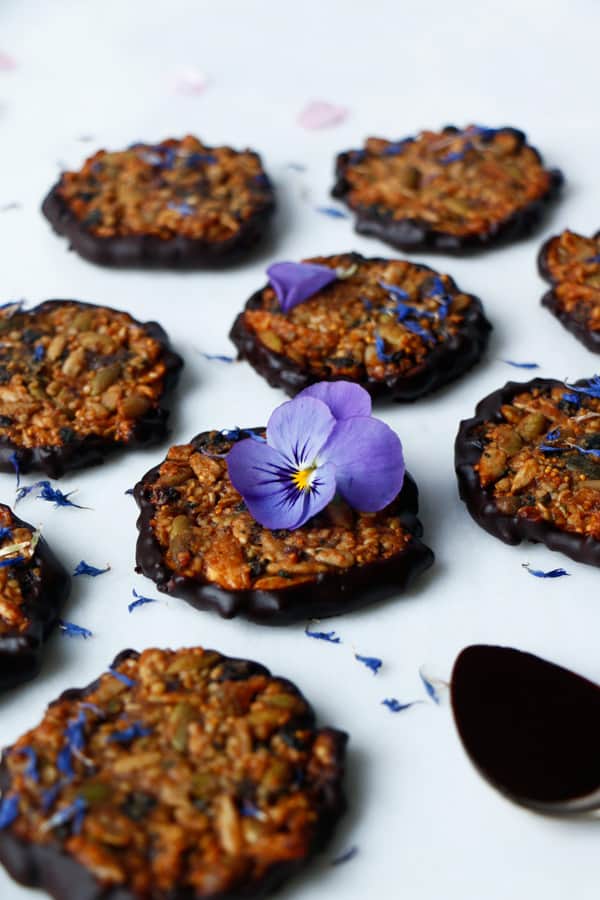 In this recipe I've used cacao butter to get around using vegan butter or coconut oil, but if you don't mind using either of those, they are a good option too.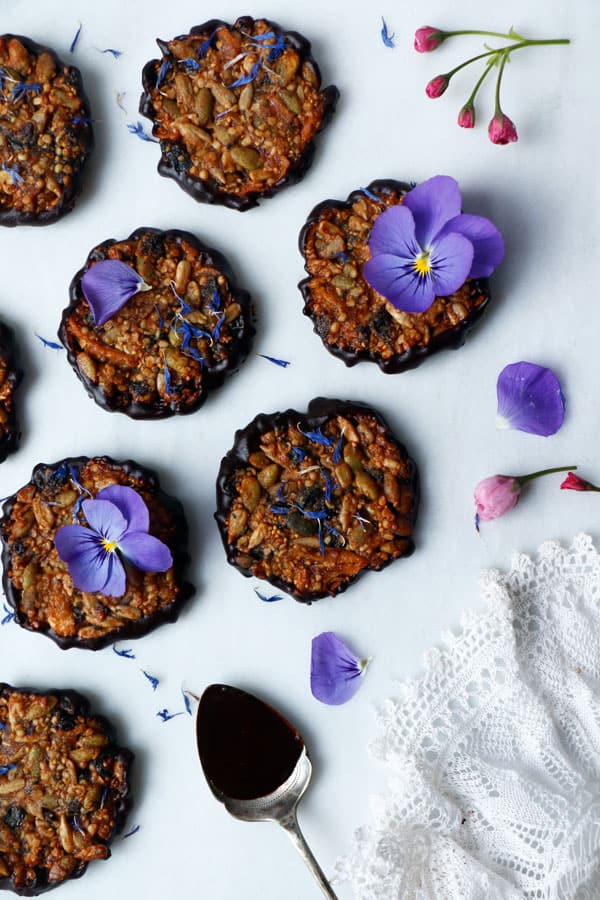 Once you melt cacao butter with the sugar, maple syrup and milk, whisk in the brown rice or other gluten-free flour of your choice to achieve caramel like smooth mix. Then mix with the rest of the ingredients and dollop heaped teaspoons onto baking tray lined with baking paper. This process is little messy, I've used my hands to flatten the florentines into roundish shapes. Baking time may vary, do keep an eye on them, they don't take very long to bake. Dip in melted chocolate for an extra deliciousness.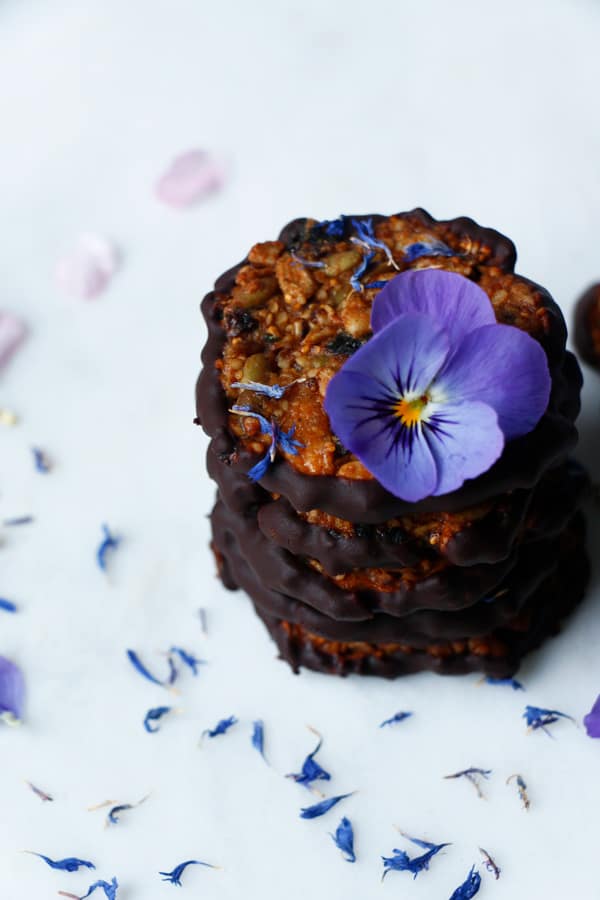 I had some wonderful feedback on this recipe and I really hope you will love them as much :)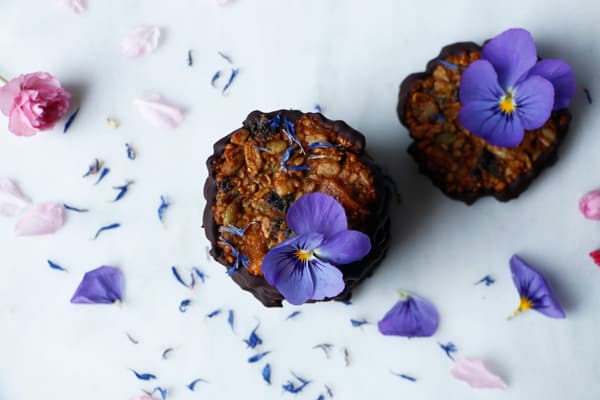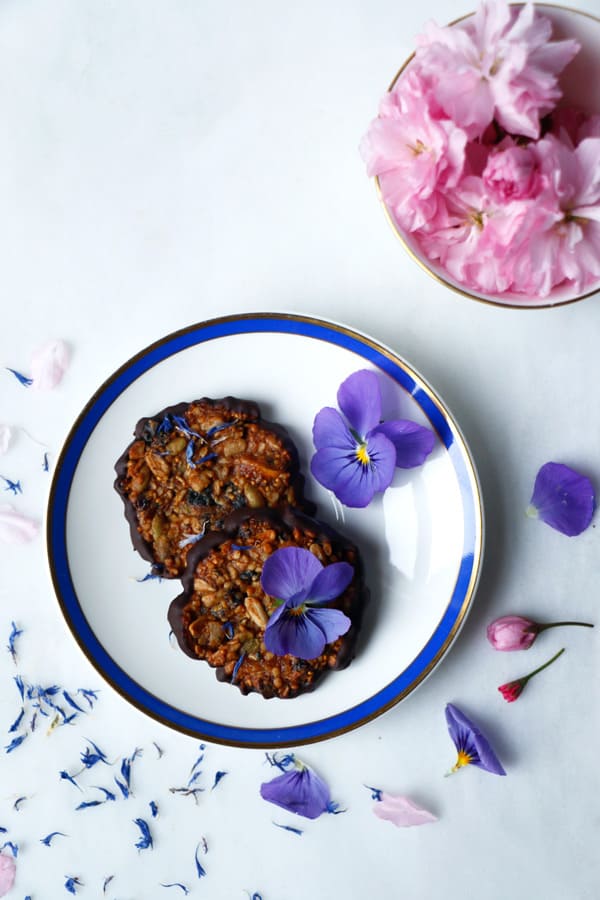 Yield: 12 florentines
Vegan Florentines (gluten-free & nut-free)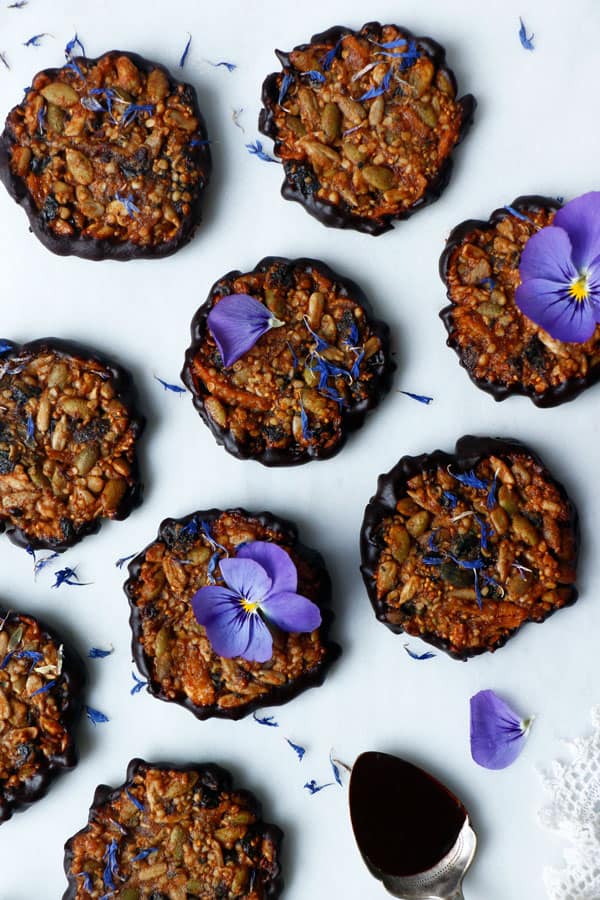 Ingredients
35g sunflower seeds (1/4 cup)
35g pumpkin seeds (1/4 cup)
35g shelled hemp seeds (1/4 cup)
40g dried sour cherries (1/4 cup)
60g dried figs, about 3 large figs (1/3 cup)
1/4tsp cinnamon
2tbsp cacao butter (coconut oil if tolerable)
2tbsp rapadura sugar
1tbsp maple syrup
2tbsp plant milk
2tbsp brown rice flour
To decorate:
100g bulk chocolate or dark vegan chocolate (3.5oz)
dried cornflowers
Instructions
Preheat the oven to 180°C (350F)
Line one baking sheet with baking paper.
Place sunflower seeds, pumpkin seeds and hemp seeds into a large bowl.
Roughly chop the cherries, slice the figs and add to the bowl with seeds. Add cinnamon and mix thoroughly. Set aside.
Place cacao butter, rapadura sugar, maple syrup and plant milk into small pot and gently heat until melted. Whisk in the flour until you have smooth thicker caramel like mixture. Leave on the heat until it comes to a boiling point if it hasn't yet. Take off the heat.
Pour the wet mixture into the bowl with seeds and mix thoroughly. You should have thick sticky mixture.
Immediately spoon heaped teaspoon each onto your baking sheet and flatten each with a back of the spoon or your hands. I've used my hands to shape them. You should have 12 florentines.
Place into oven and bake for 10-15 minutes checking frequently until they are golden brown. Leave to cool down before dipping in chocolate.
Roughly chop the chocolate, place into heatproof bowl and gently melt over pot of simmering water.
Dip each florentine into melted chocolate and place onto baking paper to set. Sprinkle with few dried cornflowers if you wish.
Enjoy!
Similar Posts: