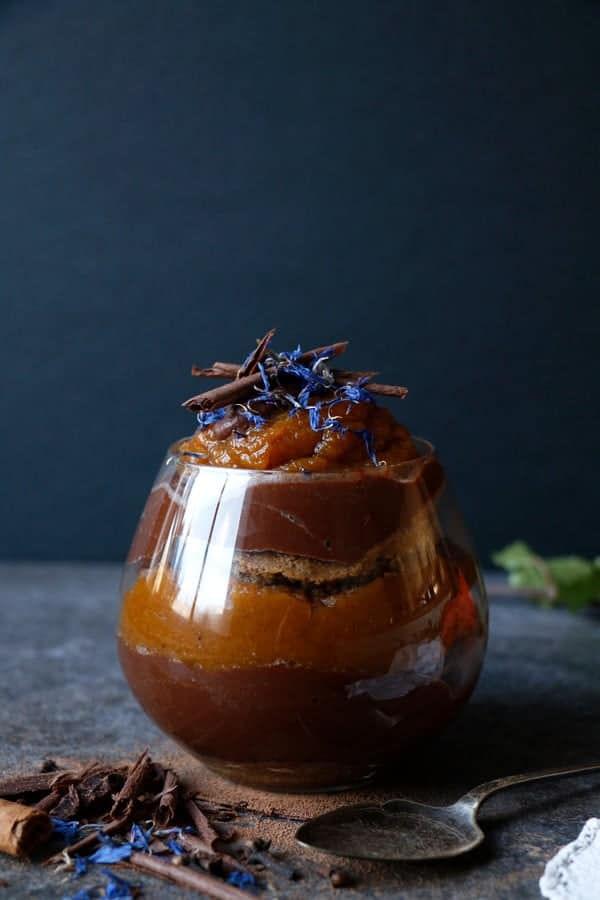 Special thank you to Amore di Mona for sponsoring this post.
Today I have a Thanksgiving special for all of my American readers – Vegan Chocolate Pumpkin Tiramisu, a fusion of cultures, colours and flavours.
I've  been making traditional Italian tiramisu for many years before I've changed to plant-based diet so when Amore di Mona asked me to create a pumpkin tiramisu I was definitely up to the challenge.
This tiramisu is a true autumnal recipe with decadent rich layers of sponge cake, dark chocolate, pumpkin puree and beautiful spices.
I've made my first version of this recipe as a cake, but then decided to create individual servings as it gives you more options as how to serve this dessert.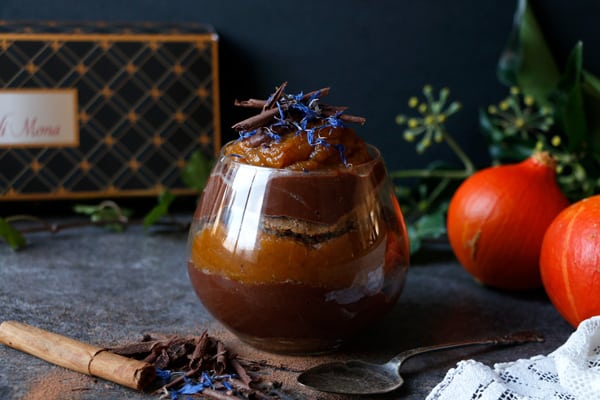 I've baked two low 8″ sponge cakes for this tiramisu and I've used round pastry cutter to cut out small circles to use in the layers. If you don't have pastry cutters, just break the cake into pieces or cut it into any shape that suits your serving dish.
I've created two different colour layers for this recipe to make it more interesting and to create different textures, but if you prefer you could also use the chocolate pumpkin layer only, just double the quantity that the recipe calls for.
To finish, dust with some raw cacao, top with chocolate shards or anything that you fancy. I've also used some dried cornflowers that look stunning with this colour combination. Enjoy :)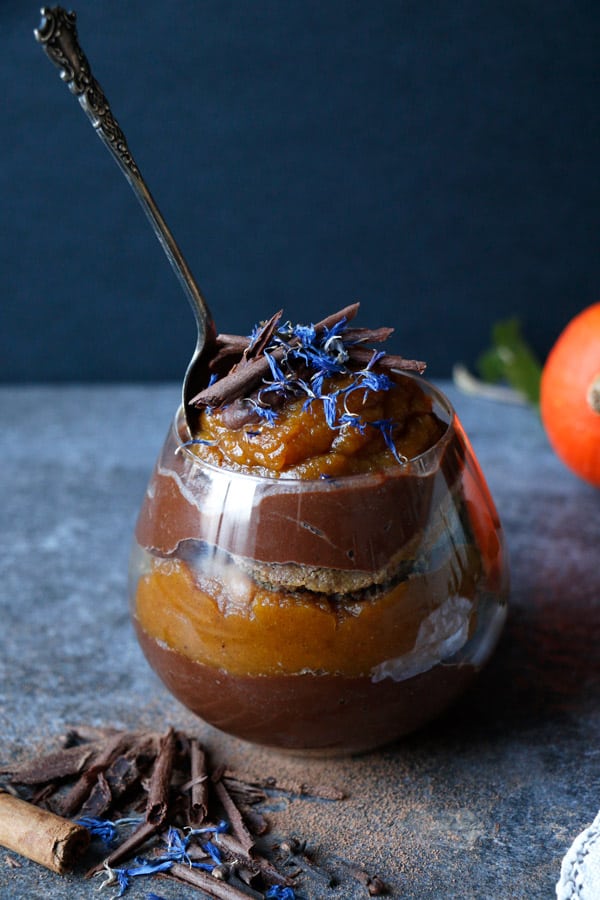 Yield: 6 servings
Vegan Chocolate Pumpkin Tiramisu (gluten-free)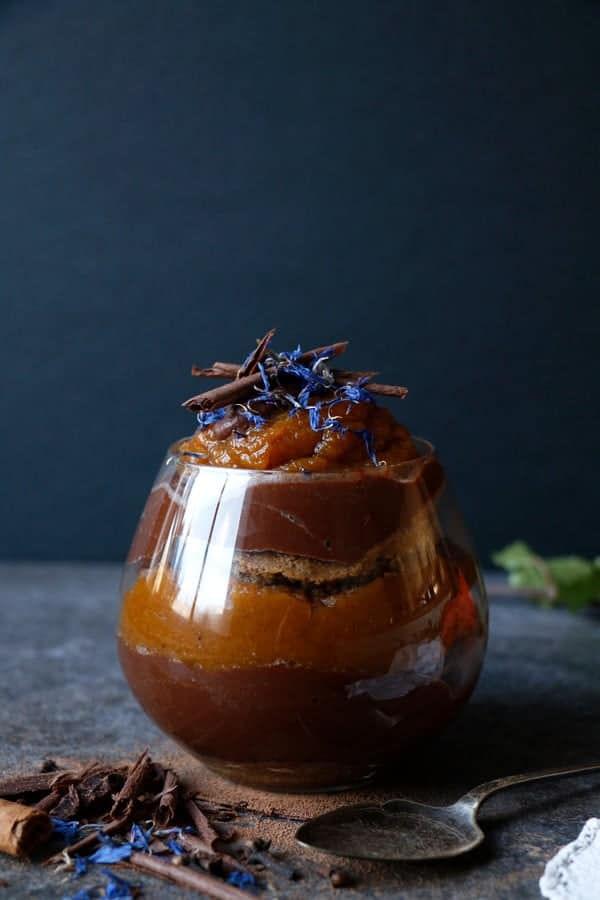 Ingredients
Sponge cake:
70g brown rice flour (1/2 cup)
70g sunflower seeds (1/2 cup), ground into flour consistency
50g gluten-free oats (1/2 cup), ground into flour consistency
30g tapioca flour (1/4 cup)
100g rapadura sugar (3/4 cup)
1tsp baking powder
1/2tsp bicarbonate of soda
2tbsp ground flaxseed + 6tbsp water
80ml olive oil (1/3 cup)
150ml plant milk (1/2 cup+2tbsp)
2tsp apple cider vinegar
1tsp vanilla extract
Chocolate pumpkin layer:
180ml pumpkin puree (3/4 cup)
1tbsp maple syrup
½tsp cinnamon
¼tsp ground ginger
⅛tsp cloves
pinch nutmeg
100g bulk chocolate (just under 2 cubes) or dark vegan chocolate (3.5oz)
Pumpkin caramel layer:
180ml pumpkin puree (3/4 cup)
½tsp cinnamon
¼tsp ground ginger
⅛tsp cloves
pinch nutmeg
6 soft medjool dates, pitted
To assemble:
strong espresso or coffee alternative
raw cacao powder
chocolate shards
dried cornflowers
Instructions
Mix 2tbsp ground flaxseed with 6tbsp water and set aside to thicken.
Preheat the oven to 180°C (350F)
Grease and line 2 x 8" round cake spring form baking tins.
In a large bowl whisk together brown rice flour, ground sunflower seeds, ground oats, tapioca flour, sugar, baking powder and bicarbonate of soda. Set aside.
In a small bowl whisk together flax eggs, olive oil, plant milk, apple cider vinegar and vanilla.
Add the wet mix to the dry mix and mix until well combined.
Divide the mixture evenly between the two cake tins and level out the surface.
Bake for about 15 minutes or until a cocktail stick comes out clean.
Remove from the oven and leave to cool down for 20 minutes before carefully moving onto a wire rack.
Chocolate pumpkin layer:
In a medium pot gently warm pumpkin puree with maple syrup and spices.
In a double boiler gently melt the chocolate. Add the melted chocolate to the pumpkin mix and stir until all incorporated. Set aside.
Pumpkin caramel layer:
Place pumpkin puree, spices and pitted medjool dates into a bowl and using hand held blender blend until smooth. Set aside.
To assemble the tiramisu, cut out round shapes from the cake using round pastry cutter, dip into the espresso until soaked and place into serving glass. Layer with chocolate and pumpkin caramel layers and more cake pieces. Top with chocolate shards and dried cornflowers if desired.
Chill until ready to serve.
Enjoy!
Notes
To make pumpkin/squash puree, carefully cut your pumpkin in half, scoop out the seeds and place onto a baking tray. Bake on 200°C (400F) for about 45 minutes or until soft when pierced with a fork. Scoop out the flesh and blend until smooth. Refrigerate until ready to use.
*Sunflower seeds have sometimes tendency to change the sponge cake into green shade, but it would normally happen on the second day. If you're worried serve the tiramisu on the same day or add 1tbsp of cacao powder into the cake mix to mask the colour.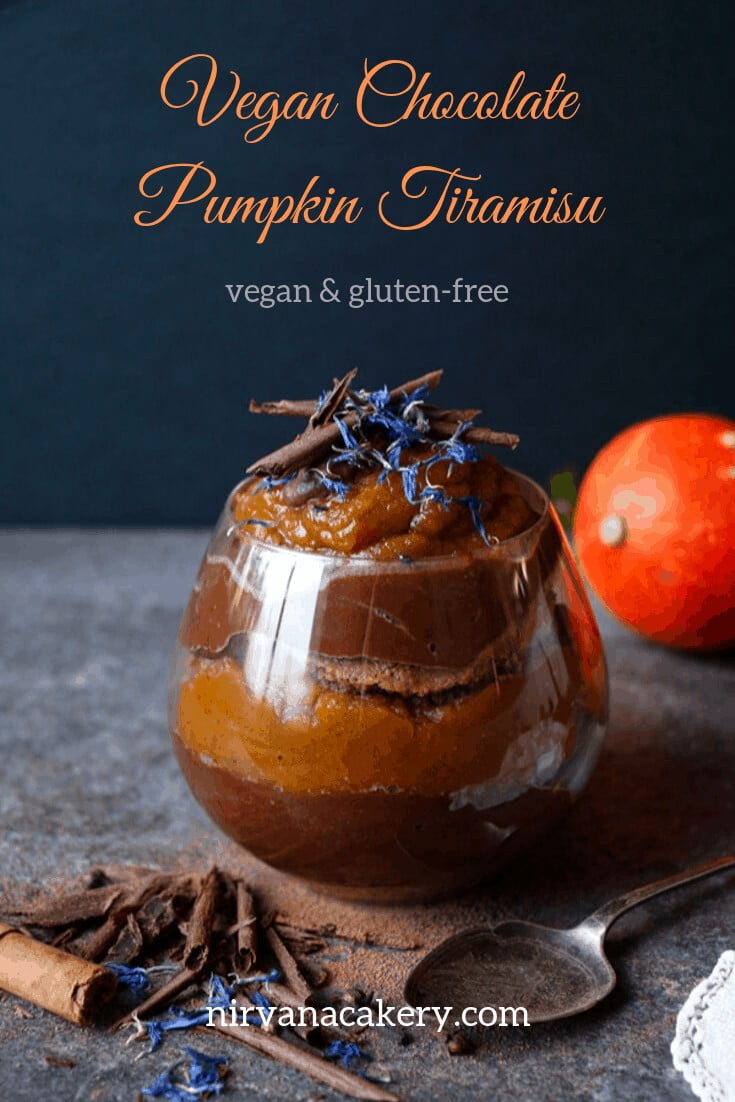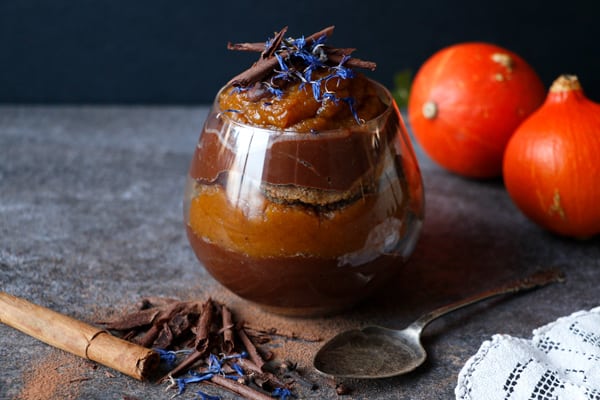 Similar Posts: