I have another blackberry recipe for you today and this time it's a savory one. Originally I wanted to make butternut squash spaghetti with blackberry sauce, but to my frustration my handheld spiralizer wouldn't spiralize my squash. Determined to make this recipe work I've used julienne peeler instead and I've changed the name to squash tagliatelle. I suppose it makes it sound even more interesting – Squash Tagliatelle with Blackberry Thyme Sauce. I like the sound of it and I very much enjoyed eating it.
This recipe is one of those recipes that won't be to everyone's taste, but plant-based recipes often aren't. There is so much narrow mindedness out there about food and I'm so thankful to the plant-based movement and slow changes in the world. Eating predominantly plant-based diet is still pretty new to me too and I want to make it simple, interesting and different as much as I can. There are so many combinations to try and I never fell more excited and creative in the kitchen.
This meal couldn't be more simpler, you can spiralize your squash or peel it into long strips like me. I've used about half of a small butternut squash to make this meal, which is enough for two servings. I found the raw squash a bit hard and so I've cooked it in the sauce for about 5 minutes until I was happy with the texture. I've served the tagliatelle with some fresh rocket leaves, toasted flaked almonds and extra fresh blackberries. It's a lovely colorful meal and I hope you like it:) x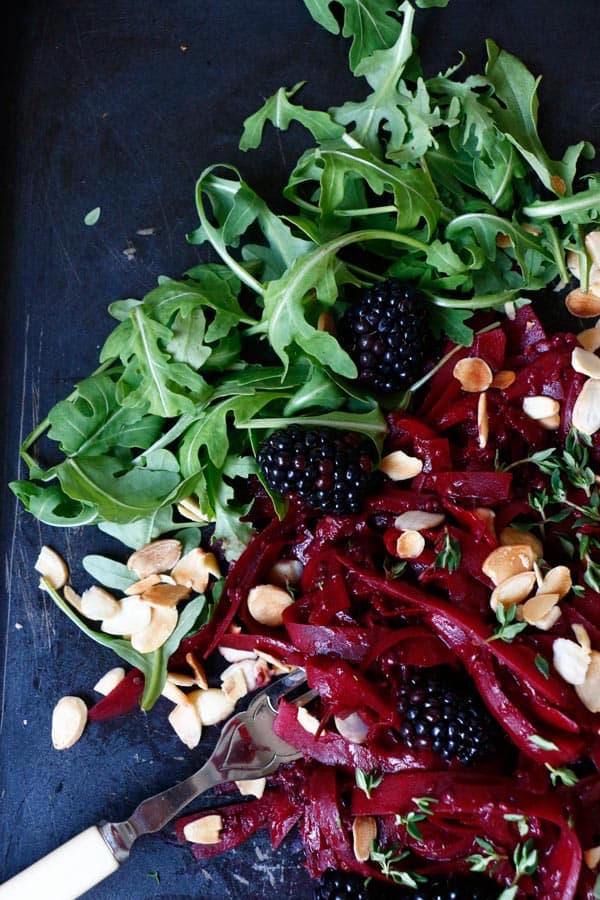 Yield: 2 servings
Squash Tagliatelle with Blackberry Thyme Sauce (grain-free & vegan)
Ingredients
1/2 small butternut squash (250g)
Blackberry sauce:
150g blackberries (1 cup)
3 sprigs of thyme
pinch of sea salt
squeeze of lemon juice
1-2tsp maple syrup (optional)
To serve:
toasted flaked almonds
blackberries
leafy greens
Instructions
Cut and peel the butternut squash, remove the seeds and using the julienne peeler slice long strips all around. Set aside.
Place blackberries into medium pot, add thyme, sea salt and lemon juice and gently cook for about 5 minutes until soft and mushy.
Add the sliced squash into the pot and continue cooking until you're happy with the texture, about 5-10 minutes. Remove the thyme. Taste the sauce and add a little bit of maple syrup if you like, depending on sweetness of blackberries.
Serve with toasted flaked almonds, blackberries and leafy greens.
Enjoy!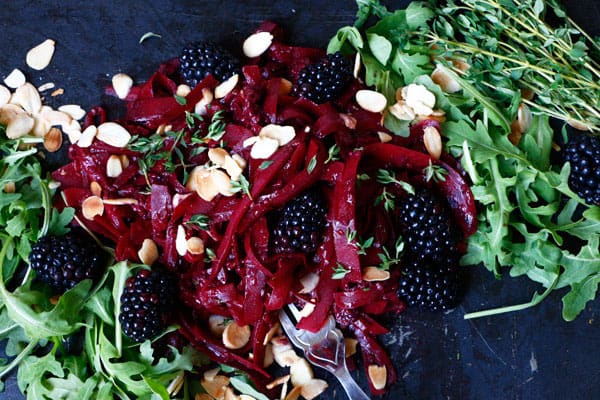 Similar Posts: