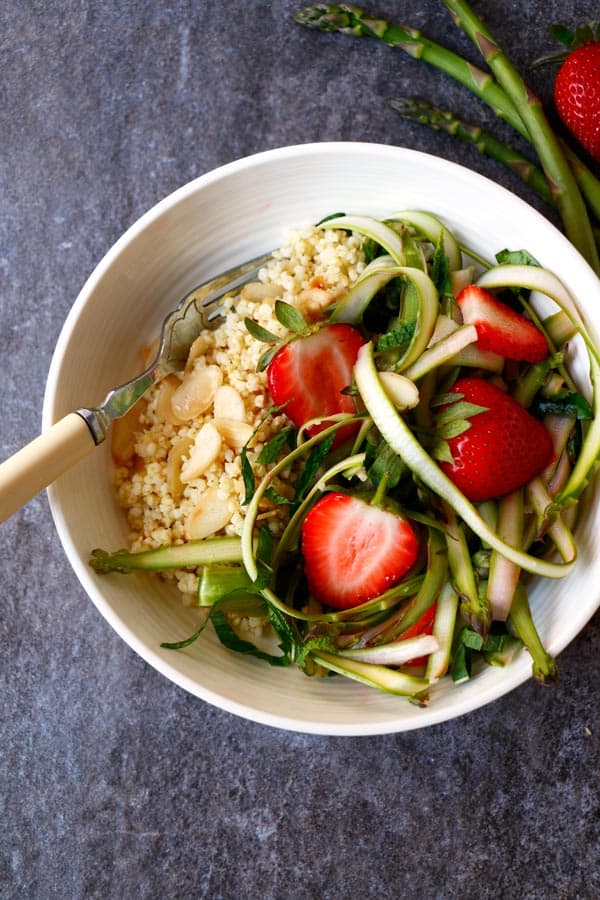 I wanted to try shaved asparagus salad for a while now and so before it's gone I've got another very seasonal recipe for you for this colorful Shaved Asparagus Salad with Strawberries and Millet. Asparagus and strawberries are in season pretty much at the same time, so I suppose teaming them up in a dish makes complete sense. I've never tried using strawberries in a savory dish, but the sweetness of strawberries beautifully compliments the rawness of asparagus and adding lemon, basil and mint creates a lovely early summer dish. To make this salad more of a complete meal I've added cooked millet tossed with lemon zest and toasted flaked almonds that adds lovely flavour and crunch.
Shaving asparagus takes a little bit of patience, use julienne peeler and carefully peel thin strips starting from the wide end all the way down to the tip. Toss with sliced strawberries, basil, mint, olive oil and lemon juice and it's ready to enjoy. If you don't like eating the asparagus raw, you can always blanch it first instead and slice diagonally before adding to the salad. To make fluffy millet, toast the millet first before cooking it, add double the amount of water and cook until just evaporated. Leave to stand for 10 minutes and fluff up with a fork. I find sometimes the cooking time is even less than 15 minutes, don't stir it, just leave it covered for 10 minutes and it will finish off cooking. Enjoy:) x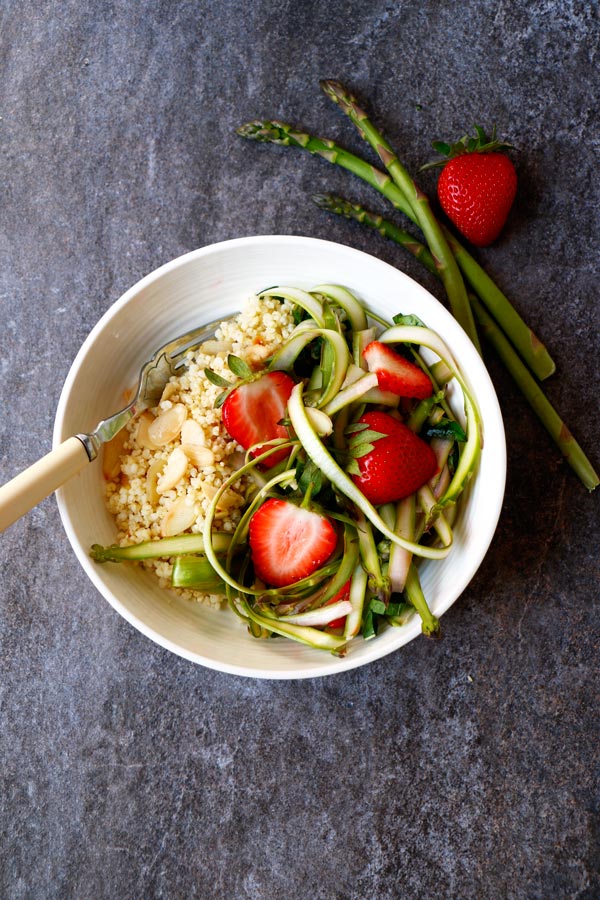 Yield: 4 servings
Shaved Asparagus Salad with Strawberries and Millet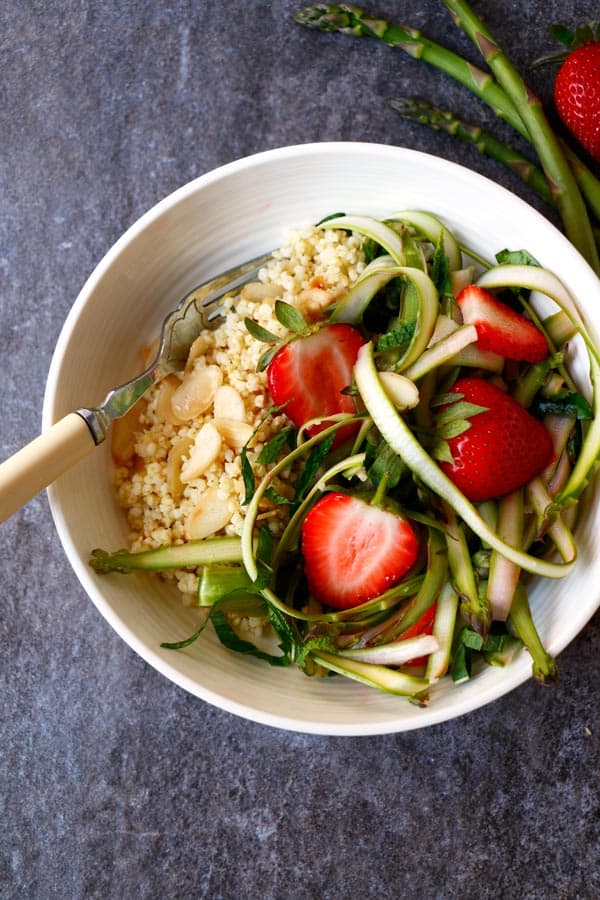 Ingredients
250g asparagus, small bunch
250g strawberries (2 cups)
fresh basil, small bunch
fresh mint, small bunch
2tbsp olive oil
1/2 lemon, juice
sea salt
180g millet (1 cup)
1/2 lemon, zest
50g flaked almonds, toasted (1/2 cup)
Instructions
Measure 1 cup of millet, add to a shallow pan and toast millet on a medium heat for about 5 minutes. Once toasted place into a medium pot, add double the amount of water and bring to a boil. Simmer for about 15 minutes until all the water has evaporated. Leave to stand for 10 minutes covered. Fluff up with a fork. Stir in lemon zest, toasted flaked almonds and sea salt.
Snap each of the asparagus stalk discarding the woody bits. Wash the asparagus and using julienne peeler carefully shave into long strips. Place into a bowl.
Wash the strawberries and slice them to your preference. Add to the asparagus.
Roughly chop basil and mint and add to the salad. Drizzle with olive oil, lemon juice, season with sea salt and gently toss until combined.
Serve with lemony millet.
Enjoy!
Notes
To toast almond flakes, simply toss them in a pan on a medium heat until golden.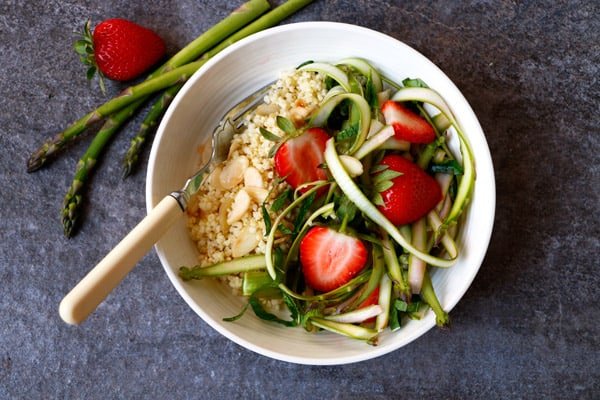 Similar Posts: