This Savoury Celeriac Apple Crumble is one of my old recipes from the blog that I love and that is so perfect for this time of the year. I wanted to refresh the pictures of this crumble and give this recipe more wintery cozy feel. Although I have to say I find taking pictures quite tricky at the moment, my favourite spot gets about an hour of good light these days and I've been struggling with the right camera settings. Nevertheless I'm having lots of fun bringing you some plant-based inspiration.
Now back to the recipe, because this Savoury Celeriac Apple Crumble is one the most simple meals to make & yet it tastes absolutely divine. Celeriac and apple with a hint of cardamom work so beautifully together in the bottom layer and then on top you have the most yummy crumble topping made with sunflower seeds, almonds and thyme. It's such a treat!
It's incredibly simple to make. I've used one medium size celeriac, about 3 cups once grated which I've mixed with 2 large grated apples, cardamom and lemon juice to make the bottom layer. For the crumble I've blended sunflower seeds and almonds and mixed them with fresh thyme, nutmeg, sea salt and coconut oil. Everything goes into the oven for about 35-40 minutes, it needs to be baked slowly so the celeriac has time to cook through and the top gets beautifully toasted. I'm totally in love with this crumble and I happily eat it as part of my Christmas meal. Hope you'll enjoy it too:) x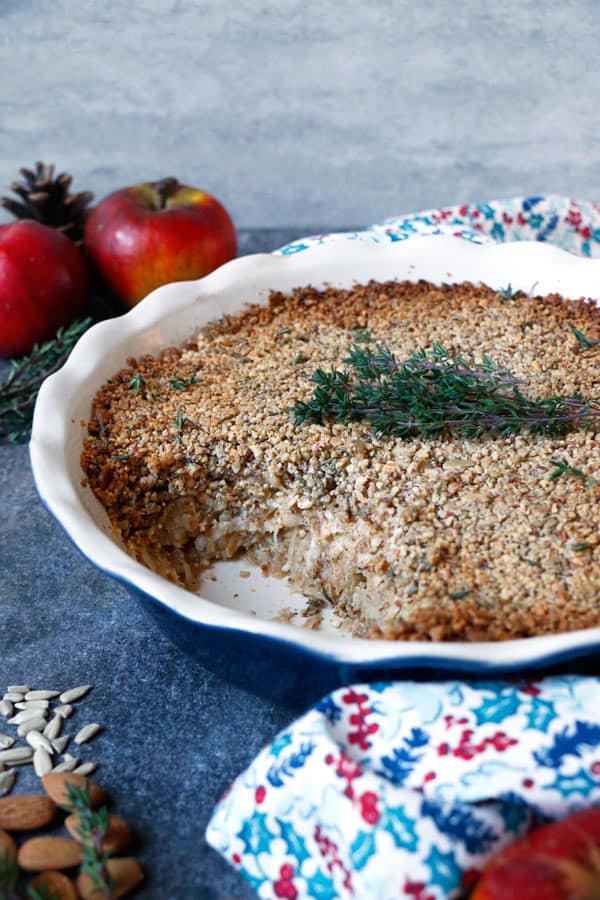 Yield: 4-6 servings
Savoury Celeriac Apple Crumble (grain-free & vegan)
Ingredients
300g celeriac, roughly grated (3 cups)
2 large apples, grated
1/4 lemon, juice
1/2tsp cardamom
Crumble:
120g sunflower seeds (1 cup)
100g almonds (1 cup)
1tbsp fresh thyme
pinch of nutmeg
1tsp sea salt
3tbsp coconut oil
Instructions
Preheat the oven to 180°C (350F)
Grease 9" round baking dish with a little coconut oil and set aside.
Peel and roughly grate celeriac. Wash and grate apples. Place into a bowl and toss together with lemon juice and cardamom. Spoon into prepared baking dish and level out the surface.
To make the crumble place sunflower seeds and almonds into food processor or blender and blend until you have coarse crumbly consistency, not too fine, you want to have some crunch. Scoop into a large bowl and whisk in thyme, nutmeg and sea salt. Add coconut oil and with your hands mix together until all the coconut oil is mixed in and you have crumbly mixture. Spoon the mix onto the celeriac and apple mix and even out the surface.
Bake for about 35-40 minutes until the top is lovely golden brown.
Serve warm.
Enjoy!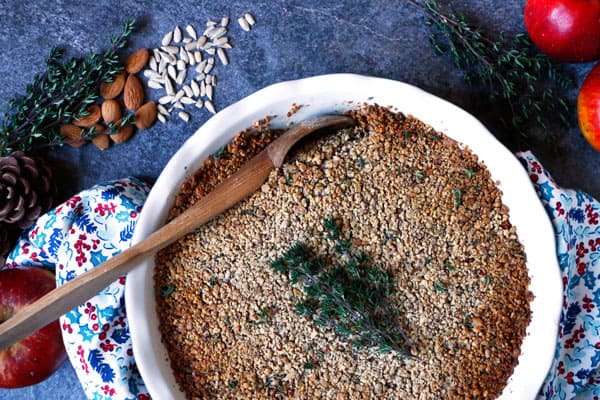 Similar Posts: