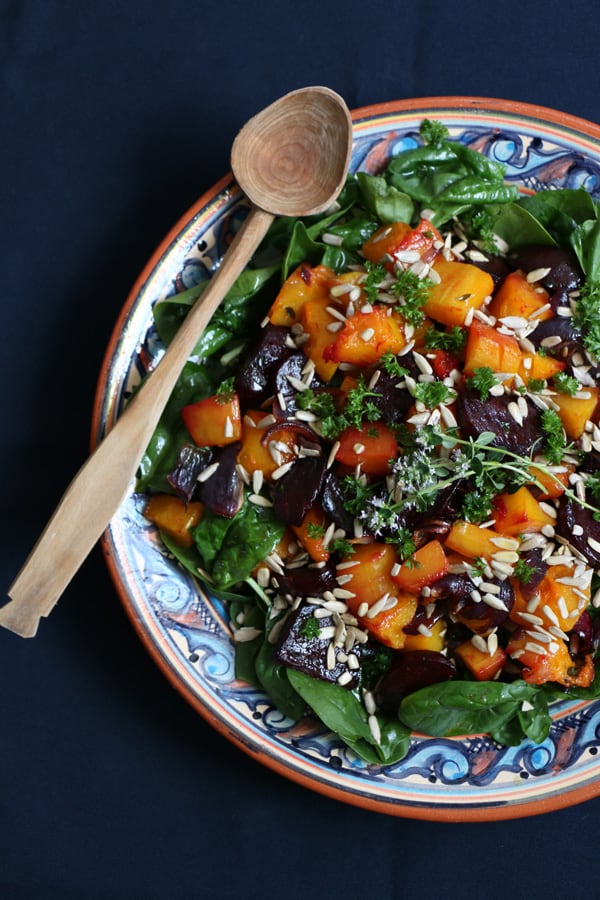 More and more I feel that life is really only about the simple things. Family, friends, good food. Finding joy in everyday mundane tasks. Doing simple things with great attention and love. That's it, no great big secret out there. Only engagement with Love.
This lovely Roasted Squash, Beetroot and Spinach Salad is something I would call a simple dinner. It's fun to make, doesn't take too much time to prepare, it's colourful and pleasing to the senses.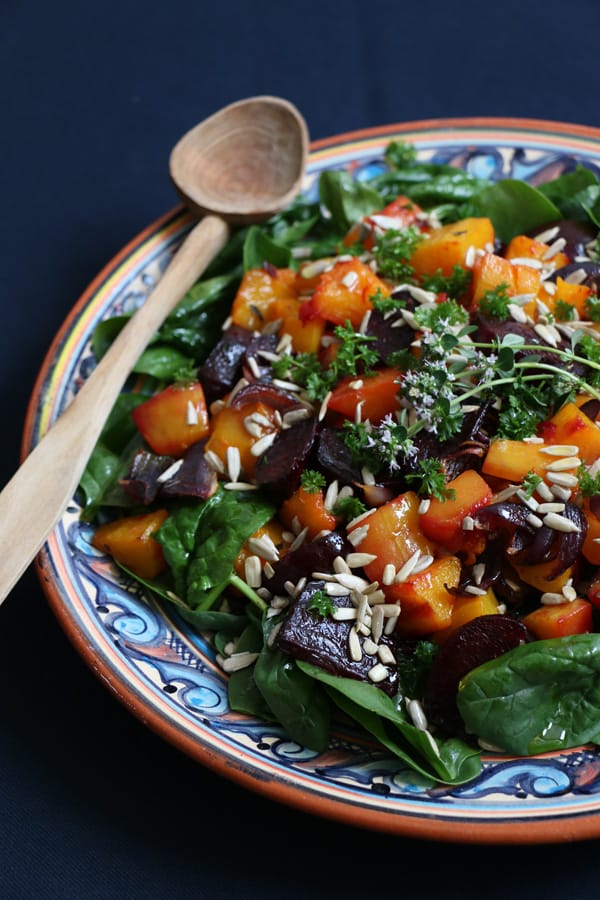 I suppose it's more of a wintery dish, but it's nice to have some roasted root vegetables in summer and what a better way to eat them than in a salad. Accompany this dish with some hummus on the side, poached egg or anyway that fits into your diet. Share with people you love.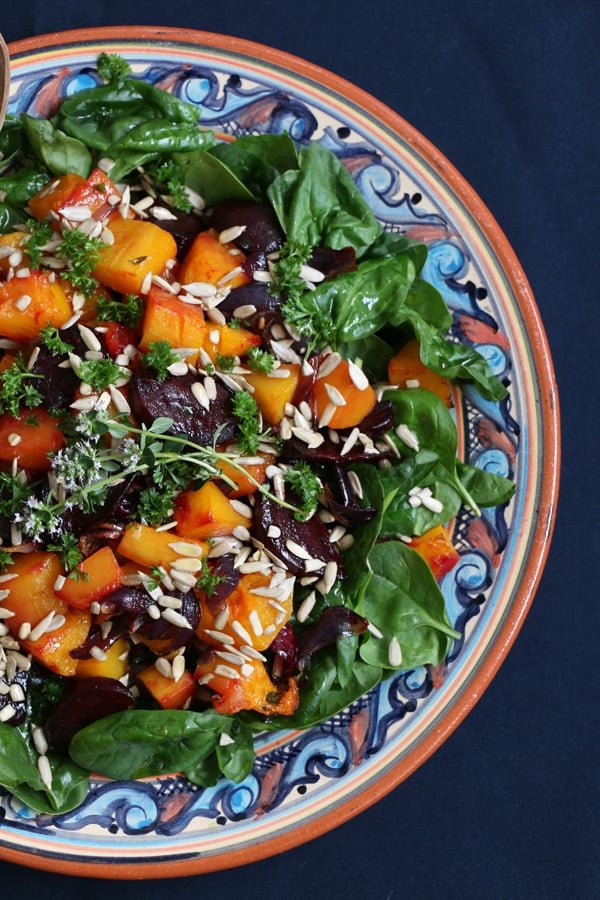 Yield: 4 servings
Roasted Squash, Beetroot and Spinach Salad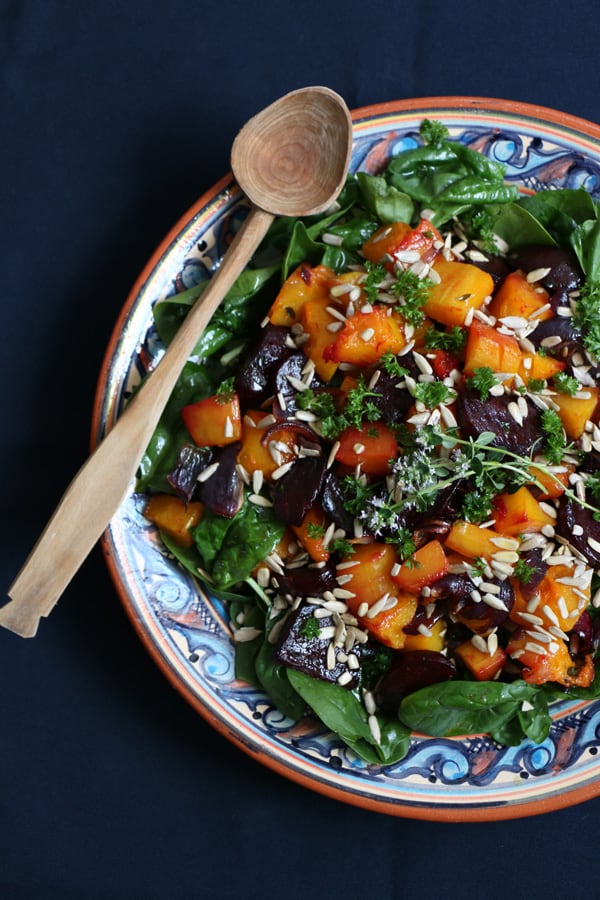 Ingredients
1 butternut squash
2 beetroots
1 red onion
3 garlic cloves
3 sprigs of thyme
sea salt
olive oil
100g baby leaf spinach
2tbsp sunflower seeds
1/2 lemon, juice
2tbsp olive oil
salt and pepper
parsley to garnish
Instructions
Preheat the oven to 220°C (200°C fan)
Trim and peel squash, remove the seeds and chop into wedges.
Peel beetroot and red onion and chop into wedges.
Arrange squash, beetroot, red onion and garlic cloves (cut in half with skin left on) on a baking tray.
Toss with thyme, sea salt, and good drizzle of olive oil and bake for about 40 min until soft.
Remove from the oven and leave to cool down.
On a serving platter arrange spinach leaves, top with roasted vegetables and sprinkle with sunflower seeds.
Drizzle with lemon juice, olive oil, season with sea salt, freshly ground pepper and garnish with parsley.
Serve and Enjoy!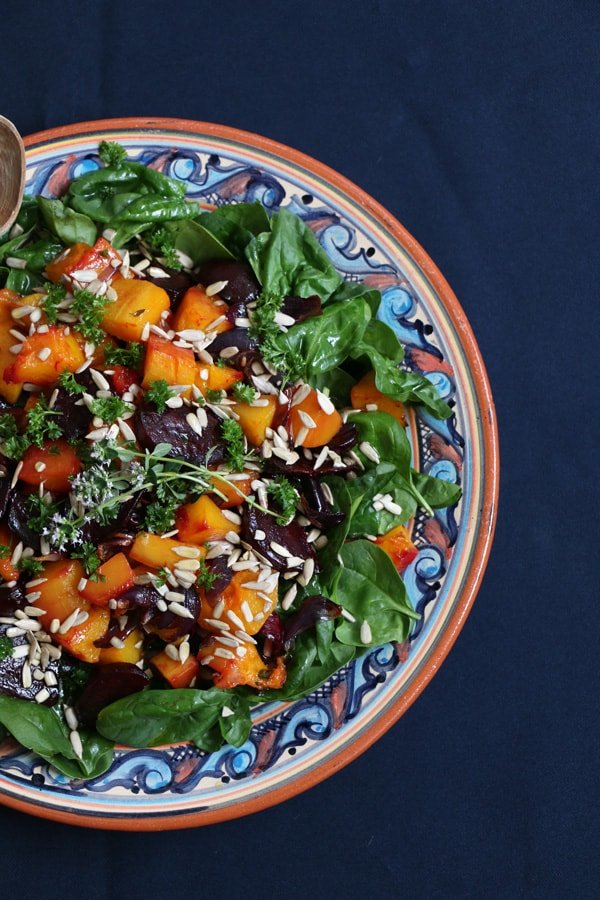 Similar Posts: