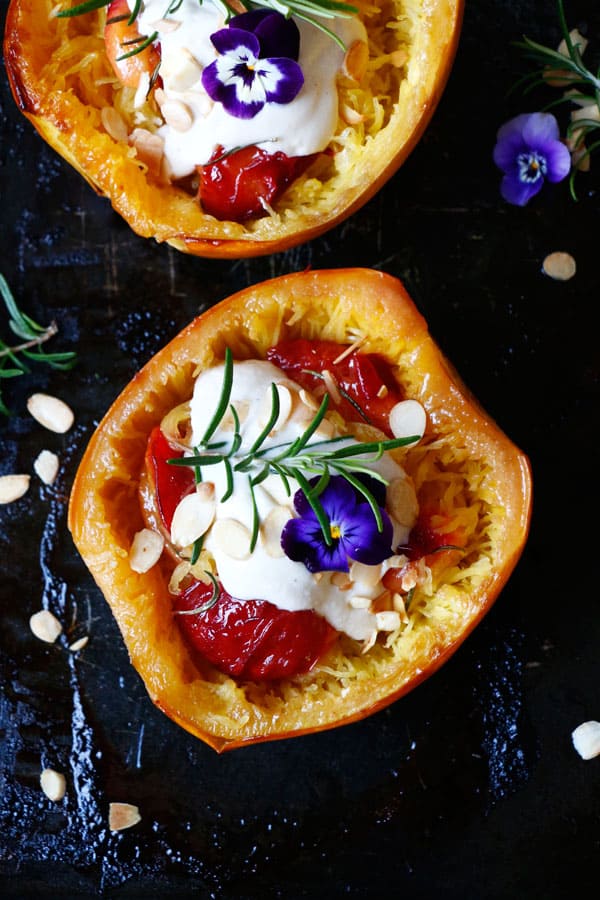 I came home on Saturday from my favourite Farmers market with a gorgeous yellow spaghetti squash, plenty of plums and head full of ideas what I'm going to do with them. Not that these two were ever supposed to be in a dish together, but somehow ended up together and are so perfect for each other. Familiar story?
Spaghetti squash has the most delicate flavour and subtle sweetness to it and I love how it pairs up with the plums and cashew sauce. With the hints of rosemary and cardamom, I know it's pretty unusual combination, but it just works. I can't decide whether to place this meal into lunch or dessert category and so I leave the choice to you, but you're going to have to try it first:)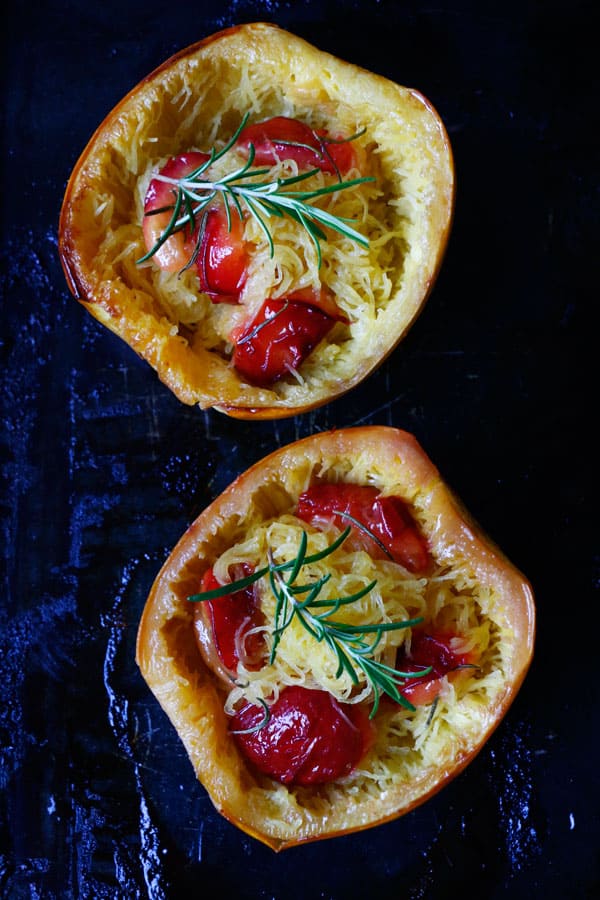 This is a very simple dish to prepare, very seasonal and open to your own interpretation. The veggie fruit combination is inspired by my Squash Tagliatelle with Blackberry Thyme Sauce using two seasonal ingredients and combining them in a new fun way. The dish is straight forward to make and I think it would make a lovely addition to a more special lunch or dinner. Use quite a bit of plums to mix in with the squash spaghetti, it's really lovely. I've served this straight inside the squash, no plates needed. Enjoy:) x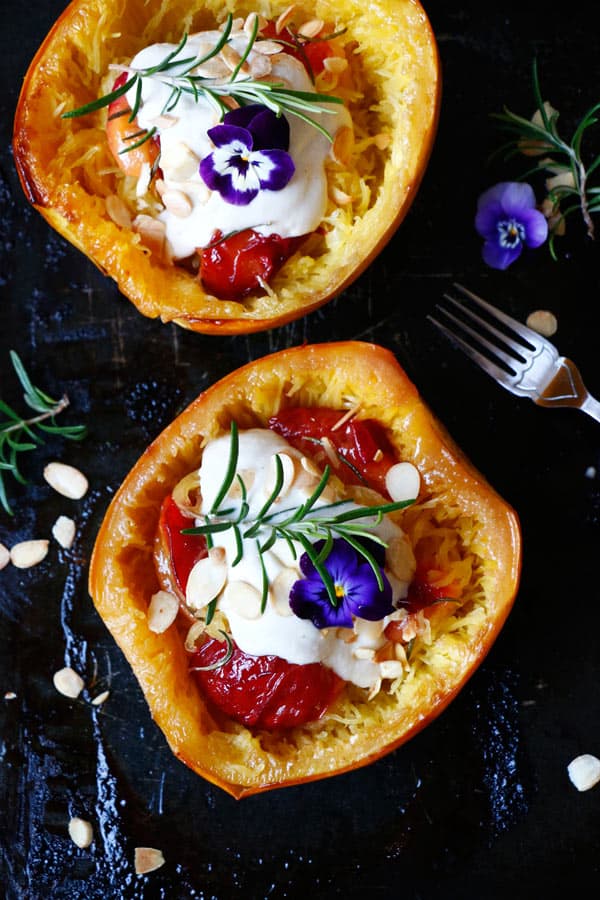 Yield: 2-4 servings
Roasted Spaghetti Squash with Plums and Cashew Sauce (grain-free & vegan)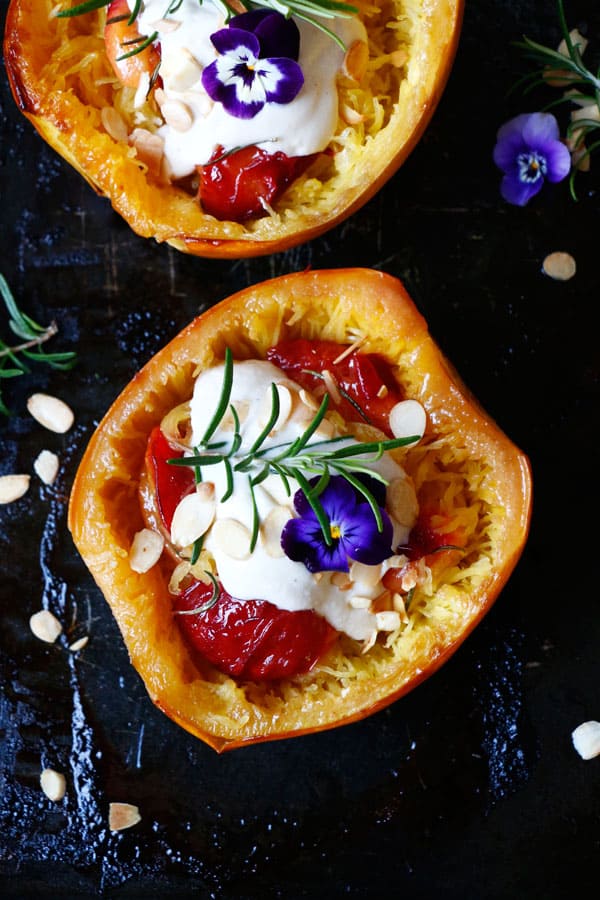 Ingredients
1 medium spaghetti squash
6-8 medium plums
1tbsp olive oil
1/2tbsp maple syrup
sea salt
3 rosemary sprigs
Cashew sauce:
1 cup cashews, soaked for 3 hours
pinch sea salt
good pinch cardamom
1tbsp maple syrup
1/4tsp vanilla
3/4 cup almond milk
Toasted flaked almonds for topping
Instructions
Preheat the oven to 200°C (180°C fan)
Carefully trim spaghetti squash on each end and cut into half. Scrape out the seeds with a spoon. Brush the edges with a little olive oil and place cut size down onto a baking sheet. Bake for 30-40 minutes until the flesh is soft when pierced with a fork.
Cut the plums in half and place facing up onto baking dish. Drizzle with a little olive oil, maple syrup and sprinkle of sea salt. Place rosemary sprigs around and bake for about 15 minutes until slightly toasted.
While everything is roasting prepare the cashew sauce. Rinse well and drain the cashews. Place all of the ingredients into high speed blender, but save a 1/4 cup of almond milk to add later. Blend until smooth and add the rest of the almond milk until you achieve desired consistency.
Once the spaghetti squash is soft, take a fork and gently pull the inside of the squash to create spaghetti like strands.
If you like to serve this dish inside the squash like me, top with roasted plums, cashew sauce and sprinkle of toasted flaked almonds.
Serve immediately.
Enjoy!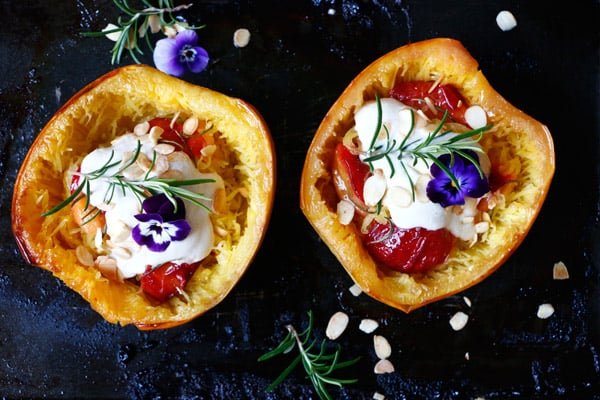 Similar Posts: