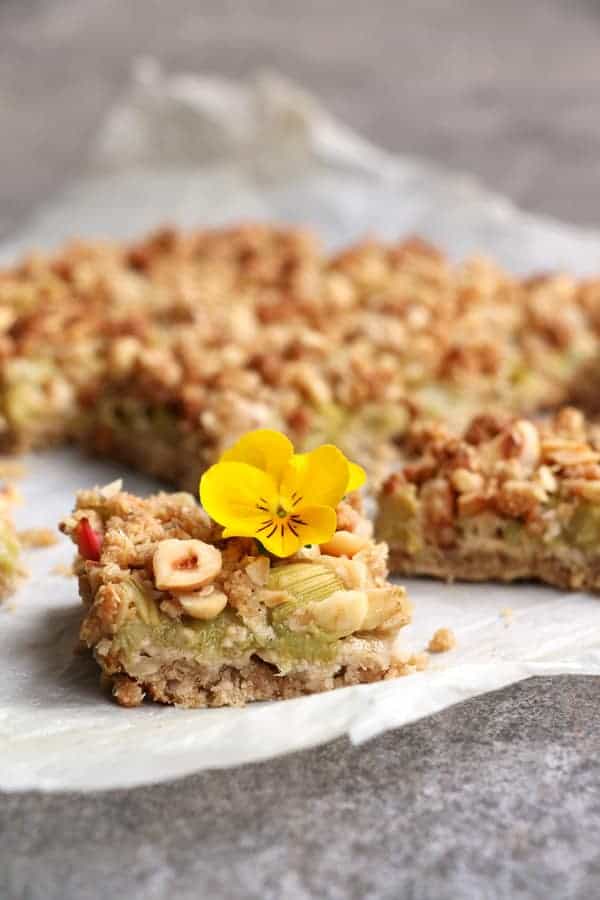 I couldn't be happier to find rhubarb back in season, oh those little pleasures. I got myself nice big bunch on the Farmer's market last Saturday and look what happened, Rhubarb Hazelnut Crumb Bars! And they are good, they are really good and pretty wholesome too. Rhubarb and hazelnuts are the stars in this recipe complimented with buckwheat, coconut, oats, cinnamon, cardamom and maple syrup.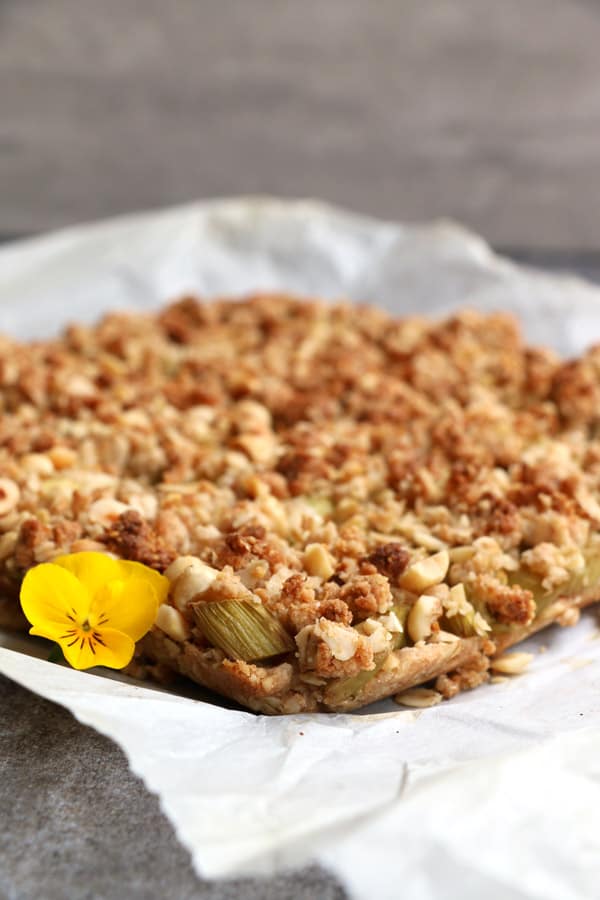 I wanted this recipe to be very simple and quick to make, I layered few ingredients to get the right balance of flavours and sweetness, but kept it fairly simple. Even though rhubarb can be a little sour, it doesn't need to be over sweetened and I kept the sweeteners to a minimum. Do use gluten-free oats where necessary, you could substitute hazelnuts with almonds if you prefer, that combination would be lovely too. Bake the bars slowly so the rhubarb has time to cook and the base is nicely baked. Enjoy:)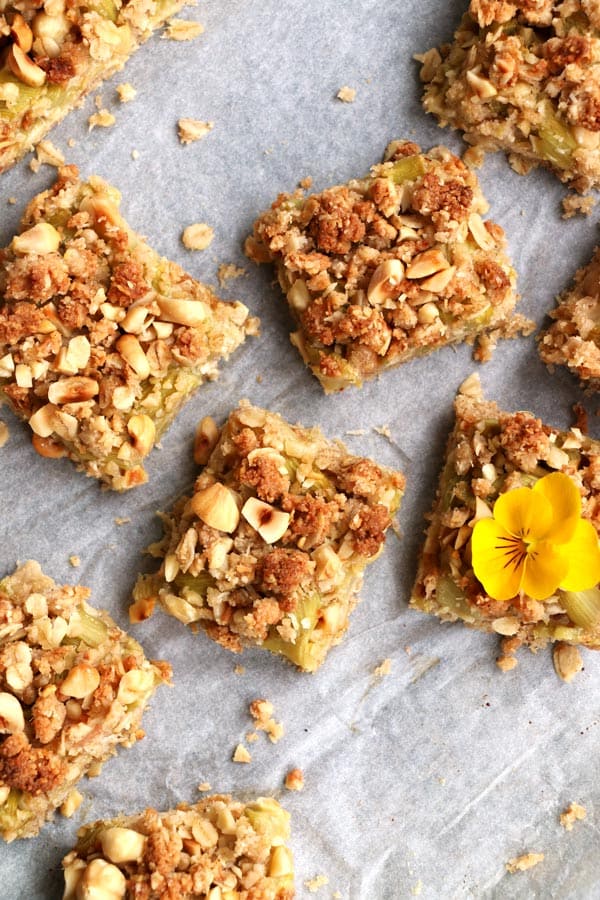 Yield: 16 bars
Rhubarb Hazelnut Crumb Bars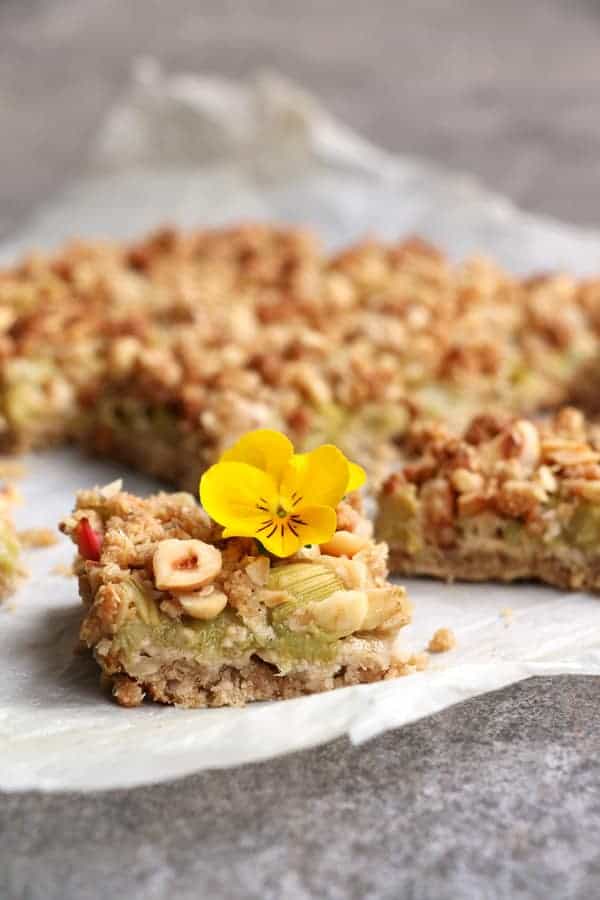 Ingredients
320g rhubarb, peeled and cut into 1/2" small pieces (3 cups)
1tbsp coconut sugar
100g ground hazelnuts (1 cup)
70g buckwheat flour (1/2 cup)
50g desiccated coconut (1/2 cup)
50g gluten-free oats (1/2 cup)
1tsp cinnamon
1/2tsp cardamom
pinch sea salt
80ml coconut oil, melted (1/3 cup)
60ml maple syrup (1/4 cup)
Crumb topping:
40g hazelnuts (1/4 cup)
+1/4 mixture
Instructions
Preheat the oven to 180°C (160°C fan)
Line 9"x 9" square baking dish with baking paper.
Peel and cut rhubarb into 1/2" small pieces, place into a bowl and toss with 1tbsp of coconut sugar, set aside.
Roughly chop the hazelnuts for the crumb topping and set aside.
In a large bowl whisk together ground hazelnuts, buckwheat flour, desiccated coconut, oats, cinnamon, cardamom and sea salt and set aside.
Gently melt the coconut oil and add with maple syrup to the dry mix. Mix everything well together, you should have a sticky mixture.
Spoon 3/4 of a mixture into your baking dish and press tightly down to make the base.
Arrange rhubarb evenly on top.
Add chopped hazelnuts to the remaining mix and crumble on top of the rhubarb.
Place into the oven and bake for about 40 minutes until browned on top.
Leave to cool down completely before cutting into 16 bars.
Enjoy!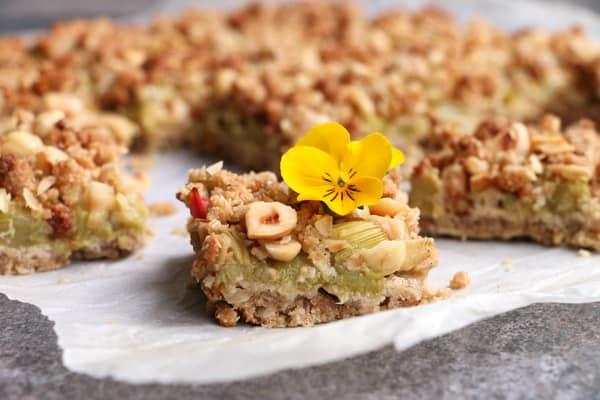 Similar Posts: