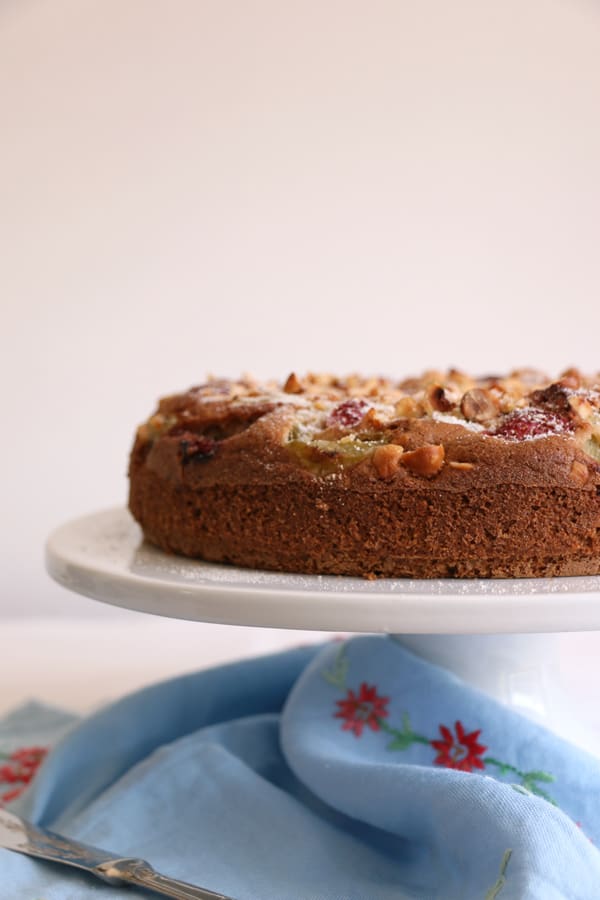 As promised here is another rhubarb recipe for you – Gluten Free Rhubarb and Strawberry Hazelnut Cake. Rhubarb is still in season this month and to make the most of this beautiful plant I'm combining it with strawberries to create this delicious cake. I've played a bit with the flavours and combined lots of wholefood ingredients to create a lovely gluten-free mix that works beautifully in this cake.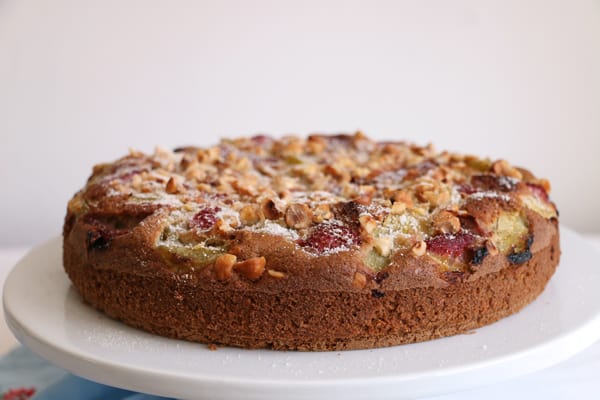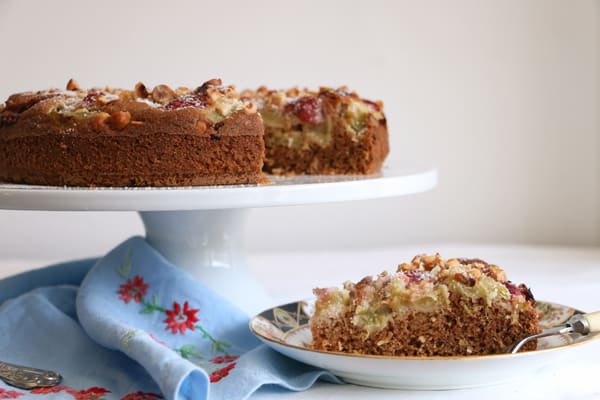 If you prefer you could make the topping entirely with rhubarb, but I think with just a few strawberries mixed in, it creates an even better combination as rhubarb and strawberries really do compliment each other.
I have adapted this cake from two different recipes; my Apple and Blueberry Cake and Rhubarb, Candied Hazelnut and Buckwheat Cake from my favourite baking book Wholefood Baking by Jude Blereau. The result is a beautifully delicious gluten-free cake full of flavour and uniqueness. Must try!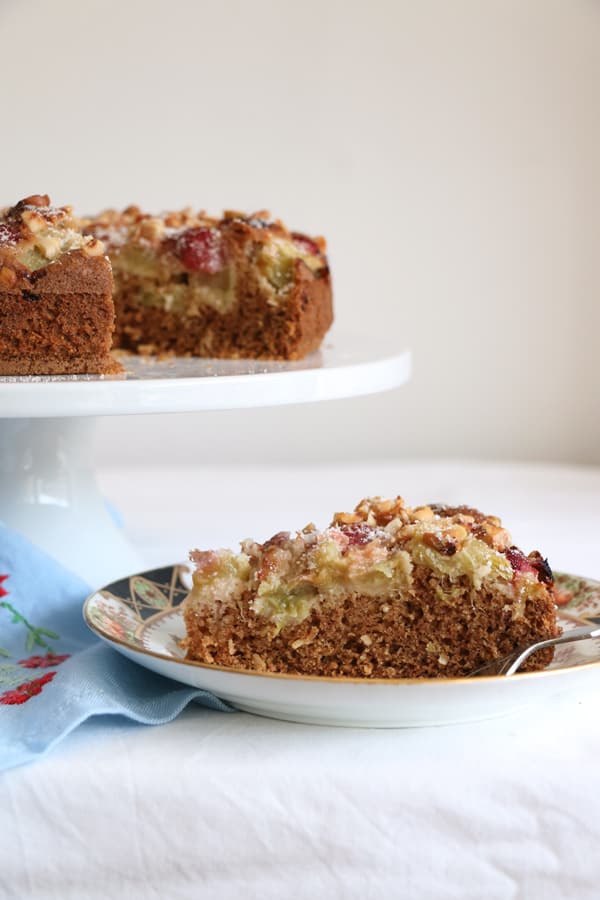 Rhubarb and Strawberry Hazelnut Cake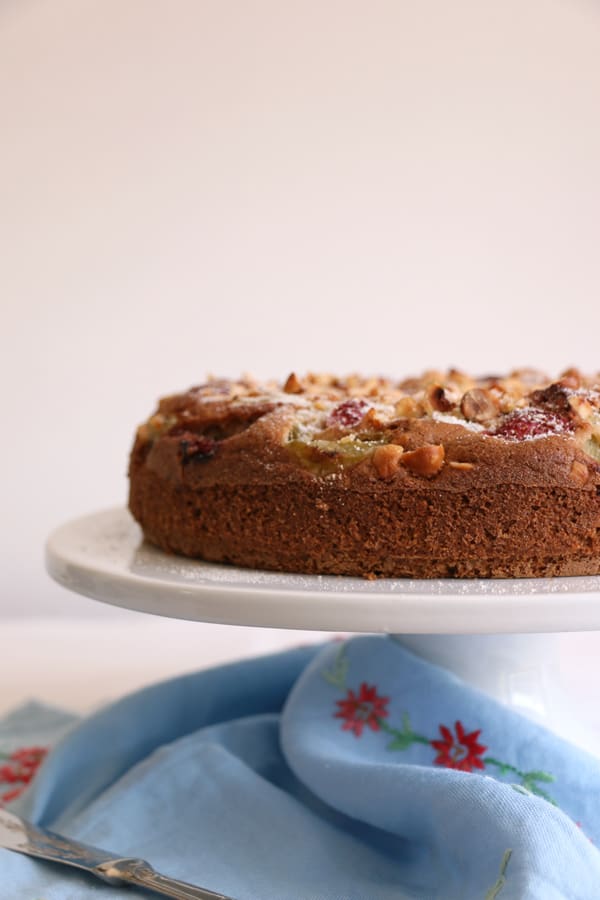 Ingredients
300g rhubarb, peeled and cut into 1,5-2cm small pieces (3 cups)
100g strawberries, quartered (1 cup)
1tbsp maple syrup
140g buckwheat flour (1 cup)
30g arrowroot (1/4 cup)
70g hazelnuts, ground (1/2 cup)
50g desiccated coconut (1/2 cup)
1tsp baking powder
1tsp bicarbonate of soda
pinch of sea salt
2 eggs
120ml maple syrup (1/2 cup)
120ml olive oil (1/2 cup)
1tsp vanilla
30g hazelnuts for topping, roughly chopped (1/4 cup)
Instructions
Preheat the oven to 200°C (180°C fan)
Grease and line 9" round spring form cake baking tin.
Place your peeled and sliced rhubarb into a bowl and toss with 1tbsp of maple syrup, set aside.
Wash and cut the strawberries into quarters and set aside.
Roughly chop 30g of hazelnuts for the topping and set aside.
In a bowl whisk together buckwheat flour, arrowroot, ground hazelnuts, desiccated coconut, baking powder, bicarbonate of soda and salt and set aside.
In a electric hand or stand up mixer whisk the eggs and maple syrup for about 5 min, add the olive oil and vanilla and mix for 2 more min.
Add the dry ingredients to the mixture and mix until combined.
Spoon the mixture into your prepared tin and level the surface.
Arrange the rhubarb on top followed by strawberries and top with chopped hazelnuts.
Bake for about 50 min or until a cocktail stick comes out clean.
Remove from the oven once ready and leave to cool down for 30 min before removing from the tin.
Place on a cake stand and enjoy!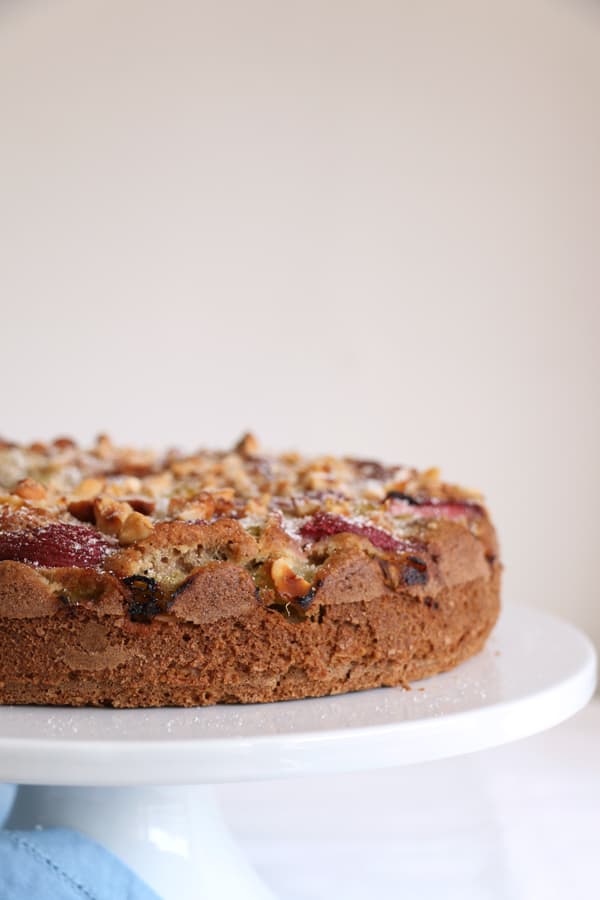 Similar Posts: