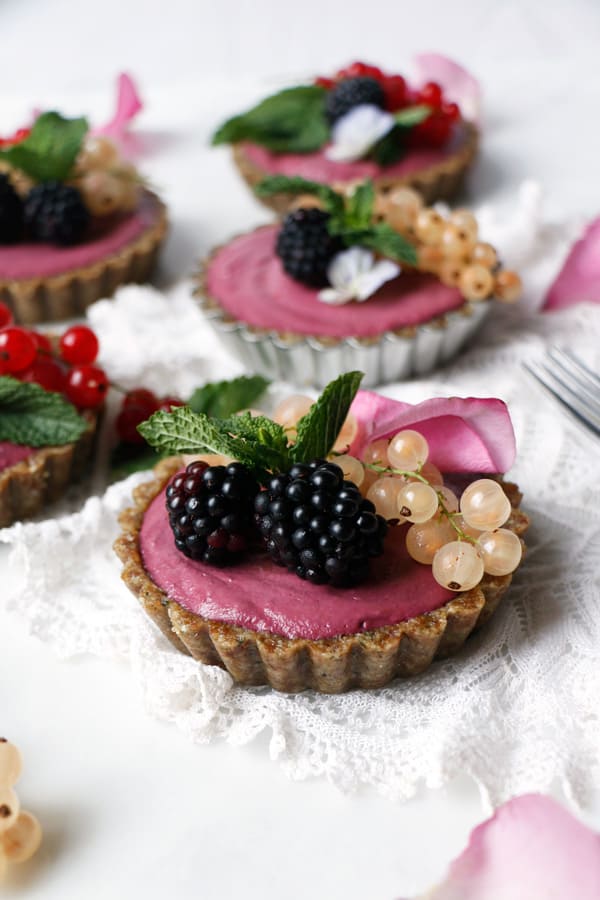 It's without a doubt the hottest summer I ever remember since living in London, long gone is the English weather, which I have to say I'm starting to miss along with the green grass.
And so it's another chilled recipe for you today – Raw Vegan Blackberry Tarts with a simple almond pumpkin hemp seed crust and cashew based berry filling.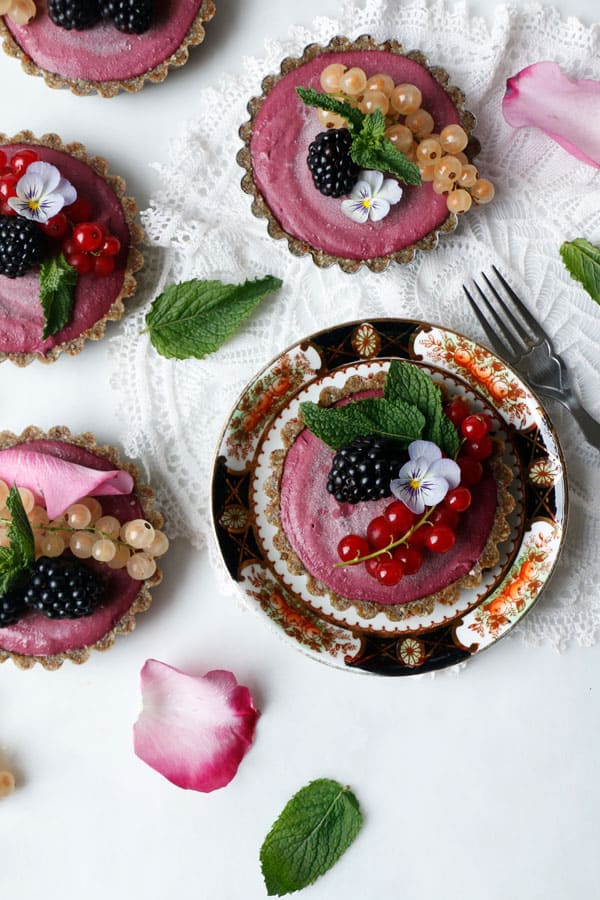 Originally I've made these with a walnut cardamom crust, but I just can't decide whether walnuts go with blackberries and so I've changed the recipe to almonds. Feel free to replace and adapt the crust to your liking. Some of you might not like the hemp seeds so just replace them with more almonds.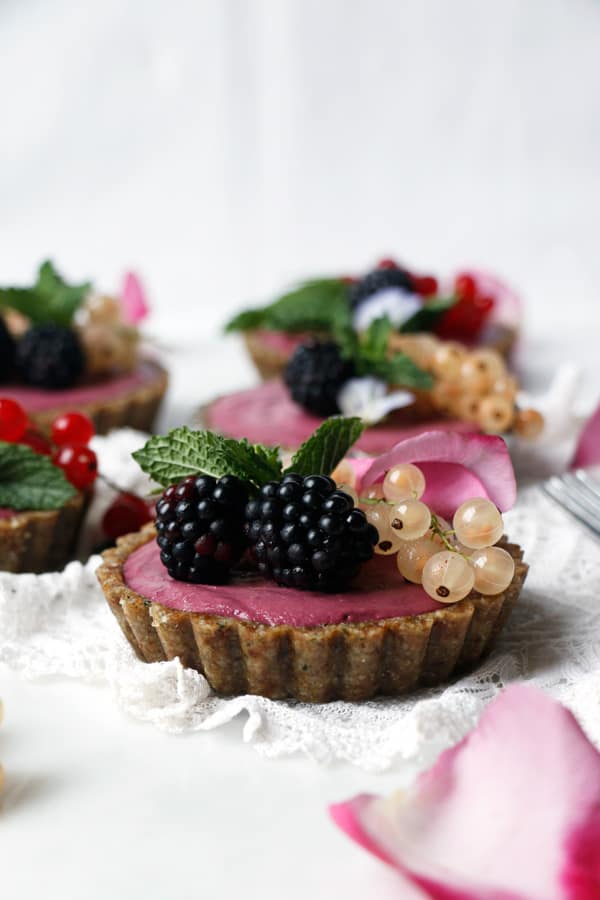 Filling is my usual berries-cashew-coconut butter, at the moment, my favourite combo that is full of flavour and keeps really well stored in fridge too. Also very adaptable and you can replace the blackberries with other berries or combination of different seasonal fruit. Using blackberries creates beautiful rich deep pink colour which develops even more when stored couple of days in freezer.
I love making these little tarts, they always look so pretty, special and perfect for any occasion. Enjoy!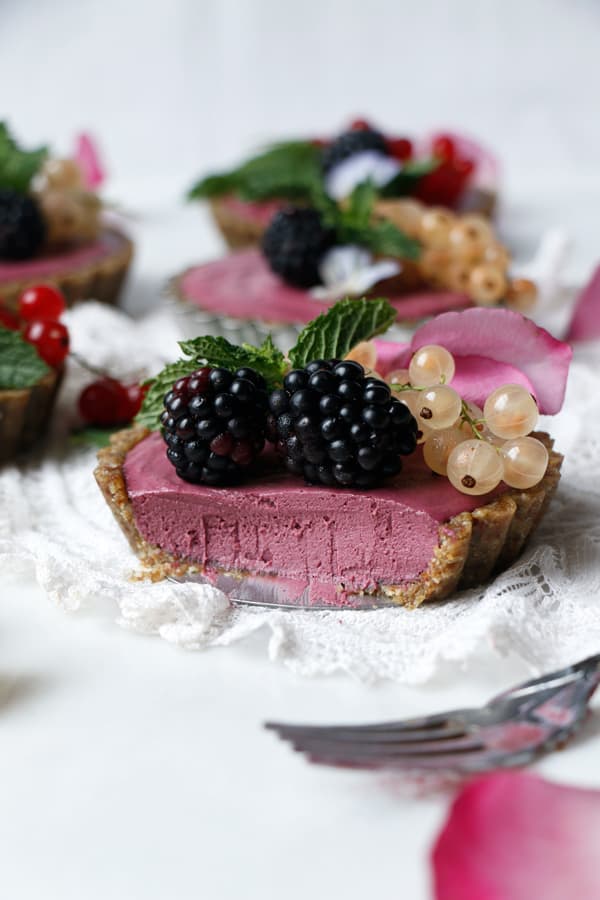 Yield: 6 tarts
Raw Vegan Blackberry Tarts (grain-free)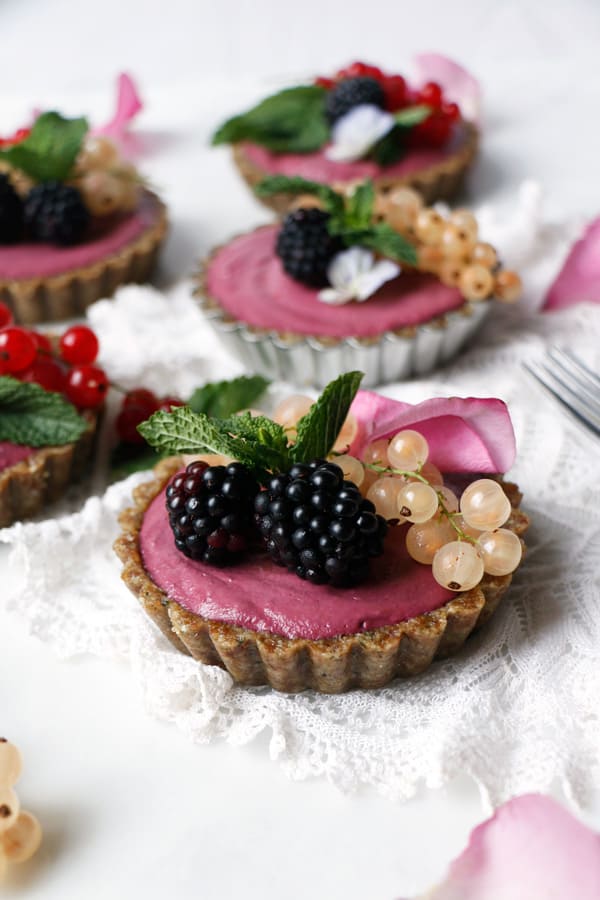 Ingredients
Tarts crust:
60g almonds (1/2 cup)
70g pumpkin seeds (1/2 cup)
40g shelled hemp seeds (1/3 cup)
½tsp cinnamon
pinch sea salt
6 medjool dates, pitted
1tsp maple syrup
Blackberry layer:
250g blackberries (2 cups)
120g cashews, soaked for 4 hours or overnight (1 cup)
½ lime, zest
½ lime, juice
60ml maple syrup (1/4 cup)
1tsp vanilla
100g coconut butter (1/2 cup)
2tbsp coconut oil
Topping:
fresh blackberries or other seasonal berries
fresh mint
Instructions
Place almonds and pumpkin seeds into food processor or blender and pulse few times until they are coarsely ground. Add hemp seeds, cinnamon, sea salt and pitted dates and blend until the mixture starts coming together when pressed. Add maple syrup if needed and blend until the mixture sticks together.
Spoon the mix evenly into the six tart tins. Press tightly onto the base and the sides to form a crust. Place into a fridge.
In a double boiler gently melt coconut butter with coconut oil and set aside.
Rinse the soaked cashews under running water and place into high speed blender. Add blackberries, lime zest, juice, maple syrup and vanilla and blend until smooth. Slowly add melted coconut butter and blend until incorporated. Make sure the mixture is at room temperature before adding the coconut butter.
Spoon the mixture evenly into each tart and smooth out the top. Give the tarts a tap couple of times if necessary. Place into a freezer for about 2 hours or overnight to set.
Once set carefully remove from the tart tins, top with fresh berries and some fresh mint. Leave to thaw before serving, but serve chilled.
Store in fridge or freezer.
Enjoy!
Notes
I've used 6 small 10cm tart tins with removable base in this recipe.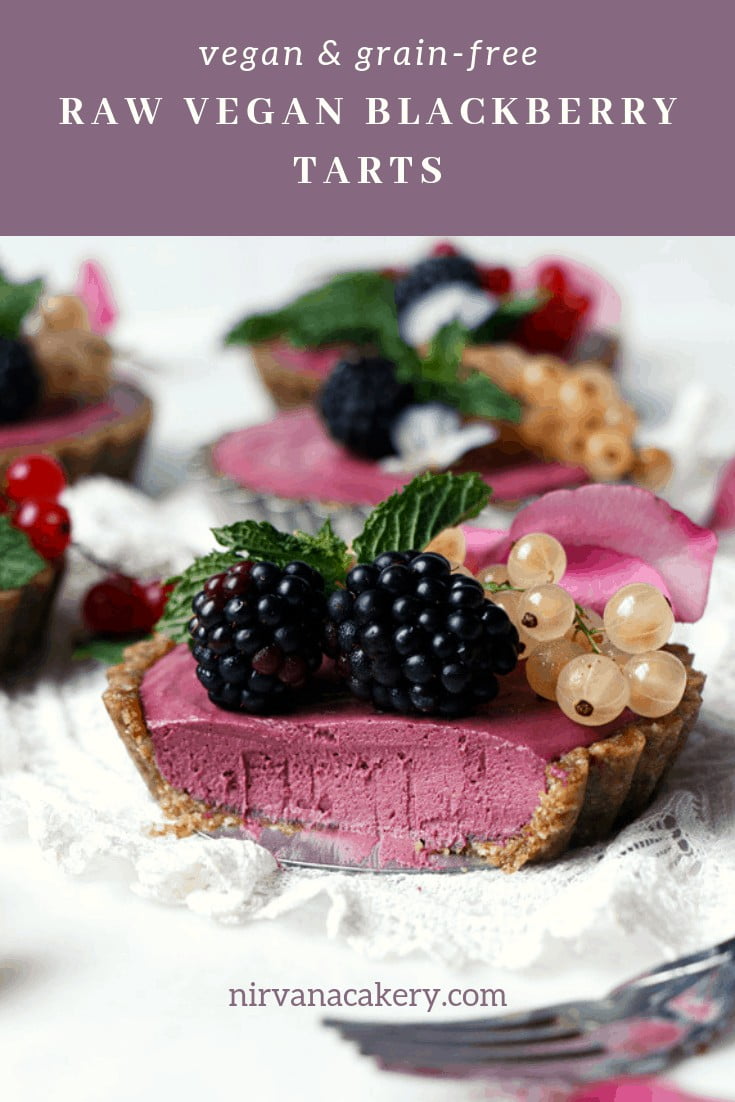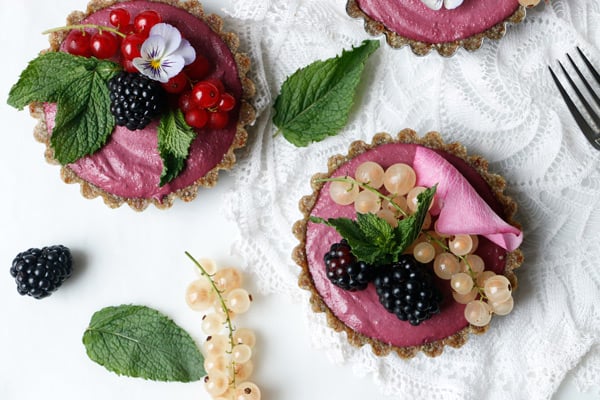 Similar Posts: