Looks like I'm continuing with the berry stripy team today in this Raw Buckwheat Porridge with Berries. I promise something very green coming up next time! I took these pictures at the same day as the pics for my Raspberry White Chocolate Bars so I suppose they have a similar look going on. Pretty and girly to nourish our feminine side:)
I am a big fan of buckwheat and this Raw Buckwheat Porridge with Berries is my ideal breakfast during the warmer months. It's simple, quick, refreshing, healthy and really delicious. I'm in love.
You have to be a little organized and soak the buckwheat groats overnight in some water with acidic medium like apple cider vinegar or lemon juice. But in the morning, it's like making a smoothie, all you have to do is whizz it all together in your blender. I've used frozen blueberries in the recipe, they keep the porridge nice, cool and refreshing. You can use any berries you have on hand or the ones that you love. Top with fresh berries, flaked coconut, raw cacao nibs or your favourite porridge topping. Enjoy:) x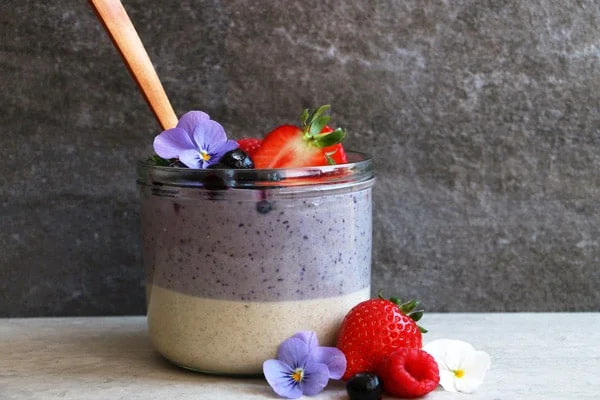 Yield: 2 servings
Raw Buckwheat Porridge with Berries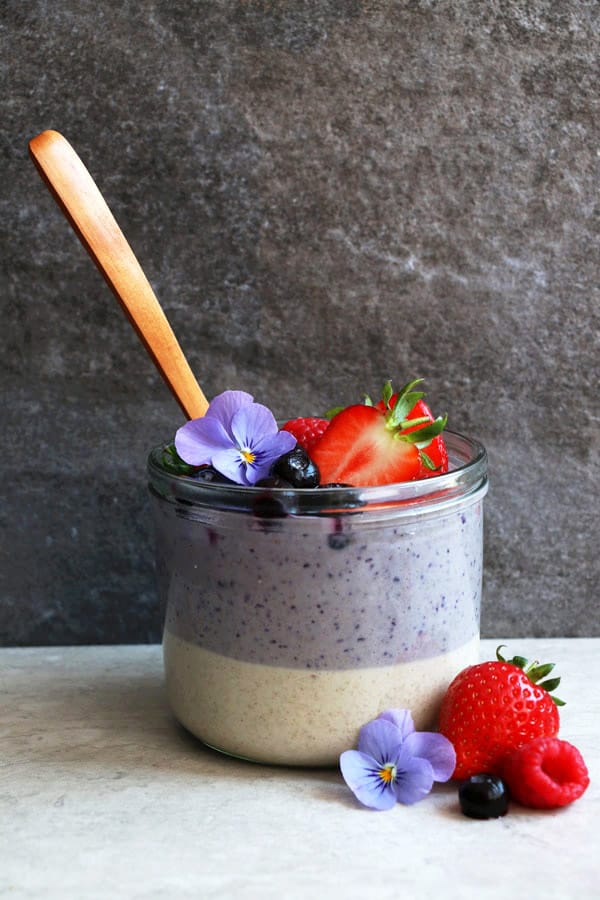 Ingredients
160g buckwheat groats, soaked overnight (1 cup)
1 medjool date
1/2tsp cinnamon
pinch of sea salt
120ml almond milk (1/2 cup)
80g frozen blueberries (1/2 cup)
Topping:
Instructions
Place buckwheat groats into a ceramic or glass bowl, cover with plenty of water and splash of apple cider vinegar and leave to soak overnight.
In the morning rinse buckwheat under plenty of running water and place into blender. Add medjool date, cinnamon, sea salt and almond milk and blend until you have smooth thick consistency.
Pour half of the amount into serving glasses.
Add blueberries to the rest and blend again. Pour or spoon on top of the first layer.
Top with more berries or your favourite toppings.
Enjoy!
Similar Posts: