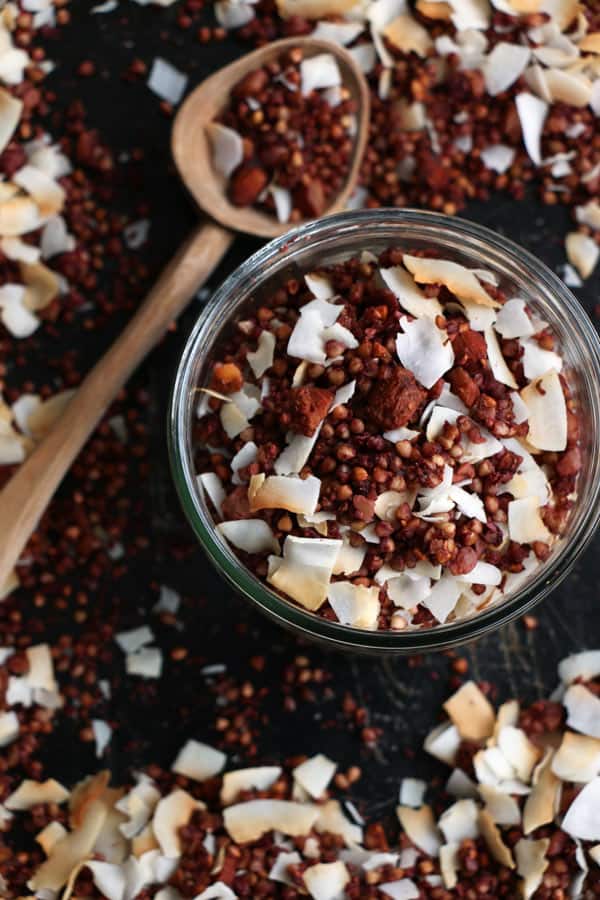 My son has a school holidays and we are spending few days away from the city on the Kent coast. When traveling I like to take breakfast with me and find that granola is the easiest. So today's post is all about granola, a healthy gluten-free version with buckwheat groats, almonds, raspberries and coconut. The raspberries give the granola lovely zingy taste and buckwheat makes it nice and crunchy, a granola with a little bit of a difference.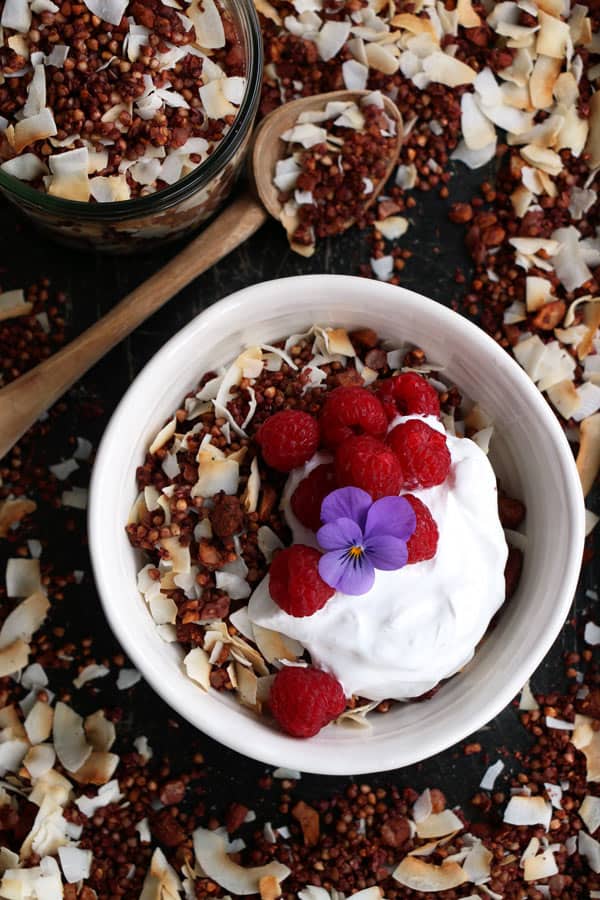 With the addition of raspberries this granola takes a little longer baking time than more traditional oat granola. The mix is fairly wet when it goes into the oven and will take up to an hour to bake. It will be ready once all the moisture has evaporated and the buckwheat is toasted, but not too hard. I've only used buckwheat in the granola, but you could mix in some oats as well if you prefer and even add some seeds. I didn't want to add much sweetener and if you like your granola more sweet, mix in some chopped dates at the end. Serve with some almond milk, coconut yogurt, fresh fruit, anything you fancy.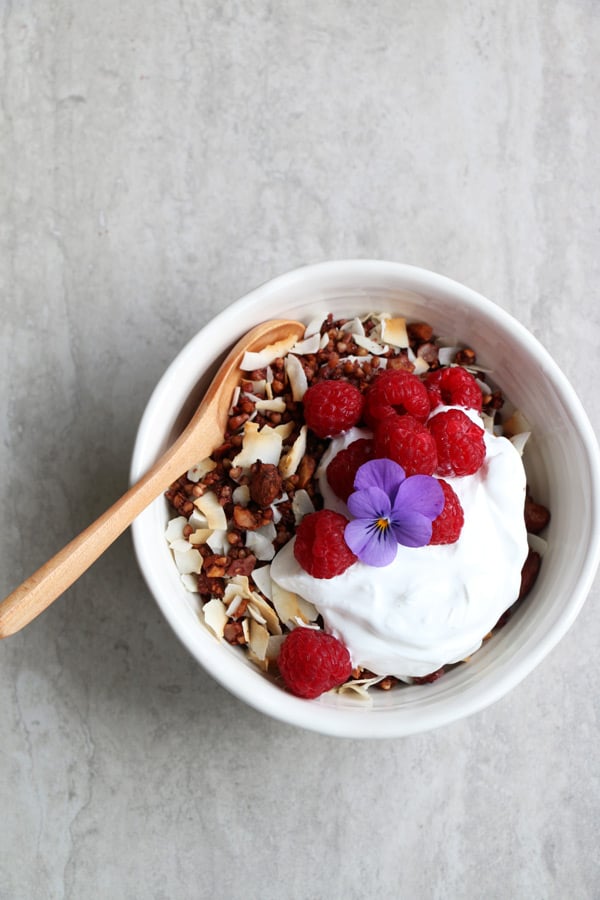 Raspberry, Coconut and Buckwheat Granola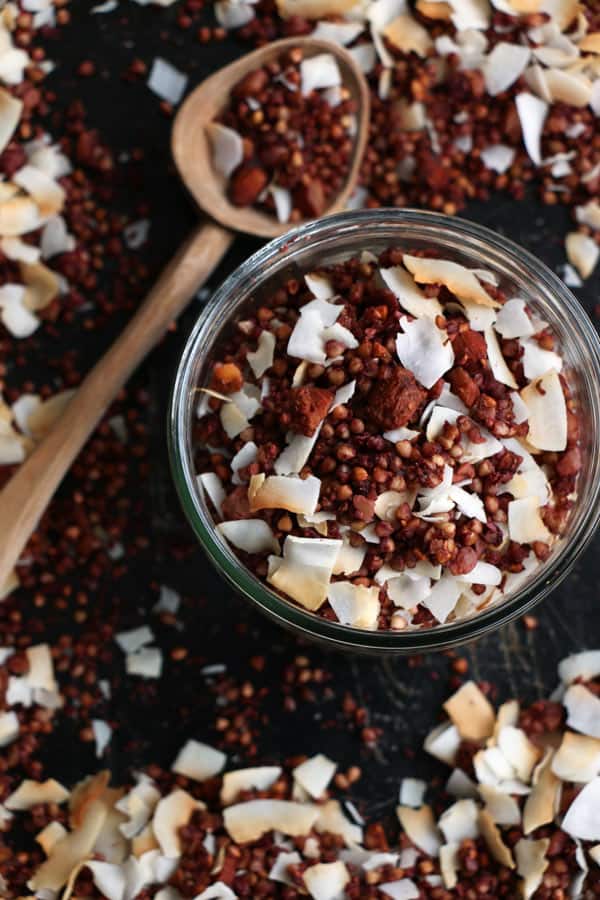 Ingredients
320g raw buckwheat (2 cups)
200g frozen raspberries (2 cups)
2tbsp maple syrup
1tbsp chia seeds
1tsp cinnamon
pinch of sea salt
60ml coconut oil, melted (1/4 cup)
140g almonds, chopped (1 cup)
100g flaked coconut (2 cups)
Instructions
Soak the buckwheat for 2 hours in plenty of water with a splash of apple cider vinegar.
Preheat the oven to 180°C (160°C fan)
Place the raspberries into a small pot and gently simmer for 5 to 10 minutes until soft and mushy. Take off the heat and stir in maple syrup, chia seeds, cinnamon and sea salt. Leave to sit for 10 minutes until the chia seeds swell up.
Rinse the soaked buckwheat under plenty of running water and drain well.
Place buckwheat, chopped almonds, raspberry mix and coconut oil into a large mixing bowl and mix together.
Spoon the mixture onto a baking tray and spread out evenly. It will be a wet mix and will take about an hour to bake.
Bake for 30 minutes, then stir.
Bake for further 15 minutes, stir and return to the oven for another 10 minutes.
After 55 minutes the granola should be pretty much ready. At this point stir in coconut flakes and return to the oven for 5 more minutes until the coconut flakes are toasted. The granola is ready once all the moisture has evaporated and buckwheat is nicely toasted, but not too hard.
Remove from the oven and leave to cool down.
Store in an airtight container.
Enjoy!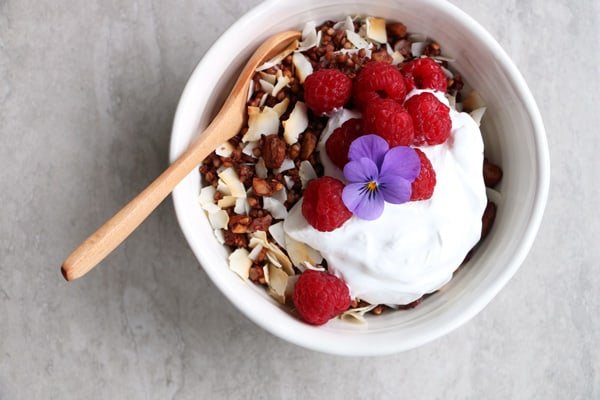 Similar Posts: