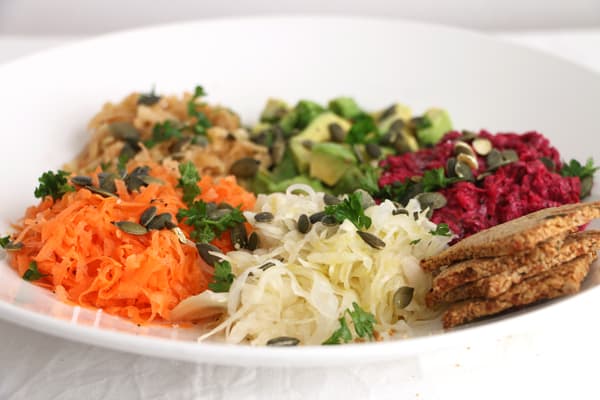 This lovely colourful Rainbow Salad is to expand on my Simple Beetroot Dip post from last week. When it comes to lunch for myself I want something simple, quick to prepare, filling and healthy. This surprisingly filling salad just fits the bill and I often have it for lunch. It's really easily adaptable to your needs, it really is just an idea, so you can do one that includes all of your favourite foods. I always have all these ingredients in my house, so it's easy for me to throw it together. The salad is filling enough, but if you like you could accompany the salad with my Parsnip and Thyme Grain Free Crackers.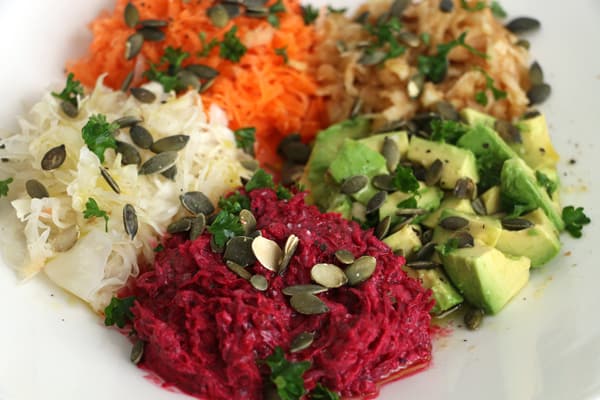 Recently there has been a lot of talk about benefits of fermented foods and it's wonderful to include at least one portion of fermented foods with your meals daily. I come from a country where we eat a lot of sauerkraut and my family has always been making one at home. Since living abroad I haven't been including sauerkraut in my diet and I am just starting to learn how to make homemade sauerkraut again. For this salad I have used shop bought raw sauerkraut from Raw Health that I really like the flavour of. If you want all the benefits from sauerkraut look for the raw unpasteurized version in the refrigerated section of your store.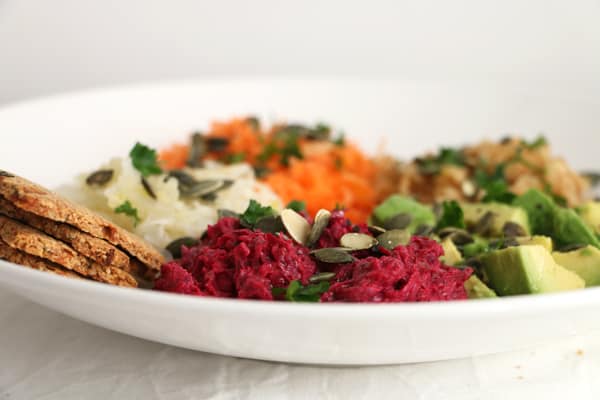 Yield: 1-2 portions
Rainbow Salad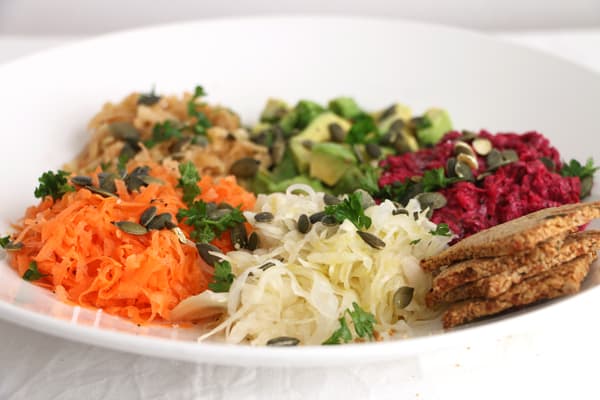 Ingredients
1 beetroot dip
1 medium carrot, peeled and grated
1 apple, peeled and grated
3 heeped tbsp of sauerkraut or finely sliced cabbage
1 avocado, chopped into cubes
sea salt
black pepper
lemon juice
extra virgin olive oil
pumpkin seeds
parsley to garnish
Instructions
First prepare your beetroot dip.
Peel and grate the carrot.
Peel, core and grate the apple.
Chop the avocado.
Finely slice the cabbage if using.
Arrange everything on the plate.
Season with salt and freshly ground pepper.
Squeeze lemon juice over.
Drizzle with good amount of olive oil.
Top with pumpkin seeds and chopped fresh parsley.
Enjoy!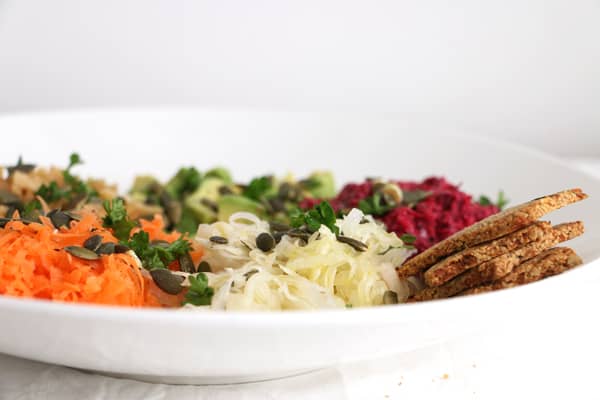 Similar Posts: