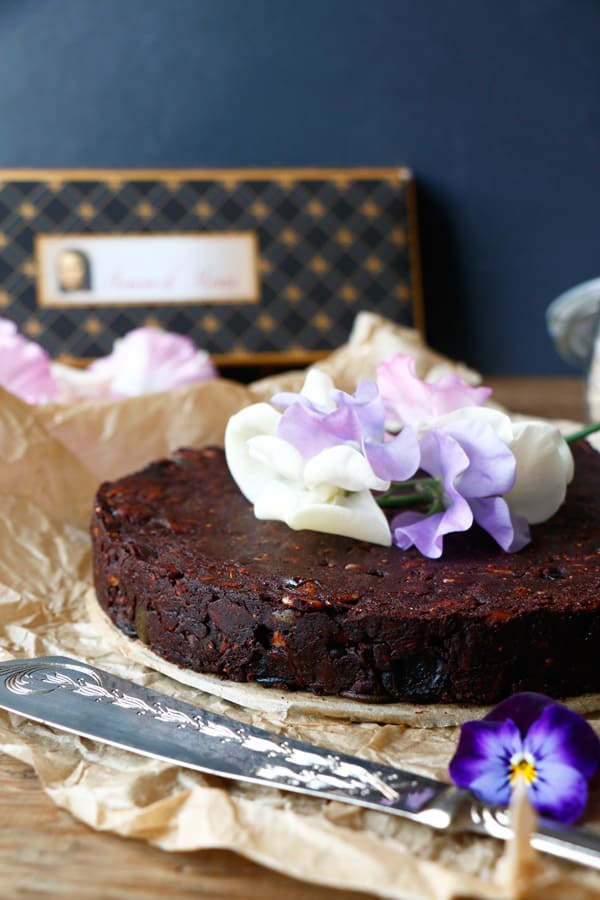 Special thank you to Amore di Mona for sponsoring this post.
Today I have another traditional recipe with a twist, a Nut-Free Chocolate Panforte. Panforte is a traditional chewy Italian dessert containing fruits and nuts dating back to 13th century. In the original recipe dried fruits, nuts and spices are mixed together with flour, sugar and honey and then baked in a shallow pan.
To make this recipe vegan, gluten-free and nut-free I've used a mix of sunflower seeds, pumpkin seeds, dried figs and sour cherries. To this I've added my favourite spices – cinnamon, cardamom and cayenne, little bit of brown rice flour, a mix of rapadura sugar and maple syrup and melted dark chocolate.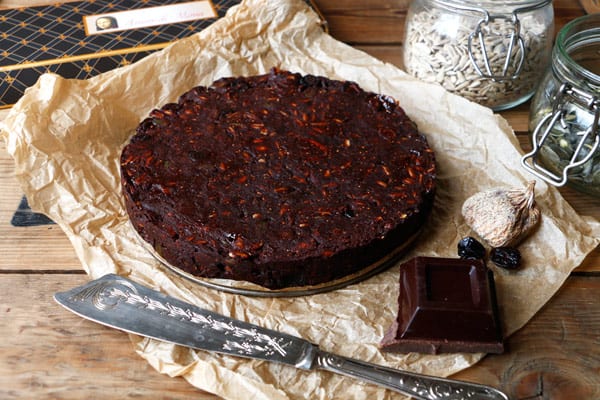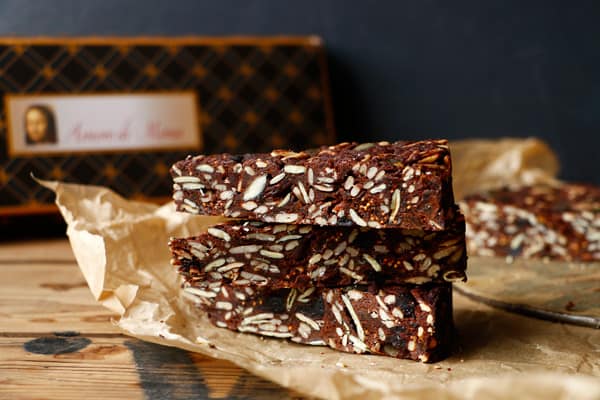 Traditionally Panforte contains fairly large amount of sugar and honey and because I'm using chocolate I was able to reduce the sugar to a minimum, just enough to help with the structure without overpowering the rest of the ingredients.
It's a simple recipe to make and you could easily add your own spin to it – different dried fruits, seeds, nuts or spices. I've made two versions, one more fruity and chewy and one more seedy and denser. I've had few testers for this recipe and they all love different version, so I'm including the second version in notes in case you would like more choice.
I've created this recipe for my collaboration with Amore di Mona vegan allergy friendly chocolate. Their chocolate is rich, luxurious and the results are truly amazing. Enjoy the recipe :)
Yield: 8" cake
Nut-Free Chocolate Panforte (gluten-free & vegan)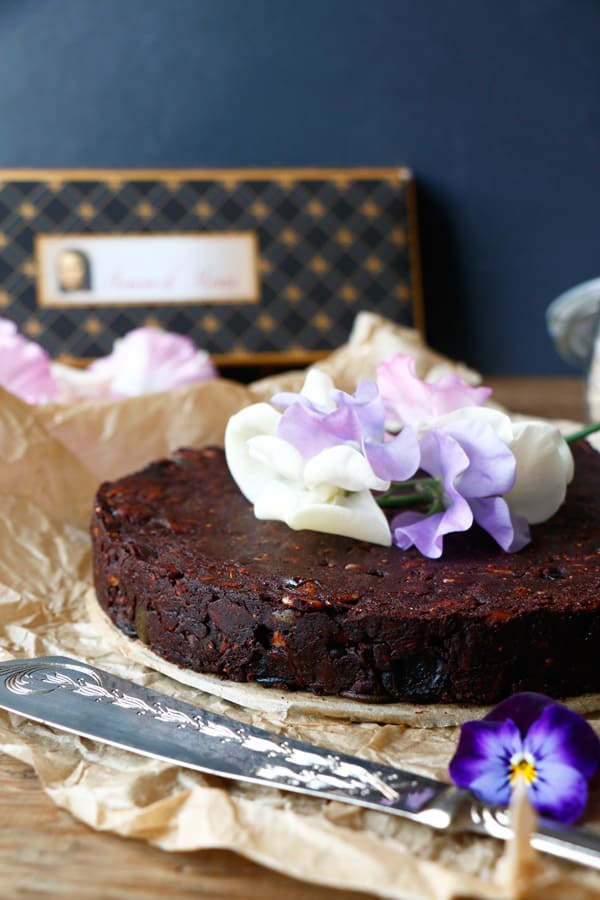 Ingredients
80g sunflower seeds (3/4 cup)
80g pumpkin seeds (3/4 cup)
80g dried sour cherries (1/2 cup)
130g dried figs, about 7 large figs (1 cup)
70g brown rice flour (1/2 cup)
1tsp cinnamon
1/2tsp cardamom
pinch cayenne
40g rapadura sugar (1/4 cup)
60ml maple syrup (1/4 cup)
170g bulk chocolate (3 cubes) or dark vegan chocolate (6oz)
Instructions
Preheat the oven to 160°C (320F)
Line the base and sides of 8" spring form round cake tin with baking paper.
Place sunflower seeds and pumpkin seeds into a large bowl.
Roughly chop the cherries, slice the figs and add to the bowl with seeds.
In a small bowl whisk the brown rice flour with cinnamon, cardamom and cayenne and add into the seed fruit mix. Mix well and set aside.
Roughly chop the chocolate, place into a bowl and melt in a double boiler.
In a small pot on a low heat gently warm sugar, maple syrup and 1tbsp of water just until dissolved, it only takes a minute.
Stir melted chocolate and warmed sugar mix into the dry mix and mix thoroughly. It will be a thick mix.
Spoon the mix into the prepared tin, level out the surface and press the mix tightly down. It takes a bit of time so have patience with it.
Place the tin on top of a baking tray before placing into the oven as it might leak through the base.
Bake for about 35 minutes until the top is set. Once ready the surface will stop being glossy.
Remove from the oven and leave to completely cool down in the tin.
Remove from the tin and with a very sharp knife slice into triangles.
Notes
For more dense seedy texture use 120g (1 cup) sunflower seeds and 80g (1/2 cup) dried figs.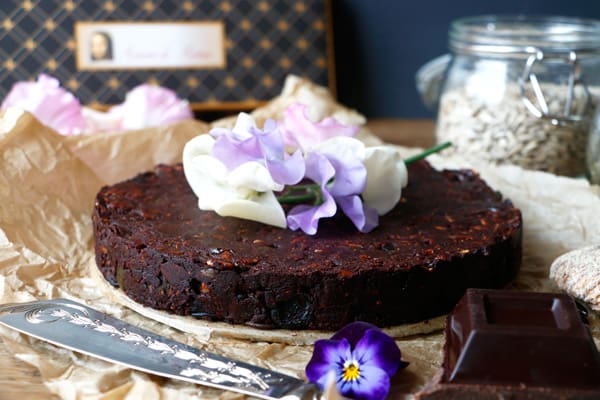 Similar Posts: