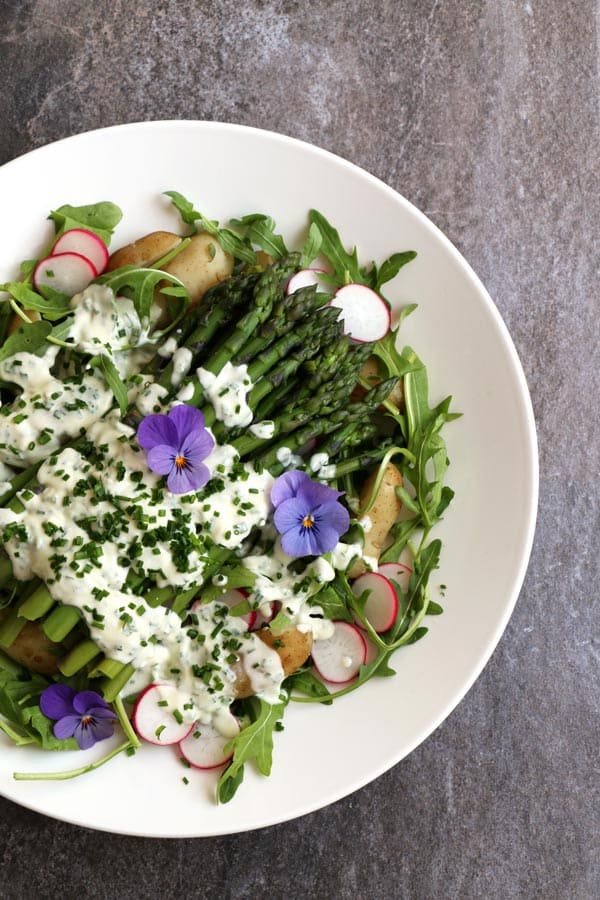 I'm keeping it very seasonal today in this New Potato Asparagus Salad with Coconut Yogurt and Chive Dressing recipe. May is here and there is now more variety of veggies available locally which makes cooking so much more fun. This seasonal salad is made with a mix of new potatoes, asparagus, radishes and rocket leaves all drizzled with delicious coconut yogurt and chive dressing. I've always loved potato and sour cream combination and so I wanted to recreate a dairy-free version that I could enjoy. Coconut yogurt makes an excellent salad dressing and together with chives is so perfect for this salad.
It's a simple dish to make and you can throw this together in 30 minutes. Steam or boil the potatoes, then toss them with fresh rocket leaves and sliced radishes, top with blanched asparagus and drizzle with the dressing. The coconut dressing is super simple and you can make it to the consistency that you like by adding more or less water. I couldn't decide whether to add garlic to the dressing or not and if you love garlic do feel free to add some crushed garlic in too. Enjoy!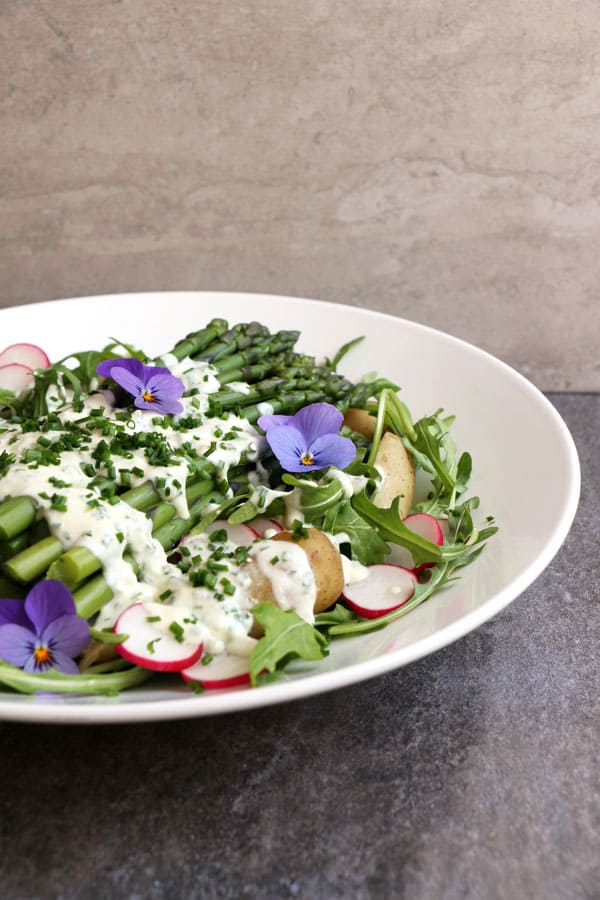 Yield: 3-4 servings
New Potato Asparagus Salad with Coconut Yogurt and Chive Dressing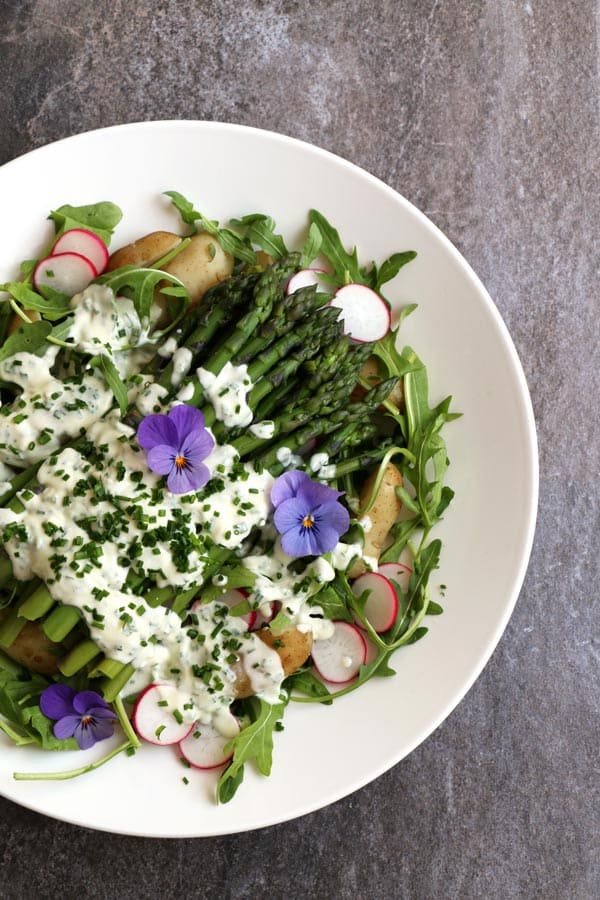 Ingredients
500g new potatoes (1lb)
450g asparagus, 1 medium bunch
50g rocket (arugula), 2 handfuls
6 radishes, sliced
Coconut yoghurt chive dressing:
125g coconut yoghurt (1/2 cup)
3tbsp chopped chives
1tbsp olive oil
1tbsp lemon juice
sea salt & pepper
2-3tbsp water
extra chives to serve
Instructions
Wash the potatoes and boil or steam for about 15 minutes until soft. Leave to cool down.
Prepare the asparagus by snapping each of the asparagus stalk discarding the woody bits. To blanch the asparagus, bring pot of water to boil, add asparagus, cover and boil for 2 min. Rinse under cold water and set aside.
To make the dressing simply add all of the ingredients into bowl and whisk until combined. Add water tbsp by tbsp to achieve desired consistency.
When the potatoes have cooled down, slice each into half. Place onto serving platter and toss them with rocket leaves and sliced radishes.
Place asparagus on top, drizzle with dressing and sprinkle with more chopped chives.
Enjoy!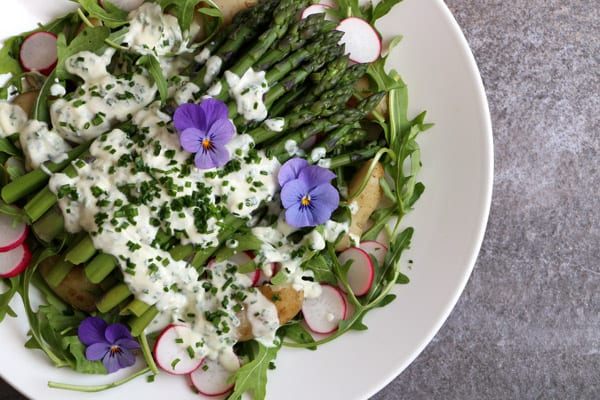 Similar Posts: