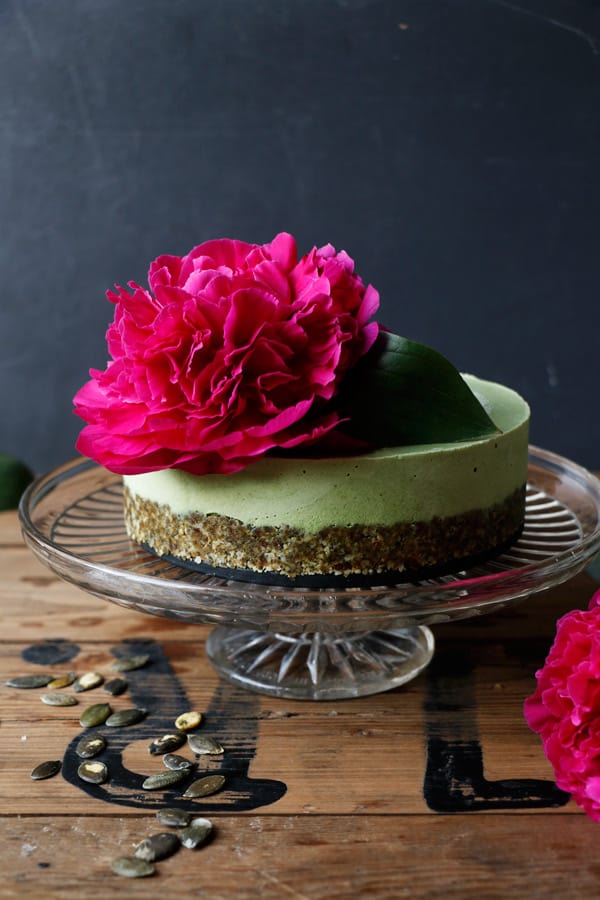 Ever since I've made my Raw Chocolate Cupcakes with Nettle Frosting last year I wanted to make a nettle cake and so just before the nettle season is over I've got one Nettle Vegan Cheesecake recipe for you to try.
It's a classic raw cashew cheesecake recipe with an addition of humble nettles and an amazing pumpkin and hemp seed crust. Once all of these ingredients mingle together for a while you will have so much flavour and a gorgeous vibrant green colour.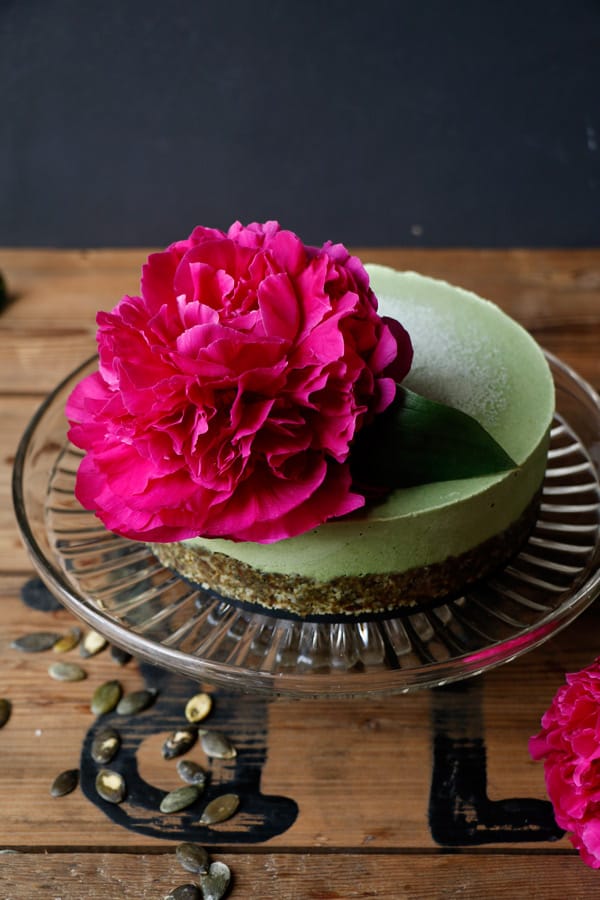 You can now buy nettles in your local Farmers market or pick your own if you live near countryside. Nettles are best picked in the Spring before they flower and only pick the top 4 to 6 leaves. My mum actually picks nettles bare hands, I have no idea how, but it's definitely better to wear gloves. I don't mind getting stung few times and don't tend to wear gloves when selecting and washing them at home, but I do need gloves when picking them.
You can't really taste the nettles in this cheesecake and I think you could easily add up to double the amount of nettles if you like. I blanched them for couple of minutes first before using in the cake to get rid of the sting and haven't tried using them raw. When the nettles are out of season you could try using spinach or kale like in this recipe for Kale Chocolate Vegan Cheesecake. Enjoy :)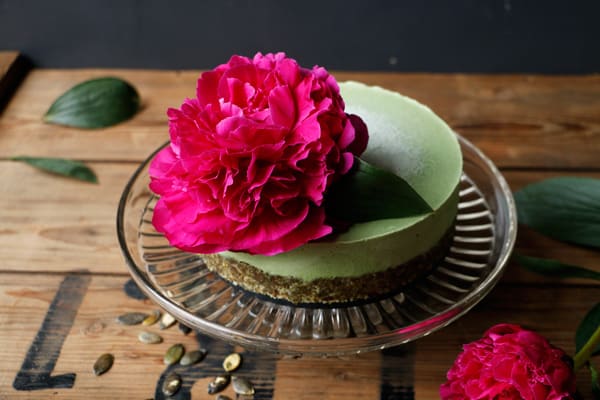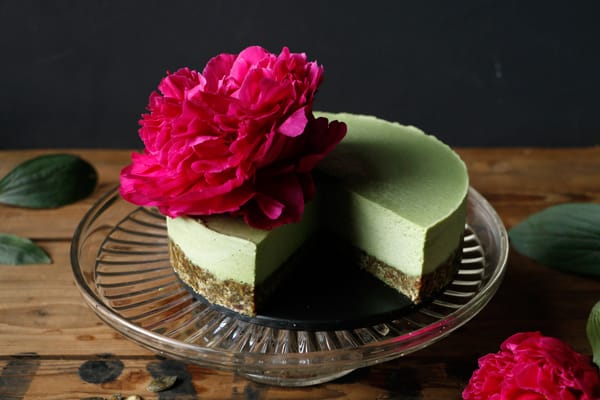 Yield: 6" cake
Nettle Vegan Cheesecake (grain-free)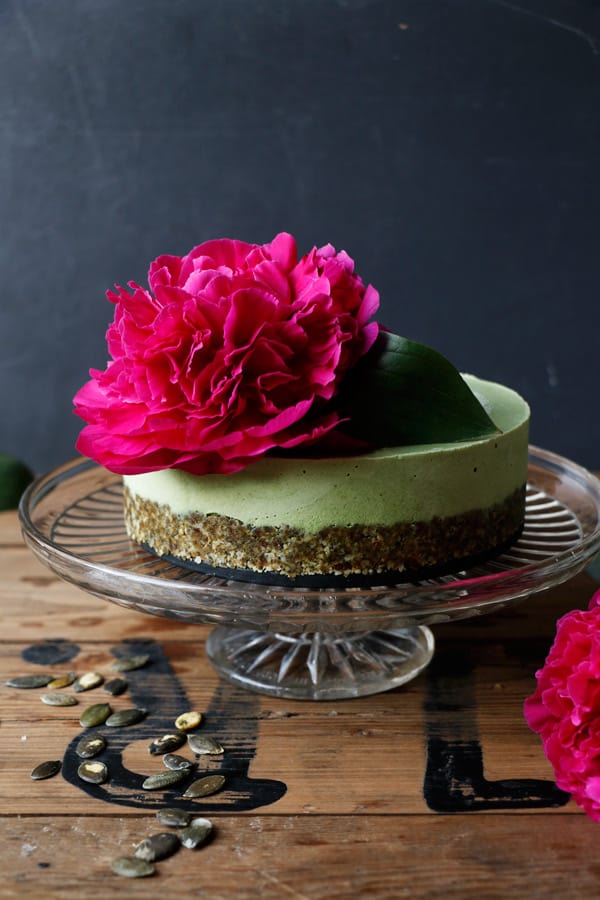 Ingredients
Crust layer:
80g pumpkin seeds (1/2 cup)
45g shelled hemp seeds (1/3 cup)
5 medjool dates, pitted
1tbsp coconut oil
½tsp cinnamon
pinch Himalayan pink salt
Nettle layer:
30g nettle leaves (2 cups)
120g cashews, soaked for 4 hours (1 cup)
60ml maple syrup (1/4 cup)
1/2 lemon, juice
½ lemon, zest
60ml water (1/4 cup)
200g coconut butter (1 cup)
Instructions
Prepare 6" round cake tin with removable base, no need to grease it.
Place pumpkin seeds into a food processor or high speed blender and pulse few times until coarsely ground. Add shelled hemp seeds, pitted dates, coconut oil, cinnamon and salt and blend until the mixture comes together.
Spoon the mix into the tin, spread evenly onto the base and press tightly down. Place into a fridge.
Carefully pick nettle leaves from the stems and wash thoroughly. It's best to use gloves to do that. In a small pot bring water to a boil, add nettles and boil for 2 minutes. Rinse under cold water and drain well. Place into blender with lemon juice and blend until smooth.
In a double boiler gently melt coconut butter and set aside.
Rinse the soaked cashews under running water and add to blender with nettles. Add maple syrup, lemon zest, and enough water to blend until smooth. Add melted coconut butter last and blend until just incorporated.
Spoon the mix onto the crust layer and smooth out the top. You can tap the tin few times on the surface to level out.
Place into a freezer overnight or for at least few hours to set.
Once set carefully remove from the tin.
Place onto a cake stand and decorate with your choice of toppings.
Slice the leftovers and store in freezer or fridge.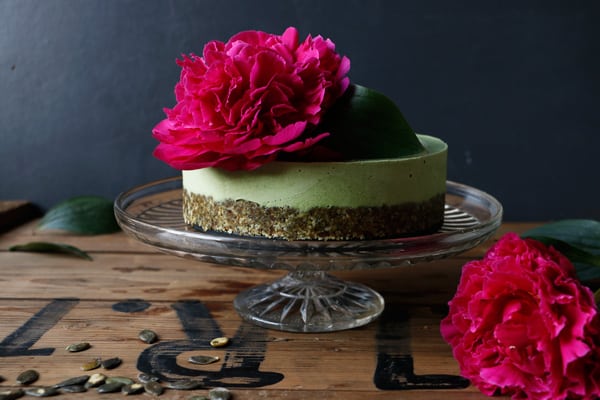 Similar Posts: