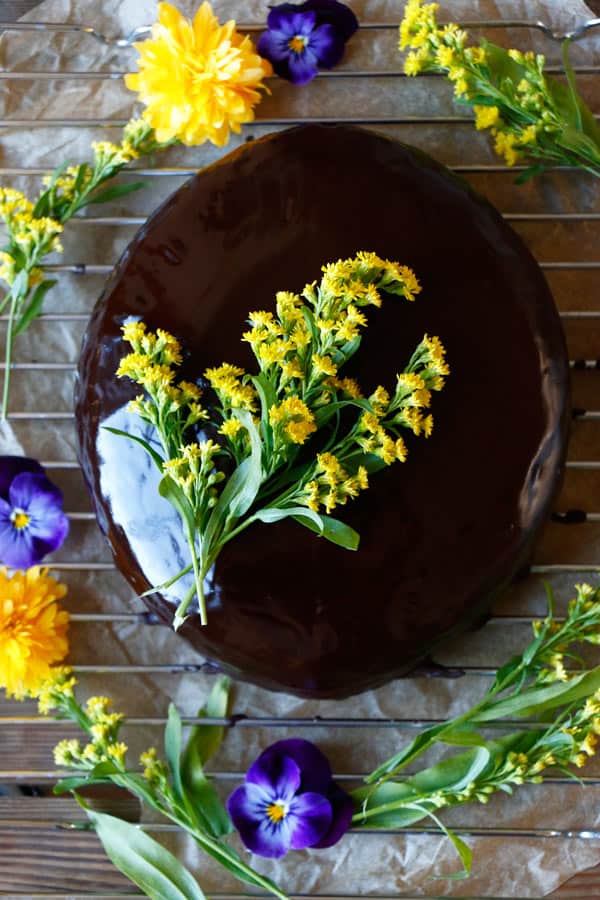 Special thank you to Amore di Mona for sponsoring this post.
Surprise surprise, it's another cake recipe today! With Easter in a few days I'm just about in time to share this lovely Lemon Chocolate Easter Cake with you today. This cake has been born out of my collaboration with Amore di Mona vegan allergy friendly chocolate and a brief that I've been given, a lemon egg shape cake.
I wanted to create a simple cake that is not overly complicated to make with a simple design and a fresh Spring feel and I hope that I've done it.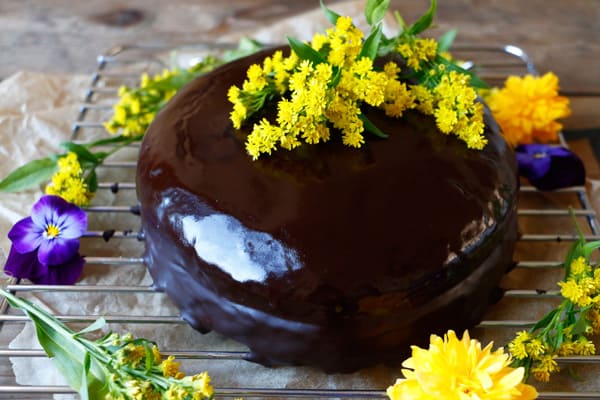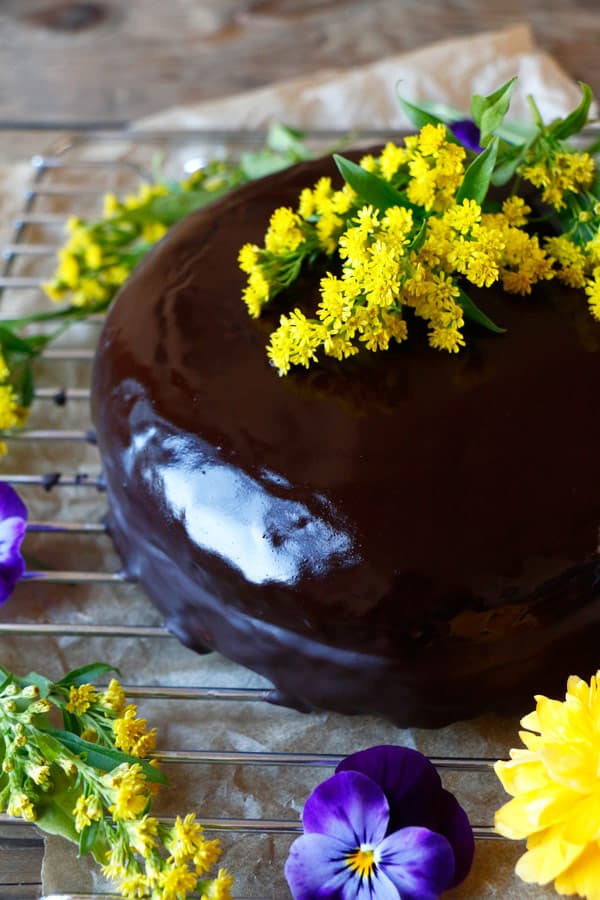 To make the lemon sponge cake moist I've used a generous amount of apple sauce and to make it extra lemony I've filled the cake with vegan lemon curd. And finally to make it perfect for Easter I've topped the cake with lovely chocolate coating and some fresh yellow flowers.
To create the egg shape, I've baked a round 8″ cake for the perfect height and then cut out a narrow "V" shape across the center of the cake. Then gently bring the two halves back together, cover the line with some lemon curd and coat with melted chocolate. The chocolate will hold the cake nicely together and once set you can carefully transfer the cake onto a serving platter.
Decorate your cake with some fresh flowers, fruit, chocolate shavings or anything that you fancy.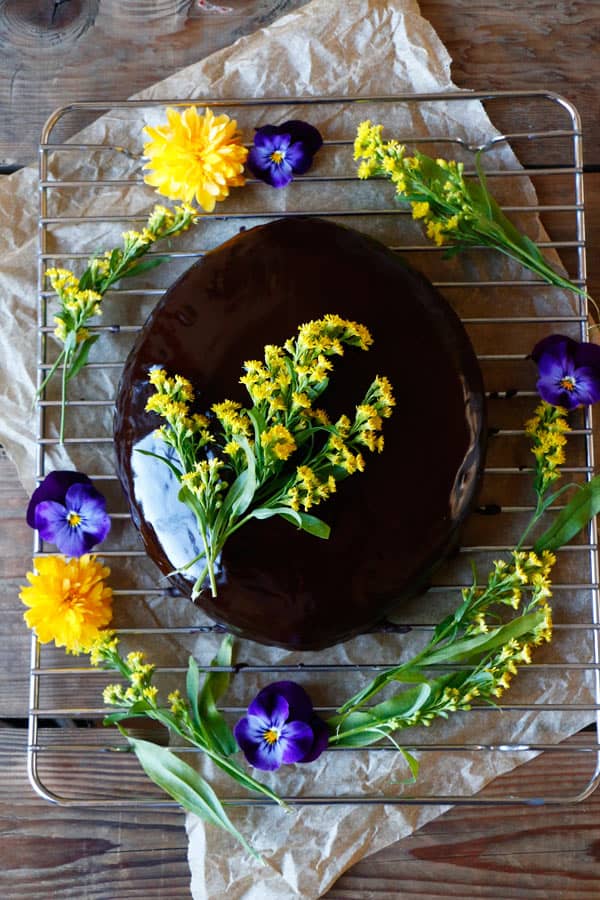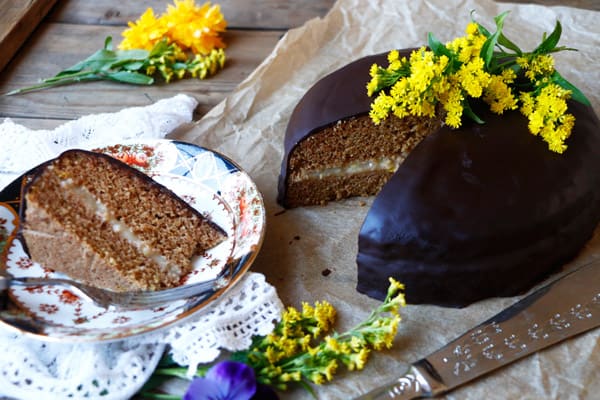 Yield: 8" egg shape cake
Lemon Chocolate Easter Cake (gluten-free & vegan)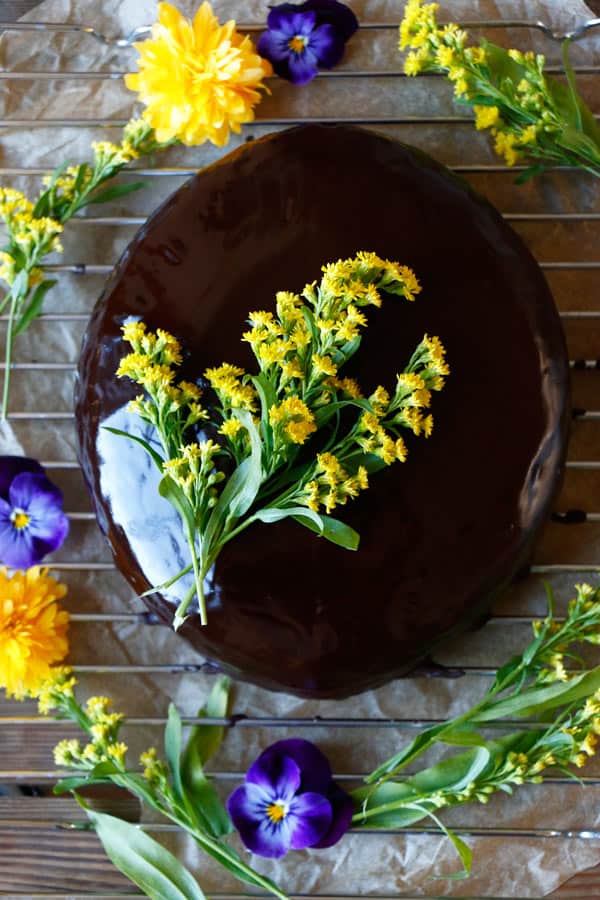 Ingredients
140g brown rice flour (1 cup)
70g buckwheat flour (1/2 cup)
30g arrowroot (1/4 cup)
100g rapadura sugar (3/4 cup)
1tsp baking powder
1tsp bicarbonate of soda
pinch of sea salt
1 lemon, zest
2tbsp ground flaxseed + 6tbsp water
180ml apple sauce (3/4 cup)
80ml olive oil (1/3 cup)
120ml plant-based milk (1/2 cup)
1tbsp lemon juice
Lemon curd:
zest of 2 lemons
juice of 2 lemons
120ml plant-based milk (1/2 cup)
60ml maple syrup (1/4 cup)
1tsp vanilla extract
2tbsp cornflour
pinch of turmeric powder
2tbsp vegan butter or coconut oil
Coating:
100g bulk chocolate (2 cubes) or dark vegan chocolate (3.5oz)
Instructions
Mix 2tbsp ground flaxseed with 6tbsp water and set aside to thicken.
Preheat the oven to 180°C (350F)
Grease and line 8" round cake baking tin.
In a large bowl whisk together brown rice flour, buckwheat flour, arrowroot, sugar, baking powder, bicarbonate of soda and sea salt. Whisk in lemon zest and set aside.
In a small bowl whisk together flax eggs, apple sauce, olive oil, milk and lemon juice.
Add the wet mix to the dry mix and mix until well combined. You should have pourable muffin consistency.
Spoon the mixture into the cake tin and level out the surface.
Bake for about 35 minutes or until a cocktail stick comes out with just few crumbs left on.
Remove from the oven and leave to cool down for 20 minutes before carefully moving onto a wire rack.
To make the lemon curd, in a small pot whisk together lemon juice, milk, maple syrup, vanilla, cornflour and turmeric and bring to boil while whisking continuously. Leave to cook for one minute and take off the heat. Stir in lemon zest and vegan butter or coconut oil and leave to cool down before transferring into fridge until ready to use.
Once the cake is completely cooled, carefully cut in half. Sandwich with generous amount of lemon curd saving couple of tablespoons for later.
If you like to make an egg shape cake cut out a narrow "V" shape across the centre of the cake and bring the two halves together, the lemon curd in centre will help to stick them together.
Use the remaining lemon curd to cover the line in centre and any holes and cracks in the cake before covering with chocolate.
Roughly chop the chocolate for coating, place into heatproof bowl and gently melt in a double boiler or microwave. Pour over the cake and use spatula to gently smooth the chocolate over the edge and around the side of the cake.
Leave to set before decorating with fresh flowers.
Enjoy!
Notes
To make the apple sauce, peel, core and chop 3 apples. Place into a small pot, cover with water and boil for about 15 minutes until soft. Leave to cool down, strain and blend until smooth. Store in fridge until ready to use.
Use a cake lifter to carefully transfer the cake after coating.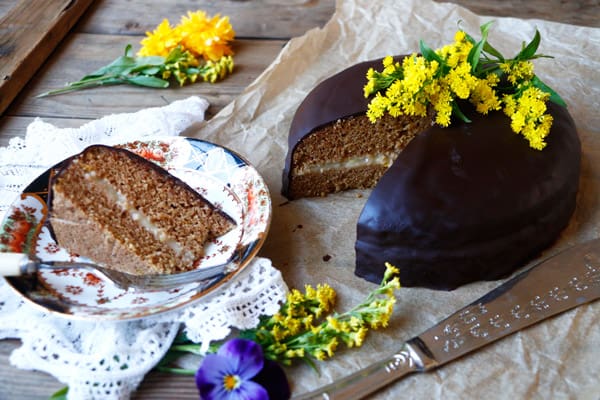 Similar Posts: