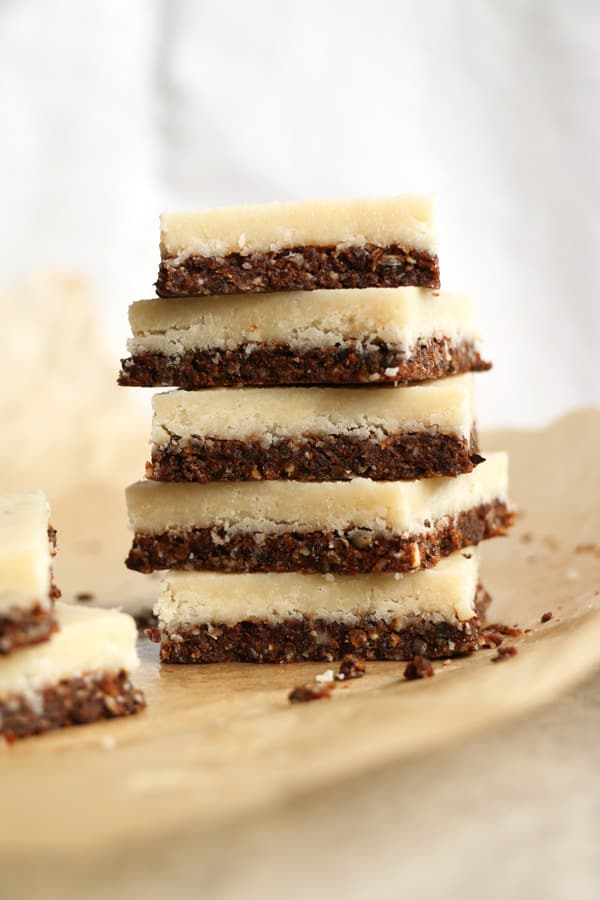 And so my baby has turned 7 yesterday and is slowly becoming a young little man. Along preparing a party for bunch of 6 year olds yesterday, I've been making and photographing these scrumptious bars. Yes, I'm not one of those organized bloggers that have all the posts scheduled in advance, I do it all last minute! I like it that way:)
I have a new found obsession – tahini, which is one of the stars in my Hemp, Chocolate and Tahini Coconut Bars recipe today. Now if you like me, slightly tahini obsessed you might want to try these. I think they are quite worth the trouble.
The flavours in these bars are quite settled and working beautifully together without being too assertive. The crust layer is a mix of hemp seeds, almonds, dates, cinnamon and tahini. I've used whole hemp seeds in this recipe, but you can use shelled ones if you prefer. I've blended the hemp and almonds together first to break them down and then added the rest of the ingredients.
The top layer is a creamy mix of creamed coconut, coconut oil and tahini with a little maple syrup and vanilla. Creamed coconut is the same thing as coconut butter and you can use whichever one you have. These bars are quite high in protein and healthy fats and totally amazing:) Enjoy.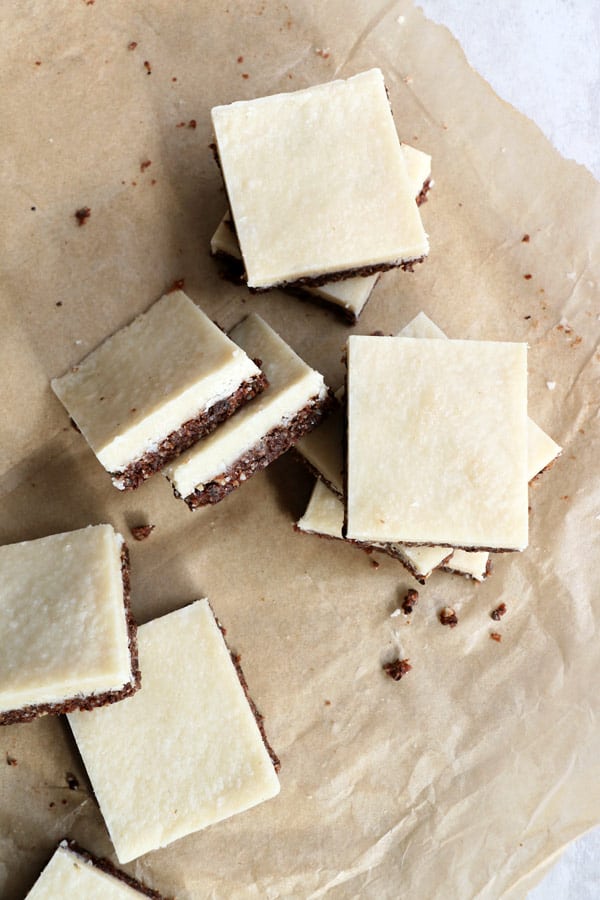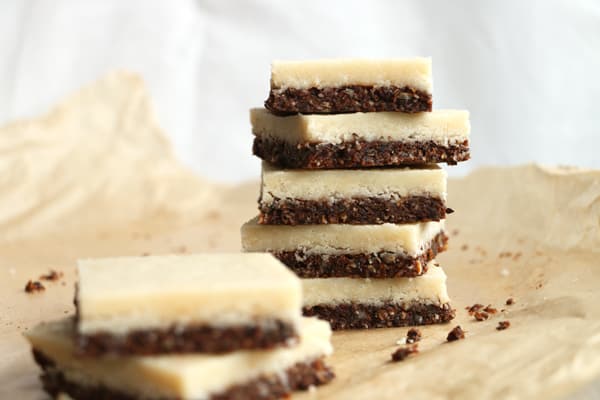 Yield: 16 bars
Hemp, Chocolate and Tahini Coconut Bars (grain-free & vegan)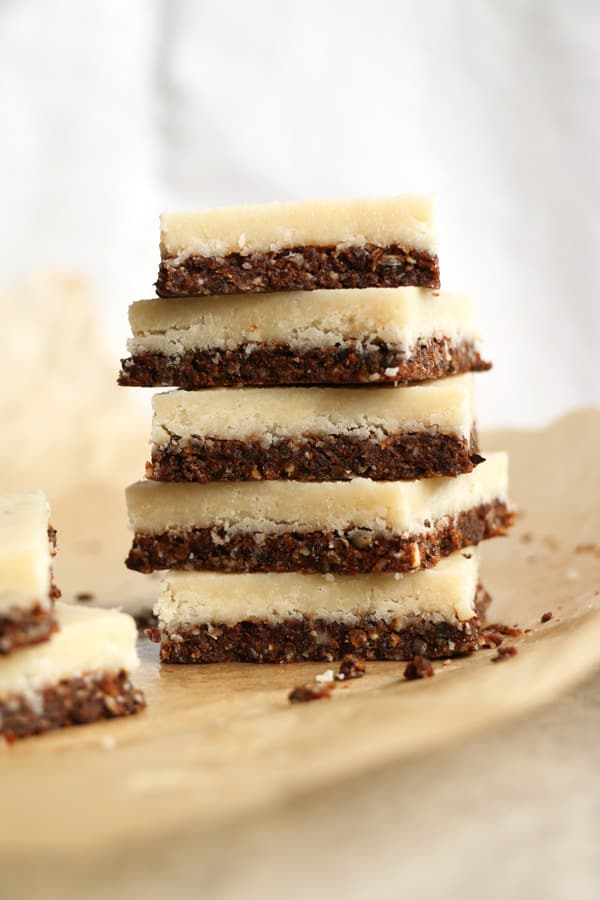 Ingredients
Crust layer:
70g hemp seeds (1/2 cup)
80g almonds (1/2 cup)
8 medjool dates, pitted
2tbsp raw cacao powder
1tsp cinnamon
pinch of pink Himalayan salt
2tbsp coconut oil
3tbsp tahini
Coconut tahini layer:
200g bar creamed coconut or coconut butter (1 cup)
2tbsp coconut oil
2tbsp maple syrup
1tsp vanilla
2tbsp tahini
1tsp lemon juice
Instructions
Line 7"square dish with parchment paper.
Place hemp seeds and almonds into a food processor or high speed blender and pulse few times until they have broken down into a coarse texture. Add the rest of the ingredients and blend until the mixture comes together. Spoon the mix into the dish, spread evenly onto the base and press tightly down. Place into a fridge.
In a small pot gently melt creamed coconut with coconut oil. Stir in maple syrup, vanilla, tahini and lemon juice. Spoon onto the crust layer and smooth out evenly.
Place into a fridge for about 30 min to set.
Once set remove from the fridge and with a sharp knife cut into 16 squares.
Store in a fridge in an airtight container.
Enjoy!
Notes
It's best to have the maple syrup and tahini at a room temperature before mixing in with the creamed coconut. You can replace maple syrup with raw honey.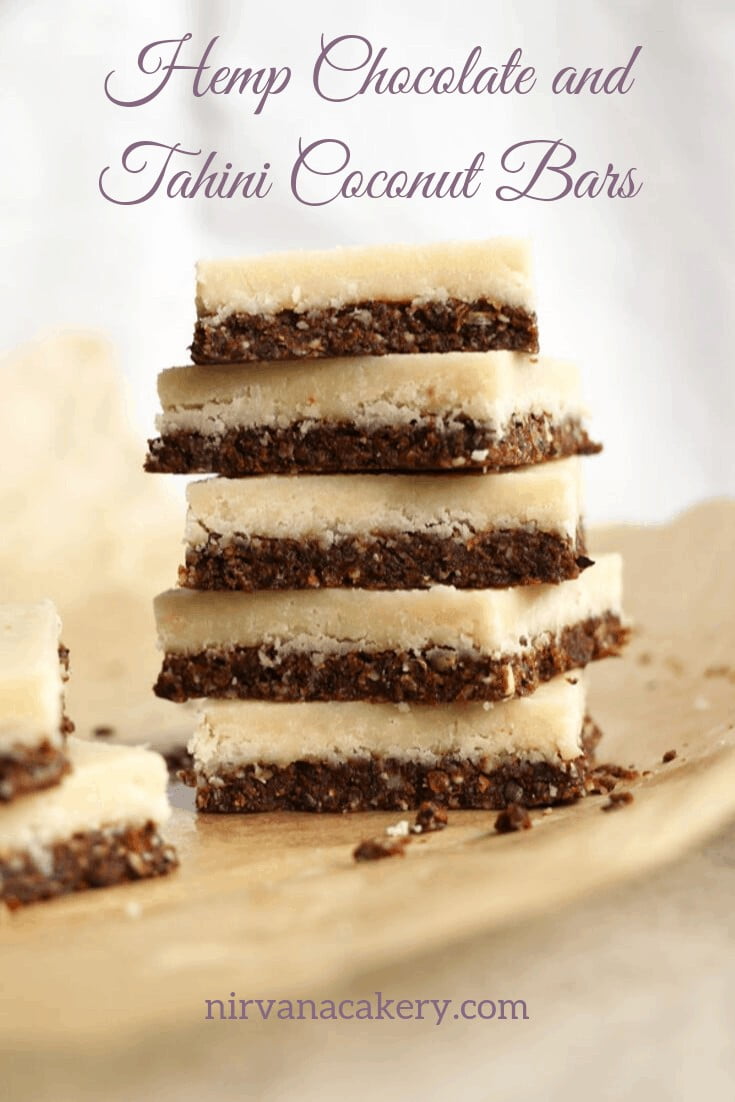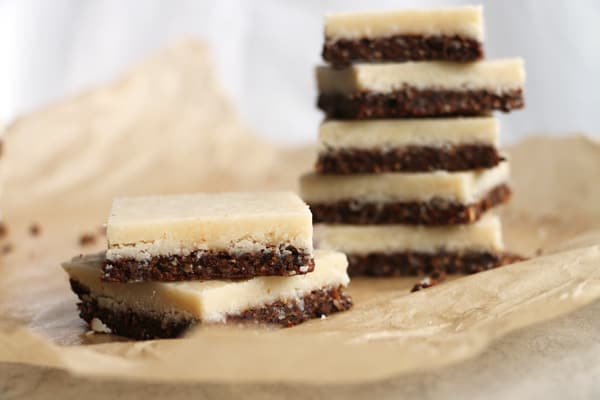 Similar Posts: