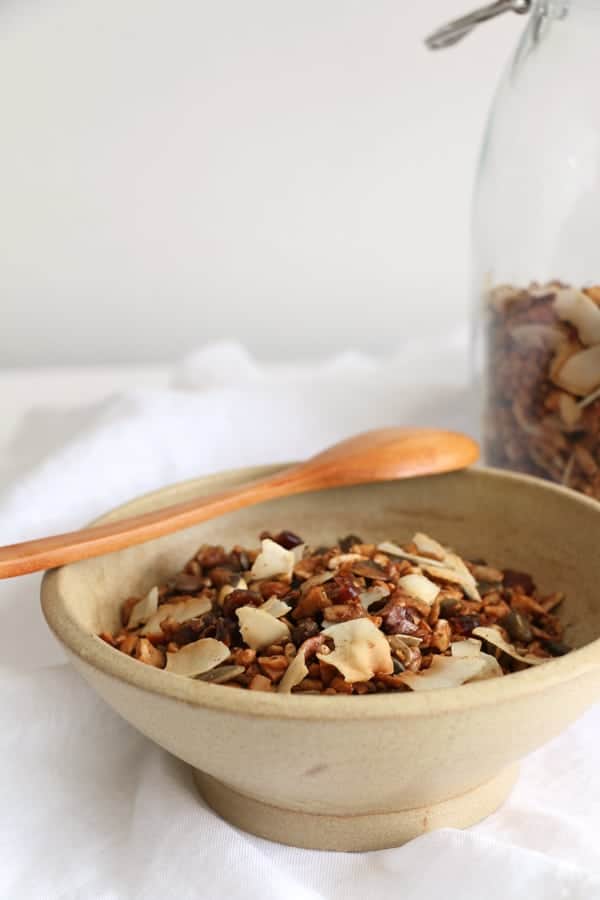 I make this yummy Grain Free Granola for my husband. He doesn't do very well with oats in the morning and this is a great and very tasty alternative. I use his favorite – walnuts mixed with cashews, seeds, coconut flakes and dates topped with coconut oil and maple syrup. You probably guess this tastes pretty good! Fantastic with some almond milk, yogurt, coconut cream, topped with some fresh berries; delicious! Perfect for breakfast or snacking, you will definitely find plenty of occasions to eat some.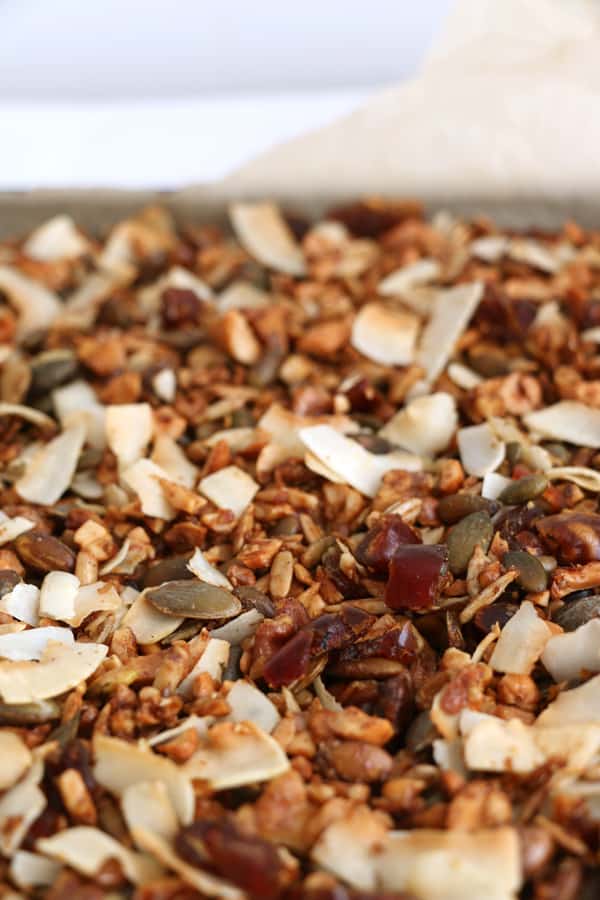 This granola is very simple and easy to make, not much to go wrong except burning it:( so do keep an eye on the oven when making it, it doesn't take very long to bake. You could change the walnuts and cashews with other nuts to your taste, whichever ones are your favourites. And once it's ready take a moment for yourself and enjoy some peaceful moments. This one is not just for the men who like their walnuts!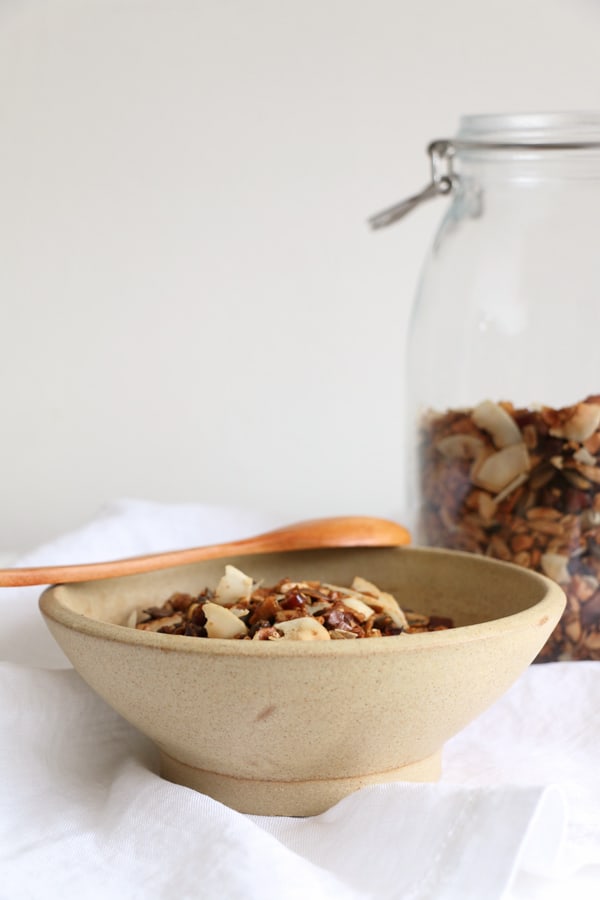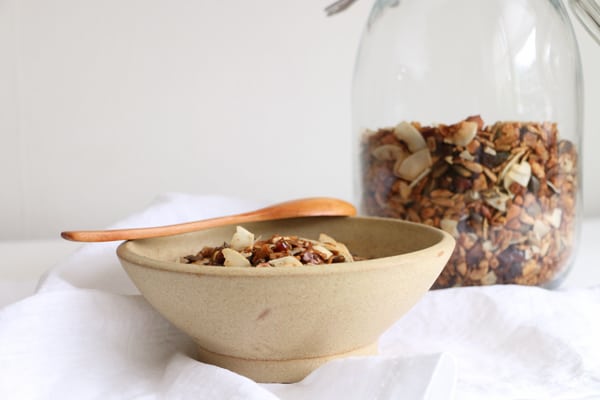 Grain Free Granola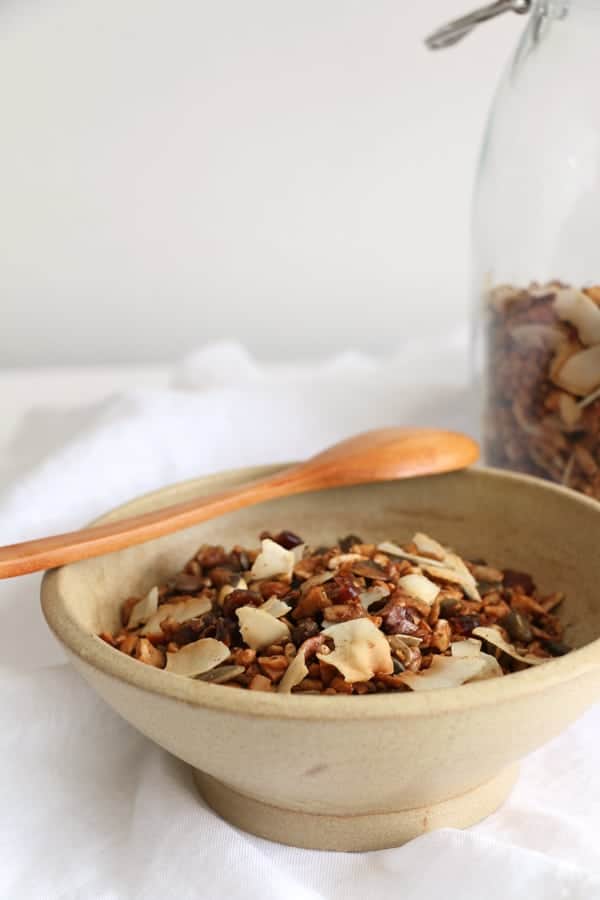 Ingredients
100g walnuts ( 1 cup)
140g cashews ( 1 cup)
80g pumpkin seeds ( 1/2 cup)
80g sunflower seeds ( 1/2 cup)
1/4tsp sea salt
1tsp cinnamon
3tbsp coconut oil
3tbsp maple syrup
50g coconut flakes ( 1 cup)
85g dates, pitted and chopped ( 1/2 cup)
Instructions
Preheat the oven to 180°C (160°C fan)
Chop walnuts and cashews into smaller pieces and put into a large mixing bowl.
Add pumpkin seeds, sunflower seeds, sea salt and cinnamon and mix well.
In a pan melt coconut oil together with maple syrup and pour over the mixture.
Mix well and spoon the mixture onto a baking tray.
Bake for 10 min and stir.
Bake for further 10 min stirring once in between.
After 20 min your granola should be nicely brown and ready.
Stir in coconut flakes and chopped dates and return to the oven for 3-5 more minutes until the coconut flakes are nicely toasted, but be careful not to burn the granola. You can skip this step if you prefer the coconut flakes untoasted.
Remove from the oven and leave to cool down.
Store in an airtight container.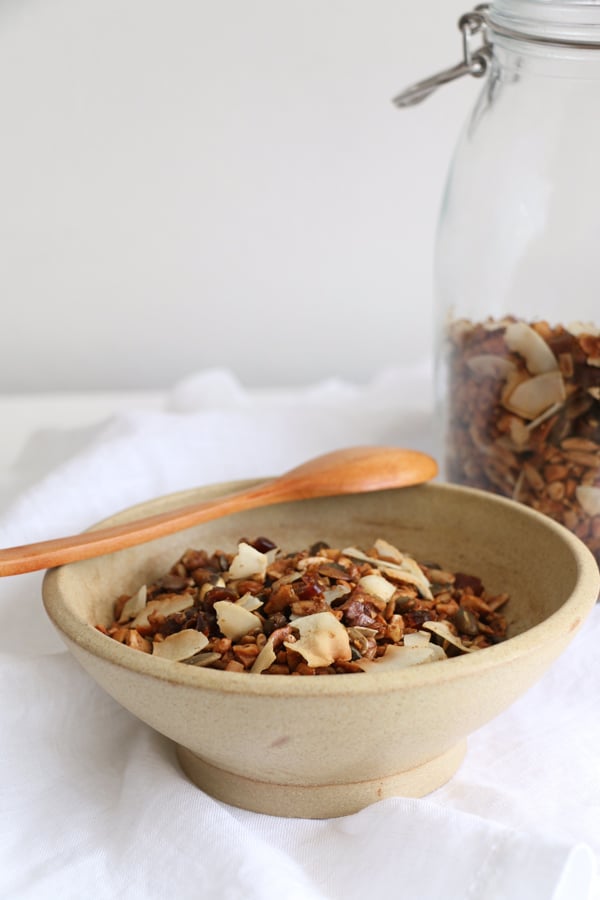 Similar Posts: