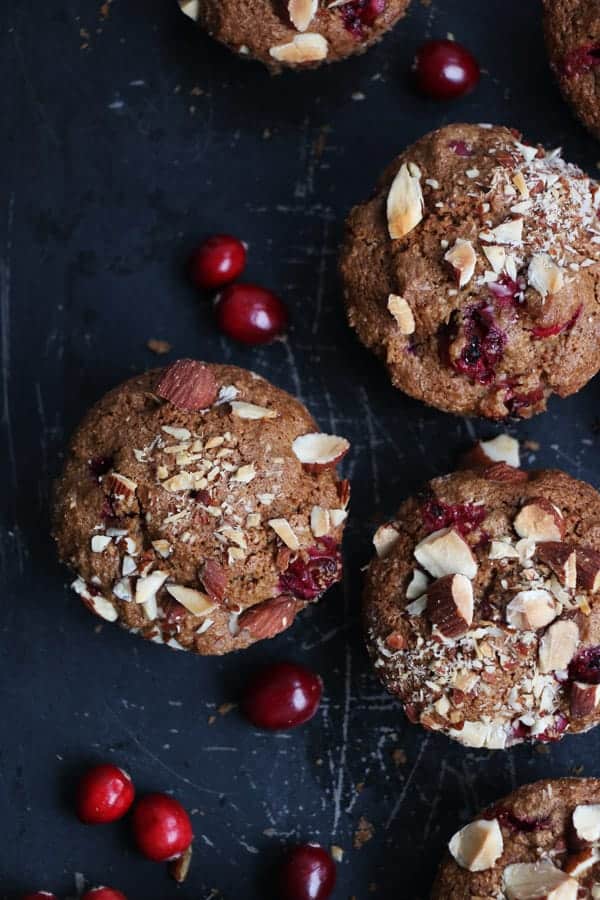 With Christmas around the corner, it's now time to start thinking about Christmas baking and Christmas inspired recipes. I have to say I'm never very organized when it comes to Christmas, it seems to always come too fast and with so many things happening in December I feel like I hardly have time to do anything. And I'm sure I'm not the only one. All I really want to do at this time of a year is snuggle up and hibernate. And maybe bake a little…
But of course, I have some yummy Christmas recipes lined up for you in the next couple of weeks. My local Farmer's market had some beautifully looking cranberries this Saturday and so I've baked these scrumptious looking Cranberry, Almond and Orange Muffins.
They are gluten-free with a mix of ground almonds, buckwheat and oat flour, sweetened with maple syrup and spiced with cinnamon, ginger and cloves. This wonderful mix of cranberries, almonds, spices and orange makes them very festive and so perfect for this season. And so I might hibernate with one or two of these for now… while thinking about what to bake next:)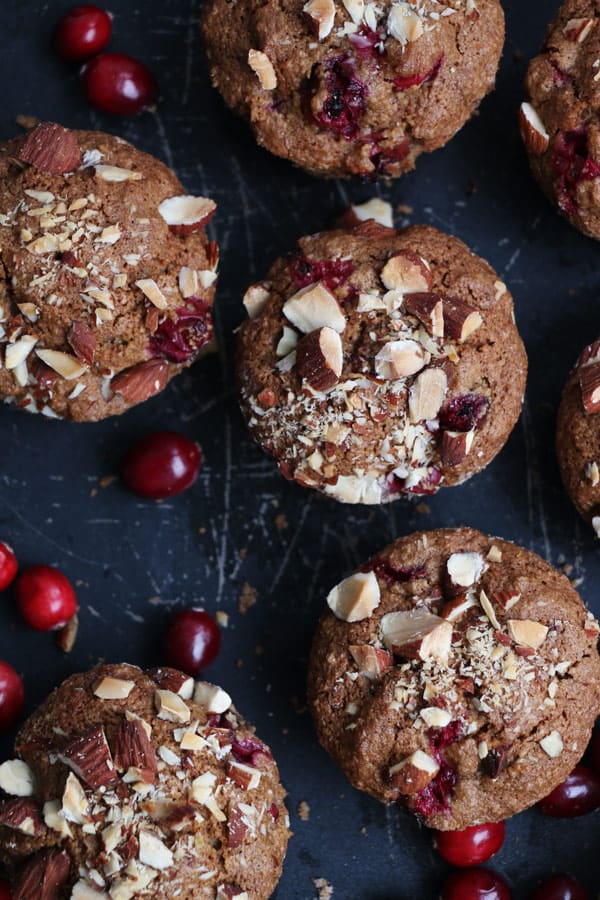 Yield: 12 muffins
Cranberry, Almond and Orange Muffins (gluten-free)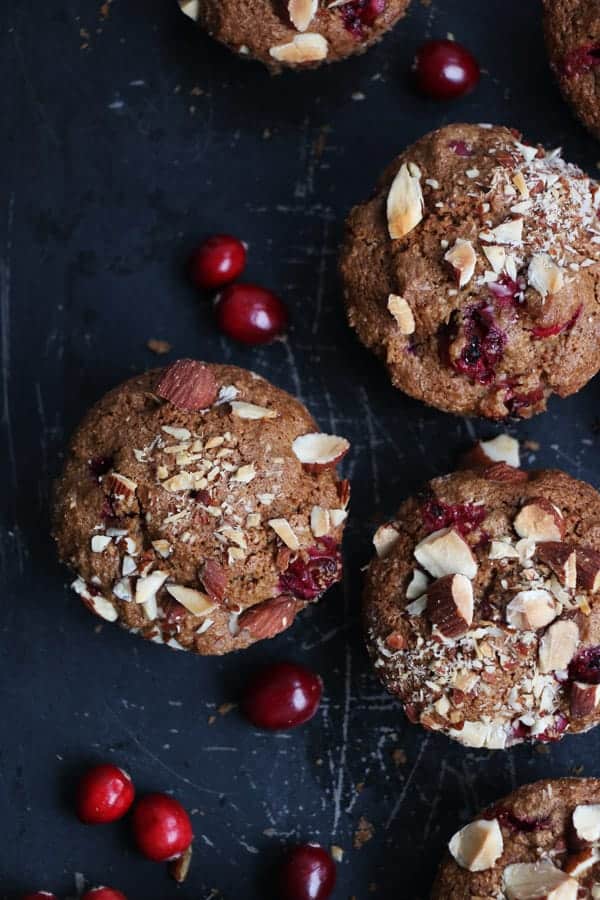 Ingredients
100g ground almonds (1 cup)
70g buckwheat flour (1/2 cup)
50g oat flour (1/2 cup)
50g desiccated coconut (1/2 cup)
1tsp baking powder
1tsp bicarbonate of soda
1tsp cinnamon
1/2tsp ground ginger
1/4tsp ground cloves
pinch of sea salt
zest of 1 orange
2 eggs
120ml maple syrup (1/2 cup)
80ml olive oil (1/3 cup)
1tsp vanilla
1-2tbsp orange juice
150g fresh cranberries (1 1/2 cup)
50g almonds, chopped (1/3 cup)
Instructions
Preheat the oven to 200°C (180°C fan)
Prepare 12 hole cupcake size tin with cases.
In a bowl whisk together ground almonds, buckwheat flour, oat flour, desiccated coconut, baking powder, bicarbonate of soda, cinnamon, ginger, cloves and salt. Stir in orange zest and set aside.
In a electric hand or stand up mixer whisk the eggs and maple syrup for about 5 min until double in volume, add olive oil and vanilla and mix for 2 more min.
Add the dry ingredients to the mixture with 1-2tbsp of orange juice and mix until just combined.
Finally gently fold in cranberries.
Spoon the mixture into the prepared cases and sprinkle with chopped almonds.
Bake for about 25min or until a cocktail stick comes out clean.
Remove from the oven once ready and leave to cool down for 5 min before moving onto a wire rack.
Notes
To make oat flour blend oats until you have flour like consistency.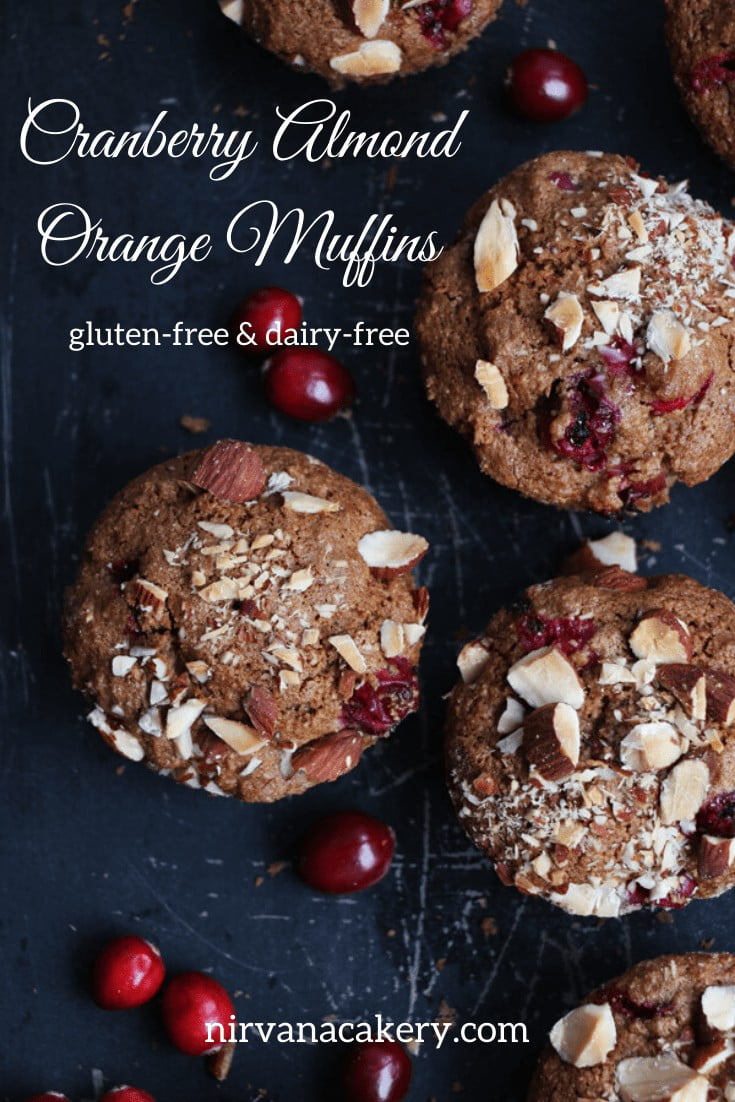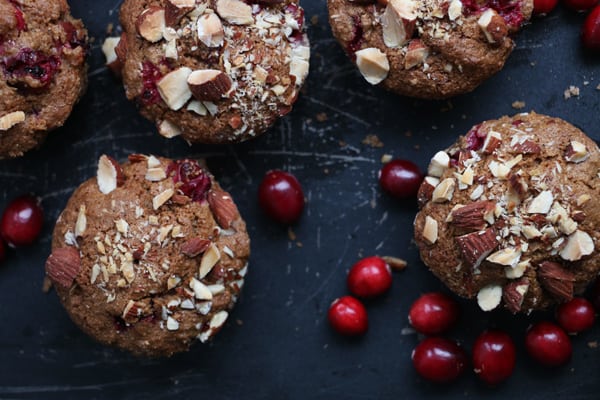 Similar Posts: