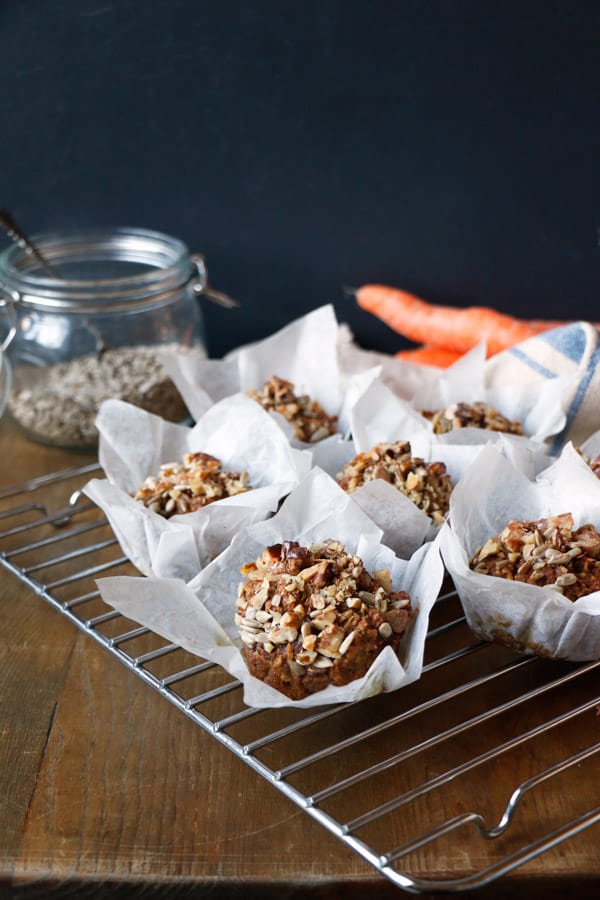 I always feel like some comfort baking when it's cold, with the oven on I get this lovely cozy feeling, homely and warm. One of those things that fills me within and I know they're plenty of you who feel the same.
Last week I've baked these Carrot Cake Breakfast Muffins, nothing too fancy, just perfect for breakfast or a quick snack.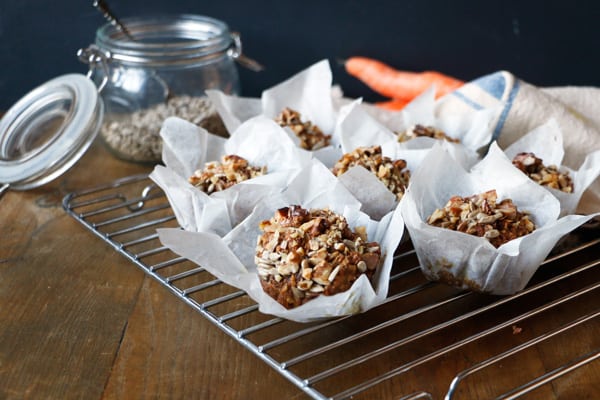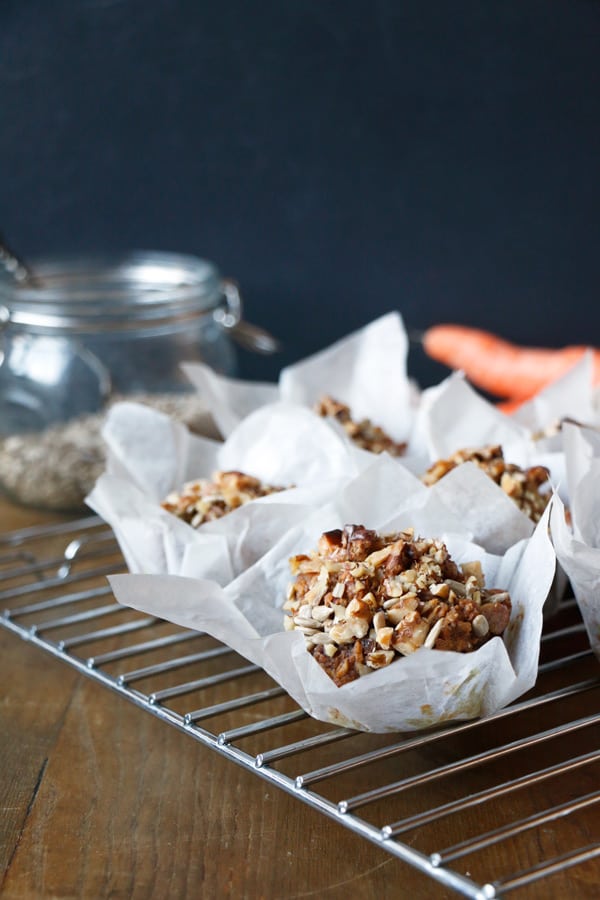 These muffins are quite high in protein, I've used sunflower seeds ground into flour mixed with ground almonds, buckwheat flour and coconut for the gluten-free mix. They have lovely carrot cake flavour coming from carrot, orange zest and warming spices of cinnamon, cardamom, ginger and cloves. They are very lightly sweetened with maple syrup and have very wholesome taste.
A little warning, the ground sunflower seeds might turn the muffins green the next day, it's perfectly ok, it's caused by the reaction of the sunflower seeds with the soda in the recipe. It won't affect the flavour in any way. Enjoy:)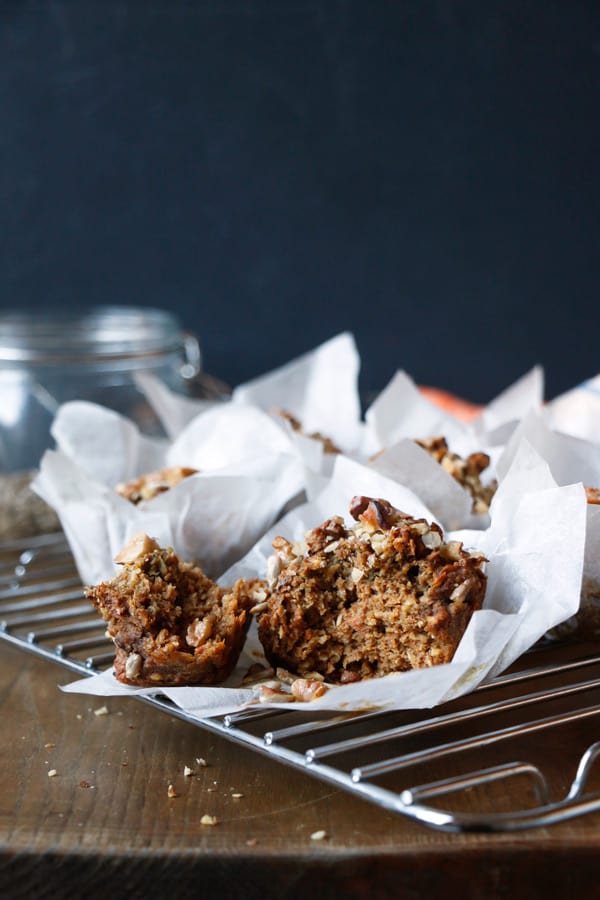 Yield: 12 muffins
Carrot Cake Breakfast Muffins (gluten-free & vegan)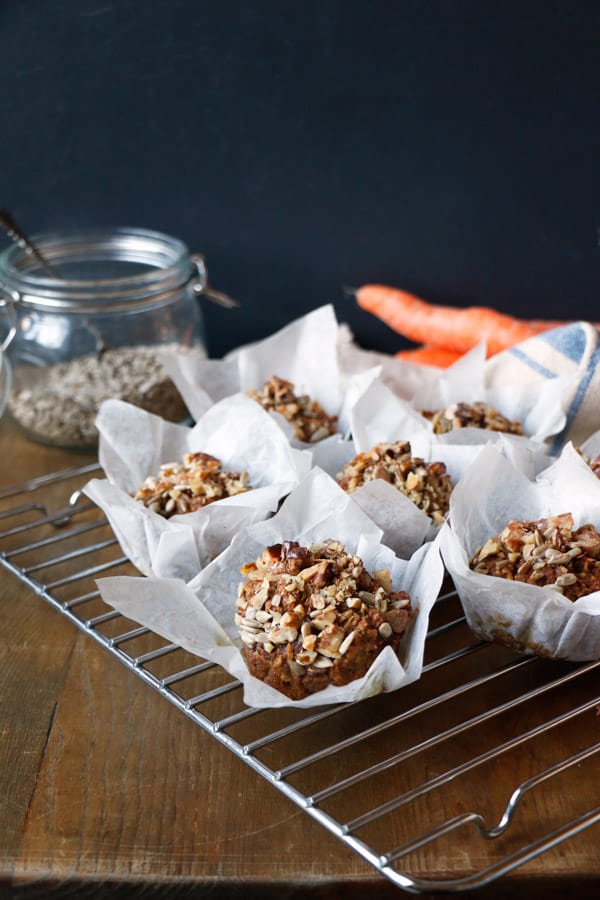 Ingredients
200g carrots, grated (1 1/2 cup)
1/2 orange, zest
95g buckwheat flour (3/4 cup)
50g ground almonds (1/2 cup)
60g sunflower seeds, ground into flour (1/2 cup)
50g desiccated coconut (1/2 cup)
1tsp baking powder
1tsp bicarbonate of soda
2tsp cinnamon
½tsp cardamom
1/2tsp ground ginger
1/4tsp ground cloves
pinch of sea salt
2tbsp ground flaxseed + 6tbsp water
80ml olive oil (1/3 cup)
60ml maple syrup (1/4 cup)
60ml almond milk (1/4 cup)
60ml orange juice (1/4 cup)
2tsp apple cider vinegar
Topping:
chopped walnuts
sunflower seeds
Instructions
Preheat the oven to 180°C (350F)
Prepare 12 hole cupcake size tin with cases. I use 5" square cut out from baking paper.
Peel and roughly grate carrots, stir in orange zest and set aside.
Mix 2tbsp of ground flaxseed with 6tbsp of water and set aside to thicken.
Use a food processor or high speed blender to ground sunflower seeds into flour consistency.
In a large bowl whisk together buckwheat flour, ground almonds, ground sunflower seeds, desiccated coconut, baking powder, bicarbonate of soda, cinnamon, cardamom, ginger, cloves and salt. Set aside.
In a small bowl whisk together olive oil, maple syrup, almond milk, orange juice, apple cider vinegar and flax eggs. Set aside.
Stir the carrot mix to the dry mix and now add the wet mix and mix until combined. You should have muffin consistency batter.
Evenly divide the mixture into prepared cases and sprinkle with chopped walnuts and sunflower seeds.
Bake for about 35min or until a cocktail stick comes out clean and it's toasted on top.
Remove from the oven once ready and leave to cool down for 10 min before carefully moving onto a wire rack.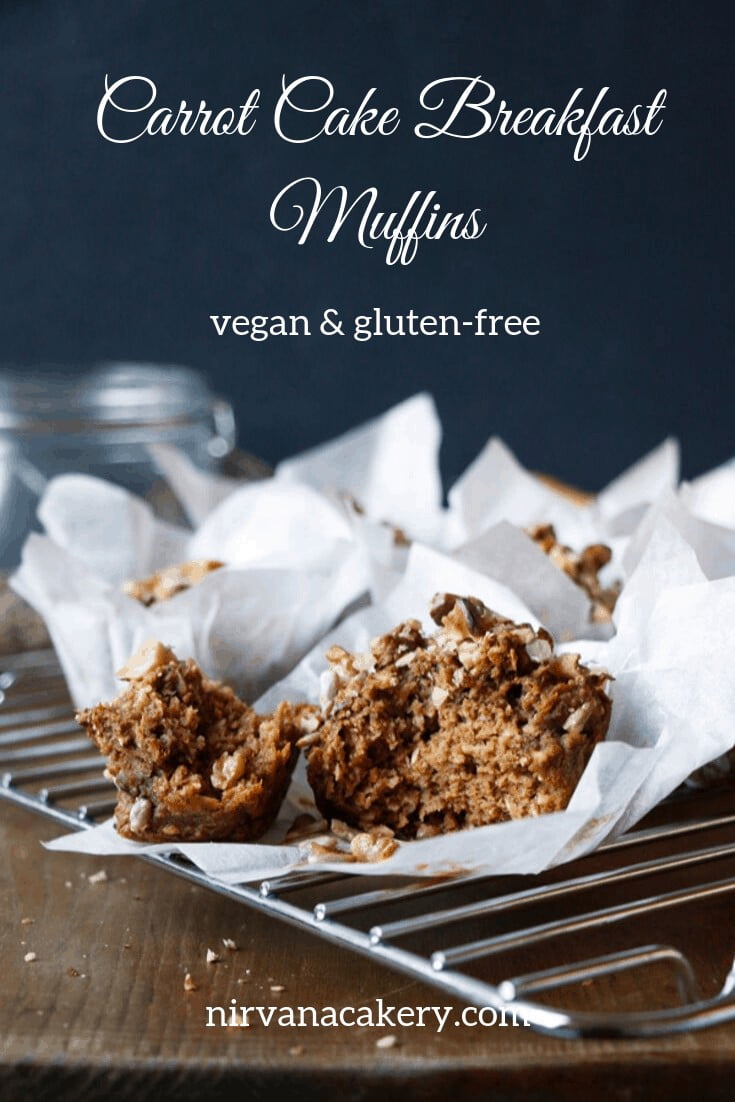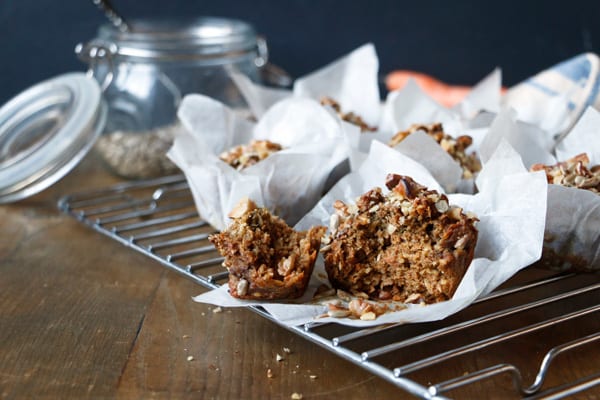 Similar Posts: