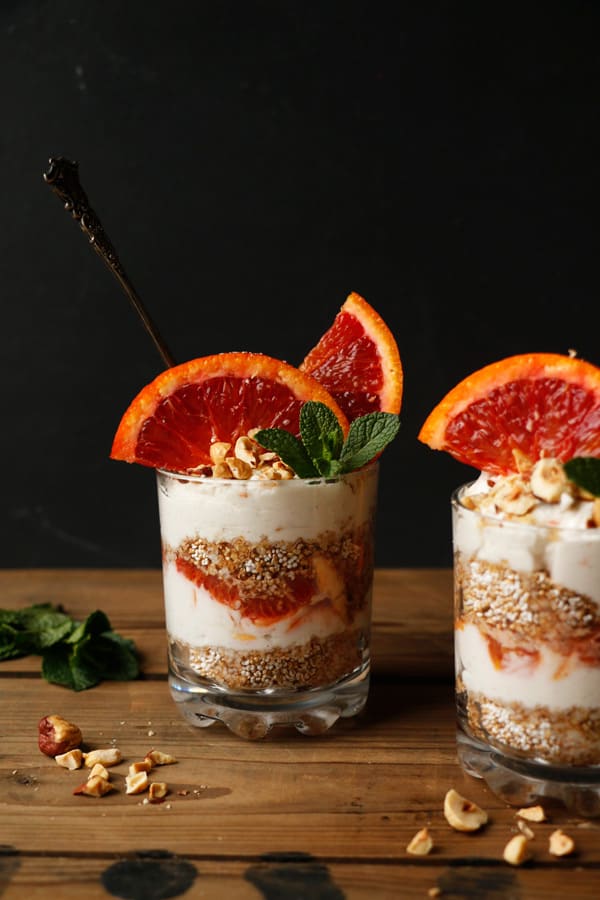 As promised I have one more blood orange recipe for you today, a simple delicious Blood Orange Amaranth Parfait. This yummy dessert is a variation to my Mango Turmeric Amaranth Parfait from this summer.
Made with layers of puffed amaranth, coconut cream, coconut yogurt, blood orange and roasted hazelnuts this is one lovely healthy dessert.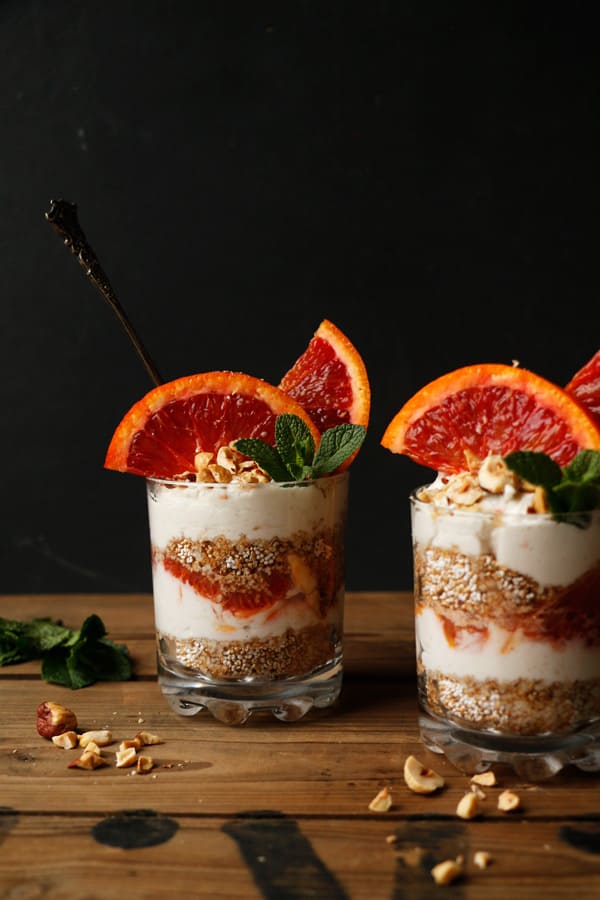 Puffing amaranth is so much fun and if you've never tried it, you absolutely have to have a go. Myself and my son both love popped amaranth and could happily eat a ton of it.
This parfait is so adaptable and you could use any seasonal fruit that you love. I imagine this with strawberries in summer. If you're using fruit that has more sweetness, you could easily leave out the maple syrup in the coconut layer. Enjoy while blood oranges are in season!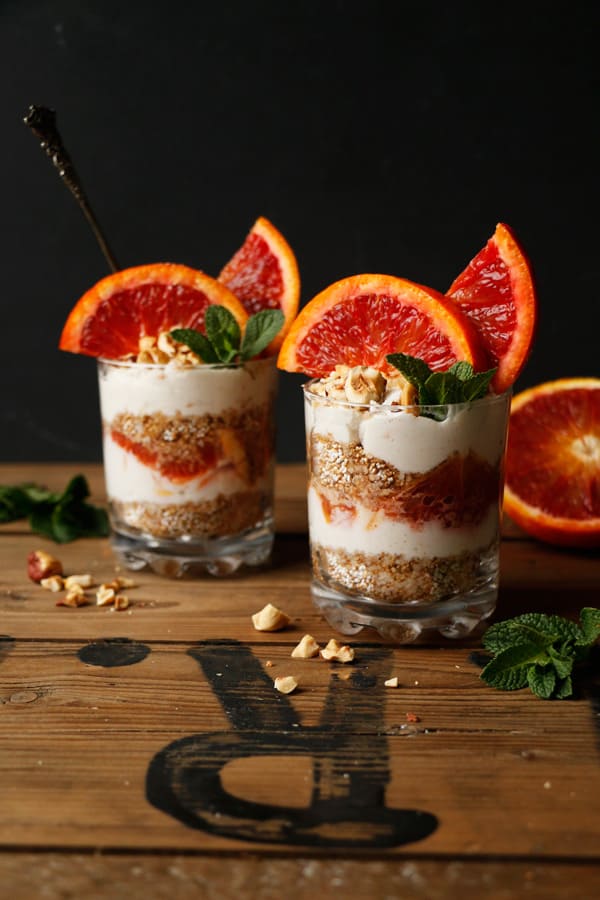 Yield: 2 servings
Blood Orange Amaranth Parfait (gluten-free & vegan)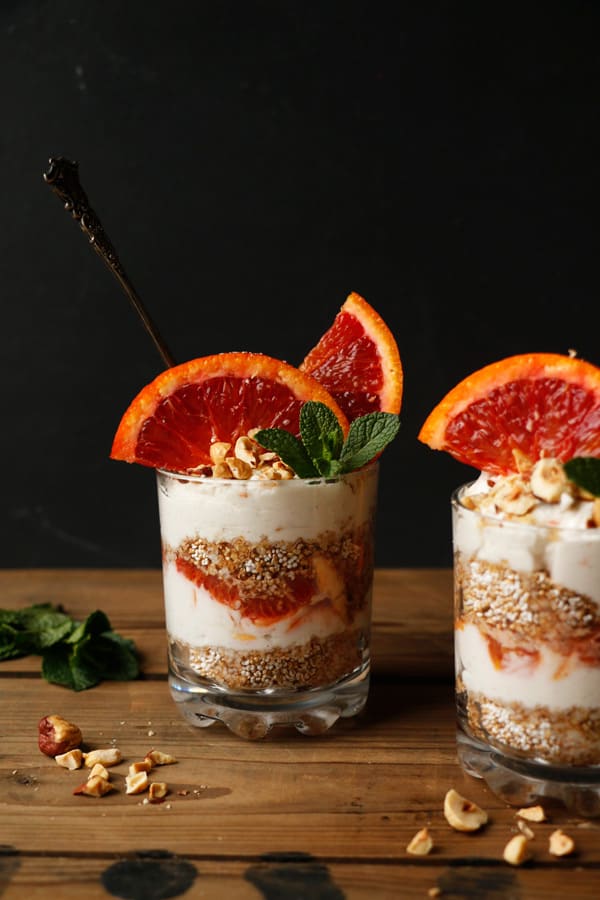 Ingredients
Amaranth layer:
2tbsp raw amaranth (3/4 cup once popped)
Coconut layer:
1x 400ml can full fat coconut milk, refrigerated overnight
125g coconut yoghurt (1/2 cup)
2tbsp maple syrup
1/2 blood orange, zest
1/4tsp cinnamon
Blood orange layer:
blood orange, cut into small pieces
Topping:
blood orange, sliced
roasted hazelnuts, chopped
fresh mint
Instructions
Place the can of full fat coconut milk into a fridge, preferably overnight.
Heat up deep medium size pot and lower the temperature to medium. Add 1tbsp of amaranth and stir or toss continuously until most of the grains have popped. It'll look white once ready and only takes few seconds, don't let it start to brown. Scoop into a bowl and repeat with the next 1tbsp of amaranth. You will need only 2tbsp for the recipe, but I recommend to make more and save some for later. It's messy and expect some of the amaranth to come out of the pan. You could use lid if you like, but I find it's difficult to keep an eye on it once covered. Experiment with what works best for you.
To make the coconut layer scoop the solid part of the coconut milk into a bowl, add coconut yoghurt, maple syrup, zest and cinnamon and whip until smooth.
To assemble prepare two small serving glasses. Spoon 2tbsp of amaranth into each glass, top with 2tbsp of coconut cream and blood orange pieces. Repeat amaranth and coconut cream layer. Top with large slices of blood orange, chopped roasted hazelnuts and fresh mint.
Notes
To roast the hazelnuts preheat the oven to 180°C and arrange the hazelnuts on a baking sheet. Roast for 10-15 min stirring in between until the skin looks cracked. Remove from the oven and place hazelnuts onto a cotton towel and leave to cool. Bunch the towel and rub the hazelnuts inside the towel until the skin comes off. Roughly chop and set aside.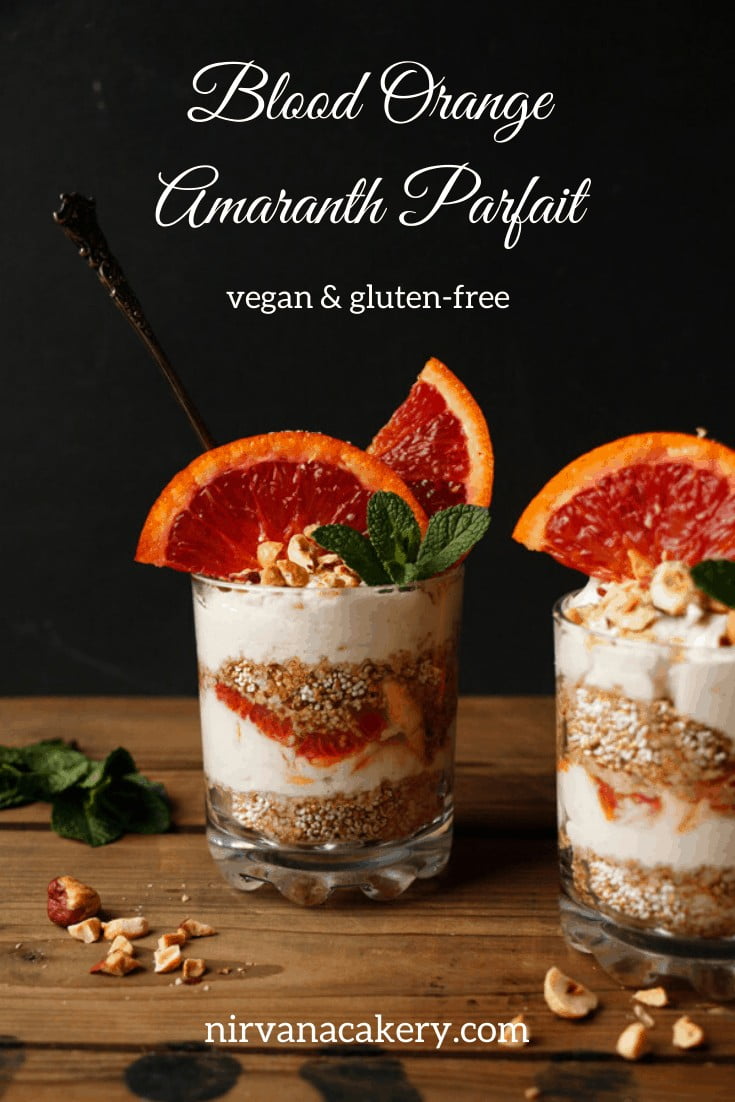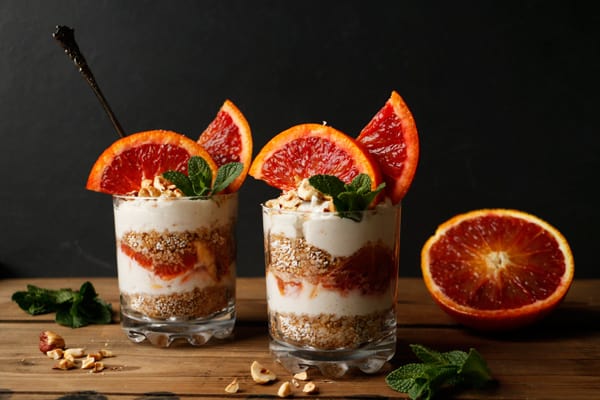 Similar Posts: