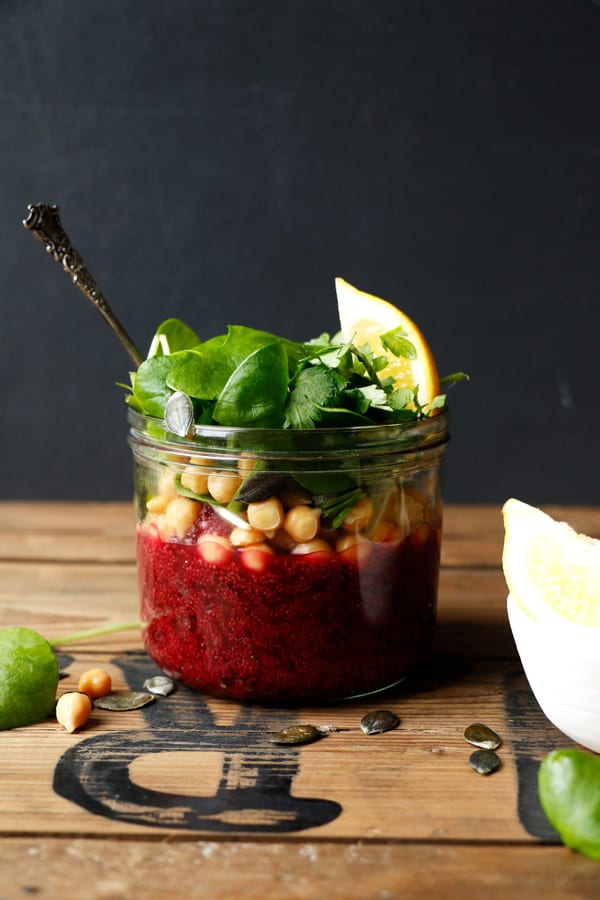 As you already know I love beetroot and I always try to sneak some into different meals. I've made this Beetroot Amaranth with Chickpeas and Purslane last week, it's such an easy and quick meal to prepare, so I thought I share the recipe with you. It's a very versatile dish and you can enjoy it for a savory breakfast, quick lunch or an accompaniment to any other plant-based meal.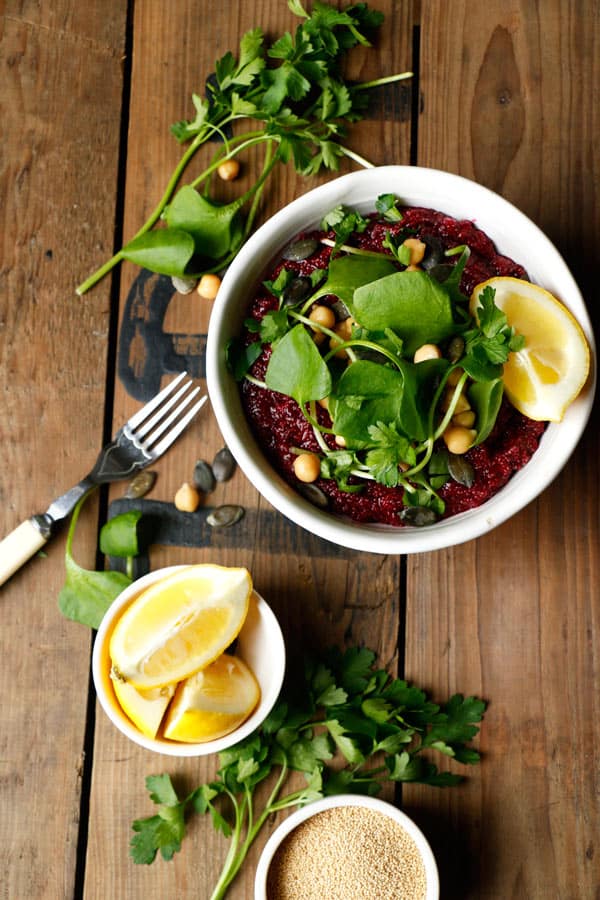 Amaranth won't have the fluffy consistency quinoa has after cooking, but rather a creamy porridge like and it's perfect for breakfast type of a meal. It's not a grain to everyone's taste, but I love the earthiness and crunch that amaranth has.
To make this recipe simply cook amaranth with triple the amount of water for about 20 minutes, stir in grated beetroot and leave to stand for 5 minutes. Season, place into a serving dish and top with anything you fancy – chickpeas, leafy greens, cooked greens, fresh herbs, nuts or seeds.
You could make this dish into a sweet version too, add little bit of sweetener instead and serve with fresh fruit, coconut, nuts and seeds. I also have a lovely Chocolate Amaranth Pudding with Cardamom Poached Pears recipe on the blog that you might like to check out. Enjoy:)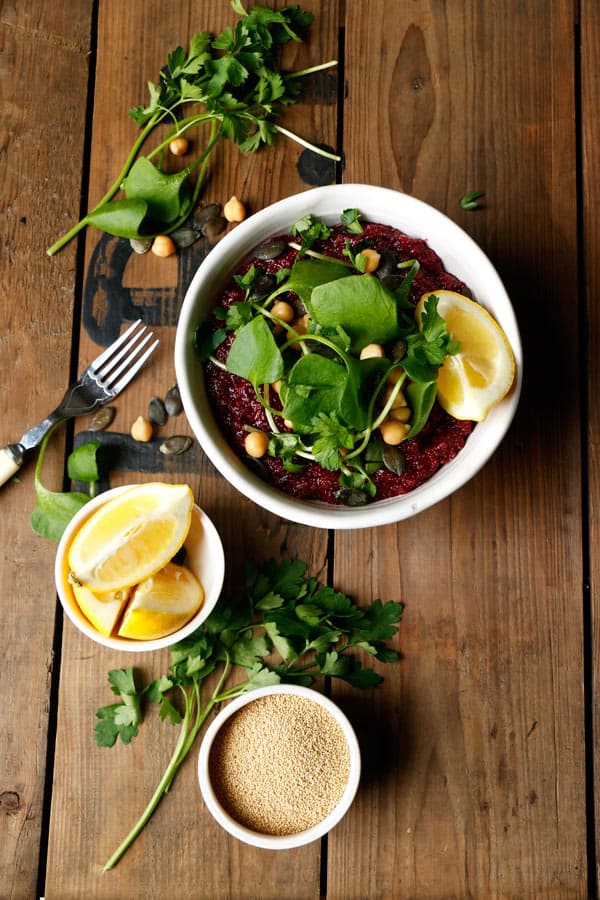 Yield: 2 servings
Beetroot Amaranth with Chickpeas and Purslane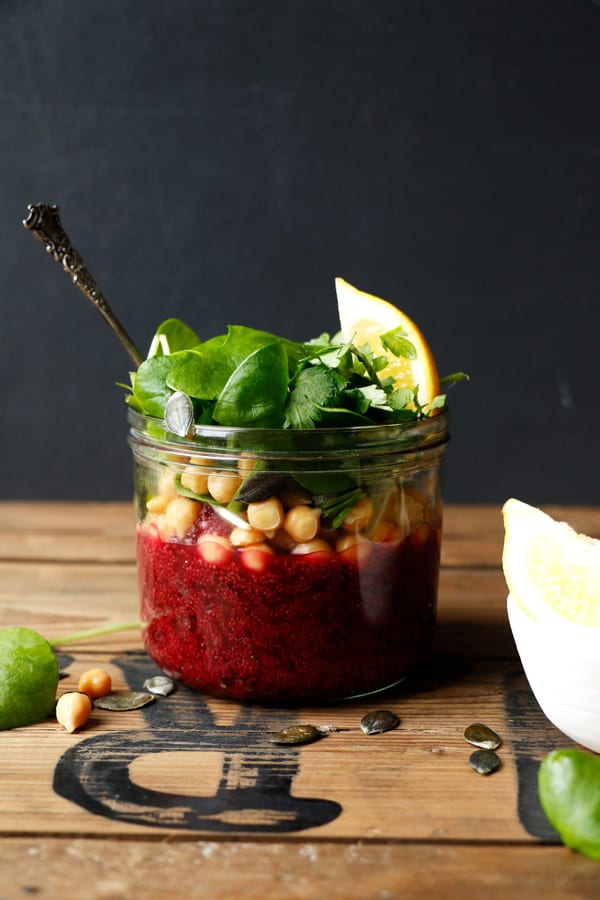 Ingredients
1/2 cup amaranth (120ml)
1 1/2 cup water (360ml)
1 medium beetroot, peeled and grated
1 garlic clove, crushed (optional)
1/4tsp cumin
sea salt & black pepper
To serve:
1/2 cup cooked chickpeas
winter purslane
fresh parsley, chopped
pumpkin seeds
lemon juice
extra virgin olive oil
Instructions
Measure 1/2 cup amaranth, place into fine mesh strainer and rinse under running water. Place into small pot with 1 1/2 cups of water and bring to a boil. Simmer covered for about 20 minutes until the water is absorbed.
Peel and grate beetroot. As soon as the amaranth is cooked, stir the beetroot and garlic if using into the amaranth, cover and leave to stand for 5 minutes.
Season with cumin, sea salt & pepper.
Place onto a serving dish, top with cooked chickpeas, purslane, chopped fresh parsley and pumpkin seeds. Squeeze some lemon juice over and drizzle with olive oil.
Serve and enjoy!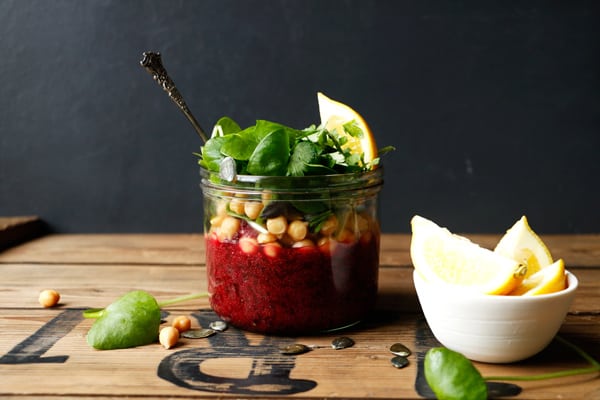 Similar Posts: