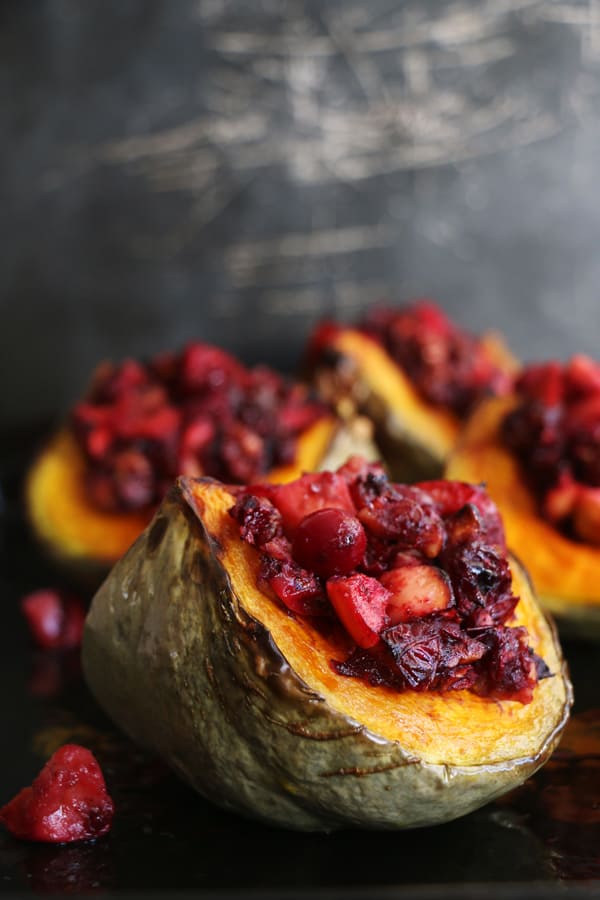 Squash, pumpkin, I can happily be eating one every day now while it's in season, it's so perfect for my sweet tooth. I love the flavour, the subtle sweetness and the fact that it can be used in so many different dishes.
I had plenty of cranberries left over from making my Cranberry, Almond and Orange Muffins and so I've used the rest to make this yummy Baked Squash with Apples and Cranberries. Just the perfect recipe for the festive season to complete any meal.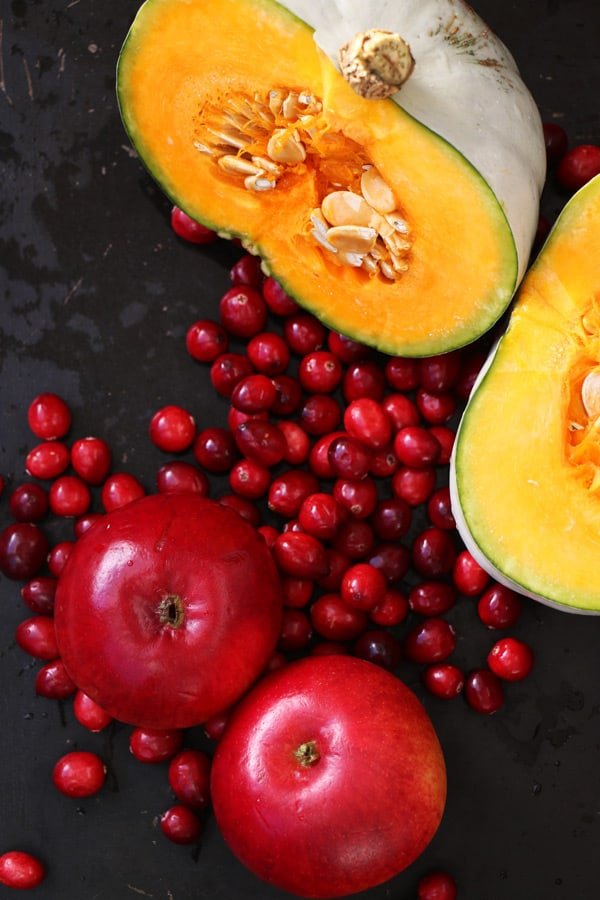 For this recipe I've used blue Hokkaido squash as I had some at home, but any squash would easily work. I've seen this recipe being often used with Acorn squash cut in half. You could also use two smaller ones instead of one, just keep in mind that it does need to sit nicely on the tray to keep the apple and cranberry mix in.
Apples and cranberries can be quite sour and so I've added dates, maple syrup, cinnamon and cloves for extra sweetness which works so lovely together. Also, you have to pack the mix in, it's quite a large amount, but that just makes it even better. Enjoy it as a part of a festive meal.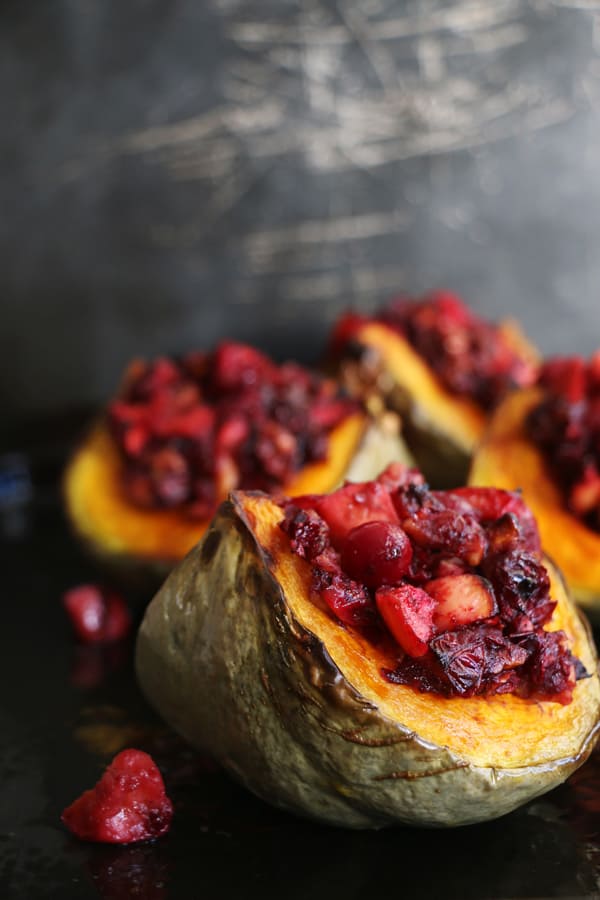 Yield: 4 servings
Baked Squash with Apples and Cranberries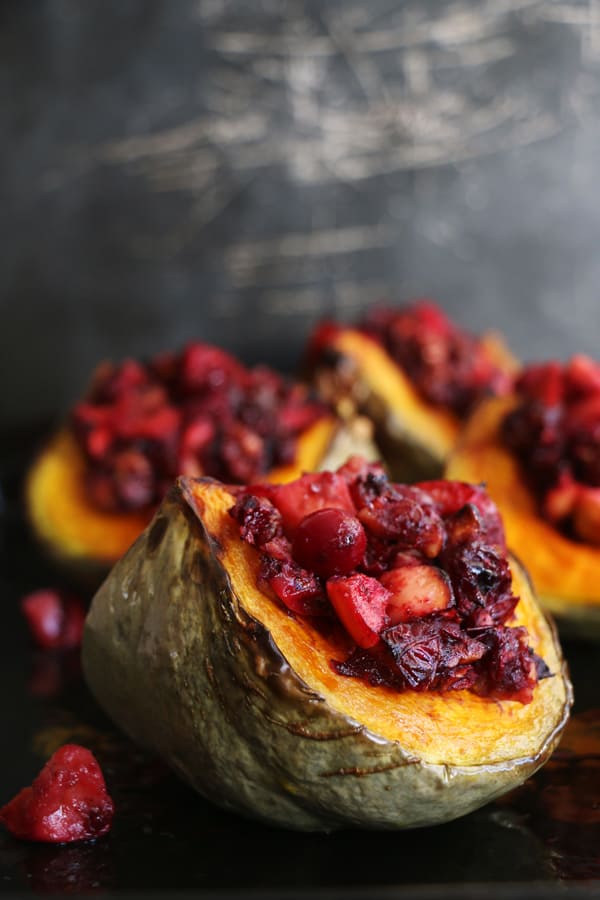 Ingredients
1 medium blue Hokkaido squash (about 1kg)
2 apples
150g fresh cranberries (1 1/2 cup)
50g walnuts, chopped (1/2 cup)
50g dates, chopped (1/3 cup)
2tbsp maple syrup
squeeze of lemon juice
1tsp cinnamon
pinch of ground cloves
olive oil
sea salt
Instructions
Preheat the oven to 200°C (180°C fan)
Wash the squash and carefully cut into half. Scrape out all of the seeds and cut into half again so you have 4 quarters.
Place them onto a baking tray, rub with some olive oil and sprinkle with sea salt.
Bake for about 35min. It should feel almost cooked.
While the squash is in the oven prepare the fruit. Wash, core and cut the apples into small pieces. Rinse the cranberries. Place apples, cranberries, 2tbsp of maple syrup and squeeze of lemon juice into a pot and gently heat for about 10 min until apples have soften and cranberries have popped.
Stir in chopped walnuts, dates, cinnamon and cloves.
Once the squash had about 35 minutes in the oven stuff the squash with the apple and cranberry mix, drizzle with little olive oil and return to the oven.
Bake for another 20-25min depending on the size of your squash. Check every 10 minutes making sure the walnuts don't burn.
Notes
You can replace dates with 50g (1/3 cup) dried cranberries.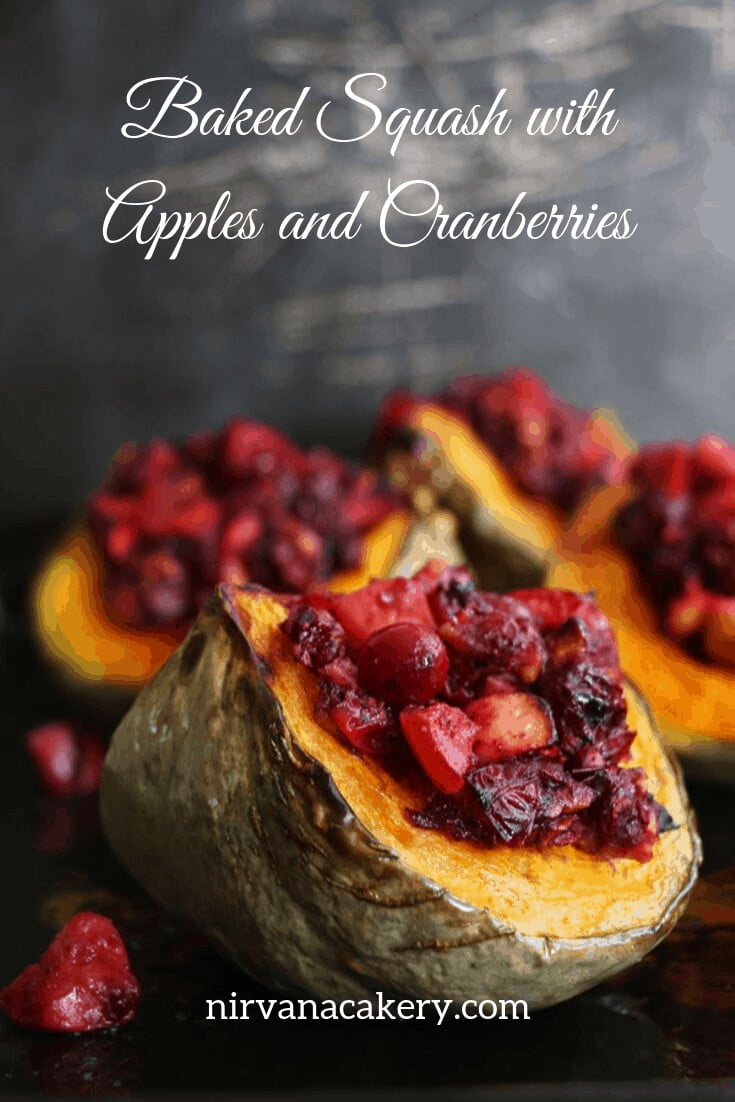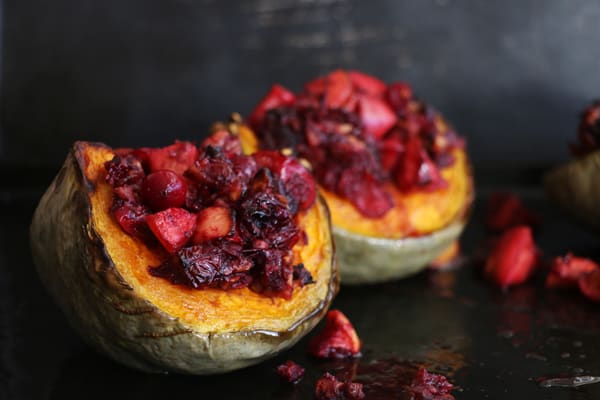 Similar Posts: